Manchester United: Ranking the Top Striking Options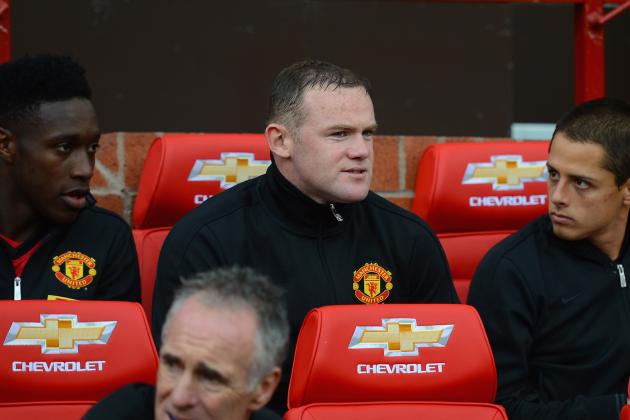 Shaun Botterill/Getty Images

With the addition of world class striker Robin Van Persie, Sir Alex Ferguson has a problem on his hands: he has an abundance of strikers to choose from.
Wayne Rooney, Robin Van Persie, Javier Hernandez and Danny Welbeck make up a striking core that had drawn comparisons to the striking force that Manchester United boasted in 1999.
Ferguson made this comparison himself. "In 1999, I had Dwight Yorke, Andy Cole, Teddy Sheringham and Ole Gunnar Solskjaer, the four best strikers in Europe," he said.
As the season progresses, new partnerships will be tested and the depth chart will shift. What follows is a ranking of the four strikers at United's disposal and is certainly a group that all of the EPL should fear.
Begin Slideshow

»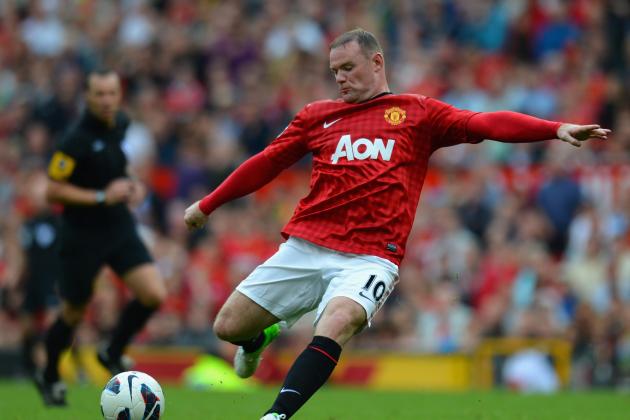 Shaun Botterill/Getty Images

Wayne Rooney has been a symbol of consistency for Sir Alex Ferguson for the past couple seasons and for this reason, he is Manchester United's top-rated striker. He has been far and away the best player that Manchester United has had to offer for quite some time. He has become a fan favorite and is widely considered one of the greatest players in the world.
While some critics characterize Rooney as hot-headed, selfish and slow, most, including England head coach Roy Hodgson and Liverpool midfielder Steven Gerrard would agree that Rooney's value on the field far outweighs his weaknesses.
He is a constant threat to score. Last season, Rooney scored 27 goals in EPL play, second only to Robin Van Persie.
For this reason, teams must commit defensive resources and attention to the striker whenever he is on the pitch. Even when Rooney does not find goal, his presence on the pitch draws defenders in a way that opens up lanes for other strikers.
Rooney can score in a variety of different ways. He is strong on the ball, has a good mixture of power and finesse and showed last season especially how dangerous he can be from free kicks.
Furthermore, Rooney's ability as a passer gives him added value as a floating striker. Rooney can play back in midfield and play the ball up the sides to wingers such as Nani and Valencia, but he can also work the ball up the middle to any of United's top strikers.
This versatility is what makes Rooney United's top striking option. He is not only a prolific goal scorer, but a leader and team player that any EPL team would be lucky to have on their team sheet.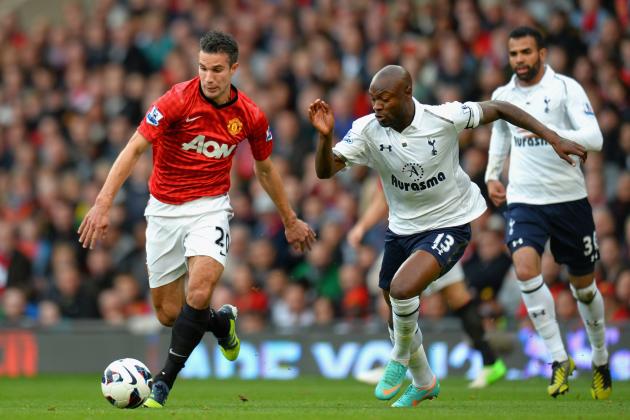 Shaun Botterill/Getty Images

Sir Alex Ferguson's big off season purchase has already paid massive dividends this season; earning him a spot as Manchester United's second top-rated striker. Van Persie is off to a quick start this season and ranks second in goals with 5 in 6 games.
He has proven that he is worth the price tag that was paid, and with Rooney's early season injury, he has been relied on heavily to score and lead United's attack.
If any player was qualified to fill the massive void left by Wayne Rooney, it was van Persie. Van Persie scored 30 goals in the EPL last season; five more than Rooney. He is one of the only other strikers in the world that can draw a defense's attention in the way Rooney does.
Van Persie's skill set is highlighted by his powerful left foot. He can power a shot from outside the box and is also a free kick specialist.
Van Persie has excellent awareness on the pitch. He always appears to be in the right place at the right time and has fantastic touch to finish any ball forwarded to him.
This season, van Persie seems to be re-invigorated after his move to United. He has built a solid partnership with another incoming transfer Shinji Kagawa, and his energy has translated into goals and wins. He will only benefit from the return of Wayne Rooney, who can play floating striker behind him.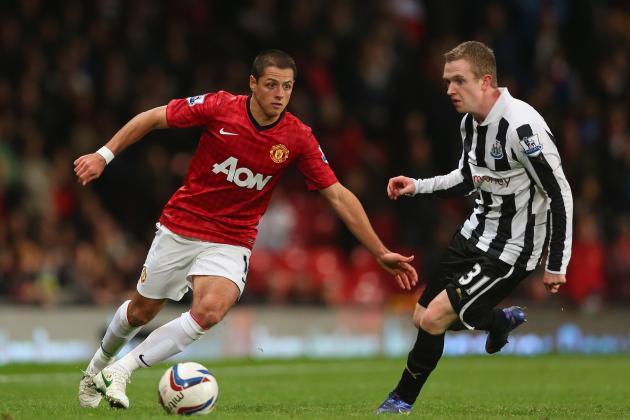 Alex Livesey/Getty Images

In his first two seasons with Manchester United, Javier Hernandez, or Chicharito, scored 32 goals in all competitions. Hernandez was a surprise to most in his debut season with United in 2010. He created an excellent striking partnership with Wayne Rooney, and while he had a disappointing sophomore campaign, most would agree that his future is bright.
Chicharito is one of the best poachers in the EPL.
ESPN FC characterizes Hernandez as having "great vision and anticipation in the box". He has the ability to come out of nowhere to make runs that baffle defenders. Before defenses know what hits them, Hernandez is in and out of the box and the ball is in the back of the net.
With the arrival of Van Persie and the growth of young Danny Welbeck, Hernandez will most likely see his playing time diminish. However, he will be an excellent substitute, providing speed and energy off the bench. Hernandez should still run rampant against teams near the bottom of the table which is when he will most likely see the starting lineup.
While his speed and intelligence make him a uniquely dangerous striking option, his inability to create his own shot and his relative inexperience put him behind Rooney and van Persie on the depth chart.
This is not to say that he is in a bad position. He has youth on his side. At 24, Hernandez has a few years to learn and grow behind two world-class strikers.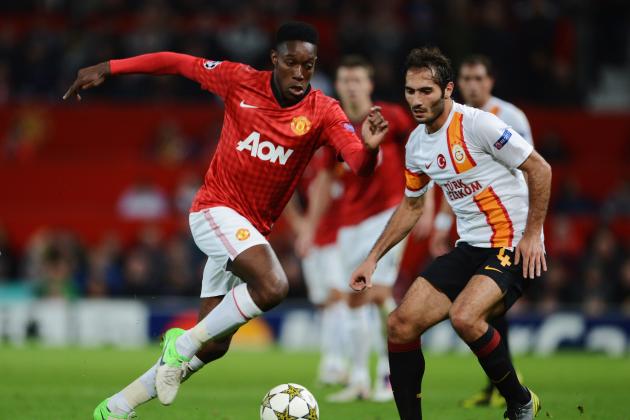 Michael Regan/Getty Images

Danny Welbeck is undoubtedly the future of Manchester United and English soccer. Welbeck had a phenomenal year with United last season. His efforts yielded 13 goals that showcased his very different skill set. He found the net 13 times last season.
Welbeck showed great improvement last season. He provided energy for United in a winter stretch that was, for the most part, rather bleak. His athleticism in the box makes him an elite prospect moving forward.
In addition to a great campaign with United, Welbeck had a fantastic showing with the English national team in the Euro Cup. He filled in for suspended Wayne Rooney, and scored a nifty goal against Sweden that showed apt touch and control.
As the 21-year-old striker gets more playing time, he could become something great for Manchester United. Like Chicharito, his inexperience will keep him from the starting lineup in big games, but he will definitely see his fair share of playing time.
Sir Alex is quoted as saying, "This year is another important one for him. He has a bright future ahead of him."
If this confidence is any indication of future success, then Manchester United fans should be very excited to see Welbeck develop into the dangerous striker that Fergie expects him to become.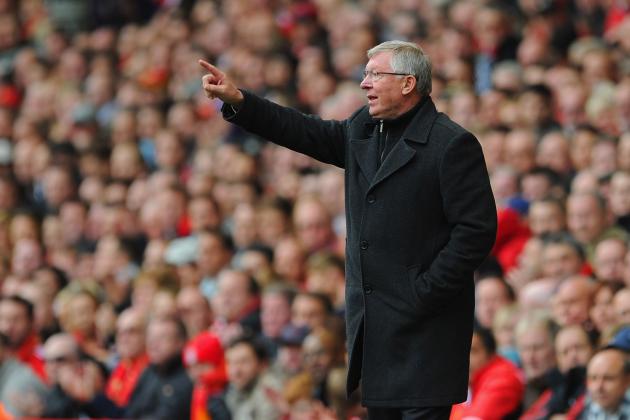 Michael Regan/Getty Images

Having four world-class strikers at your disposal is certainly not a bad problem to have. Each striker clearly brings a different element to the table, and for that reason, United fans should be confident that with Sir Alex at the helm, the proper duo will be picked to match any matchup the Red Devil's will face this season.
I leave it to you, the readers, then. What striker combo do you think will be best and what other goal scorers are you excited to see this year?