Oregon Ducks Football: 4 Issues That Must Be Addressed After Sluggish Win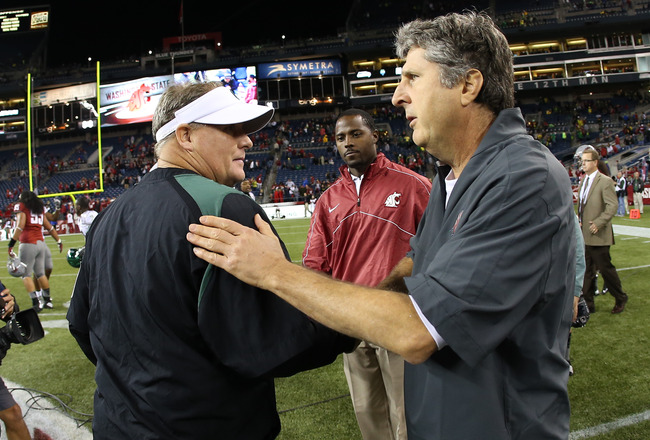 Otto Greule Jr/Getty Images
The Oregon Ducks sit at 5-0 (2-0 in the Pac-12) after Saturday night's 51-26 over the Washington State Cougars. The record is ideal for a team hoping to reach its second BCS national championship in the past three years, but several issues remain as to whether this team is capable of reaching their ultimate goal.
Before the season began, many wondered whether Marcus Mariota was the real deal, and if the defense was deserving of preseason hype. Both questions have been answered in a resounding way, as Mariota has tossed 11 touchdowns to just four interceptions, and the defense entered Saturday having pitched a shutout against the high-powered Arizona Wildcats last week.
But, championship-caliber teams don't lead teams like Washington State by four points at halftime. While the final score looked a lot like what fans were expecting, the Ducks showed they still have a lot of work to do if they want to end the season in Miami on Jan. 7th.
Here are some of the main concerns facing the Ducks as the calendar turns to October.
1. Getting to the Quarterback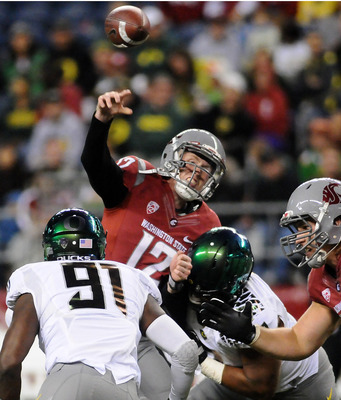 James Snook-US PRESSWIRE
Oregon recorded seven sacks on Saturday night, just two shy of its season total coming into the game. So, why is getting to the quarterback a chief concern at this point in the season? Because when they don't, bad things happen for the defense, and against a team with a better offensive line, better quarterback and better receivers, the scoreboard will reflect this.
Connor Halliday threw for 348 yards against Oregon but rarely did those yards come when he was under pressure. He was hassled as he threw his only interception of the game, which Avery Patterson returned for a touchdown.
But when Halliday had time, he was accurate, and the Cougars were able to move the ball in large chunks. Mike Leach's Air Raid offense is expected to put up passing numbers, but if the Ducks can't get consistent pressure on opposing QBs, everyone will put up big passing numbers.
In short, seven sacks is always a good thing, but if the opposing QB spends the rest of the time standing around in the pocket with ample time to throw, the secondary will be in for a rough game.
2. Offensive Line Play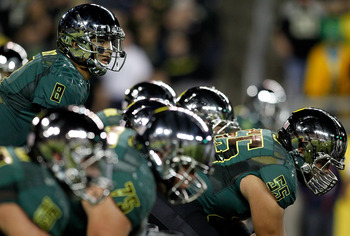 Jonathan Ferrey/Getty Images
With senior guard Carson York out for the season, the Ducks' offensive line has become a mix of veterans and young guns. It always takes time for an O-line to gel together, especially one that has both freshmen and sophomores getting playing time.
If you can recall the 2009 game at Boise State to open the season (Duck fans, if you've erased this game from memory, carry on with your day), Oregon's offensive line looked like it couldn't stop a swarm of butterflies, much less a 300-lb defensive linemen. But, they grew together and were physically dominating opponents by midseason.
For the 2012 team, the M.O. on offense remains very much the same: run the ball effectively throughout the game behind an offensive line tasked with creating holes in the defensive front. And while the Ducks rushed for 300 yards Saturday night, they were stuffed behind the line on several occasions.
This is bound to happen, at least once, during every game, but more than that signals something is wrong. The Ducks go as their running game goes, and if the Cougs' front four can burst into the backfield, then most teams can do the same.
Gaining one or two yards on a run play is normal; letting a defender through the line for a three-yard loss is not. If it continues to happen, better defenses will live in Oregon's backfield, and the Ducks will find themselves in trouble.
3. The Inability to Throw the Ball Downfield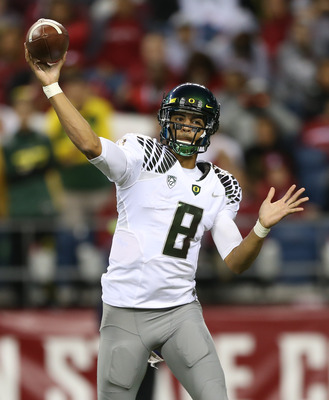 Otto Greule Jr/Getty Images
The Ducks passing attack has been very plain through five games. They like to incorporate a lot of quick throws into their offense, hoping to get speedsters like De'Anthony Thomas and Braylon Addison the football in space.
But whether by design or due to Mariota finding himself on the run throughout the game, the Ducks haven't shown the ability to complete passes more than 15 yards downfield.
Aside from a long touchdown to Addison in the game against Arizona, the Ducks haven't thrown the ball deep very often.
The passing game isn't set up to throw the ball 45 times a game, nor is taking deep shots a staple of the playbook. But being able to complete passes beyond the first-down line will open up the rest of the passing attack and the running game as well.
One deep completion in five games isn't going to cut it much longer. Teams will stack more guys in the box and closer to the line of scrimmage to prevent Oregon from moving its offense. Mariota doesn't have to throw it as far as he can 12 times a game, but he does need to complete several passes further downfield if this offense is going to reach its potential.
4. Playing Down to the Competition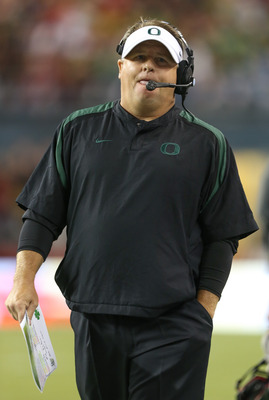 Otto Greule Jr/Getty Images
The Ducks probably realize that they are the biggest game on everyone's schedule. It's the sort of thing that comes with a No. 2 ranking in the AP poll.
For several years now, Oregon has beat down nearly every team in the Pac-12. Players get sick of losing to the same team each year by 20-plus points. A win against Oregon would make most teams' entire season—especially a team like Washington State, which appears headed for a three- or four-win season, at best.
But regardless of how badly an opponent wants to exact revenge for the past several years, Oregon has to play up to their own standards, and for 30 minutes Saturday night, they didn't.
The Cougars are not a very good football team. They lost to Colorado at home last week after a couple close wins against UNLV and FCS Portland State. By any measure, the Ducks should have wrapped this one up by halftime. But, football rarely follows a script, and Oregon led by just four at halftime before switching into high gear and pulling away.
The effort in the third quarter is the same effort fans should expect in the first half. If the Ducks become accustomed to letting teams hang around for awhile, they could find themselves in real trouble when a quality opponent shows up.
Failing to pull away from inferior teams until the second half shows that Oregon is playing down to the level of their competition as opposed to playing up to their own potential.
Keep Reading

Oregon Ducks Football: Like this team?