Every NFL Team's Most Electrifying Player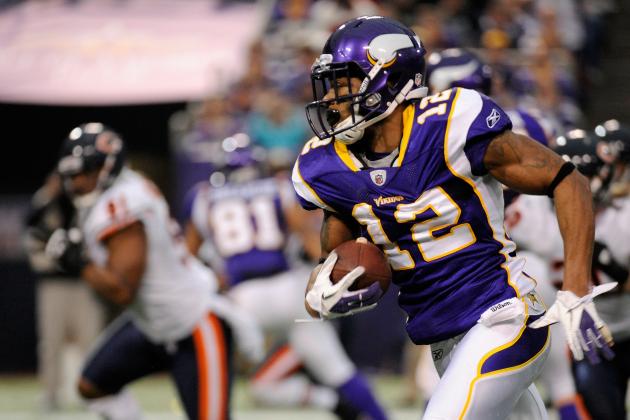 Hannah Foslien/Getty Images

The NFL is the ultimate team sport, but there are a variety of electric players on each NFL team that have the ability to not only change a game at the drop of a hat, but to make fans from around the league tune in to see on a weekly basis.
Parity is a word used to describe the NFL, and these rare players are one of the major contributing factors to the competitive balance in the league.
Whether it be a rare offensive weapon like Detroit Lions' wide receiver Calvin Johnson, or a game-changing defensive player like the Pittsburgh Steelers' Troy Polamalu, each team has at least one franchise-defining player that causes ripple effects around the league.
There are also players on each NFL team that could be in the conversation or approaching this elite status, so we'll list honorable mentions for each team as well.
Some decisions were easier than others, but here is a complete list of every team's most electric player.
Begin Slideshow

»
Patrick Peterson, CB
Peterson is far and away the most electric player on the Cardinals' roster. While Larry Fitzgerald is a Top 3 receiver in the NFL, Peterson is a newcomer who changes games with ease in multiple facets.
While Peterson still has some development to do when it comes to locking down opposing wide receivers, if he gets his hands on the ball via turnover, he can score a touchdown with relative ease.
Peterson happens to also be arguably the best punt returner in football. In 20 career games he has already scored four touchdowns on returns. In his rookie season alone he racked up 699 return yards.
Honorable Mentions: Larry Fitzgerald, WR. Daryl Washington, LB.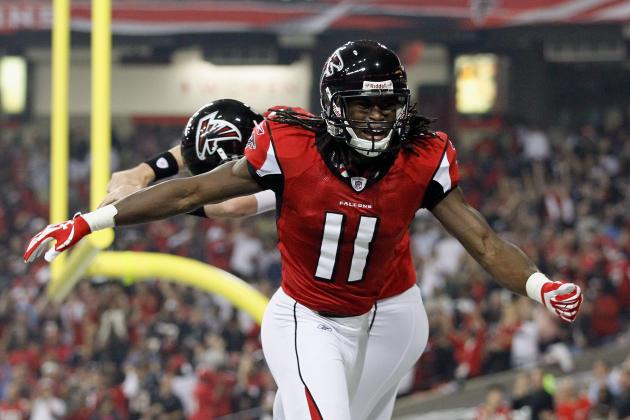 Kevin C. Cox/Getty Images

Julio Jones, WR
Jones stormed onto the NFL scene in 2011 after the Falcons gave up a massive haul to pick him, and he was worth everything the front office surrendered. In his rookie campaign he caught 54 passes for 959 yards and eight touchdowns—while missing three games due to injury.
While Roddy White was previously the most electric player on the Falcons, Jones has taken that mantle with ease, and likely eased the minds of Atlanta fans everywhere with White beginning to age.
Jones is a mismatch for most defensive players in the NFL and he is only in his second season. He has a unique skill set that allows him to beat defenses in a variety of ways.
The best things about Jones? He's just warming up.
Honorable Mentions: Roddy White, WR. Sean Weatherspoon, LB. William Moore, S.
Ray Lewis, LB
Lewis may be getting up there in age, but the future Hall-of-Fame linebacker is still the heart and soul of the Baltimore Ravens.
Whether it be his pregame antics, his big hits on the field or his emphatic locker room speeches to his team mates and media, Lewis is the most electrifying player on the Ravens for the time being.
With almost 1,000 career tackles in over 200 games played, Lewis is the type of player that comes along once in a generation and completely changes his respective position.
The Lewis era is almost over in Baltimore, but for now he is the player fans pay to see each and every week.
Honorable Mentions: Ed Reed, S. Torrey Smith, WR. Ray Rice, RB.
C.J. Spiller, RB
The Bills have a variety of special players on both sides of the ball, but none more electrifying that Spiller in the backfield when he is healthy.
Spiller is having a breakout season and is explosive whenever he touches the ball, whether it be on the ground or through the air. He is quickly developing into one of the better backs in the league, which makes like after Fred Jackson in Buffalo much easier.
While there are other players on the Bills who have been explosive longer, Spiller has quickly emerged as the most exciting player on the team each week.
Honorable Mentions: Mario Williams, DE. Stevie Johnson, WR.
Cam Newton, QB
Newton took the NFL by storm last season, and the end of his dominance does not appear to be in sight. He immediately broke records, rejuvenated a franchise and appeared in multiple commercials and media spots.
The amount of attention Newton received as a rookie was warranted. He threw for over 4,000 yards and 21 touchdowns to go along with his 706 rushing yards and 14 touchdowns on the ground.
Newton is here to stay, and the type of individual that NFL fans in general love and pay to see, even fans of rival teams. He's the next big face of the NFL, and arguably the most exciting player currently in the sport.
Honorable Mentions: Steve Smith, WR. Chalres Godfrey, S.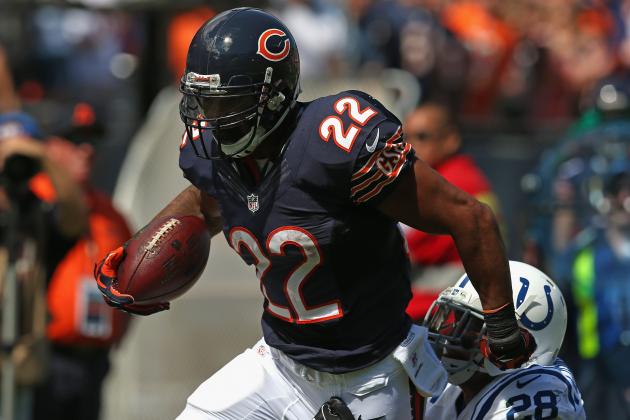 Jonathan Daniel/Getty Images

Matt Forte, RB
One could easily argue that Devin Hester is the most exciting player in Chicago because of his impressive skills at returning kicks, but his lack of contributions on the field offensively knock him from contention.
Forte is one of the better running backs in the league, and his ability to torch defenses while running or through the air makes him an exciting and dynamic player that cannot be missed on Sundays.
Each time Forte touches the ball there is a chance he could score, and he has an uncanny ability to carry the team on his back on the way to victory. For that, Forte is the most exciting player on the roster.
Honorable Mentions: Devin Hester, WR. Julius Peppers, DE.
A.J. Green, WR
Green is currently a Top 3 receiver in the NFL. It is rare that a first-round pick turns out to be elite in his second season, but the Cincinnati Bengals struck gold when it selected the Georgia product last year.
Statistically Green is impressive, routinely lighting up the stat sheet. His more impressive trait is his highlight-worthy grabs over helpless defensive backs on a routine basis.
To date there has yet to be a defender that has effectively shut down Green, and he is a mismatch when lining up anywhere on the field.
The Bengals have some exciting players on all areas of the roster but none are even close to Green.
Honorable Mentions: Andrew Hawkins, WR. Geno Atkins, DT.
Trent Richardson, RB
It says something about the Cleveland Browns that the most exciting player on the roster is a rookie, but it says even more about Richardson that he has already earned that label.
Any time Richardson touches the football he is one of the most entertaining running backs to watch in the NFL because of his eerie combination of size and speed, which allows him to truck defenders of juke them out of their cleats.
The best is yet to come from Richardson, but he is also one of the most interesting players to watch on a weekly basis. Things are looking up in Cleveland.
Honorable Mentions: Josh Cribbs, WR. Joe Haden, CB.
Dez Bryant, WR
If he can stay out of trouble off the field, Bryant is emerging as one of the best receivers in the NFL thanks to his speed and physical stature.
Bryant has the ability to over-power defensive backs thanks to his impressive strength but he also has elite toe-tapping ability to make the highlight grabs on any given down.
While Bryant has a long way to go in the maturity department, his skills on the field have allowed him to dominate thus far in his career, which is great for every NFL fan and even better for the Dallas Cowboys' organization.
Honorable Mentions: DeMarco Murray, RB. DeMarcus Ware, LB.
Von Miller, LB.
The Denver Broncos are fortunate enough to have two of the most talented pass-rushing linebackers in the NFL, but only one of them can wear the crown as the most exciting player on the roster.
That honor would go to second -year linebacker Miller, who emerged as an explosive player last year while while tallying 11.5 sacks.
Miller is the future for the Broncos and has seen more media exposure than his counterpart Elvis Dumervil.
As of now, Miller is the one player on the roster not named Peyton Manning that people should pay to see each week.
Honorable Mentions: Elvis Dumervil, LB. Peyton Manning. QB.
Calvin Johnson, WR
Johnson is without a doubt the best receiver in the NFL, and that is unlikely to change in the coming years. In fact, we may be witnessing the revolution of the position thanks to the receiver they call Megatron.
Statistically no one is coming close to Johnson. Last year he racked up 1,681 receiving yards and a jaw-dropping 16 touchdowns.
It is Johnson's play-style that makes him one of the most exciting players to watch. He physically abuses any defenders that attempt to cover him and routinely jumps over multiple defenders to grab a jump-ball.
Johnson is the future of the position. Enjoy the show.
Honorable Mentions: Ndamukong Suh, DT. Titus Young, WR.
Randall Cobb, WR
It would be too easy to name Aaron Rodgers or Clay Matthews the most electric player on the Packers' roster.
It would also potentially be correct.
Matthews is great, and we know what to expect from Rodgers. Second-year receiver Randall Cobb is another story entirely.
Cobb is an elite kick returner and a threat to score any time opposing teams are foolish enough to give him an opportunity. He also can turn any reception anywhere on the field into a touchdown, and is even lining up in the backfield as a running back and taking handoffs.
Cobb is the most electric player on the Packers' roster.
Honorable Mentions: Aaron Rodgers, QB. Greg Jennings, WR. Clay Matthews, LB.
J.J. Watt, DE
Arian Foster and Andre Johnson may be exciting players on offense, but Watt is turning heads around the league with his stellar play and potentially emerging as the best defensive player in football.
In four games Watt has continued to show off his endless motor and quickly accumulated a ridiculous 7.5 sacks.
Watt is a game-changer, and if you have not already seen him play, now would be an ideal time to start.
He may not be a household name just yet, but Watt is well on his way. He's easily the most exciting player to watch in Houston.
Honorable Mentions: Arian Foster, RB. Andre Johnson, WR.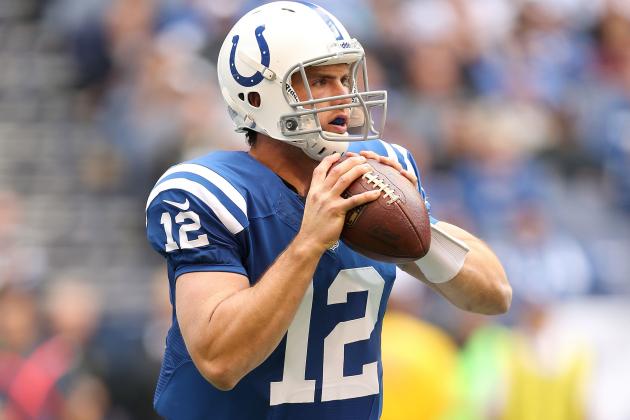 Andy Lyons/Getty Images

Andrew Luck, QB
As of now the Indianapolis Colts do not have a variety of players we would classify as electric, but that is the cost of a rebuilding process.
Luckily for the organization it was able to land Luck, who singlehandedly has the ability and personality to not only turn the franchise around in a hurry, but to be likable enough to sell a ridiculous amount of merchandise.
There are going to be bumps in the road for Luck, but he has already managed to make the players around him better. Watch Luck closely every week, he could be the next big thing for the league.
Honorable Mentions: Reggie Wayne, WR. Dwight Freeney, LB. Robert Mathis, LB.
Maurice Jones-Drew, RB
The Jacksonville Jaguars share more in common with the Indianapolis Colts than just a division—the Jaguars also have a serious lack of premier players that fans will pay to see.
There's one glaring exception to that rule in Jacksonville—running back Maurice Jones-Drew.
Jones-Drew was the rushing champion last year with 1,606 yards on the ground to go with his eight touchdowns.
Despite an extensive holdout, Jones-Drew is back to his former self in a big way, which makes him far and away the most explosive player on the roster.
Honorable Mentions: Justin Blackmon, WR. Jeremy Mincey, DE.
Jamaal Charles, RB
Charles was an elite running back coming off a 1,400 yard season in 2011 before tearing ligaments in his knee early last season.
It's safe to say Charles is back, and NFL fans everywhere are rejoicing.
Charles is an electric player that can turn a play that looks as if it is developing into a loss right into a touchdown thanks to his exceptional combination of vision, speed and elusiveness.
When it comes to eye-popping runs, look no further than the healthy Charles every weekend.
Honorable Mentions: Dwayne Bowe, WR. Eric Berry, S. Tamba Hali, LB.
Reggie Bush, RB
Bush has quickly went from a disgraced running back with a tarnished name thanks to his collegiate days to one of the better every-down backs in the NFL.
There are not many that can compare to Bush when he gets in the open field. At one point it was widely believe that he could not carry the load for a team, but he debunked that last season by rushing for 1,086 yards and six scores with the Dolphins.
Now that Bush has proven he can stay on the field during any scenario, he is without a doubt one of the must-see players at the running back position.
Honorable Mentions: Cameron Wake, DE.
Percy Harvin, WR
Harvin made it cool to return kicks, be a great receiver and take snaps out of the backfield at running back in the NFC North before Randall Cobb broke onto the scene with the Green Bay Packers last season.
While plenty of arguments can be made for both Jared Allen and Adrian Peterson here, Harvin is simply more fun to watch at this juncture.
Not only is Harvin an elite return man, when healthy he is the No. 1 target in the passing game because of his flashy skills. He's a criminally underrated player, and one every NFL fan should focus on every Sunday.
Honorable Mentions: Adrian Peterson, RB. Kyle Rudolph, TE. Jared Allen, DE.
Rob Gronkowski, TE
Gronkowski is one of those players that comes along and revolutionizes a position. What he has been able to do during his short stay in the NFL has not only made the tight end position relevant again, it has contributed to changing the league entirely.
In 2011 Gronkowski had what some would call a breakout season by catching 90 passes for 1,327 yards and a jaw-dropping 17 touchdowns.
When it comes to defenders that can shut down Gronk, the list is blank. Outside of the man feeding him the ball (Tom Brady) Gronk is the most electric player in New England.
Honorable Mentions: Aaron Hernandez, TE. Wes Welker, WR. Vince Wilfork, DT.
Darren Sproles, RB.
Sproles is another dynamic back that can not only frustrate opposing defenses on the ground but in the passing game as well.
Last season Sproles ran for 603 yards and two touchdowns, but also added 710 yards and seven touchdowns through the air.
With how creative the New Orleans Saints coaching staff gets with Sproles, he is able to use his outstanding speed an elusiveness to be one of the more entertaining players to watch in the NFL.
Honorable Mentions: Jimmy Graham, TE. Devery Henderson, WR.
Jason Pierre-Paul, DE
In JPP's second season last year, he had a campaign to remember as he emerged as one of the biggest freak athletes the NFL has to offer and absolutely abused NFL quarterbacks on his way to 16.5 sacks.
While he is but one facet of a very talented front seven that has not issues getting to opposing quarterbacks, if you took JPP out of the equation the entire unit would suffer significantly.
There is nothing more exciting that watch Pierre-Paul simply shove a 300 pound man aside with one hand and proceed to level a stunned quarterback.
Honorable Mentions: Victor Cruz, WR. Hakeem Nicks, WR.
Santonio Holmes, WR
Holmes has not exactly lit the world on fire since joining the New York Jets a few seasons ago, but he happens to be the most exciting thing about the team on the field right now outside of a ridiculous quarterback controversy.
The crown may not be his for long with the Jets, as youngsters like Joe McKnight and Stephen Hill have bright futures and are sure to be more exciting to watch.
For now, Holmes is the No. 1 receiver on a stagnant offense and is by default the most exciting player wearing green in New York.
Honorable Mentions: Antonio Cromartie, CB. Joe McKnight, RB.
Darren McFadden, RB
McFadden is currently the closest thing NFL fans are going to get to Minnesota Vikings' running back Adrian Peterson.
Like Peterson, McFadden is a bruising runner who seeks out contact—and wins. For his size McFadden is faster than one would think and has the ability to make defenders miss if he should actually have a desire to do so.
The issue with McFadden is health.He has yet to play a full NFL season, which is both unfortunate for him and every NFL fan on the planet.
Honorable Mentions: Denarius Moore, WR. Lamaar Houston, DE.
LeSean McCoy, RB
McCoy has strung together two consecutive 1,000-yard seasons on the ground dating back to 2010 and has scored 24 rushing touchdowns in that same time span.
Also known as "Shady" for his ridiculous elusiveness and ability to make defenders miss, McCoy is one of the better backs in the league and the perfect example of an every-down back that can hurt defenses on the ground but also stay in the game during passing situations.
Unfortunately for McCoy and NFL fans, he is currently on a team with a head coach in Andy Reid who favors the pass. That still has not stopped Shady from grabbing everyone's attention.
Honorable Mentions: DeSean Jackson, WR. Michael Vick, RB. Trent Cole, DE.
Mike Wallace, WR
It's easy to dislike Wallace for his extensive holdout this offseason, but he has not skipped a beat and it was at least slightly warranted considering he has posted back-to-back 1,000 yard seasons and caught 18 touchdowns passes since 2010.
Wallace is an elite receiver that specializes in beating opposing defenses deep with ease. He not only allows his team to score big plays consistently, he opens things up underneath for his teammates
It is unclear how much longer Wallace will be in Pittsburgh, but for right now the big-play specialist is the most electric player in the steel city.
Honorable Mentions: Antonio Brown, WR. Troy Polamalu, S. James Harrison, LB.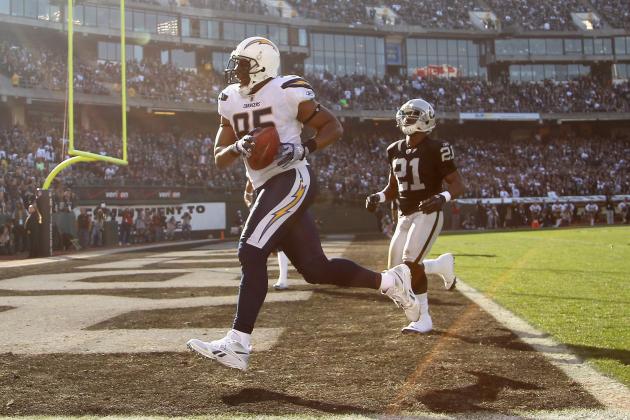 Ezra Shaw/Getty Images

Antonio Gates, TE
At 32 years old Gates is still one of the more exciting players to watch in the NFL. He was far and away the best tight end of this past generation, with Tony Gonzalez being his only real competition for that title.
With over 75 touchdown receptions in his career, it would be easy to write-off Gates. However, turn on the game any Sunday and it is easy to see that defenses still respect his skills.
Gates is considered old school now thanks to player like Rob Gronkowski, but it is still fun to tune in and watch Gates have his way with defenses whenever he feels like it.
Honorable Mentions: Malcom Floyd, WR. Robert Meachem, WR.
Aldon Smith, LB
Smith burst onto the scene last year and quickly established himself as one of the premier pass-rushers in all of football by notching 14 sacks in limited playing time.
Now Smith has developed into an every-down player, which only makes him that much more exciting to watch.
With a roster as deep as the 49ers' it can be hard to narrow down exactly who is the most electric player, but Smith runs away with the award thanks to his elite skill set and personality.
Honorable Mentions: Justin Smith, DE. Frank Gore, RB. Vernon Davis, TE.
Marshawn Lynch, RB
Lynch is another ridiculously physical runner that is known for his nickname "Beast Mode" and his affinity for Skittles.
Combine an interesting personality with Lynch's skill set and it is easy to see why NFL fans flock to see the Seattle Seahawks play with Beast Mode as the starting back.
Last season alone Lynch bruised his way to 1,204 yards and 12 touchdowns, and his hot start in 2012 seems to be pointing in that same direction. Lynch is not the most dynamic of running backs, but he sure is entertaining to watch.
Honorable Mentions: Earl Thomas, FS. Leon Washington, RB.
Danny Amendola, WR
Amendola has quickly used the early 2012 season to turn himself into a household name and one of the must-see acts in the NFL.
He has had an up and down career to date, but now Amendola appears to be the focal point of the offense and St. Louis, and a very good one at that.
Amendola already has an absurd 31 receptions in four games, and watching him free himself of defenders down the field to get open has been a things of beauty. The sky is the limit in what appears to be a breakout season for Amendola.
Honorable Mentions: Steven Jackson, WR. Cortland Finnegan, CB. Janoris Jenkins, CB.
Mark Barron, SS
The Tampa Bay Buccaneers shocked most NFL fans when they selected Mark Barron so early in the 2012 draft, but now the front offices looks like a bunch of geniuses for the move.
A lot of good things are happening in Tampa Bay, but the outstanding play and bone-crunching hits Barron provides each game are worth the price of admission alone.
Barron has a long way to go in his career, but he is a player that is worth watching no matter what. It appears as if he will only get better, which is great for all parties except his opposition.
Honorable Mentions: Vincent Jackson, WR. Gerald McCoy, DT.
Chris Johnson, WR.
Johnson has had a rough go of it so far in the 2012 season, and that has been a recurring trend over the past few seasons.
The man who once rushed for over 2,000 yards in a single season appears to have regressed dramatically, but he still happens to be the most exciting thing the Tennessee Titans have to offer at this point.
To Johnson's credit he still has the ability to break a game wide open on a single carry, but mediocre offensive line play and his attempt to hit a home run on every play is killing his production.
Still, Johnson is one of the most fascinating players in the league because you never know what is going to happen on any down.
Honorable Mentions: Kenny Britt, WR. Jared Cook, TE.
Robert Griffin III, QB
Griffin III may very well turn out to be the best quarterback in the 2012 NFL draft class if his first four games are any indication.
So far RGIII has looked great throwing for 1,070 yards, four touchdowns and one interception to give him a pristine 103.2 rating.
The Washington Redskins clearly thought highly of RGIII after giving up a massive haul to move up and take him and the gamble has paid off so far.
Griffin makes the Redskins' tick, and his dynamic ability and electric personality make him the must-see player in Washington.
Honorable Mentions: Pierre Garcon, WR. Ryan Kerrigan, LB. Brian Orakpo, LB.