Philadelphia Flyers: Power Ranking Their Last 10 1st-Round Draft Picks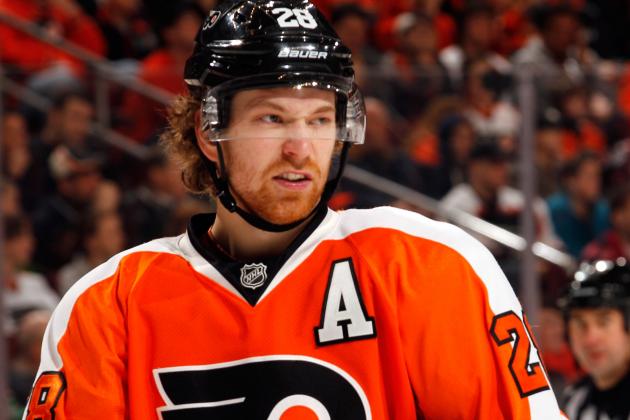 Rob Carr/Getty Images

The Philadelphia Flyers have added some amazing talent to their roster through the NHL entry draft.
With their first-round draft picks, the Flyers have drafted some great hockey players. They've even managed to snag a few guys that became franchise players. In the past, the Flyers have used their first-round picks to sign players like Simon Gagne and Justin Williams.
More recently, the Flyers got superstar players like Claude Giroux through the first round of the draft.
But not all of their picks have been as successful. Philly has had a few busts when it comes to its first-round draft picks.
That said, let's take a look back and rank the last 10 first-round draft picks made by the Philadelphia Flyers.
Begin Slideshow

»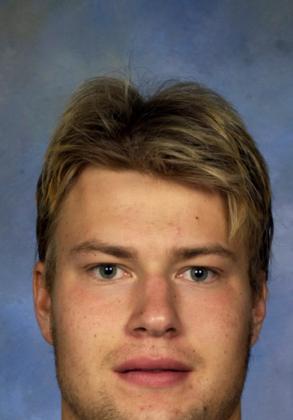 Getty Images/Getty Images

Jeff Woywitka was drafted 27th overall by the Flyers in 2001.
That's about the most impressive thing about his NHL career.
In his article about Woywitka signing with the Montreal Canadiens, Stu Hackel noted that Woywitka's WHL coach said "Jeff is a solid defenceman that can play the game any way you want to. He is a 17-year-old that plays against the opposition's top lines."
That never quite translated to the professional level.
Woywitka spent his brief time with the franchise with the Flyers' AHL affiliate. In 29 games with the Philadelphia Phantoms, he recorded just six assists but managed to get 51 penalty minutes.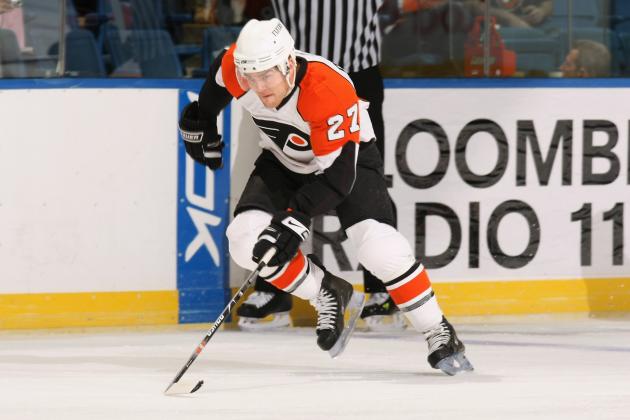 Al Bello/Getty Images

Steve Downie's name was called as the 29th overall pick in the 2005 NHL entry draft.
Downie never impressed as a Flyer. He scored a measly 12 points in 38 games stretched over two partial seasons. The Flyers went on to ship off Downie to the Tampa Bay Lightning in November 2008.
Downie fit better in Tampa Bay. He scored a career-high 22 goals and 24 assists in 79 games during the 2009-10 season. He continued to impress in the 2011 playoffs by tallying 14 points in 17 games. His play was integral in the Lightning eliminating the Penguins and Capitals from the playoffs.
That said, Downie isn't defined by his scoring numbers. He is a fantastic winger that is capable of scoring, but his real value to a team is his physical capabilities.
In February, Downie was traded to the Colorado Avalanche. He has since signed a two-year deal with the team.
Downie adds much-needed muscle to the Avalanche. While the team has some good scorers in players like P.A. Parenteau and Paul Stastny, they don't have many physical forwards.
Enter Steve Downie. With Downie on the ice to grind it out with the opposition's defensemen, the Avs scorers will be able to rack up goals.
It's too bad that Downie never really found his niche with the Flyers. Despite being a great player, the fact that he didn't do much in a Flyers jersey warrants him a low rank.
Bruce Bennett/Getty Images

Swiss defenseman Luca Sbisa was drafted 19th overall by the Flyers in 2008. Sbisa was a top defensive prospect who was especially sought after for his talent as an offensive defender.
Sbisa played 39 games with the Flyers in his rookie season before returning to the WHL's Lethbridge Hurricanes for the remainder of the season.
In those 39 games with the Flyers, Sbisa only recorded seven assists and finished with a minus-six rating. However, in the 18 games he played with the Hurricanes that season, Sbisa recorded four goals and 11 assists.
Sbisa was part of a trade with the Anaheim Ducks at the 2009 entry draft that brought Chris Pronger to the Flyers. He has still yet to break out as the top offensive defenseman that many pegged him as.
In four seasons, Sbisa has yet to stand out on the NHL stage. For the most part, his scoring numbers have not been significant enough to allow his abysmal plus-minus ratings to be overlooked. Even though he's an offensive defenseman, he can't be a liability to his team.
On March 8, 2011, Sbisa signed a four year contract with the Ducks. He played a full season with them in 2011-2012, tallying five goals and 19 assists.
It would seem that Sbisa is finally developing into the player that many pegged him as. Had he developed into the kind of offensive defenseman he was projected as when he played for the Flyers, he would find himself higher on this list.
Jamie Sabau/Getty Images

The Flyers drafted Scott Laughton 20th overall in this year's NHL entry draft. Over the next few years, the 18-year-old center should prove to be one of the most versatile forwards on the Flyers' roster.
Laughton will fit nicely with the Flyers offense. Playing with the OHL's Oshawa Generals, Laughton tallied 21 goals and 32 assists for 53 points in 64 games.
Aside from his scoring proficiency, Laughton is a reliable two-way forward. Offense or defense, Laughton grinds it out and fights for every puck.
The Flyers are already a very strong offensive team. Laughton will add defensive depth as a forward. Expect him to be a second or third-line center and a crucial member of the Flyers' penalty kill unit.
However, potential can only take you so far. In a few years, Laughton will surely ascend this ranking. Laughton will have to prove himself and earn a higher spot on this list.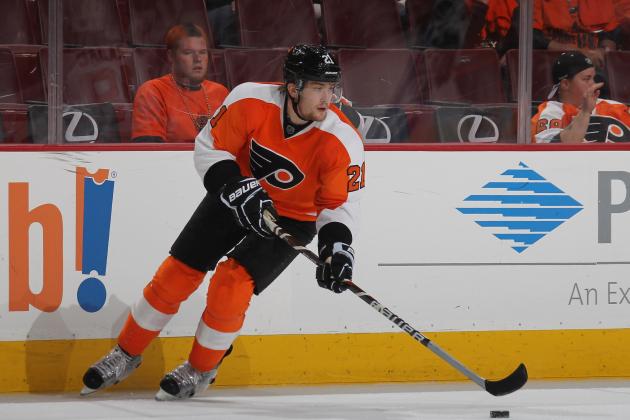 Bruce Bennett/Getty Images

James van Riemsdyk is an interesting case. He was drafted in 2007, but didn't make his debut with the Flyers until 2009. His only junior league experience consists of seven games in the AHL's Philadelphia Phantoms.
JVR debuted with the Flyers as a third-line winger. Between the regular season and the playoffs, he played 99 games in his rookie season. In those games, he recorded 18 goals and 23 assists for a total of 41 points.
Van Riemsdyk improved in his three seasons as a Flyer. His points-per-game ratio has steadily increased over the past three seasons. He didn't break out quite like many expected him to when he was drafted second overall in 2007, but he consistently added offensive depth to the Flyers.
On June 23, 2012, Philly traded JVR to the Toronto Maple Leafs. He's still a very young player with an incredible amount of potential. He was successful in his time with the Flyers and should continue to grow and add much-needed offensive flare to the Maple Leafs.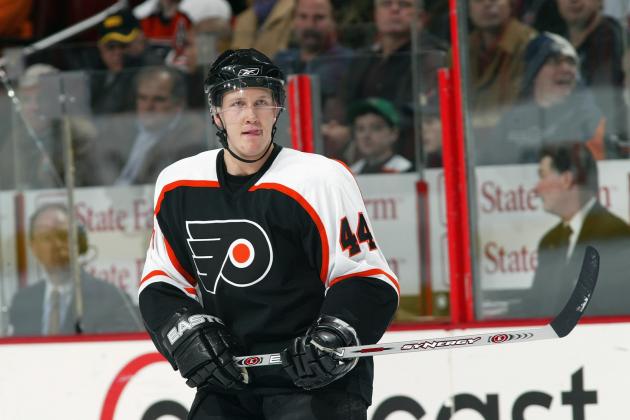 Len Redkoles/Getty Images

Out of the Flyers' last 10 first-round draft picks, Joni Pitkanen was the team's second highest overall pick. Philly selected the offensive defender fourth overall in the 2002 NHL entry draft.
Pitkanen was a standout rookie in the 2003-04 season. In 71 games, he recorded eight goals and 19 assists. He more than earned his spot as a Flyers defenseman.
During the 2004-05 NHL lockout, Pitkanen played for the Flyers' AHL affiliate Philadelphia Phantoms and helped lead the team to a Calder Cup.
After the lockout, Pitkanen would don a Flyers jersey for two more seasons. He continued to be a scoring force by setting up his forwards for goals.
Pitkanen held his own on defense too. Throughout his four seasons with the Flyers, Pitkanen boasted a plus-12 rating. Pitkanen's rating took a huge hit in 2006-07 when he finished with a minus-25 rating. This can be at least partially attributed to the Flyers' miserable season which saw them win only 22 games.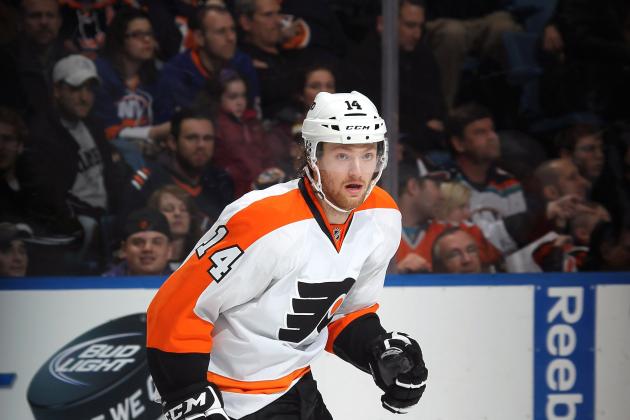 Bruce Bennett/Getty Images

Sean Couturier proved to be one of the best-rounded forwards in the 2011-2012 rookie class. He tallied 27 points in 77 regular season games and finished with a remarkable plus-18 rating.
It only took the rookie center three games to earn his first NHL point and five to score his first goal. Couturier also became the second youngest player to score a hat trick in a playoff game. He scored three goals and had an assist in Game 2 of the Flyers' first-round series with the Pittsburgh Penguins.
But that's only half of Couturier's game.
In his scouting report after the 2011 NHL entry draft, Geoffrey Detweiler likened Courturier to Jordan Staal in his ability as a shutdown center. Couturier lived up to the praise throughout his rookie season.
During their 2012 playoff series with the Penguins, Couturier played a shutdown defensive role against Hart Memorial Trophy recipient Evgeni Malkin. While Couturier finished the series with a plus-three rating, Malkin finished with a minus-four rating.
Couturier adds a great deal of offensive and defensive depth. His ability to shut down the opposition's scorers and still contribute offensively makes him one of the Flyers' best first-round draft picks out of their last 10.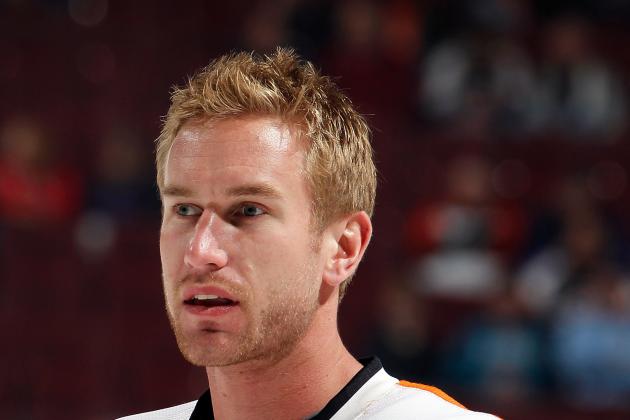 Paul Bereswill/Getty Images

Jeff Carter was the first of the Flyers' two first-round picks in 2003. Like Mike Richards, Carter was an instrumental member of Philly's team for six seasons before being traded in the 2011 off-season.
Carter had an explosive rookie season. He finished the season with 23 goals and 19 assists for a total of 42 points, making him the second-highest scorer in his rookie class.
Over the next two seasons, Carter's scoring numbers steadily increased. He scored 37 points in 62 games in 2006-07 and 53 points in 82 games in 2007-08. After signing a three year deal with the Flyers, Carter had a breakout offensive season, scoring an astounding 46 goals and 38 assists for 84 points.
Unfortunately, Carter never got many chances to showcase his talent in the postseason. The Flyers were eliminated in the first round of the 2008-09 playoffs, and he was sidelined with a foot injury during the 2009-10 and 2010-11 playoffs.
Carter would, however, keep an impressive 60 points-per-season pace for his final two seasons as a Flyer.
During his 39 games with the Columbus Blue Jackets, Carter never quite clicked. He got off to a slow start due to the foot injury he suffered at the beginning of the season. He was traded to the Los Angeles Kings, reuniting with Mike Richards, in February 2012. The pairing of Carter and Richards would be integral in leading the Kings to a Stanley Cup championship.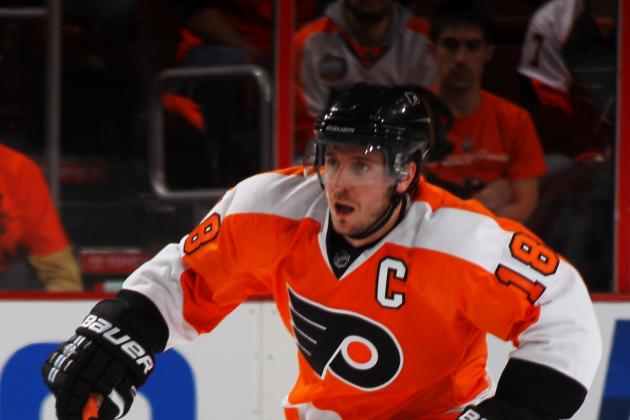 Bruce Bennett/Getty Images

Mike Richards, picked 24th overall, was one of two first-round picks for the Flyers in the 2003 NHL entry draft. He was a vital member of the Flyers for six years before being traded in the 2011 offseason.
Richards made a name for himself early on in the NHL. He scored a hat trick in during his rookie season and finished third in scoring in his rookie class.
Even though his sophomore season was cut short with an injury, Richards still recorded 10 goals and 22 assists in 59 games.
Richards really broke out as a star player in the 2007-2008 season, when he scored 75 points in 73 games. He went on to score 80 points in 79 games the following season and remain above the 60-point level for his last two seasons as a Flyer.
Richards was a franchise player for Philadelphia. He was named team MVP for the 2007-08 and 2008-09 seasons and helped lead the team to a conference championship in 2010.
The Los Angeles Kings received Richards in a trade during the 2011 offseason. Richards, who tallied 44 points, was an integral part of the Kings offense. Richards was reunited with former line mate Jeff Carter halfway through the season, and the two would be a driving force in leading the Kings to the franchise's first Stanley Cup.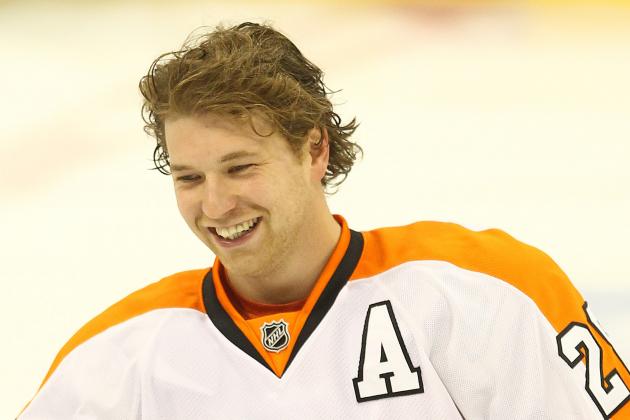 Tom Szczerbowski/Getty Images

The Flyers drafted standout center Claude Giroux 22nd overall in the 2006 NHL entry draft. Over the past four seasons, Giroux has evolved into Philly's franchise player.
Giroux played the first half of his rookie season with the Philadelphia Phantoms. He was eventually called up to the Flyers and finished the season with nine goals and 18 assists in 42 games.
Giroux's points-per-game ratio actually dropped a bit in his sophomore season. However, Giroux really broke out in the 2010 Stanley Cup playoffs. In 23 games, Giroux tallied 10 goals, 11 assists and finished with a plus-seven rating.
His numbers steadily increased thereafter. Giroux played a total of 180 games over the next two seasons and recorded an astounding 198 points.
The Flyers demonstrated their faith in Giroux when they traded away Mike Richards and Jeff Carter in the 2011 offseason. With that, Giroux was promoted to first-line center. Along with Scott Hartnell and Jaromir Jagr, Philly's first line was one of the most potent offensive lines in all the NHL.
Giroux was a favorite to win the Hart Trophy throughout most of the 2011-2012 season. If the trend continues, it's only a matter of time before the Flyers' star player claims the league's MVP title and brings a Stanley Cup to Philadelphia.
Michael Prunka is a Bleacher Report Featured Columnist and Sports Writing Intern. To stay up to date with his WWE and NHL commentary, you can like his Facebook page, follow him on Twitter and follow him on Tout.