USC vs Utah: Complete Game Preview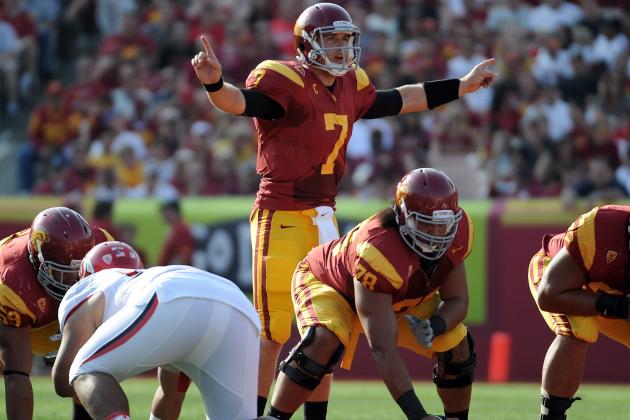 Harry How/Getty Images

USC heads into this Thursday night Pac-12 conference game 3-1 overall and 1-1 in the conference. Utah's season, so far, has not gone as expected. Coach Kyle Whittingham expected to build on the 2011 season, but the "retirement" of QB Jordan Wynn and other factors have somewhat derailed this Utes squad.
Of course, thus far, USC has not lived up to their preseason hype either—which, given the history of the program, is not unusual. Trojan squads of late have been slow getting out of the proverbial gate.
That said, Stanford's loss to Steve Sarkisian's Washington Huskies struck the Trojan nation particularly hard this weekend. USC needed Stanford to win out and remain highly ranked to boost the Trojans' chances of a BCS berth.
Bygones. Honestly, Stanford losing to Washington annoyed me more than USC's loss to the Cardinal. After all, Trojan nation should be used to it by now (Don't even go there—my rant on that is a whole other subject, my friends and readers).
USC also has an issue with Thursday night games, which I will address in a piece later in the week. For now, let's look at the preview for USC at Utah.
Begin Slideshow

»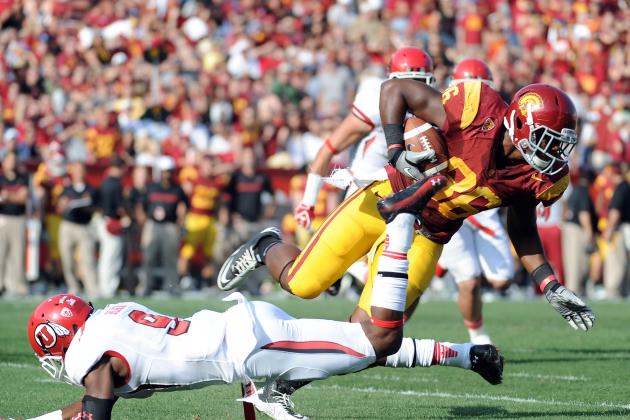 Harry How/Getty Images

Who: USC at Utah
When: Thursday, November 3, 9 p.m. ET
Where: Salt Lake City, Utah
Stadium: Rice-Eccles Stadium (45,017 capacity)
TV: ESPN
Radio: 710AM ESPN Radio in Los Angeles, 700AM ESPN Radio in Salt Lake City
Internet Stream: USCTrojans.com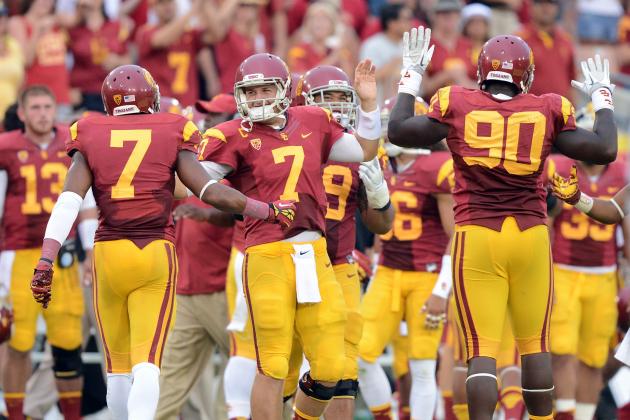 Harry How/Getty Images

The depth chart remains the same as last week, despite some injuries. This week, USC does see the return of a number of players, including RB D.J. Morgan.
Center Khaled Holmes limped off the field against Cal. Coach Lane Kiffin is characteristically quiet about his status, as well as that of Abe Markowitz and several other players. Markowitz, however, is expected to return for the game against Utah.
OFFENSE:
QB: Matt Barkley
WR: Robert Woods at SE, Marqise Lee at FL
RB: Curtis McNeal or Silas Redd
LT: Aundrey Walker (Max Turek competing for start this week but still listed No. 2)
LG: Marcus Martin
C: Khaled Holmes (no word on injury, not expected to play, Cyrus Hobbi inexplicably listed at No. 2)
RG: John Martinez
RT: Kevin Graf
TE: Xavier Grimble or Randall Telfer
FB: Soma Vainuku
DEFENSE
DE: Wes Horton
NT: Antwaun Woods
DT: George Uko
DE: J.R. Tavai
OLB: Dion Bailey
MLB: Lamar Dawson
OLB: Hayes Pullard
CB: Nickell Robey
FS: T.J. McDonald
SS: Jawanza Starling
CB: Torin Harris OR Anthony Brown
SPECIAL TEAMS
P: Kyle Negrete
PK: Andre Heidari or Alex Wood
SNP: Peter McBride
HLD: Matt Barkley
KOR: Marqise Lee AND Nelson Agholor
PR: Nickell Robey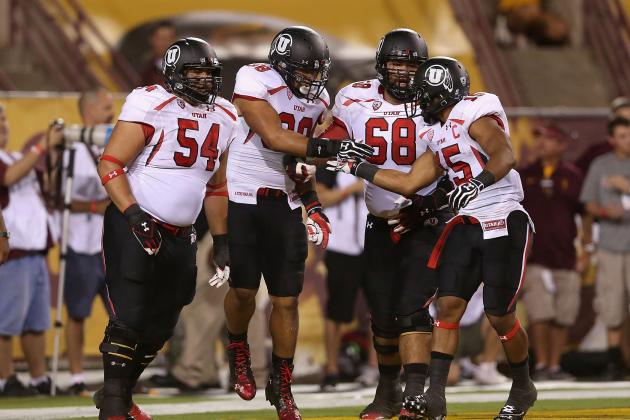 Christian Petersen/Getty Images

OFFENSE
QB: Jon Hays
RB: John White, Jarrell Oliver
WR: DeVonte Christopher, Kenneth Scott
WR: Dres Anderson, Geoff Norwood
TE: David Rolf
OT: Miles Mason, Percy Taumoelau
OG: Jeremiah Tofaeono, Sam Brenner
C: Tevita Stevens
DEFENSE
DE: Nate Fakahafua, Joe Kruger
DT: Dave Kruger, Star Lotulelei
LB: Trevor Reilly, V.J. Fehoko, Jared Norris
CB: Moe Lee, Ryan Lacy
S: Quade Chappuis, Eric Rowe
SPECIAL TEAMS
K: Coleman Petersen
P: Sean Sellwood
LS: Patrick Green
H: Sean Sellwood
KR: DeVonte Christopher
PR: Charles Henderson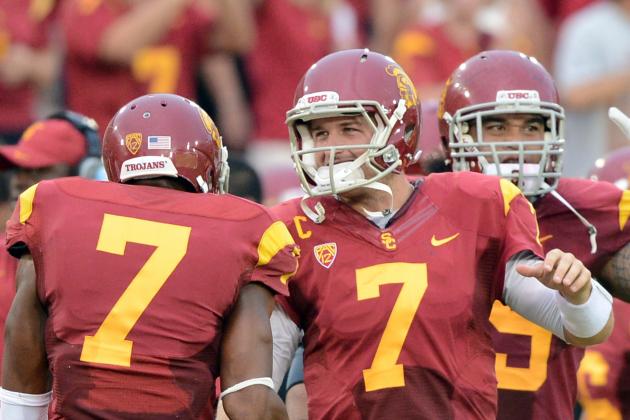 Harry How/Getty Images

USC is coming off a badly needed bye week after beating Pac-12 rival Cal by a score of 27-9.
The score belies the true story of the game, which many Trojan fans felt was not dominant or decisive enough. Beating Cal was crucial, considering the loss at Stanford the week before, which we will not rehash again.
The good thing is that the Trojans got their running game going versus the Golden Bears.
USC ran for 296 yards on the ground. Silas Redd accounted for 158 yards and a score and Curtis McNeal racked up 115 yards on 10 carries.
This explosion came after USC only put up 26 yards rushing versus Stanford.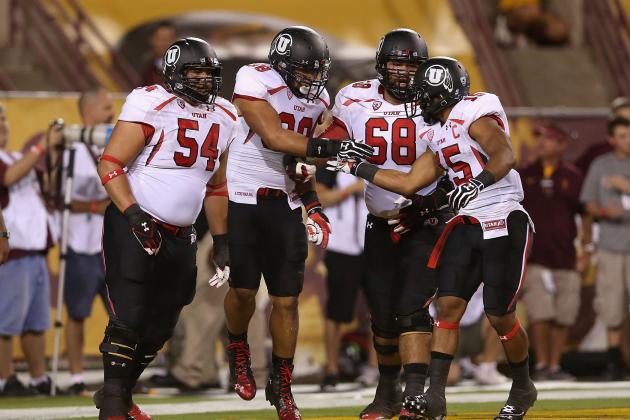 Christian Petersen/Getty Images

Utah is also coming off a bye week. The Utes' last game—a Pac-12 matchup versus ASU—did not fall in their favor, as they lost 37-7.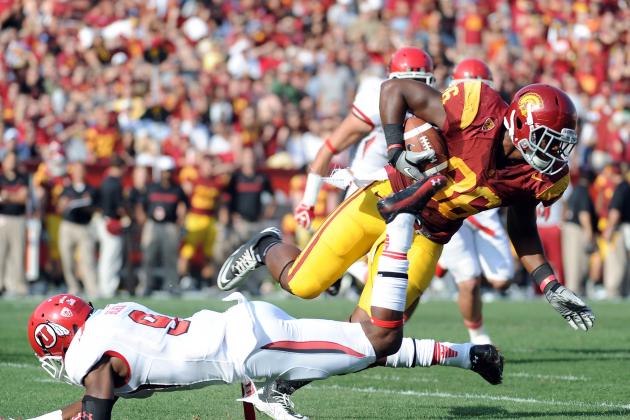 Harry How/Getty Images

Both teams are members of the Pac-12's South division and have one conference loss. Neither team can afford another defeat if they want to contend for the Pac-12 championship.
USC is 1-1 in the conference and 3-1 overall.
Utah is 0-1 in the conference and 2-2 overall.
Harry How/Getty Images

I have to veer off the "player" path and say that the key to this game is Coach Lane Kiffin. His offensive play-calling this season has been suspect, boring and predictable. The USC offense is talented, and he needs to let his unit utilize use those talents.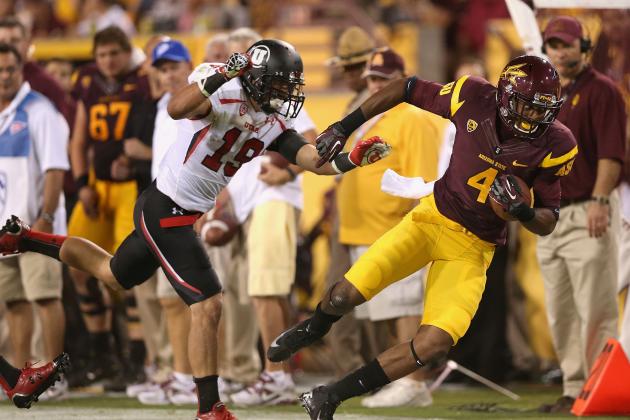 Christian Petersen/Getty Images

Utah's front seven needs to show up. That unit can be every bit as tough as Stanford's when playing to its potential—and we all know what Stanford's D did to USC's supposedly elite offense.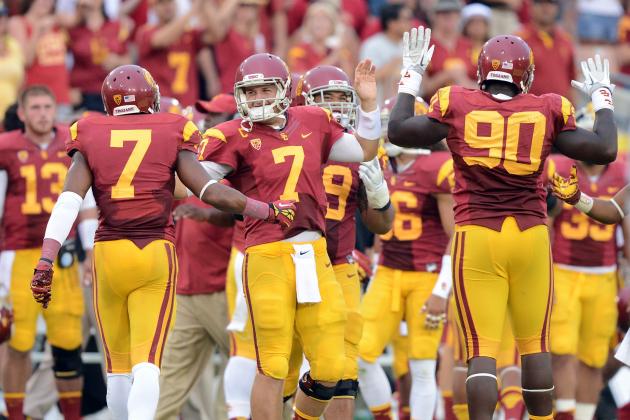 Harry How/Getty Images

It is not rocket science. USC will win if the Trojan offense shows up. We do not know who will be playing center, but it's hard to believe that the O-Line will let another Stanford situation happen.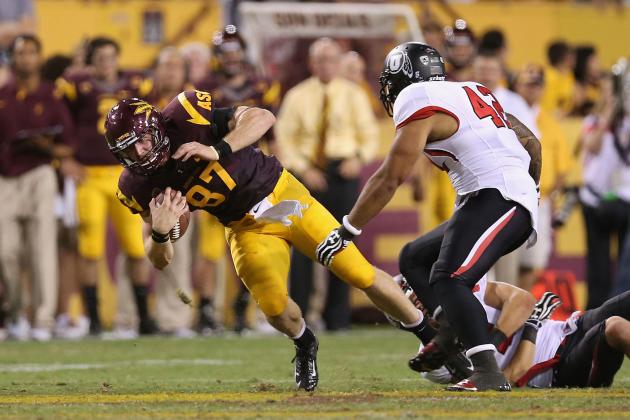 Christian Petersen/Getty Images

Again, it's not rocket science. All early-season Utah hype said its front seven on defense was arguably as strong as Stanford's.
If Kyle Whittingham has studied his game tape, then he can put together a plan to defeat USC.
Harry How/Getty Images

After Utah's performance versus ASU, it's hard to put much faith in the Utes. Their O-line is woeful. In fact, that game makes USC's outing versus Stanford look good.
USC 42-Utah 10