Bears vs Cowboys: Final Report Cards, Player Grades for Dallas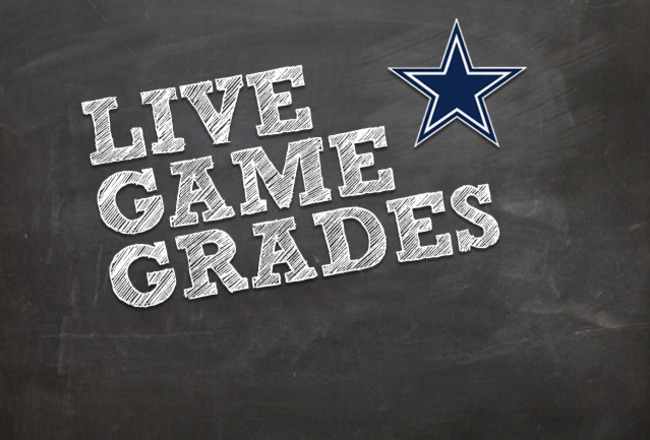 Quarterbacks
Tom Pennington/Getty Images
Tony Romo: F
There is something wrong with Tony Romo and we are not sure what it is. He struggled for his third consecutive game. Romo threw five interceptions against the Bears and although a couple of them were not his fault, five INTs are inexcusable from your starting quarterback.
It seems like every week, we are trying to find out what is going on with the offense and right now,
Romo is not leading that unit as effective as he did on opening night against the New York Giants.
Romo finished the game on the bench having completed 31-of-43 for 307-yards, one touchdown and five INTs and a passer rating of 60.1.
Kyle Orton: B+
Kyle Orton came in during garbage time and drove the Cowboys 89 yards on 10 plays to score the Cowboys' only touchdown of the second half. He looked sharp but it was against a defense that knew the game was in hand.
Runningbacks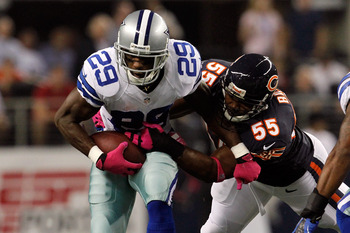 Tom Pennington/Getty Images
DeMarco Murray: C+
It must be hard only getting 11 carries, but somehow Murray needs to find running room somewhere. His 24-yards are not going to get it done. The Cowboys get away from the running game to early and it has been costly. Murray needs to bang away at the defense for 20 to 25 carries and Dallas is not allowing him to do that. He was effective coming out of the back field adding 57-yards on seven catches, but that is not going to get it done.
Lawrence Vickers: D+
Nobody knows why the Cowboys allowed FB Tony Fiammetta to leave, but it is becoming clear that Lawrence Vickers is not the answer.
Vickers has not been an effective run blocker and usually plugs the hole he is supposed to run through and open up in the run game. After four games, it is clear Vickers is not getting it done.
Wide Receivers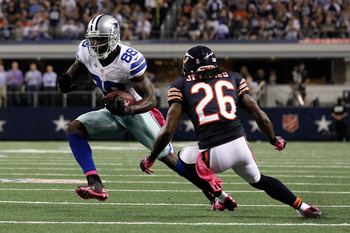 Tom Pennington/Getty Images
Miles Austin: B-
Not sure how serious Miles Austin's rib injury is, but he was limited in the game. He only had the ball thrown his way six times. He caught four passes for 57-yards and he scored a touchdown. However, he was very quiet at the start of the game and right now he is the only consistent wide receiver Tony Romo has on offense.
Dez Bryant: C-
On any other night, Dez would get an A for his eight catches and 105-yards, however he continues to drop far too many passes. He was responsible for running the wrong route on Tony Romo's first interception and he is much too talented to continue to have dropped balls.
Kevin Ogletree: D-
That opening night coming out party seems like a long ways away now. Ogletree had three catches for 24-yards, but it was his one dropped that lower his performance. Early in the third quarter with the Cowboys trailing 17-7, Dallas was in scoring position facing a 2nd-and-12 from the Bears 18-yard line. Romo threw a strike to Ogletree, who was unable to catch the ball. The ball popped up in the air and was intercepted by the Bears. That was the beginning of the end.
Tight Ends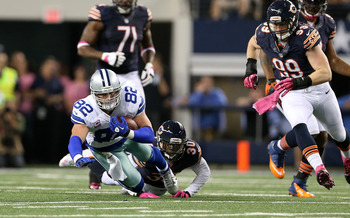 Ronald Martinez/Getty Images
Jason Witten: A
Welcome back Jason Witten!
Witten was the lone bright spot for the Cowboys offense today catching 13 passes for 112-yards and one touchdown.
Looks like Witten had enough of all the criticism and was poised to have a big game. Unfortunately it came at a time where the rest of the offense was awful.
Offensive Line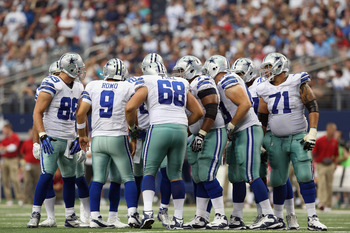 Ronald Martinez/Getty Images
Tyron Smith: B+
Hat tip to Tyron Smith who finished the game with no penalties. He did allow a sack that came from an inside stunt, but he held his own against Melton and Peppers.
Doug Free: D-
Right now the odds of Tony Romo surviving the season are 50/50 and if Doug Free continues to play as he did against the Bears, those odds might move 20/80 that Romo does not finish all 16 games this season.
Ryan Cook: C-
When is Phil Costa coming back again? Ryan Cook is trying his best, but the communication between Cook, Livings and Bernadeau has been atrocious. The communication starts with Cook and against the Bears, it was unacceptable.
Nate Livings: C-
Livings is the other problem child in the middle of the offensive line. Defensive pressure from the middle of the line is horrible for the offense and Livings allowed two tackles for a loss.
Mackenzy Bernadeau: F
It may be time to send Bernadeau back to Carolina. Tony Romo continues to get pressure right up the middle and it was Bernadeau's inability to block Henry Melton that caused Romo's third interception of the night.
Defensive Line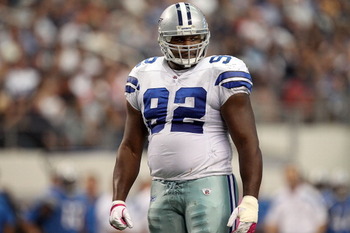 Ronald Martinez/Getty Images
Jason Hatcher: C+
Jason Hatcher struggled to make plays in this game. He never got near Jay Cutler and was pretty ineffective in the passing game. He did have some good run stops and finished the game with three tackles.
Sean Lissemore: B-
Sean Lissemore finished the game with four total tackles but he seemed to wear down as the game went along. However he was always near the play.
Josh Brent: A
Josh Brent continues to excel as Jay Ratliff's replacement. He had one sack and finished the night with four solo tackles, a tackle for a loss and one quarterback hit.
Linebackers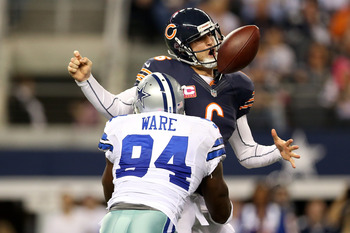 Ronald Martinez/Getty Images
DeMarcus Ware: B+
DeMarcus Ware came up with another strip sack giving him five sacks on the season. However, when Ware is asked to play in coverage, he often is out of position. It would be best if they never put Ware in coverage and just let him rush the quarterback, but Rob Ryan loves to keep his linebackers out in space sometimes.
Sean Lee: A
Sean Lee continues to be a bright spot for the Cowboys defense. Lee had 14 total tackles, 10 of them solo and two of them where tackles for a loss. Lee always seems to be around the ball and in position to make a play.
Bruce Carter: B-
Somehow the Cowboys have to get Bruce Carter involved more in rushing the passer. Carter had one hit on Jay Cutler and almost got to him a second time. Carter has to find a way to get off blocks and be more effective in stopping the run.
Victor Butler: C-
Victor Butler started in place of the injured Anthony Spencer and he did not keep pace. Butler had a couple of opportunities to sack Bears quarterback Jay Cutler and both times, Cutler got away to complete passes down field. Butler finished the night with one solo tackle. He also lined up in front of Brandon Marshall on a third down play and failed miserably.
Defensive Backs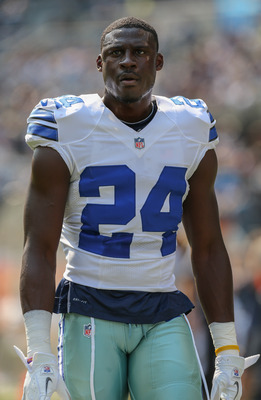 Otto Greule Jr/Getty Images
Brandon Carr: C+
Carr had a rough time against Brandon Marshall. He was called for an illegal contact penalty and even though he was close to the Bears receiver, Marshall always found a way to come up with the reception.
Morris Claiborne: C-
First shaky start for the rookie. Claiborne gave up a 34-yard touchdown pass to Devin Hester and he was not even close to making a play on the ball. He simply got beat bad. The Bears receivers were able to get separation on him and although he recovered to make the tackle, he gave up too many plays.
Gerald Sensabaugh: C+
Sometimes you shouldn't play if you are hurt because you only hurt your team. Sensabaugh did not look 100 percent healthy on the field and it showed in coverage. He finished the game with five total tackles.
Danny McCray: B-
McCray started in place of the injured Barry Church and had a decent game. He ended the night with six total tackles (four solo) and had one pass defensed. He needs to get better in coverage if he is going to become the Cowboys long term solution at safety.
Special Teams
Otto Greule Jr/Getty Images
P Chris Jones: A
Punter Brian Moorman turned out to be a great addition to the team. Moorman was brought in to replace the injured Chris Jones and although Moorman only finished the night with a 37-yard per punt average, he did pin the Bears inside the 10-yard line twice.
KR Felix Jones: B-
For three quarters, it appeared as Felix Jones got it. Don't return the kickoff if you field the ball 8-yards deep in the end zone. Then in the fourth quarter, he either forgot the lesson, or he figured the game was so far out of reach it couldn't hurt to run it out. He failed to reach the 20-yard line both times he tried. Progress?
Coaching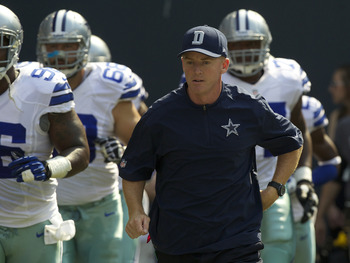 Stephen Brashear/Getty Images
Jason Garrett: C-
You cannot say that Jason Garrett's team was not ready to play. They cleaned up their act and the offense committed zero penalties against the Bears. Now if they can only run the right plays.
Garrett continues to have problems adjusting at half-time and right now the Cowboys are ranked 31st in points scored.
He has not made any changes to his offensive protection schemes and Tony Romo continues to pay for it. Just when you think Garrett has it figured out, his team lays and egg.
Keep Reading

Dallas Cowboys: Like this team?