Chicago Bulls: Which Players Did ESPN's NBA Rankings over and Under Value?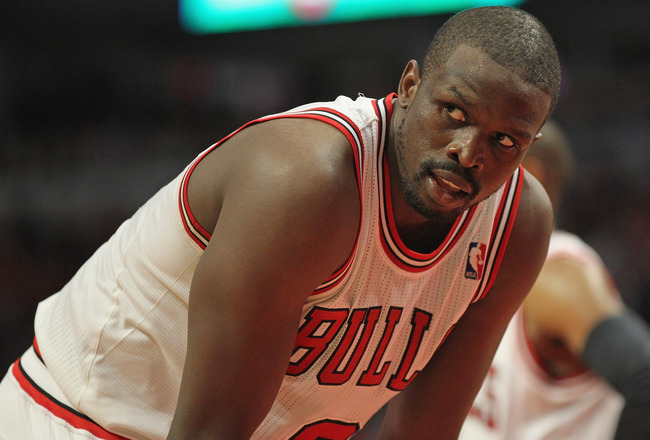 Jonathan Daniel/Getty Images
In ESPN's #NBArank, there is much to analyze when it comes to the Chicago Bulls. Some players were ranked alarmingly low, while others were vaulted up a bit too high.
There's no denying the fact that the Bulls have some talented players.
They've tallied the league's best regular-season record the past two seasons, so their core players definitely have distinct value.
But which players did #NBArank assess in the most accurate fashion?
There is much to consider here, especially since the Bulls have a handful of new players, making it difficult to determine what such players' value is entering the upcoming year.
Here we will identify which players #NBArank situated accurately, while also discerning who is over and under valued.
Players Accurately Ranked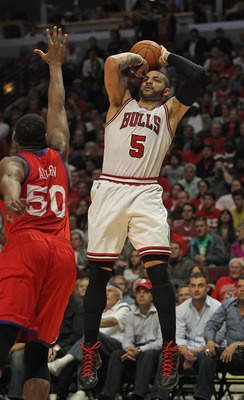 Jonathan Daniel/Getty Images
Before we dive into who's overrated and underrated, we must first identify who netted an accurate ESPN ranking.
1. Derrick Rose (No. 5)
Rose's No. 5 ranking is very fitting after his ACL injury. While he was the MVP in the 2010-11 campaign, he doesn't deserve to be ranked in the top three after the injury he sustained. He's clearly an elite player when healthy, but it will take him some time to regain his form after his return.
As a result, it may take him a year or two before he's in the conversation as one of the game's top three players, and #NBArank thus landed him in the proper spot as of now.
2. Joakim Noah (No. 36)
The value of Joakim Noah often doesn't show up on the stat sheet.
His scrappy and energetic play is at the heart and soul of the Bulls, and his teammates feed off the grit he plays with on a night in, night out basis.
There are surely players ranked lower than Noah who have more impressive numbers (i.e. DeMarcus Cousins, No. 42), but #NBArank factors in how influential Noah is across the board.
He's very deserving of his No. 36 ranking.
3. Carlos Boozer (No. 67)
Carlos Boozer has received a hefty dose of criticism in his two years in Chicago, but besides the playoffs last season, he actually had a stellar 2011-12 as the Bulls' starting power forward.
He's definitely not in the top-50 players, but it's an overreaction to allow Boozer to slip too far down the board. #NBArank recognized this and situated him where he belongs—in the mold of players that are quality, but not elite.
4. Vladimir Radmanovic (No. 329)
Vladimir Radmanovic is a big man who can shoot the three, so he at least has some value. Unfortunately, his game isn't very diversified and he is now 31 years old.
At a ranking of 329, #NBArank appears to have recognized that Vlad-Rad can still be a difference-maker if he's hot on a given night, while also understanding that he's by no means a stable producer who should receive ample minutes.
Players Who Are Undervalued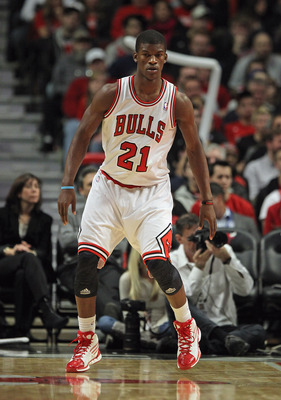 Jonathan Daniel/Getty Images
1. Taj Gibson (No. 82)
Taj Gibson is a fan-favorite of Bulls fans and rightfully so.
He brings athleticism and energy on the defensive end, and his prowess around the rim and improved mid-range jump shot have given the Bulls production on offense.
No. 82 is a fair ranking when you look at his statistics last season, but his numbers would drastically increase if he didn't have to battle Boozer for minutes. Entering this year, all indications are pointing towards Gibson receiving more minutes and potentially even playing some center.
Therefore, he is currently undervalued because his versatility has yet to be fully unleashed.
Once he begins to see steady playing time, expect him to climb up the ranking board.
2. Richard Hamilton (No. 187)
Rip Hamilton's first season in Chicago wasn't what everyone was hoping for. It was injury-riddled, and the Bulls were never really able to gel with him.
Despite this, it is senseless to list Hamilton at No. 187.
He is a championship-caliber veteran who has had a great deal of success in the league. He is aging but he did still have quality games last season when healthy.
If he stays healthy, he's far more valuable than No. 187.
I mean, can you really argue that guys like Carlos Delfino (No. 175), Steve Novak (No. 176) and a washed-up Richard Jefferson (No. 181) are more valuable than Rip?
3. Kirk Hinrich (No. 188)
Captain Kirk will be an integral part of the Bulls' core this upcoming year. With Rose sidelined until likely March, Hinrich will carry the load in the backcourt, and he's more than capable of playing efficient basketball.
He has always been a pesky defender and, while he's not flashy on the offensive end, his intellect helps him remain productive.
He doesn't deserve to be too much higher on the rankings list, but is a young, inconsistent point guard like Brandon Knight (No. 177) really a better backcourt player than Hinrich?
4. Nate Robinson (No. 276)
Nate Robinson's No. 276 ranking is one of the most baffling among the Bulls players.
While Robinson has had his ups and downs in the league, he did have an effective year with the Golden State Warriors last season and has always revealed ability to score in bunches.
Last season, Robinson averaged 11.5 points per game and 4.5 assists per outing. Point guard Steve Blake netted 5.2 PPG and 3.3 APG for the Los Angeles Lakers.
Yet Blake notched a No. 239 ranking.
This doesn't make sense, nor does the fact that guys like Will Bynum (No. 244), Daniel Gibson (No. 255) and Norris Cole (No. 256) are ranked ahead of Robinson.
Expect Nate-Rob to make a statement this season, especially in the season's early stages while Rose remains out. Robinson will likely carry the offensive load at times, and he gives the Bulls a potent weapon who can light up the scoreboard.
5. Jimmy Butler (No. 371)
Jimmy Butler's low ranking is perhaps the most baffling of any Bull on #NBArank.
As a rookie last season, Butler by no means lit up the score sheet, but he did reveal his potential and specifically showed his agility on the defensive end.
Butler should consistently find himself in the rotation this upcoming season and should become a worthwhile contributor, but his No. 371 ranking sure doesn't seem to forecast this.
Expect Butler to emphatically prove this ranking wrong.
The truth is that Butler is a very similar player to former Bull Ronnie Brewer (who is ranked No. 167), but I would argue Butler has a much greater ceiling than Brewer.
Come a year from now, don't be surprised if Butler has climbed up the #NBArank over 200 spots.
His value will be seen in 2012-13. You can count on it.
Players Who Are Overvalued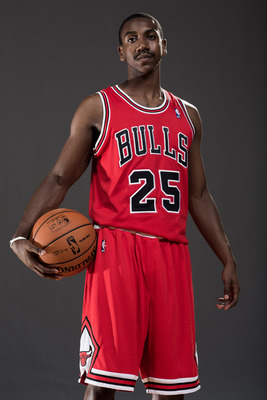 Nick Laham/Getty Images
1. Luol Deng (No. 37)
Luol Deng was an All-Star last season, and he is definitely a pivotal reason for the Bulls' success the past two seasons. He defends, knocks down jumpers and exhibits top-notch effort from game to game.
But No. 37 is a very lofty ranking.
This has him ahead of go-to players for other teams, like the Denver Nuggets' Ty Lawson (No. 48), the Milwaukee Bucks' Monta Ellis (No. 46) and the Utah Jazz's Al Jefferson (No. 44).
Deng is even ranked ahead of the New Orleans Hornets' Eric Gordon (No. 38), a dynamic scorer when healthy and a player to build a team around.
Deng shouldn't drop too far down the rankings, but he should be closer to No. 50.
He is a solid player to have, but he's not a "go-to" type player who can serve as "Robin" to D-Rose's "Batman."
2. Marco Belinelli (No. 225)
Marco Belinelli has tallied some impressive outings over the past couple years, but he did this playing for a subpar team in New Orleans.
He will have to learn a new role in Chicago and will particularly need to learn the demands of defense. If he can make these adjustments, he could receive playing time similar to what Kyle Korver received the past couple seasons in Chicago.
But don't be surprised if Coach Tom Thibodeau limits Belinelli's minutes for defensive reasons.
"Thibs" preaches defense, and this could lead to Belinelli only seeing rare spot minutes, thus revealing that a No. 225 ranking is simply too high.
3. Nazr Mohammed (No. 302)
At this stage of Nazr Mohammed's career, he is just a big body who can absorb some fouls and grab a few rebounds. He is taking the place of Omer Asik (now with the Houston Rockets), but don't expect Mohammed to receive similar minutes to what Asik did in the Windy City.
The Bulls are likely going to play Gibson more to offset the loss of Asik, and Mohammed will then be left with a very marginal role off the bench.
His value is minimal, and a big man like Kurt Thomas of the New York Knicks (No. 325) deserves to be higher than Mohammed. So does the Portland Trail Blazers' rookie Meyers Leonard (No. 330).
4. Marquis Teague (No. 356)
No. 356 is an obviously low ranking, but at this point, Teague should be even lower.
What doesn't make any sense is that Teague is ranked higher than second-year Bull Jimmy Butler. Butler enters this season with much promise, while Teague enters the year as a rookie who struggled in the summer league.
Plus, Teague will likely not sniff the floor much this season, as Hinrich and Robinson figure to log major minutes and then Rose will return, and thus eliminate any potential for Teague to play.
Teague's value is minimal at this point. He is nice youngster to have stashed on the bench, but his ranking should be closer to No. 400.
Keep Reading

Chicago Bulls: Like this team?