Dana White on Matt Mitrione Turning Down Daniel Cormier Fight: "Makes Me Sick"
Use your ← → (arrow) keys to browse more stories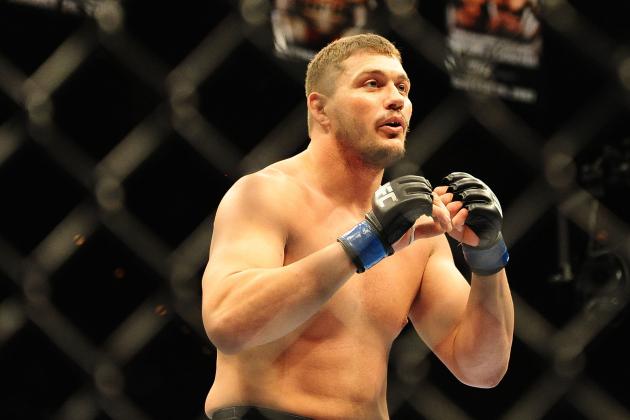 Mark J. Rebilas-US PRESSWIRE

As far as bosses of major sports go, you'd be hard pressed to find one more approachable, more honest, more a fan of the sport that he presides over than UFC president Dana White. However, sometimes the peskiness of running the company gets in the way of that fandom, and one nagging issue facing White is which fighter from the UFC is going to head over to Strikeforce to face Daniel Cormier.

Frank Mir was lined up to face Cormier, but he pulled up lame in mid-September and was forced to drop out of the card. That fight was set to headline the November 3 Strikeforce card from the Chesapeake Energy Center in Oklahoma City; as of now, the card is still scheduled to take place with TBA pencilled in as Cormier's opponent.

Following Saturday's UFC on Fuel TV card from Nottingham, England, White held court with select members of the media (h/t to Fighters Only) and spoke about one fighter that was offered a chance to face Cormier, but turned the fight down. That fight was the 5-1 Matt Mitrione, and White made no effort to hide his displeasure: "It f---ing makes me sick," White said. "Listen, you don't want big opportunities, I hear you. I get it, then. I get it you don't want big opportunities. All I can say is, I guess he doesn't want big opportunities. I get it. Duly noted."

A member of the press then asked White if it confused him that Mitrione would seek a fight with Quinton "Rampage" Jackson while turning down the fight with Cormier.
"Yeah, he wants to fight a guy who weighs 205, but doesn't want to fight the guy who's the real heavyweight, the legitimate guy who's ranked. And Mitrione's not getting any younger."

Mitrione has not fought since UFC 137. He suffered the first loss of his professional career that night, dropping a unanimous decision to Cheick Kongo. Mitrione is currently scheduled to face Phillip De Fries at UFC 155.

On the surface, Mitrione's decision not to face Cormier is puzzling. One has to wonder why Mir, a former UFC champion, was willing to transfer over to Strikeforce for a one-off fight against one of the top five heavyweights in MMA, but Mitrione would turn the fight down.
It's unlikely that a loss to Cormier would result in him being released from the organization, as it would only be his second loss and he would be doing the promotion a favor by taking the fight on short notice as a replacement fighter. Plus, there's always the chance that Mitrione could win the fight, pulling off a huge upset and raising his standing exponentially.

Speculation is moot at this point, but the fact remains, Mitrione has left a lot of people, including his boss, scratching their heads on this one.