Examining and Comparing 25 MMA Brothers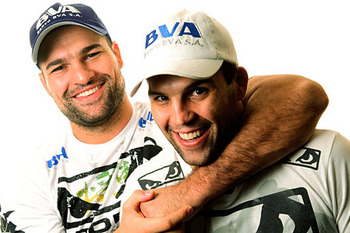 There are few closer bonds in life than that of brotherhood. If you have a brother, he is the ultimate companion and best friend you will ever have.
In MMA, there are a number of brothers who fight in the cage. Though MMA fighters have a tough exterior, they will always have the bond of brotherhood that will ground them.
Here are 25 sets of brothers and which one has had the better career.
Jim and Dan Miller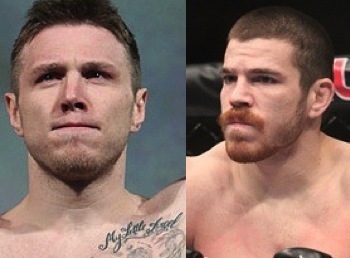 MMAweekly
Jim: 21-4
Dan: 14-6 (1 NC)
Combined Record: 35-10 (1 NC)
Two of the toughest brothers in mixed martial arts, Jim and Dan Miller brag the warrior spirit every time they step in the Octagon.
Jim has been a top lightweight for years, even though he hasn't been able to win his No.1 contender fights. That being said, he has defeated the likes of Melvin Guillard, Charles Oliveira, Gleison Tibau and Mark Bocek.
Dan recently dropped to welterweight, but has been the guy that steps up on late notice throughout his career. He has faced top middleweights such as Chael Sonnen, Michael Bisping and Rousimar Palhares and was unsuccessful, but his drop to 170 gives him new life.
Jim gets the edge on the more successful career, but that hurts because Dan has stepped up on short notice so much. That kind of attitude is commendable as hell.
Cole and Micah Miller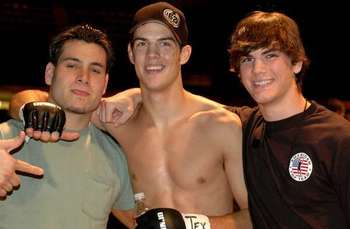 myspace.com
Cole: 18-7
Micah: 17-5 (1 NC)
Combined Record: 35-12 (1 NC)
Cole and Micah Miller are a couple of skinny dudes with some real mean mugs.
Cole is a long-time UFC veteran, serving in the company since 2007. He has fought at lightweight and featherweight, seeing mixed results.
Nevertheless, Cole is a submission machine with underrated boxing. He owns tapout victories over the likes of TJ O'Brien, Ross Pearson, Dan Lauzon and Jorge Gurgel, who is a BJJ black belt in his own right.
Micah is another talented submission fighter who has fought in various promotions such as WEC, Tachi Palace Fights and Dream. He did have a short stint on The Ultimate Fighter, but was defeated in the elimination round.
Micah notably has beat Isaac DeJesus, Diego Saraiva and Anthony Morrison.
It is easy to see here that Cole has been better and more successful thus far in their respective MMA careers.
Patricio and Patricky Freire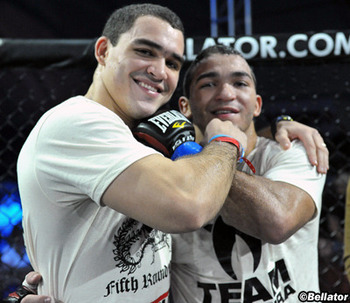 mmajunkie.com
Patricio: 17-1
Patricky: 10-3
Combined Record: 27-4
The brothers who both go by the nickname "Pitbull" are mainstays of the Bellator promotion and extremely skilled all-around fighters.
Patricio fights at featherweight and is currently the No.1 contender of the Bellator champion Pat Curran. Gifted all around as a fighter, Freire has beaten such notables as Daniel Straus, Wilson Reis (twice) and Georgi Karakhanyan.
Patricky is a lightweight, who you may remember from a recent head kick loss to Eddie Alvarez. He owns seven career KOs, including over UFC veteran Kurt Pellegrino, Toby Imada and Rob McCullough.
Both men are devastating strikers and solid talent for Bellator. Patricio is definitely the more successful, though, given he has only lost once and has beaten more quality opponents.
Joe and Dan Lauzon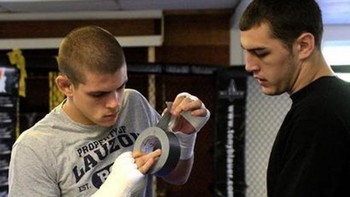 mmaconvert.com
Joe: 22-7
Dan: 16-4
Combined Record: 38-11
Two brothers who have had a public falling out in the past, even though they are not exactly enemies, would be Joe and Dan Lauzon.
Joe is currently employed by the UFC and is one of their best lightweights in the company. He has finished every win in his career by knockout or submission, which is impressive due to his long tenure with the company.
A list of his victims who have fallen prey to his submission arsenal are Jamie Varner, Melvin Guillard and Jeremy Stephens. His aggressive style has made him a crowd favorite.
Dan has not been nearly successful as his older brother. A UFC veteran himself, He lasted two fights in the UFC before he was cut for going 0-2 to Cole Miller and Efrain Escudero.
It's positive to report that Dan is undefeated since receiving his pink slip, winning four straight in regional promotions. That does not salvage this fight though, as Joe is easily the better of the two.
Mauricio and Murilo Rua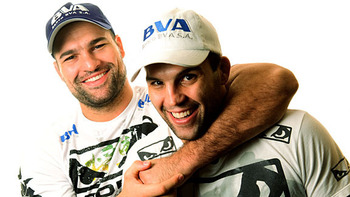 mauricioshogun.com.br
Mauricio: 21-6
Murilo: 20-13
Combined Record: 41-19
When it comes to MMA, one of the Rua brothers is a legend and the other is a "what if" scenario.
Mauricio is a legend of Pride and a former UFC champion. His list of victims is legendary, including Lyoto Machida, Chuck Liddell, Alistair Overeem (twice), Ricardo Arona, Antonio Rogerio Nogueira and Quinton Jackson.
Murilo never got into his own groove as Mauricio did. Though he does have some good wins, he never lived up to the standard his brother did.
His biggest wins are over Joey Villasenor, Tony Bonello and Xavier Foupa-Pokam.
It is obvious that Mauricio has been far more successful.
Rodrigo and Carina Damm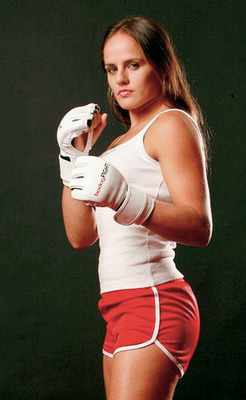 Couldn't find a picture of both, but believe me Carina is better looking/MMAweekly
Rodrigo: 10-5
Carina: 17-7
Combined Record: 27-12

Okay, so they aren't brothers, but Rodrigo and Carina Damm are siblings who have grown close through their life endeavors.
Rodrigo is a current employee of the UFC who next fights at the 154 card in Montreal against Antonio Carvalho. The talented grappler is a veteran of The Ultimate Fighter: Brazil and has six submission wins to his resume.
Among those wins are victories over Anistavio Gasparzinho, Jorge Masvidal and Kultar Gill. He is well traveled, having fought in the UFC, Strikeforce, Sengoku and Bodog Fight.
Carina is another well-traveled fighter, who like Rodrigo, is am impressive submission fighter (eight submission wins). Her resume boasts wins over Jessica Aguilar and Vanessa Porto.
It is hard to compare these two when they fight in different gender classes, but one has to think Rodrigo has been better. He has made it to the UFC, while Carina falters when stepping up in competition.
Matt and Nick Serra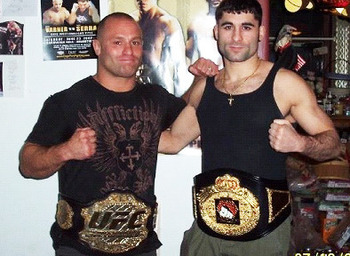 combatathletemma.com
Matt: 11-7
Nick: 7-3
Combined Record: 18-10
Believe it or not, but Matt Serra has a brother named Nick who had a career as a mixed martial artist at one point.
Matt's career is highlighted by winning The Ultimate Fighter 4, coaching TUF: 6, winning the UFC Welterweight Championship in the biggest upset of all time and mentoring current middleweight contender Chris Weidman.
Nick's career has been much more forgettable. Though he finished every fight he has ever won, the last fight he ever had ended in disqualification when he would not get up from the butt-scoot position. This is obviously because he came from a jiu-jitsu background.
Matt has obviously had the much better career than Nick, but maybe this was helpful because you didn't know Matt had an MMA brother.
Jake and Joe Ellenberger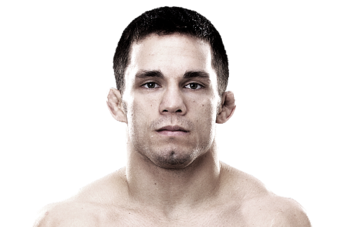 ufc.com
Jake: 28-6
Joe: 13-1
Combined Record: 41-7
The Ellenberger brothers are on their way to both having great careers in MMA.
Jake is the more-experienced, higher-level resume. Ellenberger is a veteran of the UFC, IFL and M-1 and has proven that he is not a one dimensional wrestler by knocking out 17 opponents.
Among a list of his victims include Diego Sanchez, Jake Shields, John Howard and Pat Healy.
Joe is newer to the sport, but has impressed many viewers. He has fought in the regionals his entire career, but has defeated some tough prospects on his way.
Jake has definitely had the better career. But, keep an eye on Joe because he is bursting onto the scene as we speak.
Andreas and Chris Spang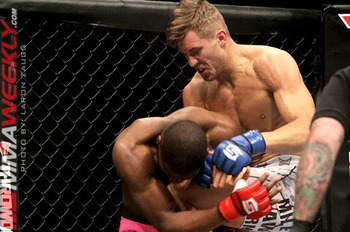 MMAweekly
Andreas: 8-2
Chris: 5-1
Combined Record: 13-3
The Spang brothers are a lesser known pair in the world of MMA, but the Swedish duo look to have exciting futures.
Andreas is a Strikeforce and Bellator veteran who debuted in 2008. The powerful striker earned knockout wins over notable Willie Parks and Brian Rogers thus far in his career and looks to be on his way to a successful future.
Chris is the younger brother who is also a Strikeforce veteran. In fact, half of his fights have taken place in the Zuffa owned company.
Like Andreas, Chris is a power striker and has beat some solid talents. Joe Ray and Nah-Shon Burrell are two of his notable victims so far.
This one is close in terms of who has been more successful. Both have a long road ahead of them in MMA, but at this point Andreas has beat better quality opponents.
Anthony and Chidi Njokuani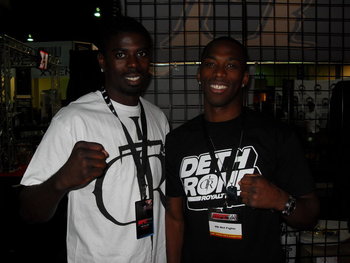 prommanow.com
Anthony: 15-7 (1 NC)
Chidi: 8-3
Combined Record: 23-10 (1 NC)
When it comes to striking, the Njokuani brothers are rarely outgunned on their feet due to their lethal Muay Thai styles.
Anthony is a current UFC fighter, as well as a WEC veteran. He owns eight knockouts to his resume, including KOs of Eddie Faaloloto, Chris Horodecki and Bart Palaszewski.
He is an exciting fighter that always looks to put on a show. He is still working on refining the rest of his game, but is nonetheless solid.
Chidi is less experienced than Anthony, but equally as devastating on his feet. Six of his wins are by knockout, including knockouts by leg kicks, knees, a body kick and punches.
This is an instance where both guys are young and have a long way to go. However, at this point, Anthony is easily the more successful of the two.
Michael and Brad McDonald
bjpenn.com
Michael: 15-1
Brad: 8-3
Combined Record: 23-4
Two of the younger faces in the sport of MMA are brothers Michael and Brad McDonald. Both came from striking backgrounds, but have progressed nicely into full MMA fighters.
Brad has been steadily building his resume in regional promotions, such as Tachi Palace Fights. Though a powerful striker, Brad owns five of his wins by submission.
Michael is one of the hottest up-and-comers in the UFC bantamweight division. At just 21 years old, he has already defeated Miguel Torres, Alex Soto, Chris Cariaso and Edwin Figueroa.
McDonald's only loss came to Cole Escovedo, which he would later avenge by knockout in a rematch.
Both of their careers are young and have a long way to go, but for now Michael's has been better. That doesn't mean Brad can't pick up the pace on Michael.
Antonio Rodrigo and Antonio Rogerio Nogueira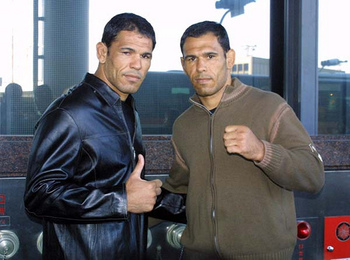 mmabay.co.uk
Rodrigo: 34-7-1 (1 NC)
Rogerio: 20-5
Combined Record: 54-12-1 (1 NC)
The brothers Nogueira are among the most famous duo in MMA history, and for good reason. Both have had storied careers spanning over a decade.
Rogerio has been a staple of the light heavyweight since he entered the sport. He is a Pan-Am medalist in the sport of boxing, which nicely compliment his refined jiu-jitsu game.
He has beat such notables as Alistair Overeem (twice), Tito Ortiz and Vladimir Matyushenko.
Rodrigo is the more experienced fighter of the two. A legend of Pride and UFC, he has submitted some of the best fighters at heavyweight in the world.
Among the list of victims on his resume, "Big Nog" has defeated Randy Couture, Tim Sylvia, Josh Barnett, Fabricio Werdum and Mirko Cro Cop.
Looking at both men's careers, Rodrigo prevails as having the better career.
Douglas and Dhiego Lima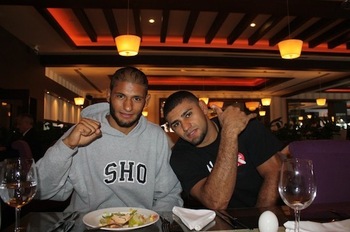 mmadiehards.com
Douglas: 21-5
Dhiego: 7-1
Combined Record: 28-6
Dhiego and Douglas Lima are two of the younger, up-and-coming brothers in the sport of mixed martial arts.
Younger brother Dhiego is a well-rounded veteran of Maximum Fighting Championship. He has finished most of his fights, in his wins over Jamie Toney and Bill Fraser.
Douglas is a Bellator veteran who has won a welterweight tournament with the promotion. Though he lost his title bid against Ben Askren, Douglas owns wins over Ben Saunders, Terry Martin and Ryan Ford.
As of now, Douglas has had the better career. However, seeing that they are both young guys, either one could end up having the better career.
Rashad and Lance Evans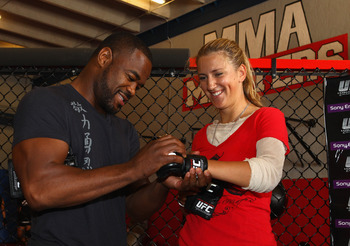 Clive Brunskill/Getty Images
Rashad: 17-2-1
Lance: 3-4
Combined Record: 20-6-1
There is a huge difference in the careers of the Evans brothers Rashad and Lance. Rashad is a former champ, while Lance is subpar at best.
At 17-2-1, Rashad has been a top 205 pounder in the UFC for years. The former Ultimate Fighter winner owns notable victories over Phil Davis, Tito Ortiz, Quinton Jackson and Chuck Liddell.
His wrestling base carried him through his early career, but Rashad has become a complete MMA fighter. His striking is so vastly improved that people worry about his hands as much as his takedowns.
Lance has had a hugely underwhelming career. Most notable for being defeated in the elimination round of TUF, Lance is under .500 for his career against low level competition.
Rashad has obviously had the better career.
BJ and Reagan Penn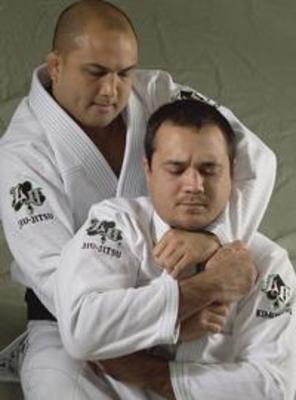 myspace.com
BJ: 16-8-2
Reagan: 1-1
Combined Record: 17-9-2
Although this one is obvious, here is a quick rundown between the Penn brothers.
BJ is a shoe-in for the UFC Hall of Fame, as he is a former lightweight and welterweight champion. He has beat a whose-who of UFC veterans such as Sean Sherk, Matt Hughes and Diego Sanchez.
Reagan has only fought twice in his career. He won his pro debut by submission a year ago, but lost by decision in his second bout. He has yet to fight since that loss.
BJ is a legend and Reagan is quite forgettable thus far.
Danillo and Yuri Villefort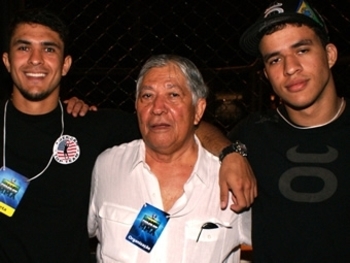 gustavonoblat.blog.terra.com.br
Danillo: 13-4
Yuri: 6-1
Combined Record: 19-5

The Villefort brothers are a solid tandem in the MMA world. The big difference between the two, though, is experience.
Yuri is just 21 years old and only has been fighting since 2009. Currently employed by Strikeforce, Yuri is a well-rounded prospect with two knockout and there submission victories.
He owns a notable win over journeyman Frank Carrillo and his only loss has come in Strikeforce against fellow prospect Quinn Mulhern.
Danillo is far more traveled than Yuri and is eight years his elder. Owning an equal amount of knockouts to submissions (five each), Danillo has used his well-rounded game in notable promotions such as Strikeforce, IFL, WEC and the UFC.
He has defeated notables like Matt Horwich, Joey Villasenor and Mike Massenzio throughout his career.
In comparing the two, Danillo has had the better career thus far. That said, he has 10 more fights in his career and has fought in the spotlight more than Yuri. Yuri has a long career ahead of him though, so he could end up being the better brother.
Chuck and Sean Liddell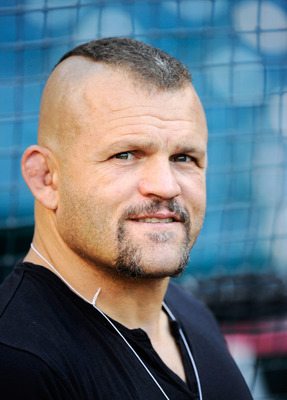 Kevork Djansezian/Getty Images
Chuck: 21-8
Sean: 1-2
Combined Record: 22-10
Boy, is there a large difference between the Liddell brothers, Chuck and Sean.
Sean was briefly an MMA fighter that only fought in three bouts. He was unsuccessful in two of them, and has not fought since 2007.
Chuck is a legend of the sport and a former UFC Light Heavyweight Champion. His legendary career has seen him beat the likes of Randy Couture (twice), Tito Ortiz (twice), Renato Sobral (twice) and Alistair Overeem.
If you can't figure out who had the better career, please seek help.
Anthony and Sergio Pettis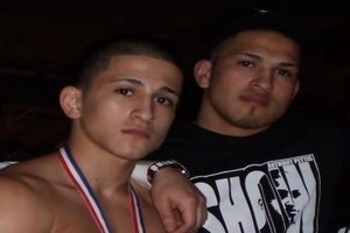 fighters.com
Anthony: 15-2
Sergio: 5-0
Combined Record: 20-2
Two of the flashiest fighters in MMA today are the Pettis brothers, Anthony and Sergio.
Anthony is the more famous of the two for many reasons. In addition to being the man who introduced us to the "Showtime" Kick, Pettis is the former WEC Lightweight Champion and a current UFC employee.
Anthony has beat a whose-who of notable lightweights so far in his career. Just to name a few, a list of his victims include Joe Lauzon, Jeremy Stephens, Benson Henderson and Shane Roller.
Sergio is just getting started in his career, and he could make it to the UFC somewhat soon, seeing as he is a bantamweight. Undefeated, the 19 year old has finished all but one fight since his pro debut in late 2011.
Obviously, Anthony is the better of the two currently. However, they have a chance to be one of the best pair of brothers to ever grace the MMA cage.
Clay and Jason Guida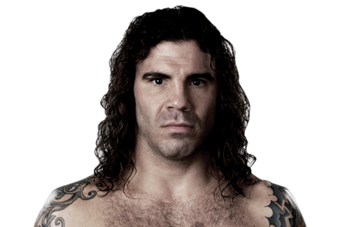 ufc.com
Clay: 29-13
Jason: 19-27 (2 NC)
Combined Record: 48-40 (2 NC)
Just looking at the records would be enough to tell you the better out of Clay and Jason Guida.
Clay is a long-time UFC employee with many big fights under his belt. His resume is extensive, but his biggest wins have come over Anthony Pettis, Takanori Gomi, Nate Diaz, Josh Thomson and Rafael dos Anjos.
He has grown as a fighter of the years and is a fan favorite among UFC faithful.
Jason has never really developed like Clay. Kicked off The Ultimate Fighter for missing weight, Jason has not been able to beat high quality opponents.
Jason is better known for beating the crap out of Clay with slaps before he enters the Octagon. That has to be worth something, no?
Alistair and Valentijn Overeem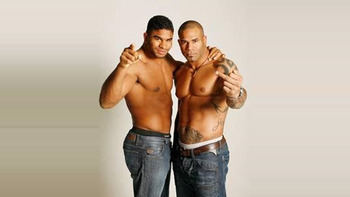 cagepotato.com
Alistair: 36-11 (1 NC)
Valentijn: 30-27
Combined Record: 66-38 (1 NC)
The Overeem brothers are big dudes with powerful striking and underrated grappling.
Alistair is a world champion K-1 kickboxer, a former Strikeforce heavyweight champion and a current UFC heavyweight contender. He has beat a whose-who of fighters, including Brock Lesnar, Fabricio Werdum, Todd Duffee, Brett Rogers and Vitor Belfort (twice).
Valentijn is the less publicized and less skilled fighter. Although well-rounded, he has trouble beating upper-level fighters and has been known to give up in instances such as tapping to strikes or submitting to exhaustion.
However, Valentijn has defeated notables Ray Sefo, Randy Couture and Renato Sobral.
That cannot save Valentijn, who is vastly inferior in terms of skill and accomplishments to Alistair.
Nick and Nate Diaz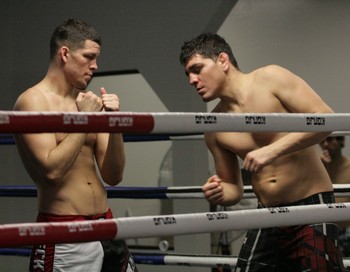 diazbrothers.com
Nick: 26-8 (1 NC)
Nate: 16-7
Combined Record: 42-15 (1 NC)
The brashest brothers in the business, there is no denying that Nick and Nate Diaz can back up their crazy ways.
Nate is currently the top contender to Ben Henderson's UFC Lightweight Championship. December will decide if Nate is championship material or a contender who can't get over the hill.
Nate has dominated and looked like a different fighter in his last three fights. He has submitted Jim Miller and Takanori Gomi, while winning a dominant, clear-cut decision over Donald Cerrone.
Nick is the former Strikeforce champ in the welterweight division and current contender in the UFC when he returns from suspension. The talented all-around fighter owns notable victories over the likes of BJ Penn, Paul Daley and Frank Shamrock.
As of right now, Nick has had the better career. All that can change if Nate can achieve UFC gold.
Pat and Ryan Healy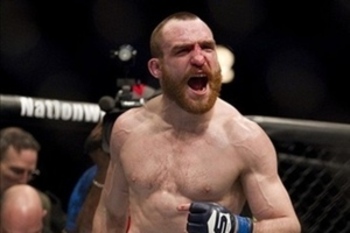 mmafighting.com
Pat: 28-16
Ryan: 23-11-1
Combined Record: 51-27-1
The Healy brothers are both remembered as being a tandem of journeymen brothers, especially to hardcore MMA fans like myself.
Pat has gained some momentum in his career as of late fighting under the Strikeforce banner. He was set to fight for the lightweight title against Gilbert Melendez, but that fight was cancelled.
Notably, Pat has defeated Mizuto Hirota, Caros Fodor, Maximo Blanco, Lyle Beerbohm and Mike Guymon.
Ryan has been a solid fighter throughout his career as well. He owns wins over UFC veteran Paul Kelly, Charon Spain and Jai Bradney. Unfortunately, Ryan hasn't found a top promotion to call home, though he has great experience.
I would say Pat has had the better career, though Ryan's has been respectable.
Matt and Mark Hughes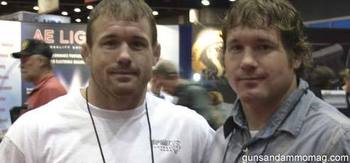 rebelsportsblog.com
Matt: 45-9
Mark: 6-2
Combined Record: 51-11
This is another one where we can keep it short and sweet.
Matt Hughes is a UFC Hall of Famer and former champion at 170 pounds. He owns victories over current champion Georges St. Pierre, former champion Matt Serra and two wins over the dangerous Carlos Newton.
Mark had a short, but somewhat successful MMA career. He was 1-0 in the UFC, as he defeated Alex Stiebling by unanimous decision.
Matt is easily the more accomplished, better MMA fighter out of the two, but if you didn't know he had a brother, you do now.
Frank and Ken Shamrock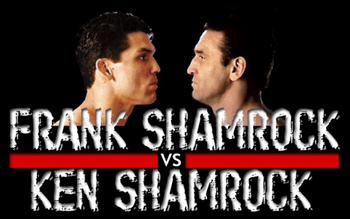 knuxx.com
Frank: 23-10-2
Ken: 28-15-2
Combined Record: 51-25-2
Not borthers by blood, Ken and Frank Shamrock are among the few MMA "brothers" that do not get along. They were both adopted by their stepfather.
Frank and Ken were among the early stars of the sport. Both were well-rounded and ran through competition in Japan and other places around the world.
Frank is a former UFC champion that never lost the belt by a loss, but by vacating it. Frank was a submission machine and has defeated the likes of Cesar Gracie, Tito Ortiz and Bas Rutten.
Ken has been a star in both MMA and professional wrestling. Ken was similarly a submission specialist, defeating such notables as Kimo Leopoldo (twice), Dan Severn and Bas Rutten (twice).
Both men's careers are legendary and make it hard to pick whose was better. Based on Frank's status as unbeaten UFC champion and ability to walk away from the sport when he knew it was at its end, I will give him the slight edge over Ken.
Fedor and Aleksander Emelianenko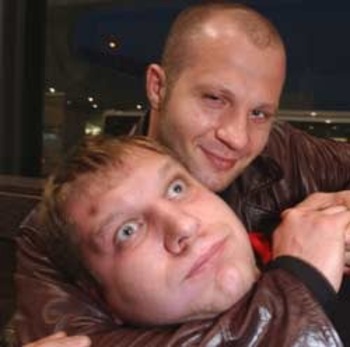 finalroundsports.blogspot.com
Fedor: 34-4 (1 NC)
Aleksander: 21-5
Combined Record: 55-9 (1 NC)
The Emelianenko brothers have really had different careers.
Fedor is considered the greatest fighter of all time and beat some of the greatest in the sport. He terrorized opponents in Pride such as Mark Coleman, Mirko Cro Cop, Antonio Rodrigo Nogueira and Kevin Randleman.
Aleksander never got out of Fedor's shadow, as it was a tough task to come by. His biggest win to date came against Sergei Kharitonov, though he never escaped the highlight reel knockout he faced against Cro Cop.
Fedor being arguably the greatest of all time makes this an easy decision.
Keep Reading