Titans vs. Texans: Houston's Biggest Winners and Losers
Bob Levey/Getty Images
Though all three undefeated teams in the NFL managed to get wins this week, the Houston Texans' dominant performance over division rival Tennessee Titans was clearly the most dominant one.
The Atlanta Falcons and the Arizona Cardinals struggled to defeat inferior opponents, but the Texans rolled and demolished the 1-3 Titans.
Though the game was close at halftime, with the Texans' offense struggling to consistently string together drives, the defense stepped it up in the second half. Danieal Manning had a sensational 55-yard interception return touchdown, and the quarterback was consistently pressured.
The excellent play by the defense sparked momentum for the offense, and the Texans were able to easily close out the game.
Here are the biggest winners and losers from Week 4.
Winner: J.J. Watt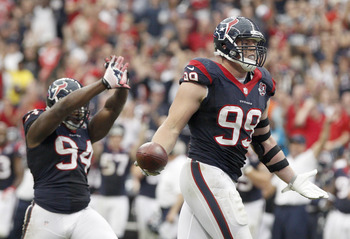 Thomas B. Shea/Getty Images
How many times is J.J. Watt going to be on the winner list? So far, he has been on it every single game of the 2012 season.
And, with the way he's playing, Watt might just end up being the ultimate winner of the regular season, as his incredible play is already garnering him Defensive MVP and MVP consideration.
Watt was his usual dominant self this Sunday. Maybe he should just never take off the elbow brace.
Watt sacked the quarterback twice, recovered a fumble and recorded five total tackles.
He consistently beat his offensive line opposition, and he managed to affect many plays that did not earn him a stat by simply getting into the backfield.
The only thing Watt did not do this game was defend a pass. To make things clear, when I have to mention that the only thing a player did not do was knock down a pass, you know that that player had one hell of a game.
One hell of a game; one hell of a season.
Loser: Run Defense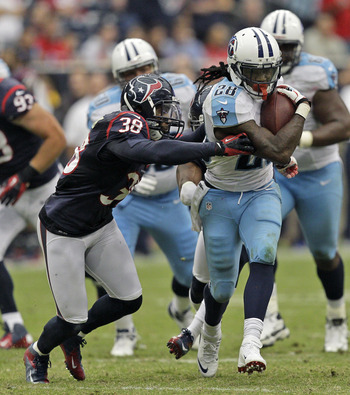 Bob Levey/Getty Images
The incumbent running back Chris Johnson had a breakout performance against the Texans' top-ranked defense. Not words one wants to hear when the primary weakness of a great defense is their run defense.
Johnson tore up the Texans with 25 carries for 141 yards, and he suddenly looked like the running back that rushed for over 2,000 yards a few seasons ago.
Johnson credited his performance to the play of his offensive line; I credit it to the Texans' run defense being weak.
Johnson did not rush for all these yards because the Texans chose to scheme against the pass and ignore the run. No team in the NFL chooses to allow a team to effectively run the ball. As all Texans fans know, the team that can control the ground game can control the entire game.
Johnson's performance was a result of the Texans' constantly allowing the Titans' line to beat them at the point of attack. This was not true on passing downs, but when that line was in attack mode, there was little the Texans' defense could do to stop it.
The Texans overpursued and let wide-open holes open up for Johnson. This is an issue that must be corrected, and it must be corrected soon.
Winner: Kareem Jackson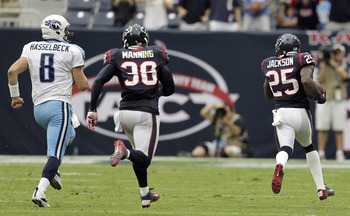 Bob Levey/Getty Images
As I have stated before, Kareem Jackson's growth will on a week-by-week basis. Last week, against the Denver Broncos, Jackson allowed Eric Decker to completely demoralize him.
This week, Jackson looked like the cornerback that Texans fans prayed he would be when they selected him in the first round of the 2010 NFL Draft in the hope that he would repair a terrible secondary.
Well, Jackson did little to improve that secondary early on, but right now, he is certainly contributing to its success.
Jackson displayed excellent coverage skills all game, and this cumulated with his interception return for a touchdown in the fourth quarter.
Jackson perfectly shaded his assignment, read Matt Hasselbeck's eyes and jumped the route. He took the pick all the way to the house for a stellar 63-yard return.
On a side note, did anyone else see Danieal Manning's illegal block in the back on Hasselbeck toward the end of that play. If it was called, it would have been devastating for Jackson, and it would have been eerily reminiscent of his block in the back on Steelers' holder Daniel Sepulveda after he blocked a potential field goal.
Johnathan Joseph would have taken that blocked kick to the house, but Manning's penalty nixed the score.
Anyhow, Jackson had a superb game, and he certainly does not even look related to the Jackson of old.
Loser: Shaun Cody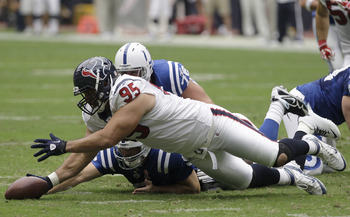 Thomas B. Shea/Getty Images
Shaun Cody's performance against the Titans was indicative of the Texans' defensive struggles against the run.
Cody was going up against inferior offensive line duo Fernando Velasco and Leroy Harris.
If Cody was playing such supposedly weak offensive linemen, there was certainly no sign of it. He was consistently getting pushed around, and he allowed the Titans to open up huge holes for Chris Johnson.
Cody's strength is supposed to be against the run, but it was anything but that this Sunday. Earl Mitchell, his backup, clearly outplayed him, as he has all season, and it might be time for him to be replaced in the starting lineup.
Winner: Owen Daniels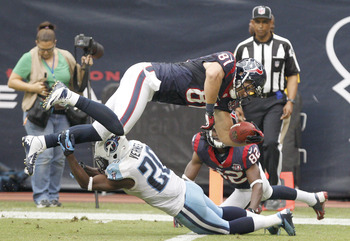 Thomas B. Shea/Getty Images
The NFL is moving toward a league where tight ends are utilized as dangerous receiving threats, and Owen Daniels has certainly been that for the Texans this season.
He has been looking like the preinjury Pro Bowler that he once was, and that is great news for the Texans.
Questions about who would step up behind Andre Johnson in the receiving game lingered throughout the entire offseason, and, right now, it looks like that player is going to be Daniels.
He once again led the Texans in receiving yards, and he had a spectacular touchdown catch in which he broke two tackles along the left sideline and then jumped over a defender into the end zone.
Daniels has been exceptional for the Texans so far this season, and one could only hope that he will keep it up.
Winner: Danieal Manning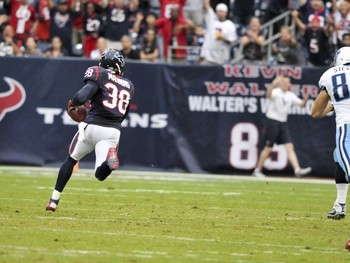 Danieal Manning has been known as a playmaker throughout the entirety of his career, whether as a ball hawk or a kick returner, and this Sunday was no exception.
A Matt Hasselbeck pass intended for Taylor Thompson went astray, was tipped and landed in the hands of the waiting Manning.
Manning proceeded to beautifully weave his way in and out of Titans offensive players desperately attempting to prevent the game from slipping even further out of their fingers.
The Texans signed Manning to bring stability and explosiveness to their struggling secondary, and he has done just that so far in his short Texans career.
Winner: Johnathan Joseph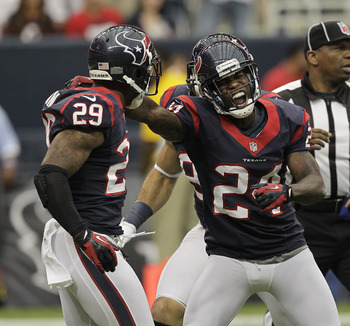 Bob Levey/Getty Images
All week long, it was questionable whether or not Johnathan Joseph would be able to play this Sunday against the Titans.
Joseph was struggling with a groin injury for the entire week, and the Texans' coaching staff was not certain they wanted to risk losing him for an extended period of time by playing him this week.
Joseph, however, got the green light, and if he was dealing with a groin issue, there was no sign of it on the field.
Joseph did not let up a single significant catch, and he looked like the shutdown corner that he has been ever since he was signed by the Texans last season.
Keep Reading

Houston Texans: Like this team?