Grading Kansas City Chiefs' Positional Units at the First Quarter Mark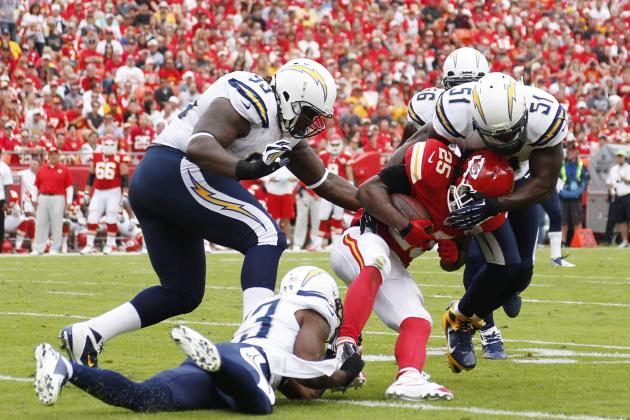 Joe Robbins/Getty Images

When Todd Haley coached the Kansas City Chiefs, he talked about the season as being four separate quarters. He intimated that each set of four games should be judged on their own merit.
If that's the case, then Kansas City had best hope for three quarters of outstanding play to make up for the first one.
Four games into the season and the Chiefs already have fans pining for next year with their complete inability to do anything positive in the first quarter. By halftime, the games are already all but out of reach.
While this would be merely frustrating for a rebuilding team, it's infuriating and incomprehensible for a team with as much talent on its roster as the Chiefs have.
That feeling of futility drives this article assessing each position group's contribution to the Chiefs' lack of success in fielding a competent unit in the first quarter of the season.
Begin Slideshow

»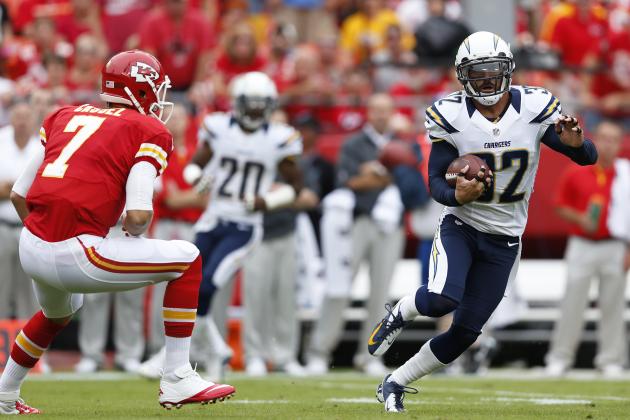 Joe Robbins/Getty Images

I've given up on the Matt Cassel experiment, and it's time the Chiefs did the same.
Kansas City brought Cassel in based on a solid 2008 season in New England replacing an injured Tom Brady. Since then, critiques on his performance generally come with "special circumstances".
In 2009, the Chiefs had a vastly incomplete roster, new head coach and new front office. In 2010, fans witnessed a glimpse of things to come that fell flat at the end with Charlie Weis' departure. Last year, injuries to star players, a volatile head coach and an inexperienced coordinator held Cassel back from repeating his 2010 success.
But what about 2012? Romeo Crennel came out on top as head coach with overwhelming support from his locker room. Brian Daboll lacks the credentials of a Weis or Norv Turner, but is fully capable of running an offense. And while injuries abound this year, Kansas City built depth at many positions to protect them from a 2011-style meltdown.
In this case, there's another, more accurate word to describe these "special circumstances".
They're called "excuses".
The truth is, Cassel is held back by Cassel, and not by any external situation. He focuses on his primary receiver constantly, telegraphing his intent to the defense and missing out on other open receivers.
Cassel's inaccuracy is another major issue. Both injuries to Dexter McCluster and Peyton Hillis occurred when they adjusted to errant passes. No one expects their quarterback to be perfect, but Cassel struggles with hitting his receiver in stride on a regular basis. His best work is on "comeback" routes.
With Kansas City's focus on running the ball, Cassel's role is to keep defenses honest and make a couple plays. But mostly it's to play mistake-free ball and not lose the game.
He hasn't done that this year and is out of excuses. Unless he can make those adjustments, Cassel will be lucky for a backup quarterback position in Kansas City next year.
First quarter grade: D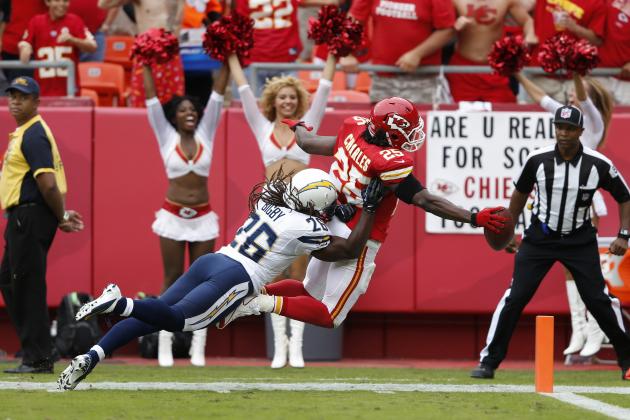 Joe Robbins/Getty Images

With the top rushing offense in the league, I could hand out an A for the squad and few people would question the logic.
After all, Jamaal Charles looks fully healed from last year's ACL tear. Charles steamrolled the Saints for 233 yards in Week 3; he ranks second in the league for most rushing yards, trailing only Marshawn Lynch by eight yards.
Kansas City's backups seem rather talented, too. Nate Eachus made the final roster after a strong showing in preseason, and Shaun Draughn looks to be making the most of his opportunity to carry the ball with Peyton Hillis nursing an ankle injury.
But it's not all sunshine and rainbows, even in the most successful backfield in the league. The Chiefs struggle to close the deal in the red zone, and losing three fumbles against the Chargers isn't a good sign, either.
First quarter grade: B+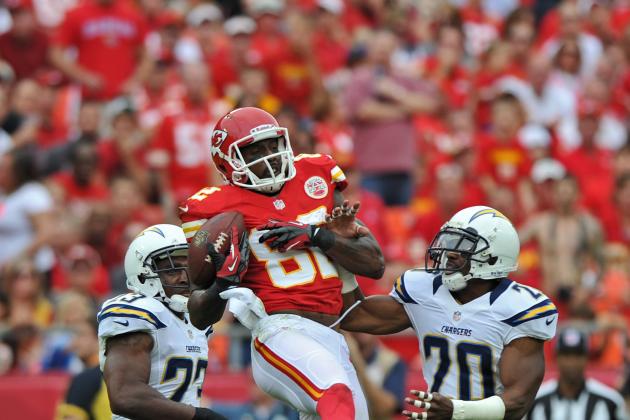 Peter Aiken/Getty Images

Dwayne Bowe needs to send Matt Cassel a present—a fruit bowl, gold watch, a secluded island in the Pacific—something to repay him for how good Cassel is making him look.
Bowe is in the middle of a huge contract year and Cassel seems intent on showcasing Bowe's talent. Four games into the season, Bowe has more yards and receptions than any other two receivers combined. He also boasts the most touchdowns on the team with three; the Chiefs have only scored nine touchdowns all season.
Now, the receivers can't entirely be blamed for Cassel's lack of vision to find other options in the passing game, but that doesn't exonerate the rest of the team's play. Steve Breaston has all but disappeared with only four receptions all season; even Cassel playing with horse blinders can't fully explain that kind of production from one of last year's top free-agent signings.
On the tight end side, Tony Moeaki seems to be playing the worst of the ACL club from last year. Not only is he averaging less than 25 yards per game, but he looks sluggish on his routes and consistently draws holding and false start penalties. His work this year is a far cry from his rookie performance in 2010.
The Chiefs need to get more of their offensive weapons active in the passing game, and not a small portion of that falls on Cassel. But part of changing how that works comes down to how the receivers play before the ball is thrown, and that doesn't seem to be working out, either.
First quarter grade: C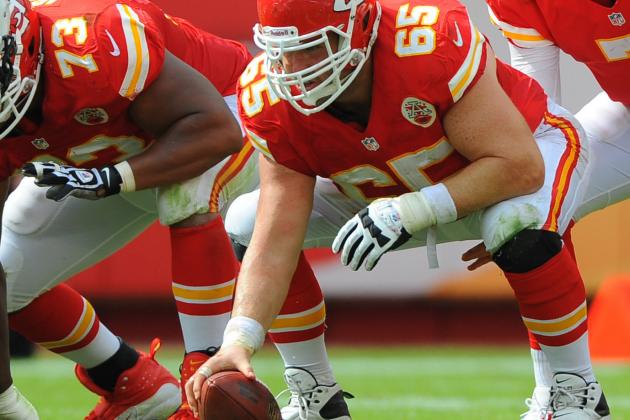 Denny Medley-US PRESSWIRE

Before the season started, I thought the Chiefs might finally get back to the roots of what made them a great team two decades ago.
Sure, a bone-crushing, stifling defense was the hallmark of Kansas City in the '90s, but so was their immovable offensive line. For years, the Chiefs sat atop the the league in offensive line play, a tradition that started with men like John Alt and Dave Szott, who then passed the torch on to Will Shields and Willie Roaf.
The Chiefs tossed that tradition out the window near the end of Dick Vermeil's tenure as Kansas City hoped to ride Shields and Roaf for one shot at the Super Bowl without drafting any successors.
Drafting Branden Albert in 2008 started the rebuilding process, and it was supposed to be complete when the Chiefs signed Eric Winston this offseason. Even draft picks Jeff Allen and Donald Stephenson were brought in for depth and competition; Albert, Winston, Ryan Lilja, Rodney Hudson and Jon Asamoah are the new line to restore Kansas City's dominance.
But it's not working.
Winston looks lost in Kansas City, Hudson departed for IR with a broken leg and Albert is playing with his third different left guard in three seasons. Their play is inconsistent; they open a path for Jamaal Charles to run untouched for 91 yards against New Orleans, but left him with nowhere to run against Buffalo. They buy Cassel an eternity in the pocket, but rank in the bottom five for sacks allowed.
Until this squad can put the same quality product on the field in every game and on every play, the Chiefs will never be more than average.
At the moment, "average" would even be a step up.
First quarter grade: C-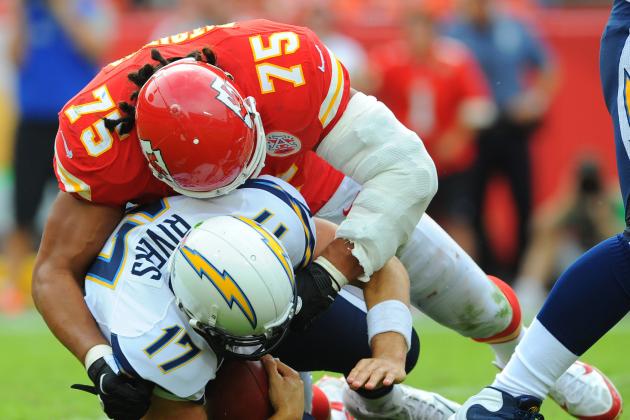 Denny Medley-US PRESSWIRE

Kansas City's offensive line isn't the only one the Chiefs neglected in previous years.
For the last decade or more, Kansas City squandered top draft picks on defensive linemen who never panned out. Names like Ryan Sims and Junior Siavii sat in the Chiefs' starting lineup with little to show for their contracts.
In recent years, Kansas City invested heavily on their line and it finally appears to be paying out.
Ignoring for a moment C.J. Spiller's career day against the Chiefs in Week 2, the defensive line has owned the point of attack against their opponents, regularly blowing up running plays at the line of scrimmage or in the backfield.
Recent draft picks Dontari Poe and Jerrell Powe command double teams and free up Kansas City's pass-rushers to get to the quarterback and allow their inside linebackers to shoot the gap and preempt run plays between the tackles.
Tyson Jackson looks much improved this season and does a solid job of collapsing the pocket. If he continues like this, he should finally shed the "bust" label that's haunted him most of his career.
This type of dominance is expected when three first-round picks man each starter position, but that still doesn't take away from the fact that the Chiefs' defensive looks ready to win the battle in the trenches for the first time since the days of Neil Smith and Dan Saleamua.
First quarter grade: B+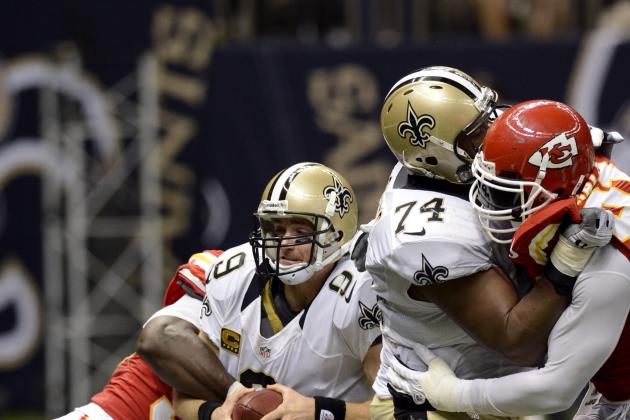 John David Mercer-US PRESSWIRE

While the defensive line does all the grunt work, Kansas City's linebackers get all the glory.
Justin Houston continues to build on his late rookie year surge this season, manhandling Drew Brees in Week 3 for three sacks and a safety that was one of the deciding factors in their game against the Saints.
Meanwhile, Derrick Johnson and Jovan Belcher reap the benefits of Kansas City's improved line play with clear lanes to the running back.
Tamba Hali seems to be the only linebacker off to a slow start this year. His one-game suspension kept him off the field against the Falcons, and his first sack didn't come until Week 4 against the Chargers. Hali should elevate his game in coming weeks as teams start focusing more on stopping Houston on the other side.
Their biggest deficiency right now is working the perimeter. C.J. Spiller and Darren Sproles both made things happen on the edge against the Chiefs; with the NFL's trend towards speedier backs, Kansas City must improve their ability to stop the screens, sweeps and counters.
Overall, the Chiefs should feel confident that their linebacking corps can make a difference in games.
First quarter grade: B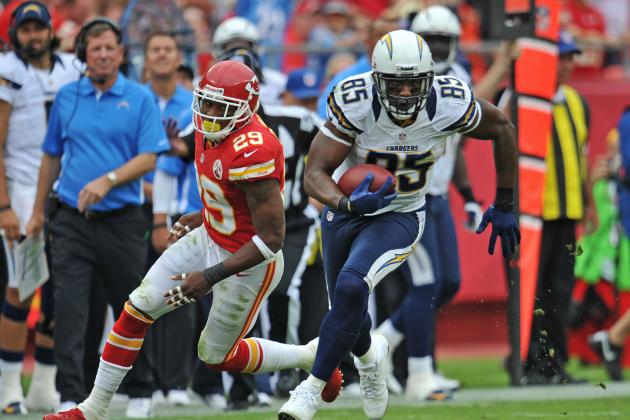 Peter Aiken/Getty Images

Last year, opponents caught the Chiefs flat-footed when a season-ending injury to Eric Berry tested their safety depth.
Kansas City addressed this with signing veteran Abram Elam, who brings a much needed upgrade to the reserve ranks—an essential upgrade given Kendrick Lewis' injury to start the season.
But the Chiefs now find themselves in a similar position at cornerback. With Brandon Flowers banged up, the Chiefs have been forced to rely on Jacques Reeves, Jalil Brown and Travis Daniels to pick up the slack with disappointing results.
Watching Brandon Carr walk in free agency hasn't helped matters. Kansas City will likely receive a third-round compensatory pick next year for letting him sign with Dallas, but that doesn't help matters now.
The Chiefs filled Carr's spot with Stanford Routt, but he lacks the ability to step up as a true No. 1 corner. Plus, his history of penalties puts him in the referees' spotlight; plays other corners could get away with don't fly where Routt is concerned.
The Chiefs must do better with their depth and stop playing soft coverage against receivers—a tactic likely used to mask Kansas City's deficiency at corner. Kansas City spent the first half of the San Diego game with Eric Berry covering Antonio Gates with miserable results. In five attempts, Gates caught three passes and drew two pass interference calls.
After quarterback, building additional corner depth must be a priority in the offseason.
First quarter grade: C-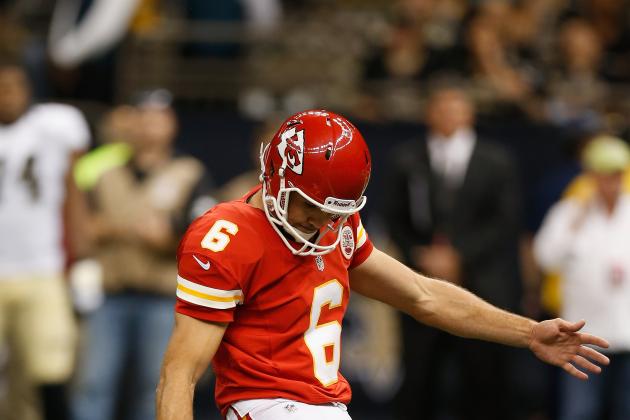 Chris Graythen/Getty Images

Dustin Colquitt and Ryan Succop will certainly earn their paychecks this season.
Succop hit a franchise record six field goals against the Saints in Week 3, including the game-winning score in overtime. Expect that trend to continue given Kansas City's struggles on offense.
The same goes for Colquitt, who has 17 punts on the season with 10 of those downed inside the 20. Colquitt also gets major props for fielding a horrible snap against the Chargers that went far right and forced Colquitt to spin in hopes of getting it set for an extra point attempt. The play failed, but if Succop had continued his motion, he would have likely made the kick.
Both kickers have played well, which is fortunate for the rest of a special teams squad who will falter one moment and shine the next. Colquitt's gunners, particularly Jalil Brown, have helped keep opponents pinned against their own end zone. But Brown also drew a holding penalty against the Saints that negated an excellent return by Javier Arenas.
Kansas City also allowed a number of solid returns already this season, including an 88-yard punt return in Week 2 against the Buffalo Bills.
That type of inconsistency keeps their special teams' no better than average.
First quarter grade: C