Washington Redskins: 3 Big Things We Learned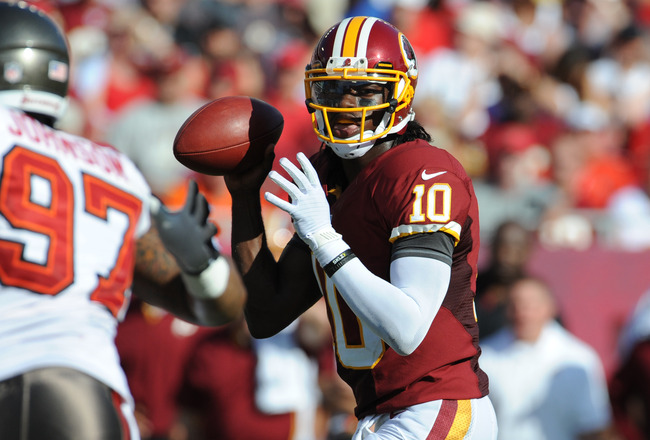 Al Messerschmidt/Getty Images
Week 4 is in the books for the Washington Redskins, and they were able to squeak out a win against the Tampa Bay Buccaneers 24-22. This game was far from flawless and revealed several points that must be addressed.
The Redskins are 2-2 at this point, pulling out some impressive wins (New Orleans) and suffering some tragic defeats (St. Louis).
Here we will explore three important items that were revealed in this week's game that must be addressed heading forward.
Bill Cundiff Has to Go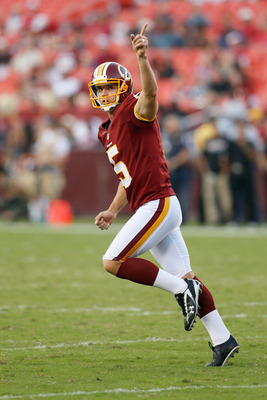 Rob Carr/Getty Images
The old adage in the NFL "you must win in all three phases" was never truer than today's game. The offense struggled at times, the defense was porous but the special teams was abysmal.
Billy Cundiff nailed the winning field goal with seven seconds left but not before missing three earlier attempts. These misses put the Redskins in an early hole when it came to capitalizing on drives and allowed Tampa Bay to slowly crawl back into this game. Cundiff's mistakes reached the pinnacle when he failed to make a 31-yard field goal in the fourth quarter.
The Redskins may have escaped disaster today, but this cannot be allowed to continue. This is the exact type of game where the Redskins could loose with multiple mistakes, and that almost happened with Cundiff.
Cundiff has always lacked in consistency, with career kicking just over 75 percent. Baltimore knew what they were doing when releasing Cundiff, and the Redskins need to heed this advice. There are plenty of serviceable kickers available (i.e. Graham Gano), and the Redskins need to hire one of them by this time tomorrow.
The Secondary Is the Achilles' Heel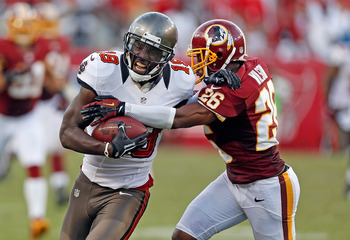 J. Meric/Getty Images
This Redskins' secondary has been a developing story all season long, and today was no exception. Tampa Bay placed a heavy emphasis on their passing attack, and it almost carried them to a win. This is a hole that must be patched immediately.
The Buccaneers have a fairly balanced offensive attack, but today, the game plan called for an aerial assault. Josh Freeman threw 39 times for nearly 300 yards and a touchdown. Even more telling of the secondary were the stats for the top two Tampa Bay receivers (Jackson: six catches, 100 yards and a touchdown; Williams: four catches, 115 yards).
The Redskins' corners and safeties have been relatively powerless to stop receivers this season, and today was a perfect example. Both of Tampa Bay's top receivers averaged over 16 yards per reception which is far too high. The defense needs to be able to limit team's first and second options, or it will get picked apart all year.
DeAngelo Hall had a nice interception, and Josh Wilson almost had one of his own. However, the secondary, as a whole, proved to be an open wound for this team and is in desperate need of a band aid. Whether it is the infusion of a free agent or a scheme adjustment, a change needs to be made because this unit is hemorrhaging.
RG3 Is Going to Have to Carry the Team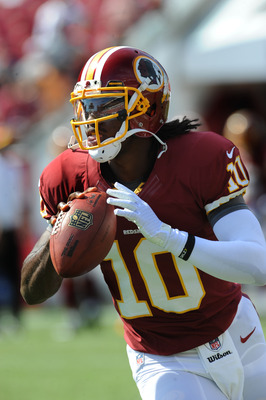 Al Messerschmidt/Getty Images
Today's game is a perfect example of a well-known theme for Redskins fans, "The Skins will lose this game before the opponent wins it."
What I mean by this is that, for the longest time, the Redskins have been involved in games where they "should" win, but because breakdowns on defense or inefficiencies on offense, they allow the opponent to walk away with the "W." RG3 is one of the NFL's elite weapons but will be called on constantly to cover up problems on this team.
Griffin was asked to carry the lion's share of work with 34 passing attempts and seven rushes. While this workload is to be expected from the team's quarterback, other players need to step up on defense, so that Griffin is not asked to do as much.
The woes on defense create the need for Griffin to not only put points on the board but also create long-sustained drives. These long drives allow the Redskins to win the time-of-possession battle and keep the opponents' offense off the field.
However, the defense is giving too many successful drives to opponents and asking Griffin to constantly "win the game."
Make no mistake about it, Griffin will be the focal point of the Redskins team as long as he is quarterback. However, Griffin cannot play in all three phases of the game (or can he?) and will need help from the defense and special teams.
While the Redskins were able to get away with a win today, the defense and kicking units will need to start carrying their load, or Griffin will have to keep carrying this team to every win.
Keep Reading

Washington Redskins: Like this team?