Dolphins vs. Cardinals: Miami's Biggest Winners and Losers from NFL Week 4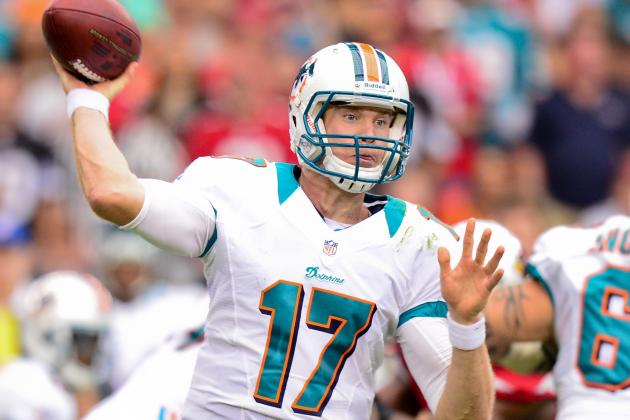 Matt Kartozian-US PRESSWIRE

Do the football gods have a vendetta against the Miami Dolphins?
Did Don Shula cut a deal with the devil so the Dolphins could go 16-0 in 1972?
Whatever the case, the Dolphins are stricken by bad luck.
For the second consecutive week, the 'Phins surrendered a fourth-quarter lead and fell in overtime. This time, it was Jay Feely lifting the Arizona Cardinals to a win with a 45-yard field goal in OT.
As upsetting as this loss is, there are some huge positives to take away.
Ryan Tannehill, Brian Hartline and Davone Bess all had career games. Cam Wake finally broke his sack drought, and Reggie Bush looked plenty healthy one week after suffering a scary knee injury.
But for every winner there is a loser.
Here's this week's installment of the "Miami Dolphins' Winners and Losers."
Begin Slideshow

»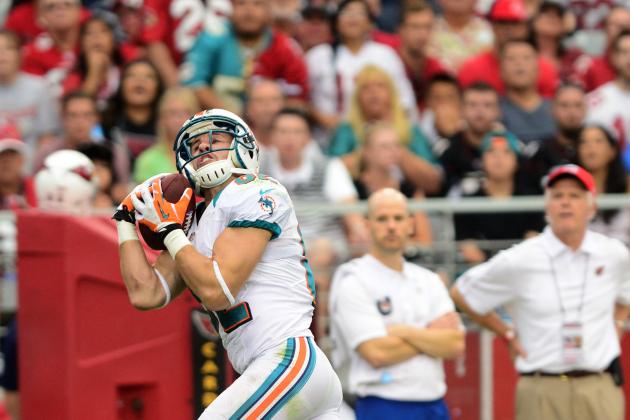 Jennifer Stewart-US PRESSWIRE

Brian Hartline's record-setting 253-yard performance today was a sight for sore eyes.
He was not only the most dominant player of this game, he was arguably the most dominant player in the entire league on Sunday.
Here's a question to think about: Did the Dolphins always believe Hartline had this kind of potential? If they did, it might explain why Jeff Ireland decided against signing a big-name wide receiver or reaching for one early in the draft.
Or, maybe Ireland just got really lucky.
Ryan Tannehill might have found himself another dangerous wide receiver to add alongside Davone Bess, but Hartline needs to prove that he can play at this level on a weekly basis and not disappear under the coverage of an elite cornerback (Hartline was completely shutdown by Darrelle Revis last week).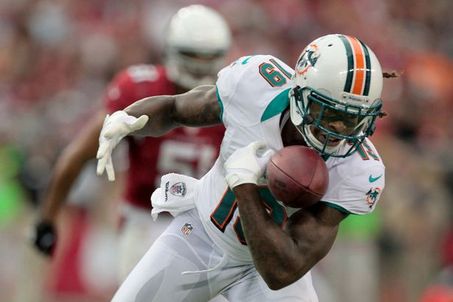 Photo via PalmBeachPost.com
Just when you thought things couldn't get any worse for Legedu Naanee...they got worse.
Late in the fourth quarter, Naanee reeled in his first reception of the season, one which would've given the Dolphins a first down. However, he promptly fumbled. Patrick Peterson scooped it up and returned it inside of Miami's 5-yard line.
Everything that could go wrong for Naanee this season has, and it has become increasingly difficult for Jeff Ireland to justify keeping him around.
After Sunday, it'll be nearly impossible.
Naanee may have just played his last game as a Dolphin.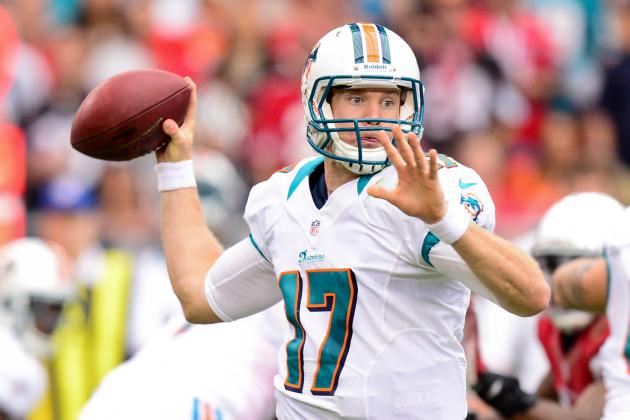 Matt Kartozian-US PRESSWIRE

Although both of Ryan Tannehill's interceptions proved extremely costly, they were ultimately minor blemishes in an outstanding game.
Tannehill completed 26 of 41 passes for 431 yards and one touchdown.
He looked like a different player than the one we saw merely stay afloat in the first three weeks of the season. Tannehill wasn't rattled by Arizona's hostile crowd, nor was he shaken by the Cardinals' constant comeback surges.
It was only one game, but Tannehill clearly has franchise quarterback potential.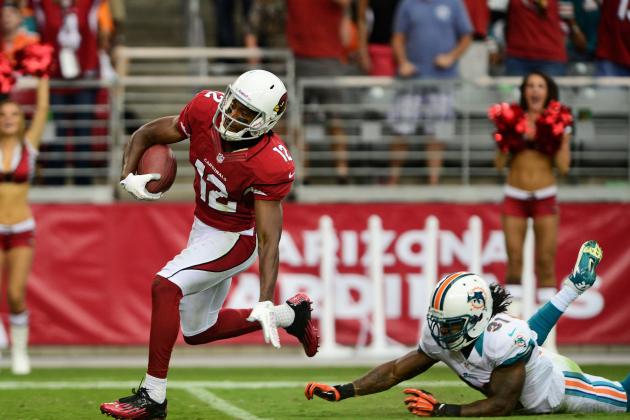 Jennifer Stewart-US PRESSWIRE

Richard Marshall has now landed on the loser list in each of the Dolphins' first four games.
He continues to surrender big plays at inopportune moments and get beaten by no-name wide receivers. Moreover, he's not living up to a generous contract that is paying him upwards of $5 million each year.
On Sunday, Andre Roberts burned Marshall with a double move and then caught a 46-yard touchdown pass that gave the Cardinals their first lead of the game.
Maybe Marshall looked so good last year because he played against so many substandard NFC West passing games.
Whatever the case, he needs to turn things around. Now.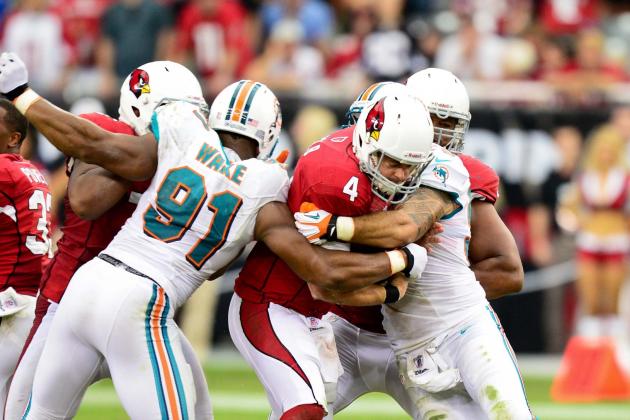 Matt Kartozian-US PRESSWIRE

Cam Wake entered Sunday's game with zero sacks.
He left with 4.5.
Wake dominated rookie fourth-round pick Bobby Massie, who was in way over his head with the Dolphins' best defensive player.
When Wake causes such mayhem, it opens the door for others to generate a pass rush. Both Karlos Dansby and Koa Misi also recorded sacks. In total, the Dolphins sacked Kevin Kolb eight times, and concerns about Miami's pass rush are temporarily relieved.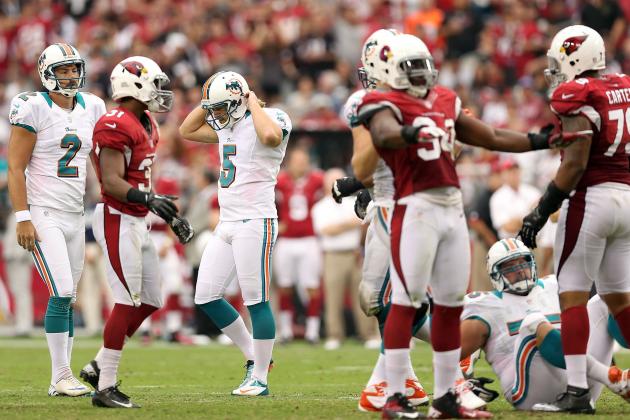 Christian Petersen/Getty Images

For the second straight week, Dan Carpenter missed a field goal in regulation that eventually cost the Dolphins a win.
In no way does this loss fall on Carpenter's shoulders. He missed a 51-yard field goal on the opening drive of the second half, and the Dolphins had countless opportunities to win the game despite it.
But had he made that field goal, Miami probably wins this game in regulation.
Carpenter—who is slated to rake in $2.675 million this year—has now missed three field goals in the last two weeks alone, and he is not justifying that contract. If his struggles persist, then the Dolphins shouldn't hesitate to pursue another kicker on the open market.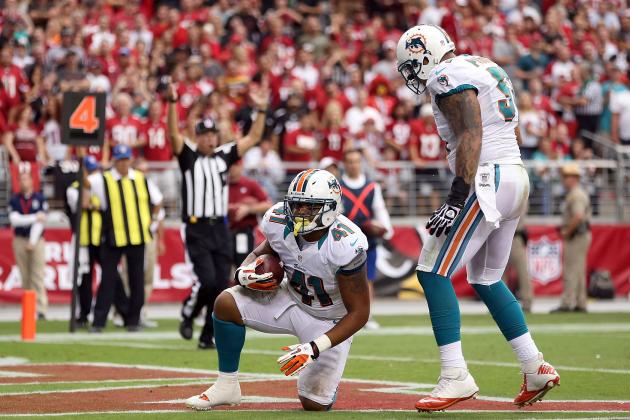 Christian Petersen/Getty Images

Jorvorskie Lane is becoming the offensive version of Randy Starks.
He doesn't necessarily make flashy plays—though he did today—but rather does the dirty work and does it extraordinarily well.
Lane plowed into the end zone for his first NFL touchdown in the first quarter and later caught a pass that converted a crucial two-point conversion. Beyond that, he continued to pave huge rushing lanes for Reggie Bush, who registered 67 yards on 17 carries.
Jeff Ireland deserves much of the criticism he receives, but Lane was a sensational find.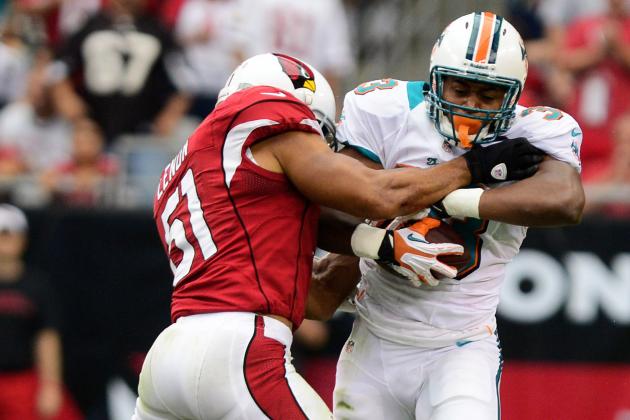 Jennifer Stewart-US PRESSWIRE

It gets more difficult to defend Daniel Thomas as each week passes.
Although Reggie Bush played through a knee injury on Sunday, it's no secret he wasn't 100 percent healthy on Sunday. The Dolphins needed Thomas to provide support, but for the second consecutive week, he failed to do so.
In total, Thomas registered a measly four rushing yards on four carries and caught one pass for four yards.
Despite Bush's injury, Joe Philbin and Mike Sherman hardly factored Thomas into their game plan. It appears as though Miami's coaching staff doesn't trust him, and for good reason.
Time is running out for Thomas to prove that he's not another failed Jeff Ireland second-round draft pick.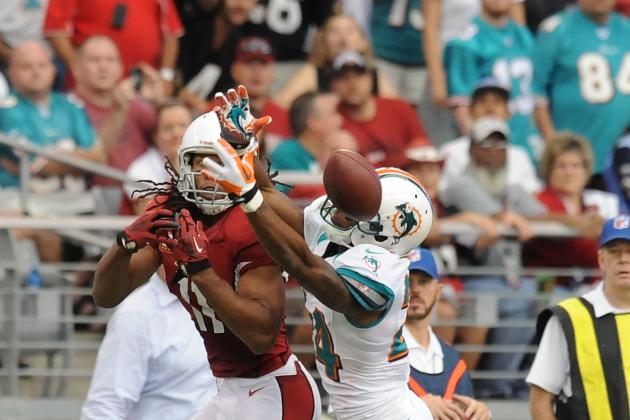 Norm Hall/Getty Images

Sean Smith was on the wrong end of Andre Roberts' game-tying touchdown in the waning seconds of the fourth quarter.
Even so, he emerged from Sunday's game a winner.
Smith finally resembled the dominant, physical cornerback we all expected him to become. He mirrored Larry Fitzgerald for most of the game and limited him to just 68 receiving yards.
More impressively, he registered his first career multi-interception game. Smith made the biggest play of his young career midway through the fourth quarter when he intercepted Kevin Kolb in the end zone.That interception should've helped seal a Dolphins victory, but, of course, he later yielded the game-trying TD to Andre Roberts.
This game was very reflective of Smith's career: sometimes great but sometimes not so great. Regardless, Sunday's game was a big step in the right direction.