St. Louis Rams: The Good, Bad and Ugly Through 4 Weeks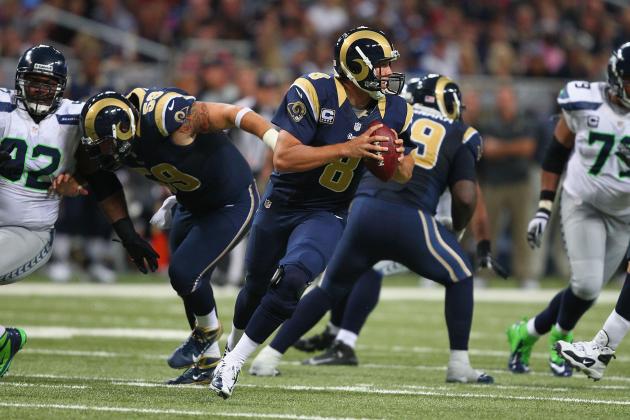 Dilip Vishwanat/Getty Images
Sam Bradford managed the game successfully on Sunday, and the Rams are 2-2.
The St. Louis Rams are 2-2, thanks to a defensive stand at the end of Sunday's game at home against the Seattle Seahawks to secure a 19-13 victory.
Both wins have come at home thanks to some late defensive stops. So through four games of the 2012 season, Jeff Fisher's new team is in a competitive position, in a division that is even more so.
Let's take a look at the good, the bad and the ugly of the 2012 season thus far.
Begin Slideshow

»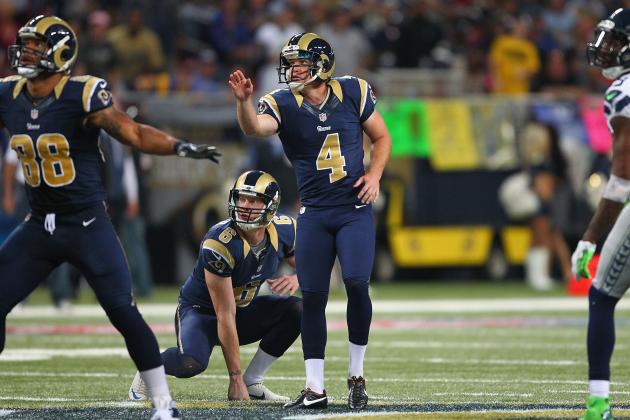 Dilip Vishwanat/Getty Images
Zuerlein
Greg Zuerlein and the Special Teams
If there was a "great" category in this article, it would be there solely for the presence of Young GZ. Today alone, he gave Rams fans reasons to smile with field goals from 60, 58, 48 and 24 yards.
The 60-yarder broke a St. Louis franchise record set by Jeff Wilkins back in 1998. It was bound to happen, as Zuerlein is now 12-of-12 on the season.
Zuerlein is also the perfect solution to a Rams offense that has had little playmaking ability to this point in the year. Steven Jackson said it best after the game (h/t R.B. Fallstrom, Huffington Post), "Pretty much, all we've got to do is get across the 50-yard line and we're in his range."
The overall special teams unit, coached by John Fassel, has done a very efficient job. Of course the fake field goal, touchdown pass to Danny Amendola was fun to watch against the Seahawks, and rookie punter Johnny Hekker has averaged nearly 50 yards per boot.
The third-year St. Louis gunslinger is playing the best football of his pro career. He's made snap decisions that have paid off. In addition, when the Rams are in a hole on 3rd-and-long, not all is lost.
Against the Seahawks, he was able to convert on a couple of long third-down plays that kept drives alive. On the first offensive drive of the game, Bradford stepped up in the pocket and completed a 14-yard pass to Brandon Gibson on 3rd-and-long.
In the second quarter, Bradford found Austin Pettis (playing in his first game of the season) for a 17-yard first down reception on another 3rd-and-long. That helped keep the drive going, eventually resulting in the fake field goal touchdown.
Bradford didn't throw a touchdown, but he managed drives very effectively.
Janoris Jenkins
Jenkins is among a few rookies who have done consistent work for the Rams through the first four weeks. What has sold me is his ability to get to the football even when he may be far away from the play.
In the third quarter against Seattle, he was able to bring pressure to Russell Wilson and hit his arm from behind just as he was getting rid of the ball. The pass sailed high into the air and right into the hands of Rocky McIntosh for the easy interception.
Jenkins brought the blitz from the start of the play and was guarded pretty well. However, he didn't give up on it and eventually forced the errant throw.
Home Cookin'
In two games at home, not only are the Rams 2-0, but they've scored 50 points. The crowd at Edward Jones Dome has nearly sold out both games, and the offense has played to the tune of 738 total offensive yards at home. Plus, both wins featured the defense hanging tough late.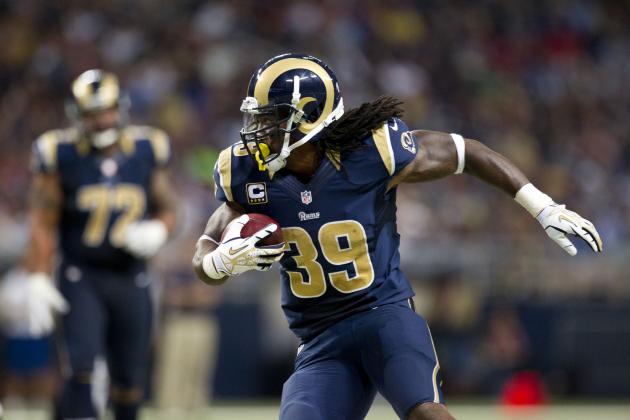 David Welker/Getty Images
Jackson gets his health back, but does he still have the power-back swagger?
Rush Defense
Heading into Sunday's game, the Rams had given up quite a bit on the ground to guys like Robert Griffin III and Michael Bush. They haven't faced a top back in the league yet, but there are still some holes in this rushing defense.
Marshawn Lynch was virtually impossible to bring down. It seemed like he dragged defenders with him on every carry, but he was always able to gain positive yardage. The Rams gave up nearly 180 yards rushing to Seattle.
Still, they were able to keep Lynch from breaking a big run. In fact, the longest run the Rams have surrendered all year is 29 yards.
Rushing Offense
With the offensive line the Rams have plus the ill health of Steven Jackson, they've been lucky to get anything out of the ground game.
Jackson desperately needed a spark against Seattle. He may have gotten one, proving he was healthy and carrying the ball 20 times for 55 yards. Those certainly aren't amazing stats, but the way S-Jax was running on Sunday gave fans hope and assurance that he was indeed back and feeling good.
St. Louis is going to need more of what they saw Sunday from Steven, especially against defenses like Arizona and San Francisco. Plus, Daryl Richardson is beginning to fade after a breakout fill-in performance in Week 2.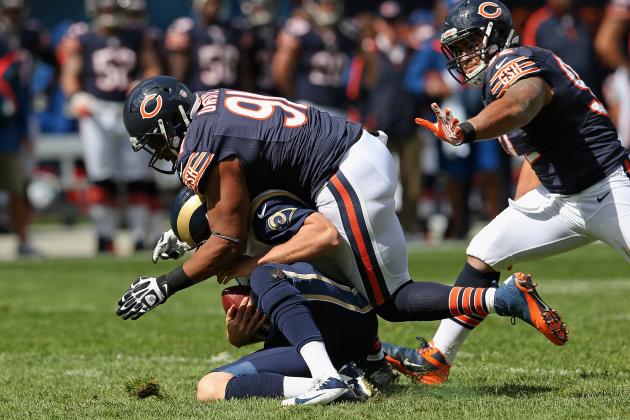 Jonathan Daniel/Getty Images
Bradford has taken his licks so far this season.
The Offensive Line
Sunday was probably the best game the line has played all season long, which wasn't expected considering how dominating the Seahawks' front seven had looked coming in. Sam Bradford was sacked twice for a minimal loss of 12 yards.
In addition, the penalties weren't a huge issue either.
Good signs for a unit depleted by injuries to start the season? Yes. However, I'm still concerned about the left side of the line. Wayne Hunter's performance hasn't reassured me that this team isn't missing Rodger Saffold at LT.