NHL: 3 Summer Signings That Could End Badly
This certainly looks like a good acquisition on paper
Hannah Foslien/Getty Images
When the NHL season gets back underway, there will be some new acquisitions that won't be able to live up to what they signed for.
It doesn't get much worse than having your team sign that big-name player over the offseason, only to have them struggle during the next year.
Unfortunately, that's exactly what's going to happen.
The lockout is currently taking place, but that's no reason to get caught up on that side of the negative news.
Instead, let's talk about another side of the negative news.
Here are three summer signings that have the potential to end badly.
Zach Parise and Ryan Suter, Minnesota Wild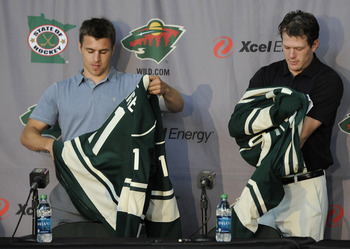 People should be looking past how great these signings were, and focus on how the team will actually play together
Hannah Foslien/Getty Images
There's a real misconception about signing All-Stars.
People have the tendency to assume that getting a high-caliber player over the offseason will automatically turn the team around.
The problem is that while getting a new player is nice and all, did you get a new team?
A mediocre team is still a mediocre team. Adding another player or two will help, but all that does is to make the squad into a mediocre one with a good player.
The Minnesota Wild just might fall victim to this trend with the free-agent signings of Zach Parise and Ryan Suter.
The issue isn't in what the duo will do. The issue comes from what people now expect out of the team.
Looking back on last season's team could definitely hurt your eyes a bit. They piled up a 35-36-11 record all while taking fourth in the Northwest Division standings.
Minnesota also finished last in the NHL in goals scored at only two a game. Having average to below-average stats doesn't just suggest that the team isn't good, it proves it.
Another negative for the Wild has to do with the lockout.
Missing training camp and exhibition games has to factor into the situation.
Team chemistry can't be undervalued, and it's especially important in a sport like hockey. No training camp means no time to work out the smaller kinks that are sure to come up when new players hit the team.
Parise and Suter are going to help the team. That is for sure.
They just aren't going to help as much as people expect them to.
Ray Whitney, Dallas Stars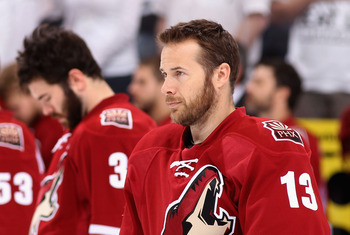 Does Ray Whitney have much left in the tank?
Christian Petersen/Getty Images
Not enough can be said about the relationship between age and sports.
A young player can continue to develop up until about 30 years old, when suddenly his body catches up to what he's been doing his whole life.
The 40-year old Ray Whitney could be a victim of age working against productivity.
Whitney had a career year last season with 77 points, so it would be crazy to say that he shouldn't have gotten the two-year, $9 million deal from the Dallas Stars.
I guess that you can call me crazy then, because the Stars shouldn't have offered Whitney that deal.
Each of the four previous times that Whitney has scored at least 71 points in a season has been followed by at least 19 fewer points the next year.
Nobody is expecting another 77-point year out of Whitney, but it's logical to think that the gap between last year and this season's production could be even bigger than 19 points.
It will definitely be bigger if there is a shortened season.
The possibility of a shortened year plus his age leads to Whitney having less time on the ice.
Whitney isn't going to end up helping Dallas as much as they hoped he would, but at least they got great veteran leadership from the deal. That in itself is almost priceless.
Shea Weber, Nashville Predators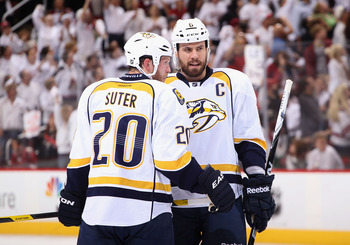 Will Shea Weber be as good without his partner in crime next to him?
Christian Petersen/Getty Images
Would Batman be as effective without Robin? There's no way that Spiderman would be who he is without Gwen Stacy or Mary Jane Watson, right?
Any way it's looked at, having a sidekick elevates a person's performance.
Shea Weber's contract renewal has all of the makings of a bad deal, and it has to do with Ryan Suter's absence.
The Nashville Predators matched the 14-year, $110 million offer sheet for Weber that the Philadelphia Flyers sent out earlier this summer.
Weber is arguably the best defenseman in the NHL and his contract does everything to suggest that. He can light up both a player and a scoreboard at the highest level, so his signing should be good for the Predators.
The issue comes from Suter's departure and if spending that much money on Weber was really worth it.
Suter didn't garner as much attention from opposing teams, but he still was a playmaker that took some of the weight off of Weber.
Nashville will now have an elite defenseman that everyone will gameplan for. That's both a positive and a negative.
The positive comes from the potential rise in Weber's numbers. There will be more shots on the ice and more opportunities for making plays without Suter's presence. In fact, Weber could have career numbers during his next full season.
The negative comes from what else the Predators can do. They spent an incredible amount of money on one person, and the NHL's new collective bargaining agreement (CBA) could end up giving the team less money for the future.
This could start a chain reaction of events.
With limited funds, Nashville can't do much with its team but develop its players. Developing young talent can take years—something that Weber doesn't have.
At 27 years old, Weber finds himself in the prime of his career. The time where he should be competing for Stanley Cups.
Not waiting for his team to catch up.
His contract's fine print could come into play here.
Steve Silverman, featured columnist for Bleacher Report, wrote about the possible lack of a no-trade clause in his contract:
"It's possible. According to a report in The Tennessean, the contract that Weber agreed to does not include a no-trade or a no-movement clause.

Beat writer Josh Cooper quoted Weber's agent, Jarrett Bousquet, as saying that the contract has been signed. The new deal would keep the Predators defenseman in Nashville for a full season, but the team could choose to trade him after a full season."
Not having a no-trade clause also means that Weber would have the ability to voice his discontent with the organization if it got to that point.
An inability to bring in quality players could make him want to speak up.
There are just way too many ways for this deal to go badly for both Weber and the Predators.
And yes, in case you were wondering, I did have a solid nerd moment at the top of the slide. It felt like the right thing to do.
Keep Reading

Minnesota Wild: Like this team?