NY Knicks Training Camp Report: Latest News and Preseason Predictions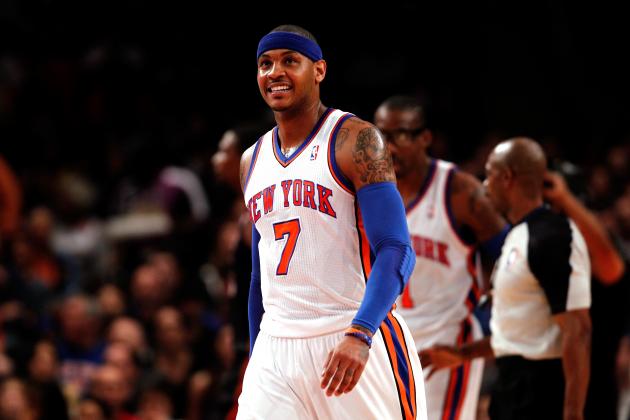 Jeff Zelevansky/Getty Images

For New York Knicks fans, the 2011-2012 season was as bittersweet as any campaign in the team's history. The squad made the playoffs, but lost 4-1 to the Miami Heat. They struggled with injuries, but managed to find unexpected talent in Steve Novak and Jeremy Lin.

Now, with a completely refurbished bench and plenty of new faces on the roster, this training camp is going to be crucial in setting the tone for the 2012-2013 season. If the players can gel, buy into Mike Woodson's system and focus solely on winning games and avoiding distractions, the sky is the limit for this New York team.

However, given that the team is in such a high-profile media market and had an incredibly controversial offseason, there is always the potential that any roster mistake or high profile issue could cause the undoing of this team.

The Knicks have a slew of intriguing players on the roster, ranging from their established players like Carmelo Anthony and Amar'e Stoudemire to relative unknowns like James White that could ultimately make or break the season.

With the season just around the corner, here is a preview and primer for the New York Knicks' training camp.
Begin Slideshow

»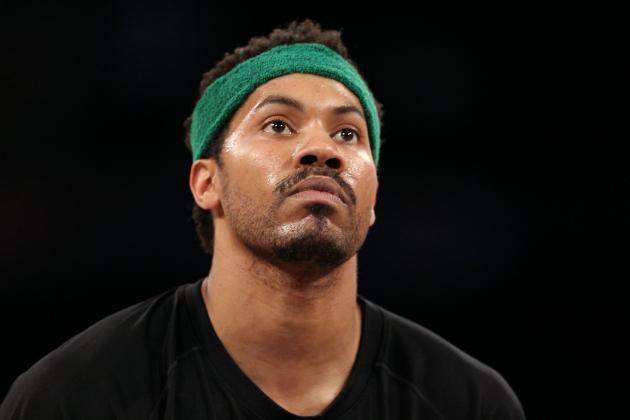 Christian Petersen/Getty Images

Update: Oct. 2, 2012 by Stephen Babb
The New York Knicks have been waiting to wrap up a deal with 38-year-old forward/center Rasheed Wallace, but it didn't happen in time for the first day of training camp according to New York Magazine's Seth Rosenthal:
The Knicks are still waiting on Rasheed Wallace, but it's not clear why. He's in New York but didn't practice or show his face to media today. Everyone says he's still sorting out contract stuff. Since the Knicks only have a veteran's minimum contract left to offer, I'm not sure what needs sorting out. One wonders, then, why Wallace's signing would be delayed ...
Whether there's a legitimate hitch in the process or mere logistics to complete remains to be seen. The Knicks are hoping the veteran can bring some defensive intensity along with the ability to spread the floor on offense.
Wallace would join Kurt Thomas (40 as of Oct. 4), Jason Kidd (39), and Marcus Camby (38) on a roster that's been infused with veteran leadership over the summer. The wealth of experience should come in handy when the postseason rolls around.
---End of Update---
Easily the biggest recent news for New York has been the potential return of former All-Star Rasheed Wallace. 'Sheed has spent the past two years out of the league, but with the Knicks needing a reserve power forward and clearly leaning towards bringing in veterans instead of young players, the move makes some degree of sense. Per ESPN's Ian Begley, Wallace will join New York in 2012-2013 for the veteran's minimum.
According to the Wall Street Journal's Chris Herring, Carmelo Anthony has actually stated that he will be less focused on scoring next season. Anthony said that he wants to open up more room down low for Amar'e Stoudemire to work and will look to improve his overall game.
While it is reassuring to hear him talk with maturity and poise about stepping up as a leader, it remains to be seen if Anthony can live up to his word.
Dan Amira of New York Magazine reported that Jason Kidd's DWI trial, which occurred late one night this summer in the Hamptons, will stretch into the NBA season, with the next court date slated for November 7th, once the season is already underway. With just Raymond Felton ahead of him on the depth chart, the Knicks need Kidd engaged and focused, and being distracted with a trial is hardly a good thing for the veteran point guard.
In one of the more high-profile NBA moments of the past few weeks, former-Knick Stephon Marbury has voiced his opinion that Stoudemire and Anthony simply do not co-exist as teammates. Ian Begley of ESPN New York reported that the talented but controversial guard believes that Stat cannot thrive in the same kind of slow-paced offense that Anthony thrives in.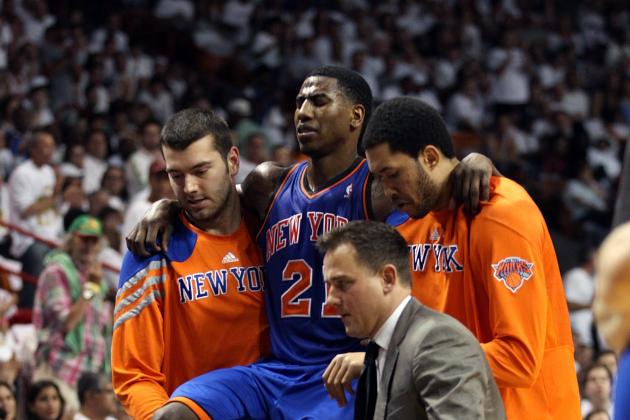 Marc Serota/Getty Images

Update: Oct. 25, 2012 by Stephen Babb
The New York Knicks haven't had much luck with injuries going into 2012-13. Iman Shumpert is still recovering from a torn ACL. Ronnie Brewer is recovering from knee surgery. Amar'e Stoudemire has an ailing knee. Marcus Camby and J.R. Smith are hobbled by injuries too.
Count Tyson Chandler among the casualties (via the New York Times' Howard Beck):
Knicks announce Tyson Chandler has bone bruise in knee. Listed as day-to-day

— Howard Beck (@HowardBeckNYT) October 25, 2012
Chandler hurt his knee against the Brooklyn Nets on Wednesday night, initially believing he had sprained it.
Though the official diagnosis indicates otherwise, the Knicks will be handling this one cautiously all the same. With Stoudemire and Camby dealing with injuries of their own, NYC will need the reigning Defensive Player of the Year healthy and in top form.
---End of Update---
Update: Oct. 23, 2012 by Stephen Babb
Though nothing radical has changed with respect to Amar'e Stoudemire's status, it appears as though the expectations he'll miss two to three weeks are just that, expectations.
The New York Daily News' Frank Isola reports that nothing is certain, however:
The severity of Stoudemire's injury is unknown. The Knicks are cautiously optimistic that Stoudemire, who was found to have a popliteal cyst behind his left knee, will only be sidelined two to three weeks. Stoudemire has a long history of breaking down but he also has a reputation for being a quick healer.

The problem, however, is that the cyst was found on the same knee that required microfracture surgery five years ago.
At this point, speculation that Stoudemire's knee could spiral into a more significant, long-term problem has more to do with mapping out worst-case scenarios than a specific medical opinion. Until we see the power forward back in action, though, it will be hard not to think the worst.
---End of Update---
Update: Oct. 22, 2012 by Stephen Babb
It hasn't been the kindest of preseasons for the New York Knicks. In addition to Iman Shumpert's ongoing recovery, Ronnie Brewer's return from knee surgery and J.R. Smith's injured Achilles, NYC can now count who else but Amar'e Stoudemire among its wounded.
The Associated Press reports that it's bad enough to impact the regular season, too:
Knicks forward Amare Stoudemire is expected to miss the start of the regular season and be out two to three weeks because of an injured left knee.

He returned to New York on Sunday for another evaluation, and an MRI revealed a ruptured benign cyst, the team said.
The New York Post's Marc Berman also points out that such a cyst may be "a symptom of an arthritic knee," which could be bad news for Stoudemire's long-term durability.
This is the last thing Amar'e needed in his attempt to bounce back from the worst season since his rookie year. Though he won't be missing an exorbitant amount of time, the setback will certainly interrupt the rhythm he'd otherwise be developing.
---End of Update---
Update: Oct. 19, 2012 by Stephen Babb
For those optimists hoping J.R. Smith's walking boot was a precautionary measure, brace for yourself for some bad news (via the New York Post's Marc Berman):
Yeah, it's serious with J.R. Smith. He won't make trip with his sore Achilles. Didn't practice today.

— Marc Berman (@NYPost_Berman) October 18, 2012
To what extent this is bad news remains uncertain, but it's looking more and more like Smith might get a late start to his second season with the New York Knicks. It's not the most calamitous injury that could befall the club, but it could put some pressure on head coach Mike Woodson to adjust his rotation.
Without Smith in that second unit, points won't be easy to come by as the starters take a seat.
---End of Update---
Update: Oct. 17, 2012 by Stephen Babb
J.R. Smith missed time this weekend on account of a sore ankle, but if the latest sighting is any indication, we may be looking at a more serious situation (via Newsday's Al Iannazzone):
JR Smith is in a walking boot for his sore ankle.

— Al Iannazzone (@Al_Iannazzone) October 17, 2012
Of course, Rotoworld also notes that walking boots can be precautionary in nature. Let's hope that's the case.
Even if Ronnie Brewer returns in time to start the season, the Knicks are in no position to lose another shooting guard with Iman Shumpert shelved for a matter of months. More importantly, Smith reasons to be New York's best bench scorer, a key sixth man to keep the club rolling when Carmelo Anthony and/or Amar'e Stoudemire take a seat.
---End of Update---
Update: Oct. 17, 2012 by Stephen Babb
With Iman Shumpert set to return by December at the very earliest, J.R. Smith has recently served as the only established shooting guard on the Knicks' roster. With coach Mike Woodson preferring to use Smith in a sixth-man role, his options for the starting lineup have been limited in the preseason.
That could change soon (via Ronnie Brewer's Twitter account):
Blessed to have the opportunity to get back on the court today. #Knickstape

— Ronnie Brewer (@RonnieBrewerJr) October 17, 2012
Though it will take Brewer (recovering from knee surgery) some time to regain his form, he should have plenty of time to prepare for the season-opener and fill in that hole in the starting lineup.
The 27-year-old is a nice fit for that starting unit too, at least until Shumpert comes back. Brewer is a defensive specialist who won't take many shots away from Carmelo Anthony and Amar'e Stoudemire.
---End of Update---
Update: Oct. 16, 2012 by Stephen Babb
After sitting out two preseason contests and a chunk of practice along with it, NJ.com's Tony Williams reports that Amar'e Stoudemire returned to the floor on Monday to take part in some training camp action:
Stoudemire, who was nursing an injured ankle and then a bruised knee, was seen sprinting up the court effortlessly during the three-hour session, banging bodies, and even dunking numerous times. The 29-year old forward said while it may have looked like he didn't miss a step despite being out over a week, he did feel the effects of not doing any running in that time.
Though the power forward's ailments were never considered serious, it's still reassuring to see that he's active again with just a couple of weeks until the start of the regular season. If nothing else, the running should help ensure Amar'e isn't sluggish early on.
---End of Update---
Update: Oct. 12, 2012 by Stephen Babb
Amar'e Stoudemire's 2011-12 campaign was one to forget for the 29-year-old power forward, so the last thing he needs going into this season is any kind of setback (via the New York Post's Marc Berman):
Stoudemire will miss Thursday night's Knicks preseason opener in Washington with a bruised left knee, continuing the club's injury trend. Kurt Thomas, age 40, and looking a lot younger, will make the start at power forward – just like in his old Knicks days.
Of course, the injury—which happened in practice—doesn't sound especially serious. It's hard to imagine it causing more than a temporary interruption in Stoudemire's preseason, but Knicks fans will understandably be weary to hear even a hint of bad news.
Coming off a season in which his scoring average plummeted nearly eight points, Stoudemire spent time working on his post-skills with the legendary Hakeem Olajuwon this summer and is poised for something of a comeback. No one is more eager for a clean bill of health and successful return to action than Amar'e himself.
---End of Update---
Update: Oct. 7, 2012 by Stephen Babb
The Knicks appear to be one of the league's very deepest and most experienced teams at first glance, but that will depend on those veterans remaining healthy. They've already been reminded of that just days into training camp.
Newsday's Al Iannazzone reports that summer acquisition Marcus Camby will miss a chunk of his preseason activities with the club:
The backup center suffered a strained left calf and will miss seven to 10 days. An MRI revealed the injury, which the Knicks don't believe is significant. But Camby is 38 and has a history of missing games, and the Knicks are coming off a season in which they were beset by injuries.
It's far too soon to assume the worst about what this means for Camby's long-term prospects. His durability will be suspect, but not because of this calf strain. The Daily News' Mitch Lawrence reports that Camby, "was surprised he received a three-year deal worth $13.1 million." The risks that he'll break down at this late stage of his career surely contribute to that surprise.
Of course, New York won't be putting a lot of pressure on Camby to log heavy minutes, and they'll play it especially safe with him between now and when the Knicks begin ramping things up for the postseason.
---End of Update---
For New York fans, the most important injury progress to watch has been that of Iman Shumpert. Shumpert, a revelation last season as a rookie on the defensive end of the ball, tore his ACL and lateral meniscus during Game 1 of the playoffs against Miami and had surgery in the offseason to repair it.

Per the New York Times' Nate Taylor, Shumpert is recovering well and could return to action by December. ACL injuries usually take significant time to heel and can hamper a player for the duration of their careers, but Shumpert's rehabilitation seems to be going well.

The Knicks need a healthy Shumpert in order to have a shot at contending in the Eastern Conference, and the team and its fans should be praying his quickness and athleticism are relatively not impacted by his injury.
Ronnie Brewer, the free agent acquisition who should be starting in place of Shumpert at the beginning of the 2012-2013 season, also underwent recent knee surgery, although his was far less serious. ESPN New York's Jared Zwerling reported on September 7 that Brewer underwent arthroscopic surgery, but should be ready to start the season in October.
Brewer's athleticism and defensive prowess are essential to this New York squad, and the fact that he should be completely healthy when the season begins is fantastic news.
Injuries were catastrophic for the Knicks last season as Stoudemire, Anthony and Lin as well as Baron Davis and Mike Bibby all missed significant time due to injury.
With a slew of injury-prone and veteran players on the roster, health will certainly be something to watch for headed into training camp.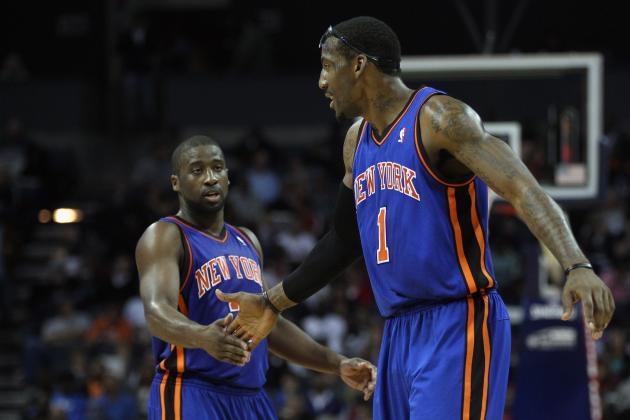 Streeter Lecka/Getty Images

Point Guard:
1) Raymond Felton
2) Jason Kidd
3) Pablo Prigioni
Although Felton struggled during his time with Portland, he has the talent to be an above average starter in this league and undoubtedly has more left in the tank than Kidd. Mike Woodson's offense doesn't utilize the point guard as heavily as many systems do, but with his shooting ability and speed in the open court, he will certainly see his share of minutes. Felton also showed great chemistry with Stoudemire during their brief time together.
Kidd will be looked at to provide 15-20 quality minutes off the bench, while Prigioni will mostly play garbage time barring an injury.
Shooting Guard:
1) Ronnie Brewer
2) J.R. Smith
3) Chris Smith
*INJ: Iman Shumpert
Smith may be the more talented player, but Brewer fits New York's identity far better and is simply more suited to starting thanks to his ability to defend multiple positions and run the floor. Brewer will fill Shumpert's role of guarding the opposing teams best scorer, while Smith will come off of the bench and play around 25 minutes as a sixth man who will look to score and space the floor.
Smith's younger brother Chris, a Louisville standout, could see a few minutes thanks to his scoring prowess, but once Shumpert returns he will unquestionably resume the starting role.
Small Forward:
1) Carmelo Anthony
2) James White
3) Chris Copeland
The New York Knicks do not have much depth behind Carmelo Anthony, and as such, their superstar scorer will be asked to play very heavy minutes night in and night out. Although he has thrived playing power forward, Anthony should still be making his starts at the 3 and will see the brunt of his time out on the wing. His size and strength make him a nightmare cover for smaller perimeter players as he can bully them around in the post and power his way to the rim.
White will be playing NBA basketball for the first time since a 2009 stint with the Houston Rockets and is not expected to make any kind of regular contributions, while Chris Copeland, a 28-year-old Colorado graduate, will be playing his first professional ball stateside as a Knick. Don't look for either Copeland or White to spend much time on the floor.
Power Forward:
1) Amar'e Stoudemire
2) Steve Novak
3) Rasheed Wallace
Despite murmurs that New York should consider benching Stoudemire, the perennial All-Star will be the starter when the 2012-13 season tips off. He struggled due to injuries last year, but is simply too talented to keep off the floor for extended minutes. His strength, quickness and midrange shooting make him an extremely tough matchup for most other fours in the league.
Novak will earn his minutes as a stretch-4 that can open up room on the floor with his shooting and draw opposing big men away from the basket while Rasheed Wallace, two seasons removed from professional basketball, will be asked to play a few minutes here and there, rebound and not have 41 technical fouls called in the season.
Center:
1) Tyson Chandler
2) Marcus Camby
3) Kurt Thomas
Once upon a time, center was the glaring weak point for the Knicks, but the team now boasts two starting-caliber big men in Chandler and Camby. Chandler, the reigning Defensive Player of the Year, helped to completely change the Knicks' culture and bring a defense-first attitude to the team. He protected the paint, controlled the boards and even finished at the rim as well as anyone in the league last season.
Camby is still a perfectly capable rebounder and shot-blocker, meaning despite his struggles offensively and declining production, he will play a pivotal role off the pine for New York. Thomas, even though he is the league's oldest player, can provide a few spot minutes off the bench thanks to his rebounding, physicality and always reliable midrange jumper.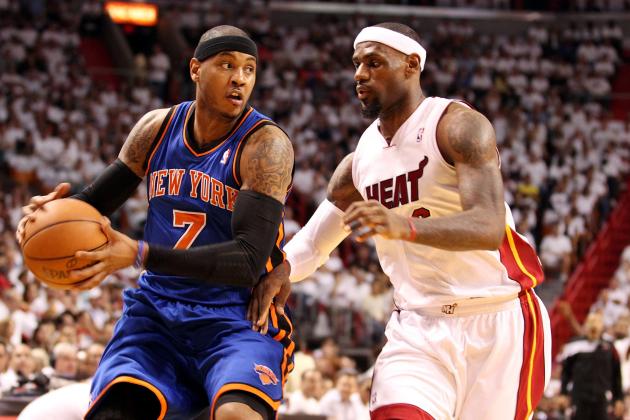 Marc Serota/Getty Images

Surprised? I didn't think so.
Carmelo Anthony was brought to New York at the 2011 trade deadline in order to push the team into the conference's upper echelon and return them to the championship contender status that had eluded the Knicks for years. However, in his time with the team they have struggled mightily, shown spotty chemistry and won just a single playoff game in two postseason trips.
Blame could be placed on a lack of familiarity with the team in 2011 and the lockout in 2012, but now there is no excuse for Anthony not to lead this team to a deep playoff run, especially given that the team is built around his strengths and boasts plenty of proven talent.
Fans are becoming impatient with their franchise star, and a strong showing from 'Melo both in training camp and the regular season, is an absolute necessity.
Towards the end of the 2011-12 season, Anthony played some of the best basketball of his career under Mike Woodson, thriving in the kind of halfcourt-oriented offense that Mike D'Antoni rarely ran. With Woodson installed as the head coach for the foreseeable future, the Knicks will obviously be running their offense through Anthony, making it essential he scores at an efficient and consistent clip.
Anthony also did not help himself by showing just how dynamic he could be during the 2012 London Olympics. Coming off the bench, he thrived in a sixth man role, hitting shots in spades, setting the United States' single-game scoring record and providing the kind of consistency on the offensive end that he rarely has done during his time in blue and orange.
Beyond his scoring though, Anthony is simply a more talented player than he has shown in the past. He can crash the boards, make proper passes and play effective defense in spurts. If New York is going to be anything more than a middle-of-the-pack playoff team, they need Anthony to play all-around basketball and serve as a vocal leader on and off the court.
Carmelo is without a question an elite scorer and a perennial All-Star, but that will not be enough for the Knicks in 2012-13; they need him to be more.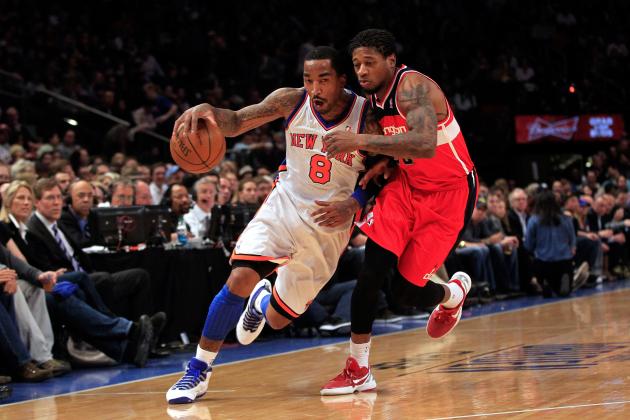 Chris Trotman/Getty Images

Preseason: Making plays for teammates, buying into a team-first system.
What New York needs to work on primarily heading into the 2012-2013 season is making plays for teammates and not simply taking the first shot available. Given that the team struggled last season with shot selection and not finding the open man, it is crucial that they improve in moving the ball, finding open shooters and not simply throwing the ball at the rim at every available opportunity.
Game 1 vs. Washington Wizards

Against Washington, New York needs to work on their perimeter defense and containing the explosive guards of the Wizards. Today's NBA is filled with elite guards and while Bradley Beal, Jordan Crawford and John Wall are not top-10 players, they are extremely skilled scorers who will give the older, slower backcourt of New York fits because of their ability to get into the paint and attack the basket.
Game 2 vs. Boston Celtics
New York will play Boston four times next season, and they are one of the primary rivals of the Knicks given that both teams are Atlantic Division title contenders. Against the Celtics' extremely stingy defense New York needs to work on moving the ball and finding high-percentage shots as often as possible. Despite the team's age, Boston still plays as aggressive team defense as any team in the league and for New York to have a shot at beating them they need to not take the first available shot.
Game 3 vs. Toronto Raptors
Although not quite as much of a threat as Boston, New York will see plenty of Toronto next season. Against a squad with up-and-coming big men, the Knicks need to work on exploiting their inside advantage on both ends of the floor. Not only does the team need to score consistently from the post, but they also have to control the tempo of the game, crash the glass and protect the basket consistently.
Game 4 vs. Boston Celtics
In the second game against Boston, New York must work on sealing off the paint and forcing the Celtics' best offensive players to beat them from the perimeter instead of allowing them to get to the rim. Rajon Rondo, Paul Pierce, Kevin Garnett are all capable of powering their way to the basket and creating high-percentage shots. The Knicks need to force Boston to beat them from the perimeter, a theme that will be present all season long.
Game 5 vs. Brooklyn Nets
During their first game against the new team in town, New York needs to close out on the perimeter as Brooklyn does not have much of an inside game and will rely on creating perimeter shots. The Knicks have a few aggressive perimeter defenders like Brewer, Shumpert and Kidd, and in order to beat a team like the Nets they need to force Brooklyn's guards to make plays off the dribble instead of ceding open jumpers to Deron Williams, Joe Johnson, Gerald Wallace and Brook Lopez.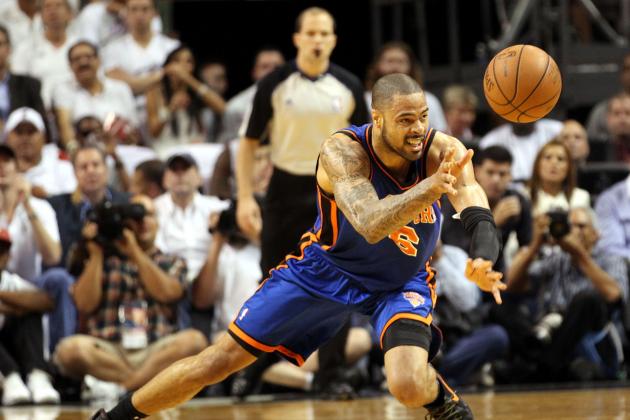 Marc Serota/Getty Images

Win-Loss Record:
50-32 (.610), 4th in Eastern Conference, Second Round Playoff Loss

New York has the talent to be a factor in the East, but ultimately their age and inconsistent guard production will keep them from vaulting into one of the conference's top three seeds. The Knicks will be good, but it is highly unlikely that they can leapfrog Boston or Indiana, let alone Miami.
Still, the Knicks should be in great position heading into the playoffs, potentially hosting an up-and-coming team like Brooklyn or Philadelphia in the first round. Though it will be a struggle, the Knicks have the talent and playoff experience on both ends of the floor to win a series and at least make the second round of the postseason.
Points Leader:
24.5 PPG - Carmelo Anthony
Despite his struggles last season, there is no denying that Anthony will be the featured player offensively for the Knicks. In Woodson's offense he will handle the ball for long stretches of the game, see touches both on the perimeter and in the post and will need to score consistently to keep New York competitive.
Although the team needs him to develop as an all-around player, Anthony still hangs his hat on scoring the basketball and he will have ample opportunities to stuff the stat sheet during the 2012-13 season.
Rebounds Leader:
10.4 RPG - Tyson Chandler
New York bolstered their frontcourt by signing Marcus Camby and trading for Kurt Thomas, but Tyson Chandler should still comfortably lead the team in rebounds per game. Chandler rarely leaves the paint, has outstanding size and length, and is simply an aggressive and physical player around the basket.
He boxes out well, makes multiple efforts and knows how to carve out position on both the offensive and defensive glass. While Camby is an excellent rebounder and Amar'e Stoudemire can notch his share of boards, this category is Chandler's to lose.
Assists Leader:
6.8 APG - Raymond Felton
Even in the 2011-12 season, arguably the worst campaign of his career, Felton still managed to average 6.5 dimes per game. While he will spend less time with the ball in his hands playing alongside 'Melo next year, Felton still has the talent and supporting cast to average a healthy number of assists next season.
Felton is a solid pick-and-roll point guard, excels in transition and is capable of penetrating the lane as well. Unless Jason Kidd has an absolute renaissance year, expect Felton to comfortable lead New York in assists.
Steals Leader:
1.9 SPG - Iman Shumpert
Blocks Leader:
1.5 BPG - Tyson Chandler
Three-Point Percentage:
43.2 3P% - Steven Novak
Novakaine strikes again.
Field-Goal Percentage:
65.6 FG% - Tyson Chandler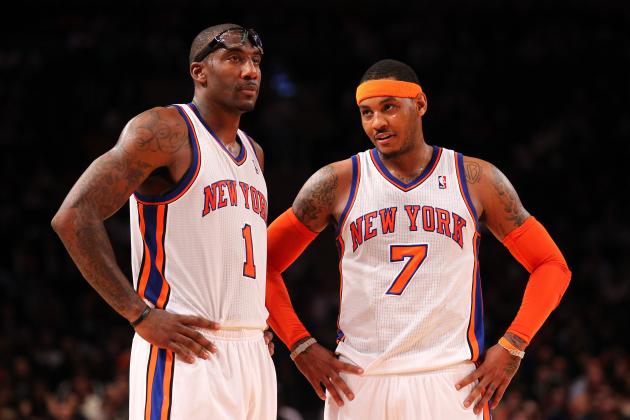 Al Bello/Getty Images

Can the Knicks' Stars Finally Gel?
The problem for New York has never been acquiring talent, even during its worst years the Knicks still had plenty of top-shelf talent, the problem has been finding a way to make their big money, big ego players subjugate themselves for the good of the team.
When healthy and fully engaged, New York's star trio of Tyson Chandler, Amar'e Stoudemire and Carmelo Anthony have the talent to make some serious noise next season, but only if they are able to play for each other and care more about victories than individual statistics.
This has never been a problem for Chandler, who was instrumental in turning New York into one of the NBA's better defensive teams, making each of his teammates more accountable and providing dynamic help defense on every possession.
The problem for Chandler has been staying on the court. Though he has been healthy over the past few seasons, he has struggled significantly with injuries in the past.
Stoudemire will need to have a bit of a comeback after a lackluster 2011-12 season. He spent the summer working on his post game with Hakeem Olajuwon, but in addition to being more aggressive offensively, must move more without the ball and put in a consistent effort both defensive and on the glass. There is no reason a super-athletic, long big man like Stoudemire cannot average double-digit boards per game.
Anthony will have to score the ball from everywhere on the court at an efficient and consistent clip, not taking shots outside of the offense and recognizing when a teammate has a better shot than he does. Anthony has the talent to be a top-five player in the league, but he needs to start working more without the ball and looking to make his teammates better instead of simply trying to shoot his squad into the game.
With the point guard situation cloudy, New York needs their superstar frontcourt to make plays not just for themselves but also for their teammates. The team may be a step below squads like Miami or Los Angeles, but if Chandler, Stat and 'Melo can click from day one they have a shot at being one of the NBA's elite teams.