Minnesota Vikings: Winners and Losers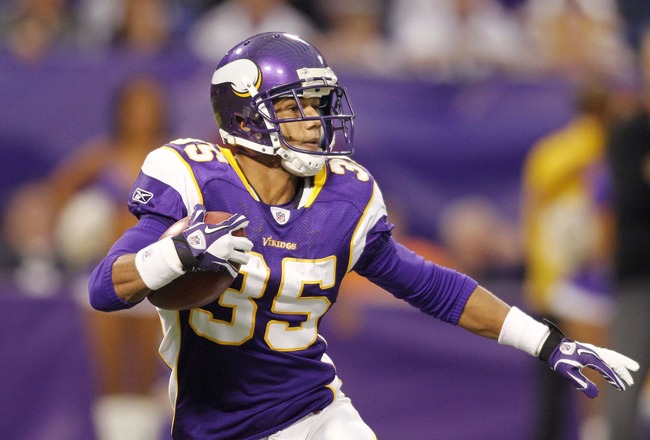 Marcus Sherels highlights Minnesota's Week 4 victory over the Detroit Lions.
Bruce Kluckhohn-US PRESSWIRE
After shocking the NFL world with their 24-13 victory over the San Francisco 49ers the Minnesota Vikings were back at it in Week 4 with their 20-13 win over the Detroit Lions.
It was Minnesota's first win over a division foe since Sept. 2010.
The Vikings were up 20-6 until the fourth quarter when Detroit went into desperation mode.
There were plenty of positives to take away from Minnesota's victory but it wasn't a flawless victory. There were more winners than losers but still a few of both.
Winner: Adrian Peterson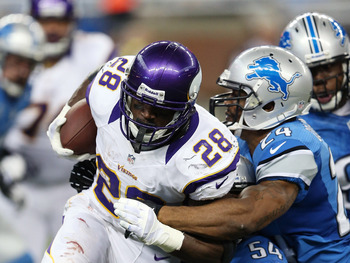 Adrian Peterson rushed for 102 yards on 21 carries Sunday. It was his first time reaching 100 yards since Oct. 23, 2011.
Leon Halip/Getty Images
Welcome back, Mr. Peterson.
Sunday marked Adrian Peterson's first 100-plus yard rushing performance since Oct. 23, 2011. He didn't reach the end zone Sunday but his 102-yard performance on 21 carries (4.9 yards per carry) didn't need an end-zone appearance to be validated.
Peterson was given plenty of holes to run through by his offensive line, and on plays he didn't have much wiggle room he created his own running lanes with well-played cutbacks.
In the open field he looked like the Peterson of old, which is to say he was physical, violent and dangerous.
The Vikings didn't do much offensively but if they can re-create the passing performance from Week 3 and combine it with the running game of Week 4 then the offense will be in good position to succeed.
Winner: Special Teams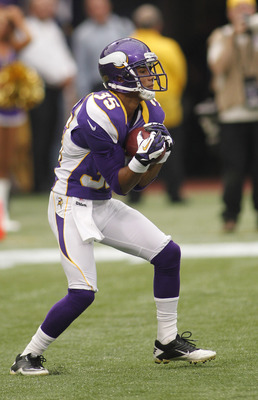 Marcus Sherels' 77-yard punt return accounted for one of two special teams touchdowns Sunday.
Andy King/Getty Images
The last time the Minnesota Vikings had a punt return for a touchdown was December 2008. The last time the Vikings returned a kickoff for a touchdown was Sept. 2011.
And on Sunday they featured both. It was the third time in team history that both events occurred in the same game.
Percy Harvin returned the game's opening kickoff 105 yards for the score while Marcus Sherels returned a punt 77 yards for Minnesota's only other touchdown of the game.
The kickoff was especially key since it opened the game and set the tone early.
In addition to special teams providing the only touchdowns of the game, it won the field-position battle.
Punting to give the Lions the game's final possession and the opportunity to even the score, Chris Kluwe lifted a 47-yard punt that rookie Robert Blanton downed at Detroit's 2-yard line.
While Detroit's offense had been influx all day, putting it inside of its own 5-yard line made it that much more unlikely that the Lions would even the score.
Winner: Leslie Frazier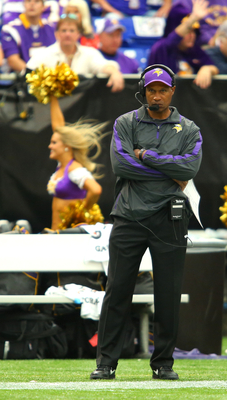 Minnesota's win over the Detroit Lions gave Leslie Frazier his first win over an NFC North foe as a head coach.
Adam Bettcher/Getty Images
Prior to Week 3's victory over the San Francisco 49ers plenty of fans wondered about the fate of Leslie Frazier beyond this season.
He has one more year on his three-year contract, but that's not what matters. What matters is that Mark and Zygi Wilf finish paying Brad Childress not to coach the team after the 2012 season. Given that the Wilf family hasn't been afraid to pay two coaches to coach one team if Minnesota falls flat on its face this season it's not out of the question that Frazier would be gone.
But this win helps validate Minnesota's Week 3 performance. Many felt that Minnesota's win over the 49ers was just a one-week ordeal. They didn't believe the Vikings had the talent or coaching staff to be a threat to make the playoffs.
Now a victory over Detroit doesn't solidify a playoff berth nor does it solidify that Minnesota will be a contender, but it solidifies that Minnesota cannot be taken lightly and that Frazier has the franchise moving in the right direction on the field.
And that benefits Frazier's future with the franchise.
Winner: Defense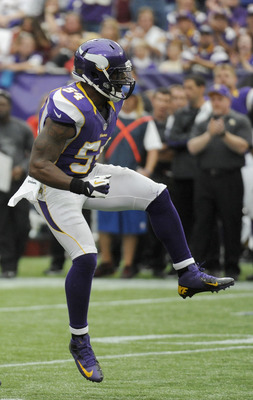 Middle linebacker Jasper Brinkley was one of three Minnesota defenders with double-digit tackles.
Hannah Foslien/Getty Images
Holding the San Francisco 49ers to 13 points is one thing. The 49ers are known as a conservative offense that can post points in a fury, averaging 30.3 points in games not against Minnesota this season, but it's no Detroit.
Detroit has Matthew Stafford and Calvin Johnson to form one of the game's best quarterback-receiver combinations. Outside of their Week 4 loss to Minnesota Detroit's offense averages 27.7 points per game.
On Sunday Minnesota recorded five sacks (only one of which was by Jared Allen) and limited Detroit to 341 yards (Detroit averaged 436 yards per game through the first three games).
Johnson was limited to 54 yards on five receptions while Stafford failed to throw a touchdown and threw for 319 yards. The Lions rushed for a mere 55 yards.
The Lions had no offensive continuity until the fourth quarter and the defense was all over the field making it that way.
Loser: Phil Loadholt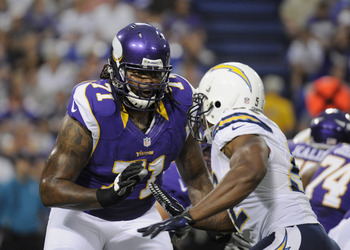 Phil Loadholt struggled to protect Christian Ponder's front side in Week 4.
Hannah Foslien/Getty Images
As a whole the Minnesota Vikings offensive line has performed well this season. It has allowed eight sacks in four games (2.0 sacks per game).
It has created plenty of running lanes for Adrian Peterson and Toby Gerhart to glide through.
But on Sunday Phil Loadholt stood out from his linemates more than usual. In a negative manner.
Loadholt is on probation this season after two dismal seasons following an impressive rookie campaign in 2009.
The thought had once been that Loadholt could become the blindside protector for Minnesota's quarterbacks. Now it appears he may not even be qualified to protect the frontside.
Numerous passing plays in Week 4 were disrupted by Loadholt's inability to hold off his defender. He was not impressive.
Loser: Christian Ponder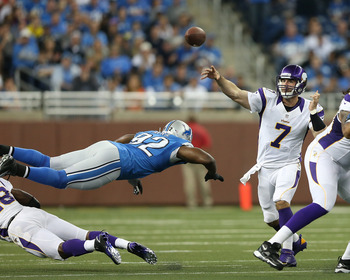 Christian Ponder completed 16 of 26 passes for 111 yards in Week 4. That's 4.3 yards per pass attempt.
Leon Halip/Getty Images
After his performance against the San Francisco 49ers in Minnesota's 24-13 upset, people believed Christian Ponder had taken a step forward.
He finished that game 21-of-35 for 198 yards with two touchdowns and a rushing touchdown on a 23-yard scamper. Things were looking up.
Then Week 4 came. Ponder completed 16 of 26 passes (61.5 percent completed). That's the good. He's still accurate. The bad, those passes didn't go anywhere. He accumulated 111 yards through the air, averaging 4.3 yards per pass attempt.
Ponder was battling the Lions, who allowed an average of 250.7 yards per game prior to Sunday. That's the No. 20 ranked pass defense. He should have been able to do more. Instead, he had a disappointing performance.
He's a young quarterback so he'll have his ups and downs this season. Minnesota got the win, but it was because of special teams and the defense.
There's another week, but this was one of the downs for the second-year pro.
Loser: Kyle Rudolph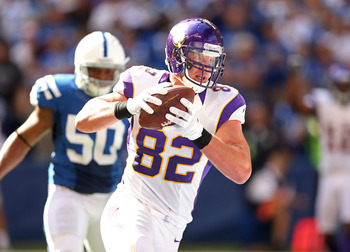 Kyle Rudolph caught two passes for eight yards against the Detroit Lions in Week 4.
Andy Lyons/Getty Images
With Minnesota's aerial attack disappointing Sunday so did Kyle Rudolph.
Just like the passing game, Rudolph entered Week 4 having had one of the best performances of his NFL career against the San Francisco 49ers with five receptions for 36 yards and two touchdowns.
He appeared ready to be Minnesota's go-to option in the red zone and Christian Ponder's safety net.
But against the Detroit Lions, a team that allowed tight ends Vernon Davis (five catches for 73 yards with two touchdowns) and Jared Cook (four receptions for 77 yards and a touchdown) to have big games. Rudolph is as talented if not more talented than either of those players, yet caught a mere two passes for eight yards Sunday.
It wasn't the performance most were expecting against an underwhelming Detroit pass defense.
Keep Reading

Minnesota Vikings: Like this team?