The Cincinnati Bengals move to 3-1 with a 27-10 win over the Jacksonville Jaguars.
Despite a slow start, the Bengals managed to get things going down in Jacksonville to put away the Jaguars in the fourth quarter.
The Cincinnati offense seems to be clicking under the guidance of offensive coordinator Jay Gruden, but questions remain about the defense.
In a performance of ups and downs, the Bengals came away with mostly positives, even considering the absence of defensive backs Leon Hall and Nate Clements.
Let's take a look at the winners and losers from Sunday's action.
LOSER: First Half Bengals Offense
One week removed from Mo Sanu's opening drive heroics, the Bengals looked to be their regular selves once more in Jacksonville. Cincinnati came out flat and characteristically played down to their competition level.
Andy Dalton completed eight of 14 pass attempts for 54 yards and an interception. The Bengals averaged a meagre 3.9 yards per pass, in what was a rough start for the receiving core.
They managed to get things going just before the half, but considering their performance last week, it took far too long.
WINNER: A.J. Green
After a fairly uninspiring first quarter, A.J. Green showed us why we should never doubt him.
The Pro Bowl receiver took six receptions for a staggering 117 yards. With his trademark high-flying, toe-tapping catches on show to the world, Green was money in single coverage.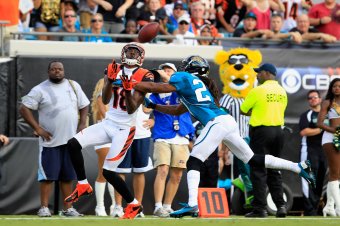 Chris Trotman/Getty Images
His 18-yard touchdown grab in the fourth quarter put the nail in the Jags' coffin, and ensured that he would post back-to-back 100-plus yards receiving in a game for the very first time.
LOSER: BenJarvus Green-Ellis
For the second straight week, the safest hands in the NFL coughed it up. Green-Ellis admitted struggling with the mental setback of fumbling in Washington last week, and his lapse in Jacksonville further adds to the trauma.
With the Bengals on the goal line, Green-Ellis took to the air to try and punch it in early in the second half. Almost as soon as he left the ground, the ball popped out of his grasp and into the hands of the Jags defense.
Then, to make matters worse, Green-Ellis grabbed himself his second fumble of the night midway through the fourth quarter. This time he managed to recover the ball.
Green-Ellis has made a dramatic improvement to the Bengals running game, but his biggest selling point is being well and truly tested right now.
WINNER: Chris Crocker
It took guts to accept a contract from the Cincinnati Bengals this week, but Crocker swallowed his pride and rejoined the team that let him walk this past offseason.
He may only have had one tackle on the day but he justified his return with an athletic interception to cut short the Jaguars attempt to get back into the game.
Sunday was an audition for Crocker, and he made a good first impression.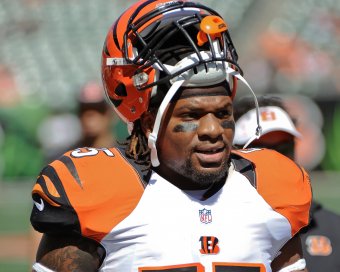 Jamie Sabau/Getty Images
WINNER: Vontaze Burfict
Josh Kirkendall of Cincy Jungle put it best:
"Vontaze Burfict had his best game yet. He's deflected passes, sacked the quarterback and led the team with eight tackles."
When Burfict replaced injured Thomas Howard at outside linebacker, many an eyebrow was raised. It was expected that Burfict would take some time to adjust to the role, but after only two weeks, he looks impressive.
He grabbed his first sack in Jacksonville with an altogether solid display that saw him lead the team with eight tackles.
It's interesting that while Rey Maualuga has yet to convincingly complete his transition from SAM to MLB, it has taken Burfict only two games to effectively move from MLB to WILL.