Penn State Football: Grading All 22 Starters from the Illinois Game
Bradley Leeb-US PRESSWIRE
As Bill O'Brien sprinted off into the locker after an awkward handshake with Tim Beckman, he couldn't have been anything but proud of his team.
In many aspects, the Nittany Lions have come a long way since their opening loss to Ohio.
In their game against Illinois, Penn State was able to find a solid mix of power running and play action passing that led to a 35-7 romping of the Illini.
Most of the Nittany Lion team looked solid, with Michael Mauti leading the defense and Matt McGloin displaying his control over the offense.
But Illinois was still able to muster some offense, and at times, the Illini exposed some of Penn State's weakness.
Here is a report card for each of Penn State's starters in Saturday's game against Illinois.
Quarterback: Matt McGloin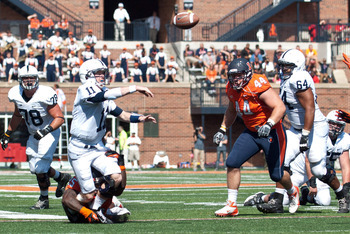 Bradley Leeb-US PRESSWIRE
Grade: B+
McGloin showed exactly how far he was in his development in Bill O'Brien's offense in Saturday's game against Illinois.
The fifth-year senior dictated the entire flow of the game through his play. Although he didn't have a stellar game through the air, McGloin took care of the ball.
Making pre-snap reads and calling audibles were also instrumental in the success of Penn State's run game.
There were a few plays where McGloin was able to recognize blitzes and safeties creeping into the box, and redirect plays.
Overall, it was a strong effort by the West Scranton native.
Running Back: Zach Zwinak and Bill Belton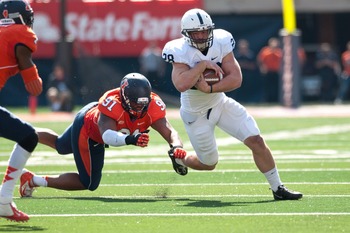 Bradley Leeb-US PRESSWIRE
Grade: A+
What we saw on Saturday was how old-fashioned power football can help the play action pass game.
With the injuries and transfers over this past year, sophomore Zach Zwinak has continued to emerge as a solid back.
Zwinak gained 100 yards on the ground, while Belton rushed for 65 yards.
These guys were good complements to each other, with Belton slashing through the line and Zwinak rumbling forward.
These guys get an A+; great effort by both backs.
Fullback: Michael Zordich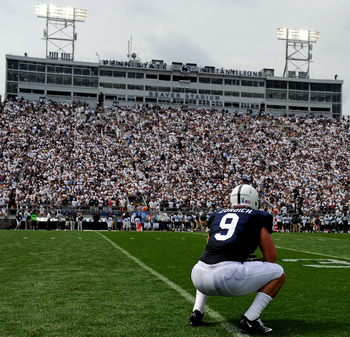 Patrick Smith/Getty Images
Grade: C-
Zordich was a non-factor in Penn State's game against the Illini.
He only had one rush for two yards and no receptions.
Zordich's lack of production might be due to a sore knee after a hit against Temple last weekend took the fullback out of the game for a while.
Don't be fooled by the low grade.
It's not that Zordich played badly, he just didn't have much of an effect on the game at all.
Wide Receiver: Allen Robinson and Brandon Moseby-Felder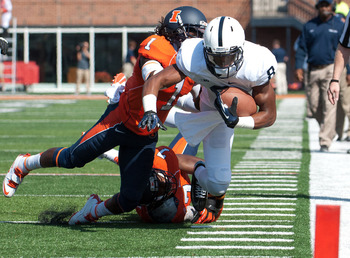 Bradley Leeb-US PRESSWIRE
Grade: B-
After coming out hot earlier this season, Allen Robinson cooled off against Illinois.
Robinson is the team's leading receiver with 439 yards and five touchdowns.
But like I said earlier, McGloin didn't throw the ball around as much as we're used to seeing.
Both Robinson and Moseby-Felder had only three catches, and neither of them had over 40 yards receiving.
Saturday was a quiet day for the Nittany Lions receivers, as they did more outside blocking than catching.
Tight End: Kyle Carter and Matt Lehman
Bradley Leeb-US PRESSWIRE
Grade: A-
It's obvious that Bill O'Brien knows how to utilize his tight ends.
Both Carter and Lehman did a great job against Illinois both blocking and catching passes.
Lehman led the team with 70 yards receiving and scored the Lions' lone touchdown through the air, holding onto the ball after a ferocious hit by an Illini defender.
These guys were wide open all day for McGloin.
Their roles in this offense continue to grow, and both of these tight ends are continuing to get better each game.
Offensive Line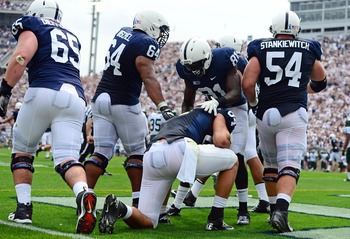 Andrew Weber-US PRESSWIRE
Grade: A
More often than not, linemen don't get enough credit, but in Penn State's win over Illinois, they deserve all of the credit.
Tackles Adam Gress and Mike Farrell, guards John Urschel and Miles Dieffenbach and center Matt Stankiewitch physically dominated the Illini defense.
Penn State rushed for 173 yards, and McGloin was able to sit back and throw for 211 yards.
The offensive line's only blemish was giving up three sacks, one of which McGloin ended up losing extra yards trying to scramble.
Penn State's offensive line has been continuing to get better and better, and on Saturday, this group showed what they are capable of.
Defensive Tackle: Jordan Hill and DaQuan Jones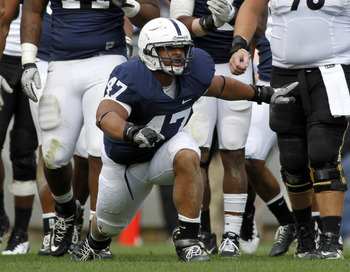 Justin K. Aller/Getty Images
Grade: B+
Illinois only rushed for 74 yards on Saturday, and dual-threat quarterback Nathan Scheelhaase only rushed for seven of those yards on 11 attempts.
Penn State has been strong up the middle all season, and Hill leads the defensive line with 20 tackles this year and an interception.
These two big guys up front combined for five tackles on Saturday and were a big part of containing Scheelhaase.
The Nittany Lions defensive tackles picked up Saturday where they left off against Temple: consistently slowing down the rush.
Defensive End: Sean Stanley and Deon Barnes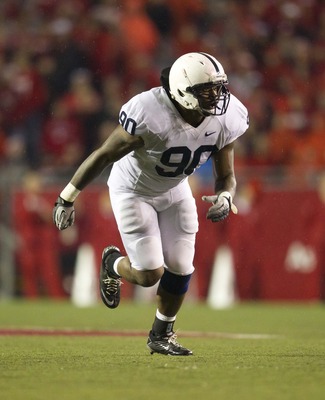 Jeff Hanisch-US PRESSWIRE
Grade: B+
Both Stanley and Barnes showed their athleticism on Saturday.
Playing defensive end against an option style offense can get very tricky, especially when a runner like Scheelhaase is under center.
Penn State had a solid effort from their defensive ends, and Stanley and Barnes combine for five tackles and one sack.
That being said, Donovonn Young was able to break a play on the corner and run for 50-plus yards down the sideline, undoubtedly a missed assignment by one of the defensive ends.
Besides that play, though, both of these guys had very solid games.
Outside Linebacker: Gerald Hodges and Michael Mauti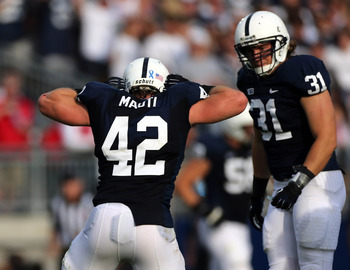 Rob Christy-US PRESSWIRE
Grade: A+
Penn State's outside linebackers put on a show against the Illini on Saturday that was highlighted by Mauti's interception and 99-yard return to the one-yard line.
Hodges had nine tackles on the day, while Mauti added six tackles and two interceptions.
Both of these guys made Illinois' day very difficult and did a good job containing the Illini's spread offense and quartback Nathan Scheelhaase.
Mauti has been the leader on Penn State's defense all season, and nothing changed on Saturday.
Defensive coordinator Ted Roof has to be impressed with the way these two guys played.
Inside Linebacker: Glenn Carson and Mike Hull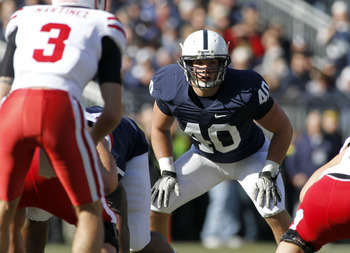 Justin K. Aller/Getty Images
Grade: B
Not to be overshadowed by the outstanding play of Hodges and Mauti, Penn State's inside linebackers quietly had a good game as well.
Carson tied with Hodges for a game-high nine tackles on Saturday, while Hull added three tackles.
Both Carson and Hull were big parts of slowing down Illinois' run game and helped to hold the Illini to their fewest points total since last season.
The Nittany Lions have a strong core of linebackers, and Carson showed on Saturday that he deserves more attention than he gets.
There was solid play by both of these 'backers on Saturday.
Cornerback: Stephon Morris and Adrian Amos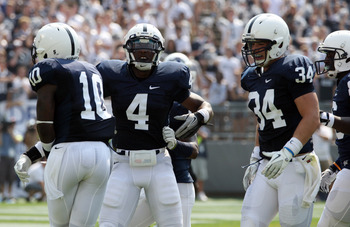 Rob Christy-US PRESSWIRE
Grade: D+
Everyone knows that Penn State is weak at corner, and even Illinois was able to expose the Lions defense through the air.
Quarterback Nathan Scheelhaase threw for 270 yards on Saturday against Penn State, and the two interceptions he did throw were to linebacker Michael Mauti.
Penn State's corners have been a topic of discussion all season, with Amos supposedly being a better safety than corner.
Although the Nittany Lions gave up yards through the air, both Morris and Amos did a good job preventing the Illini from any big plays through the air. The Illini's longest pass play was only 22 yards.
Corner continues to be a weak spot for Penn State's defense, and Saturday, Illinois exposed that weakness.
Safety: Malcolm Willis and Stephen Obeng-Agyapong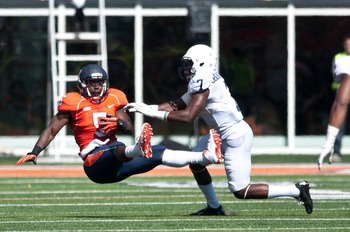 Bradley Leeb-US PRESSWIRE
Grade: C-
Much like Penn State's cornerback situation, the Nittany Lions safeties aren't their strongest position.
Neither Willis nor Obeng-Agyapong has an interception yet this season. These guys both like contact, though.
Both Willis and Obeng-Agyapong have 21 tackles so far this year. On Saturday, Obeng-Agyapong showed his tackling abilities with two hard-hitting tackles.
Willis also added three tackles against the Illini.
These guys aren't the ball-hawking safeties that O'Brien needs to help out his corners, and being torched for 270 yards in a dominating win brings up a pretty big question mark.
There was not an absence of effort out of Willis or Obeng-Agyapong on Saturday, but giving up almost 300 yards through the air against Illinois is not acceptable.
Special Teams: Sam Ficken and Alex Butterworth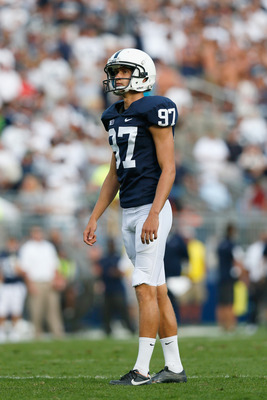 Rob Carr/Getty Images
Grade: F
The kicking woes of Penn State continued Saturday against Illinois.
Although Butterworth did fine punting, averaging 43.3 yards per punt on three punts, Ficken continued to struggle.
The sophomore placekicker missed two field goals, one of which was from the one-yard line.
Unless Butterworth averaged 60-plus yards per punt, there was no way that Penn State's special teams was going to have a passing grade from Saturday.
The Nittany Lions may need to start looking for a new kicker if Ficken continues to have an abysmal year.
Keep Reading

Penn State Football: Like this team?