Virginia Tech Football: Winners and Losers from Week 5 Game vs. Cincinnati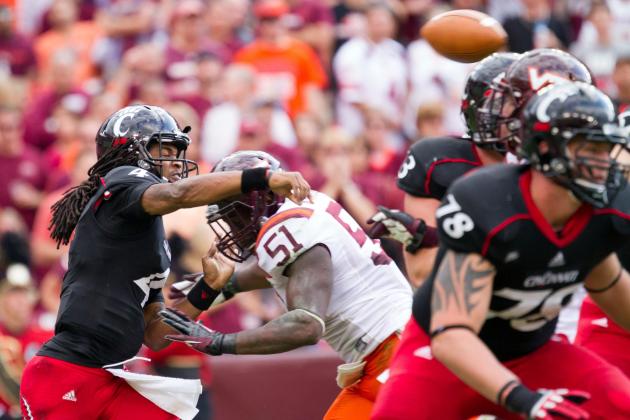 Paul Frederiksen-US PRESSWIRE

Virginia Tech's disappointing 2012 season hit another low Saturday with the Hokies' 27-24 loss to Cincinnati at FedEx Field in Landover, Md.
For the fifth straight week, the Hokies offense got off to a slow start and didn't get a first down until just under eight minutes into the second quarter.
The Bearcats dominated the time of possession in the first half and kept an aggressive Virginia Tech defense on the field.
By the time the Hokies offense got going in the second half, Cincinnati's did too.
In the end, the Hokies couldn't overcome another bad start.
Here are some winners and losers from Saturday's loss to Cincinnati.
Begin Slideshow

»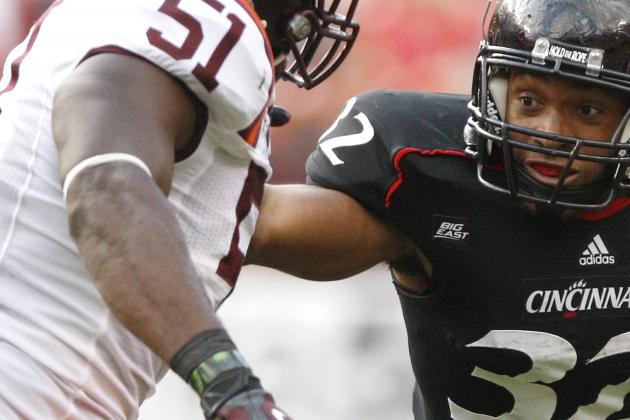 Jonathan Ernst/Getty Images

All-ACC senior linebacker Bruce Taylor was, perhaps, the best player on the field for either side in Saturday's game.
Taylor, who has been fighting an ankle injury he received in the Hokies' season-opening win over Georgia Tech, was all over the field Saturday.
He finished the game with seven tackles, two passes defensed, a quarterback hit and his tip of Munchie Legaux's second-quarter pass led to a diving interception by freshman defensive tackle Kris Harley.
Taylor's effort on Harley's interception was a terrific individual play that set up the Hokies' first score.
Taylor and fellow linebacker Jack Tyler continue to be impressive. Tyler finished with 11 tackles and five quarterback hits.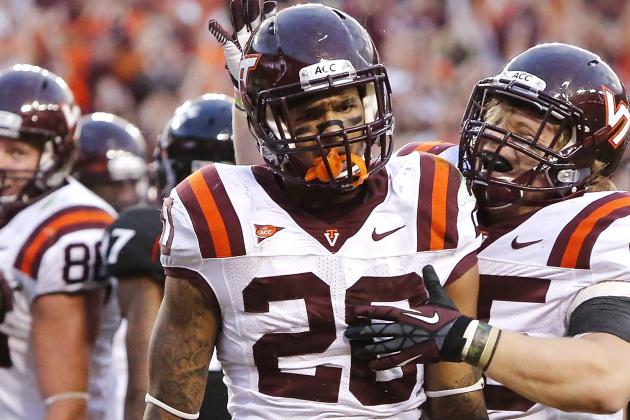 Jonathan Ernst/Getty Images

Michael Holmes and J.C. Coleman keep showing up on this list every week. It is a credit to how hard they have worked to improve each week.
Holmes carried the Hokies on one drive in the second half and finished it off with a strong touchdown run. For the day, Holmes finished with 61 yards on 11 carries and the one touchdown.
Holmes continues to show less hesitation and follows his blocks well. He showed his terrific speed on one 19-yard run in the second half. The aforementioned touchdown run was an impressive individual effort by Holmes inside the 5-yard line.
Coleman continues to be the Hokies most explosive player. At 5'7" and 192 pounds, Coleman is tough to bring down and is extremely strong for someone of his size.
Coleman's blazing speed is such a dynamic weapon, but it is the balance he runs with that is special.
Coleman is ahead of where David Wilson was as a freshman in terms of patience and vision.
The Hokies need to get the ball to Coleman in the passing game more. He caught two passes for 33 yards against Cincinnati. But, why wait until 3rd-and-long to call a screen pass to Coleman?
Play-calling is an entire separate issue, but it is beyond time for the Hokies to incorporate more screen passes to the running backs, especially Coleman.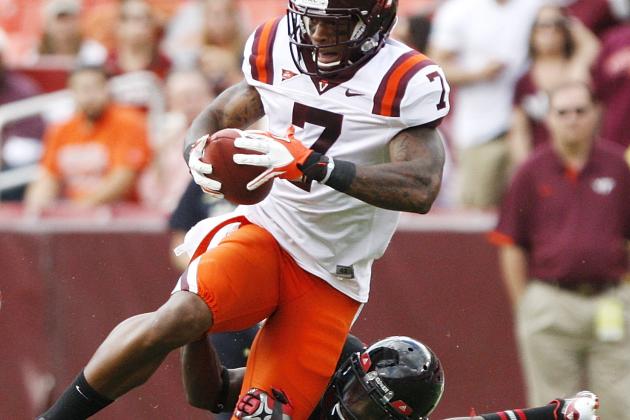 Jonathan Ernst/Getty Images

Davis is, perhaps, the Hokies' best all-around player. On Saturday, Davis finished with five catches for 101 yards but could have had much more.
In the first half, Davis had only one reception for three yards.
When Logan Thomas started looking in Davis' direction in the second half, the Hokies started moving the ball. His catch inside the 5-yard line was terrific and one in which NFL scouts will love.
Davis is a fantastic player, so that begs the question: Why was he only targeted seven times in the entire game?
There are few, if any, college defensive backs who could win one-on-one matchup's with Davis. So, why not force the ball to Davis more?
If the Hokies expect to turn their season around, they need to find ways to get Davis the ball—and often.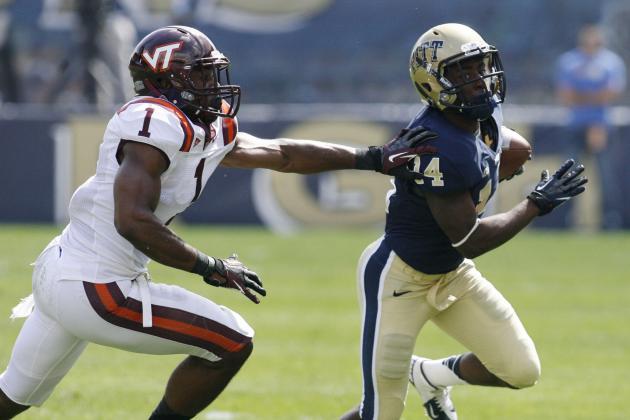 Charles LeClaire-US PRESSWIRE

Junior cornerback Antone Exum had about as bad of a day as a defensive back could on Saturday.
Cincinnati repeatedly targeted Exum in one-on-one coverage against Kenbrell Thompkins, and Thompkins usually won. When he didn't, Exum was busy committing penalties. Exum was flagged twice for pass interference and grabbing the facemask.
To make matters worse, Exum was the last line of defense when Ralph Abernathy raced downfield and went 76 yards for an easy touchdown score. While tackling Abernathy in the open field would have been tough, Exum's attempt to do so was half-hearted at best.
Anytime the Bearcats needed a big play, they looked in Exum's direction.
Oddly enough, Virginia Tech coach Frank Beamer was complimentary of Exum after the game.
It is too late into the season to move Exum back to rover or free safety. And Kyshoen Jarrett has excelled at the rover position.
The Hokies just have to hope Exum can erase Saturday's performance from his mind. Unfortunately, the Hokies have several teams left on the schedule who like to throw the football, a lot.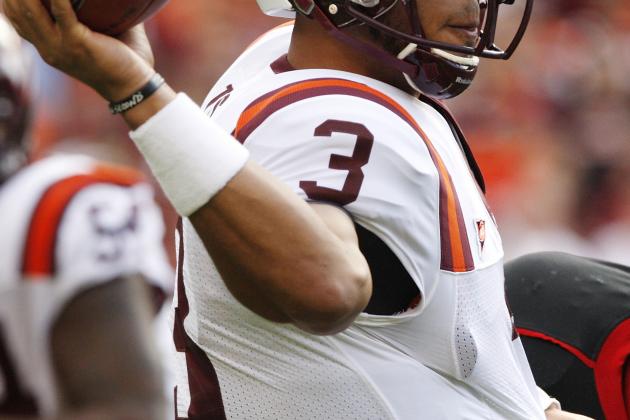 Jonathan Ernst/Getty Images

Thomas will remain on this list until he can play a good game from start to finish.
Play-calling is an issue, and that isn't his fault. But, he misses way too many easy passes, and this team cannot recover from it.
On two occasions Saturday, Thomas had Marcus Davis open for big plays, yet checked down for shorter throws and missed them. His touchdown pass to Corey Fuller was a thing of beauty, but there isn't enough of those.
He threw a pass high to Randall Dunn that should have been a touchdown. Yes, Dunn should have caught it, however, it was an easy throw that missed. It cost the Hokies as they failed to score a touchdown on that drive.
Thomas has a big arm, so it is surprising to see him lob so many throws. His lack of experience may play a part in knowing when or when not to put more velocity on his throws.
Many Hokie fans are already growing tired of the zone-read because it seems, at times, Thomas makes the wrong read.
How many times in one game can you run the quarterback up the middle?
The running game has gotten better. If the Hokies want to compete for an ACC title, they need Thomas for four quarters.