Seahawks vs. Rams: St. Louis' Biggest Winners and Losers from NFL Week 4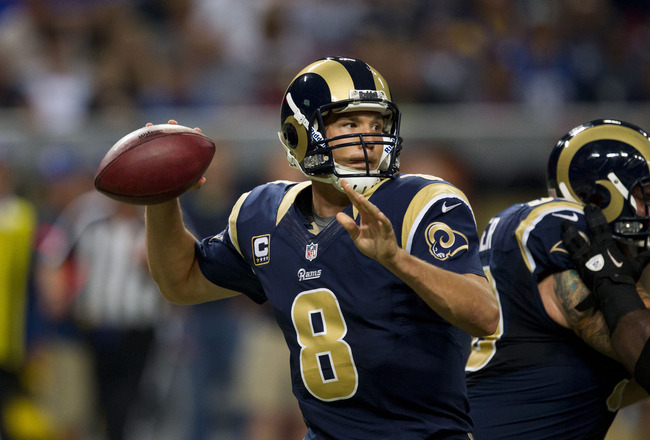 David Welker/Getty Images
Well St. Louis Rams fans, it wasn't pretty. At times it was really, really hard to watch.
But as the saying goes, "A win is a win."
The St. Louis Rams rode the strong right leg of rookie kicker Greg Zuerlein to a Week 4 win over division rival Seattle. Zeurlein had four field goals in the game—one from 58 yards and another from 60 yards—as the Rams offense failed to get into the end zone against a stingy Seattle defense.
Follow along as I break down the game and give you the Week 4 winners and losers.
Winner: Jeff Fisher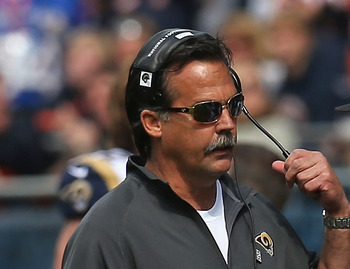 Jonathan Daniel/Getty Images
Jeff Fisher is the man. Through four games, the Rams are 2-2, right where I thought they'd be. What's even more impressive is, going into the fourth quarter, they've been in every game so far this season.
For a team coming off the worst five-year stretch in the history of the NFL, that's impressive.
It took a Detroit touchdown with 10 seconds left in the game to beat the Rams. The Chicago Bears held a slim 10-6 lead heading into the fourth quarter last week. Both of those games were on the road. So basically, with a little luck, the Rams easily could be 3-1 and tied for first in the NFC.
Jeff Fisher is the man.
Winner: The Rams D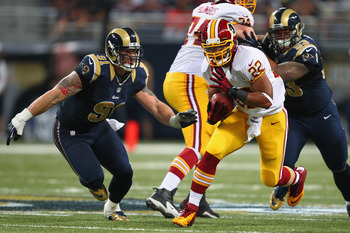 Dilip Vishwanat/Getty Images
Through four games, the Rams defense has carried this football team. That was again the case in Week 4, as the Rams D racked up three interceptions and two sacks.
What is most impressive about the defense is how it adjusts as the game goes along. This is another mark of good coaching.
The Seahawks came out Sunday gashing the Rams early in the game for huge gains on the ground. As the game progressed, the Rams D made life much tougher on Marshawn Lynch—who still had a monster game—and forced Russell Wilson to try beating them with his arm.
I actually read some people predicting that Seattle would blow out the Rams. Anybody who said that obviously hasn't watched the Rams play this year.
With this defense, it's going to be hard to "blow out" the Rams. This defensive unit is legit.
Loser: The Rams Offense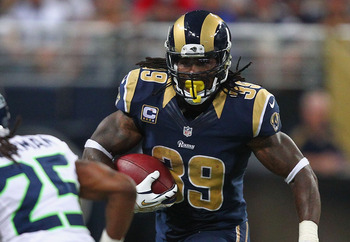 Dilip Vishwanat/Getty Images
First of all, let's give a lot of credit to Seattle's defense. The Seahawks defense is really, really good. Their secondary is arguably the best in the NFL, and their pass-rush is tremendous.
Having said that, the Rams offense didn't score a touchdown Sunday.
They did score on a Steven Jackson run, only to have it called back because of a hold. Facing a 4th-and-goal from the 3-yard line, coach Jeff Fisher called for some trickeration, with rookie punter Johnny Hekker tossing a touchdown pass to Danny Amendola.
Sam Bradford had an OK day passing the ball (16-of-30, 221 yards, 0 TDs, 1 INT). Steven Jackson ran hard, but behind an overmatched offensive line, he only put up modest numbers (18 carries, 55 yards, 3.1 yards per carry). Amendola was again the top receiver for the Rams (6 catches, 55 yards, 1 TD).
The Rams desperately need an outside receiving threat. If the Rams offense just becomes above average, playing alongside that defense this could be a playoff football team.
Winner: Rams Special Teams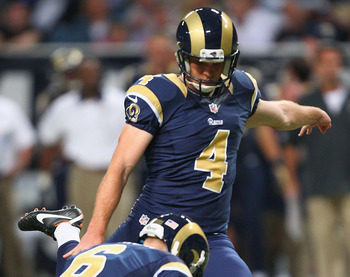 Dilip Vishwanat/Getty Images
Greg Zeurlein kicked four field goals, including two from somewhere west of Chesterfield. Johnny Hekker threw the Rams' only touchdown pass of the day.
When your special teams account for all 19 of your points, that's a good day for the special teams.
The Rams are in great shape moving forward with these two young kickers.
Loser: Brandon Gibson, WR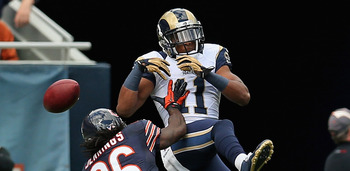 Jonathan Daniel/Getty Images
Brandon Gibson had a pretty good first two weeks in 2012. He caught a couple of touchdown passes, and he looked like Sam Bradford's favorite red-zone target.
Since then, it's been all downhill for Gibson.
Gibson ran the wrong route on one play Sunday that led to Bradford's only interception. Gibson obviously was supposed to run a comeback route or perhaps a back-shoulder throw, but instead streaked down the sideline for the end zone.
Gibson also had a penalty on an illegal motion call that cost the Rams yards. He finished the day only with two catches for 28 yards. Having played against really good corners now for two straight weeks, it's obvious that Gibson can't get open against good coverage.
As the season progresses, don't be surprised if the young trio of Austin Pettis, Chris Givens and Brian Quick slowly starts to get all of Gibson's reps.
Winner: The Rams' Young Receivers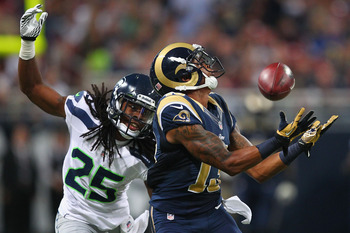 Dilip Vishwanat/Getty Images
To further demonstrate why these young guys need to play over Brandon Gibson:
Brandon Gibson: four targets, two catches, 28 yards.
Pettis/Givens/Quick: eight targets, four catches, 93 yards.
The bulk of the yardage came on a 51-yard bomb to Chris Givens, who ran right by the press coverage applied by Seattle. Brian Quick also looked good in this game, actually catching two passes, but barely stepping out of bounds on one of those catches.
These three young receivers, along with Danny Amendola, should make up the bulk of the Rams passing attack moving forward.
Loser: Rams Defense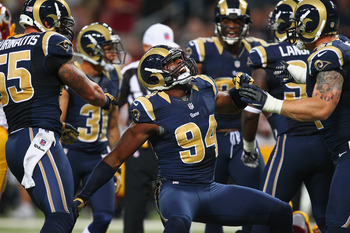 Dilip Vishwanat/Getty Images
Wait, didn't I just say the Rams D was a "winner?" What just happened?
Let me explain...
The Rams D was a winner in Week 4, but it is going to be very sore tomorrow after playing such a physical game against Seattle. Marshawn Lynch is a beast, and the Seahawks use him to just pound away at a defense.
Now with a quick turnaround—the Rams host division leader Arizona Thursday night—this puts a lot of pressure on the Rams D.
Guys, you might want to hop in that ice tub ASAP.
Winner: Michael Brockers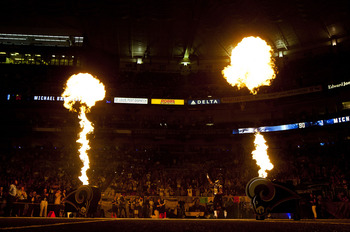 David Welker/Getty Images
Michael Brockers, welcome to the NFL.
The Rams drafted Brockers last April (No. 14 overall) to help shore up a very shaky run defense. Brockers helped plug the middle from his defensive tackle spot. Although the Rams run defense wasn't great (34 attempts, 179 yards, 5.3 yards per carry), it was very physical at the point of attack.
As Brockers gets closer to 100 percent health-wise, expect him to make an even greater contribution to the run defense.
Winner: Mike Martz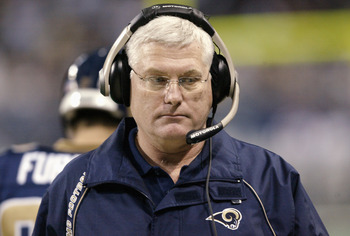 Doug Benc/Getty Images
Mad Mike was back in the building as part of FOX's broadcast team. Martz did the color commentary during the game, and he did a nice job.
More importantly, from all indications Martz got a warm reception from everybody in St. Louis.
Martz's time in St. Louis ended badly, but that shouldn't erase all the good things he did here. He was the offensive coordinator of "The Greatest Show on Turf" that won the Super Bowl, and then the head coach of the 2001 Rams team that made it back to the Super Bowl.
Martz had a very successful run in St. Louis, and it's even more impressive when you look at just how bad the Rams have been since he left.
I always thought Martz was a brilliant football coach who kind of became a caricature of himself. He was always pushing the envelope, even when it wasn't necessarily the smart thing to do. There is no doubt that his offense was high-risk, high-reward, and because of that, Martz is a polarizing figure in every city he ever coached.
For one day, though, it was nice to see Martz remembered as part of the greatest era in St. Louis Rams history.
Keep Reading

St. Louis Rams: Like this team?