NFL Hot Seat: Gauging Every Head Coach After Week 4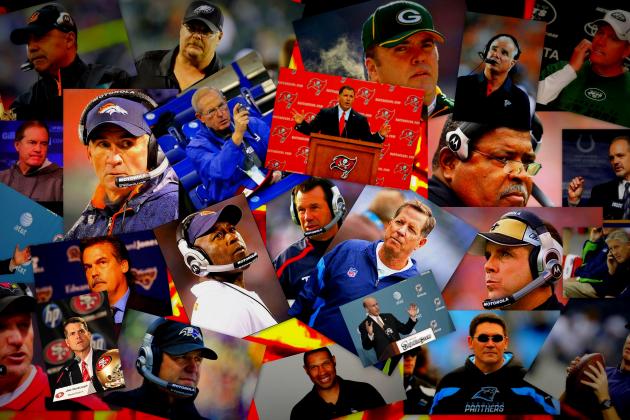 With two 3-1 coaches on the hot seat and one suspended coach's job becoming safer than ever, clarity in the NFL just got a lot hazier following the Week 4 action. There have been some key updates in the status of coaches' job security this week, with some seats getting hotter while other seats have cooled off significantly.
When you consider that the average tenure of an NFL head coach is only about 3.25 years, it becomes clear that things change fast in this league. That is why this hot seat temperature needs to be updated every week.
Here's a temperature reading, from hot to warm to room temperature to cool to cozy, for every head coach in the NFL.
Begin Slideshow

»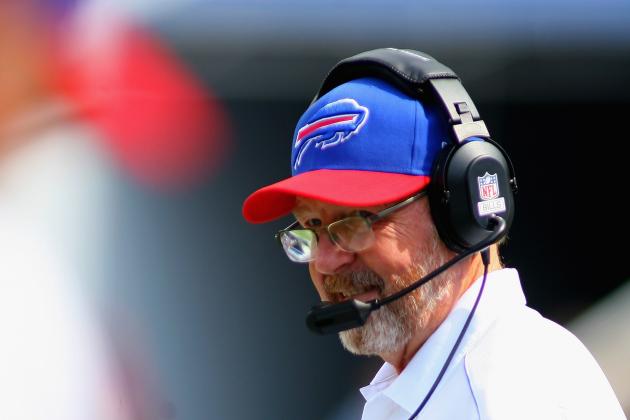 Rick Stewart/Getty Images

Last Week: Room Temperature
After Week 4: Warm
A 52-28 stomping by their divisional rival New England Patriots was disappointing enough to put Gailey's seat back to warm.
So far this season Gailey has been hot, warm, room temperature, and now back to warm yet again. One thing the Bills expected to be much improved this season was the defense and judging from from their performances against the Jets and now the Patriots, it doesn't seem like this unit will be living up to expectations.
In all fairness, the first half was very competitive and the Bills appeared ready to play.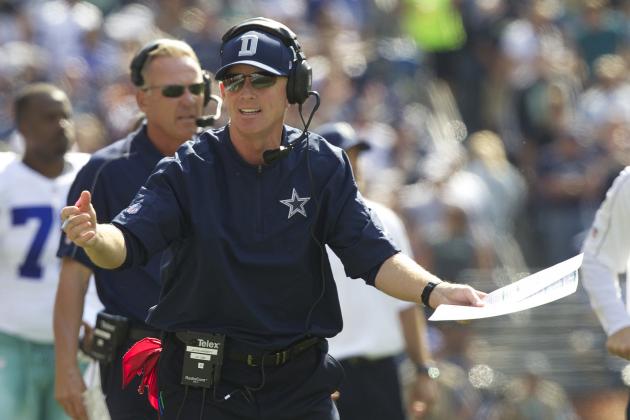 Stephen Brashear/Getty Images

Last Week: Warm
After Week 4: Warm
If the Cowboys lose Monday night against the Bears, Jason Garrett's job security status will officially be hot. Monday might not be a must win for the Cowboys' season, but it is pretty close to a must win in order for Garrett to remain out of Jerry Jones' dog house.
One of the major issues for Garrett, beyond his record, is the perception that he's too passive and afraid to really take control of the egos in the Dallas locker room. After all, some men make better coordinators than they do head coaches.
For the time being, Garrett has managed to stay afloat; can he manage to pull off a big one on prime time?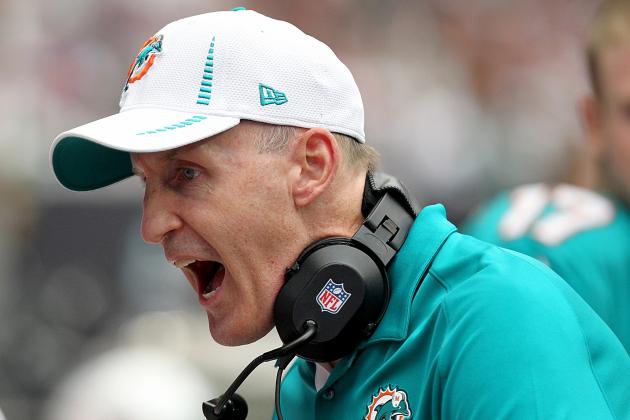 Thomas B. Shea/Getty Images

Last Week: Room Temperature
After Week 4: Room Temperature
Two consecutive overtime losses by Philbin and the Dolphins can be hard to stomach. The silver lining may be that at least this team is highly competitive, putting themselves in positions to win each and every Sunday.
These are the types of games you can tolerate from a first-year head coach and rookie quarterback when you know the future is a promising one.
The wins in Miami may have to come soon. Tension has been building since Bill Parcells took a less active role as a consultant and general manager Jeff Ireland assumed full command in September of 2010. Lack of success on the field and an inability to recruit key free agents have put Ireland on a short leash.
This could also limit the time and patience given to Philbin, considering he was hand picked by Ireland.
Tannehill has shown promise this year and the Dolphins have managed to be competitive. If this is no longer the case, both Philbin and Ireland could find themselves standing in the unemployment line by year's end.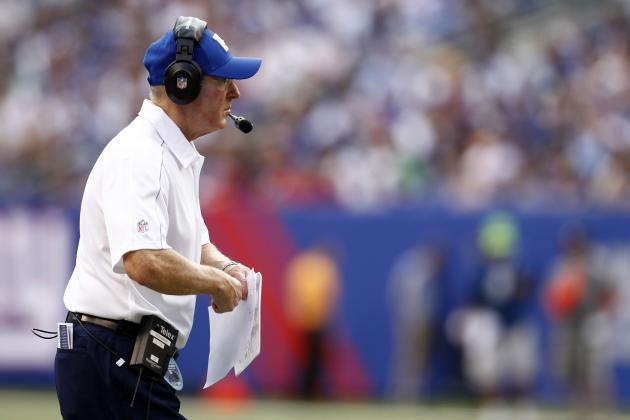 Jeff Zelevansky/Getty Images

Last Week: Cool
After Week 4: Cool
Sunday night, Coughlin and the Giants were dealt a tough loss by their divisional foes, the Philadelphia Eagles. This was one of those games that could have gone either way, but the most important part of this close loss is the questionable play calling by Coughlin late in the game.
Coughlin has been a fantastic coach late in the season for the Giants, but his teams have struggled in September and October in recent years. Racking up victories in these early months is what he needs in order to show ownership that this squad can perform at a high level even when their backs are not against the wall.
Given his age (66) and his questionable history with player relations, don't expect his seat to get cozy any time during the regular season. At the least, he will need to go deep into the playoffs for that status to be warranted.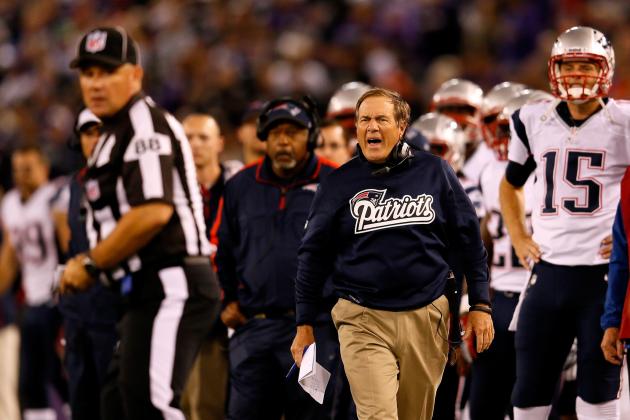 Rob Carr/Getty Images

Last Week: Cozy
After Week 4: Cozy
A great second half in Buffalo lead to a 52-28 shellacking of the Bills and was a much needed victory for Belichick and the Patriots, who were coming off of a rare two-game losing streak.
Belichick managed to make nice with the real refs by keeping his hands to himself.
Job security shouldn't be an issue in this town for a while. My words from Week 1 are just as applicable today, so I'll post them again: No coach in the NFL has more job security than Bill Belichick.
He likely will coach the Patriots as long as he wishes, which at this point could be for a long time.
Belichick sets the bar for all other active coaches in the NFL and has acquired complete control over football operations in New England.
He would have to spit in the face of Robert Kraft on national television and steal his girlfriend to lose his job at this point. Even then, Belichick might be kept around—he's that good. More importantly, he's that successful.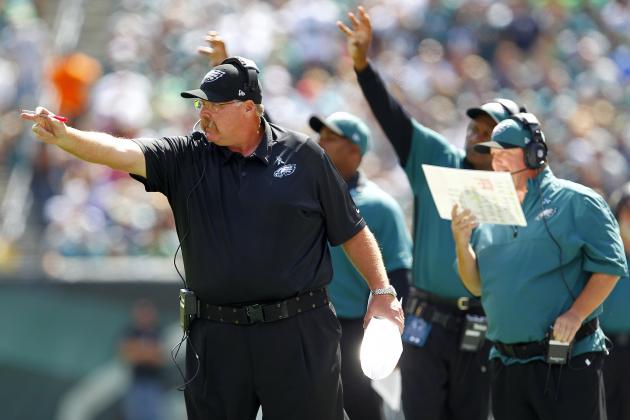 Rich Schultz/Getty Images

Last Week: Hot
After Week 4: Hot
I had Andy Reid on the hot seat when they had a 2-0 record, which should put the type of pressure he's under in perspective. Michael Vick may have vowed to save Reid's job, but you never would have guessed it by the way he has turned the ball over so far.
Some may choose to blame Vick or the under-performing defense. However, Reid has been the mastermind behind just about all the key decisions, including a pass-happy offense that puts Vick at risk of both injury and turnovers as well as the odd hiring of Juan Castillo as defensive coordinator despite no previous NFL experience on that side of the ball.
These moves are what have created the situation in Philadelphia, a situation that can be summed up by turnovers and underachieving athletes.
Despite a 3-1 record, Reid's seat is red hot right now, and his job is all but lost should the Eagles fall out of playoff contention.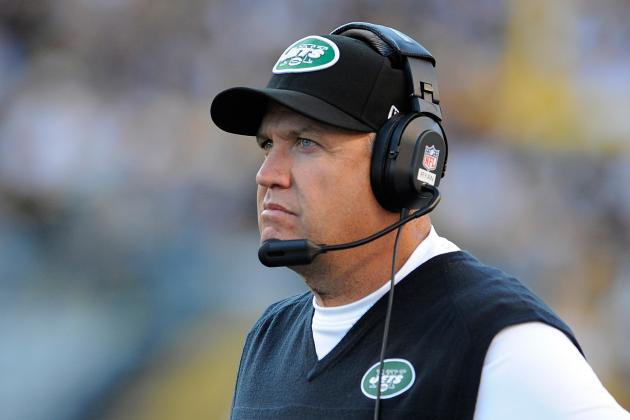 Joe Sargent/Getty Images

Last Week: Room Temperature
After Week 4: Warm
Mark "Sanchize" Sanchez has now finished three consecutive games completing less than 50 percent of his passes. The ground-and-pound style the Jets hoped to implement has been all but abandoned.
Darrelle Revis was lost for the year in Week 3 and now it appears the Jets will have to figure out how to win without their most reliable offensive weapon—Santonio Holmes—as well.
The Jets' season seems to be heading downhill after an embarrassing shutout loss to the San Francisco 49ers at home.
It seems highly questionable whether the Jets will be able to rebound from the injuries incurred over the last two weeks and the poor play of Mark Sanchez. If they make a habit of accumulating non-competitive losses, it's not out of the question for Jets owner Woody Johnson to clear house from the GM to the quarterback.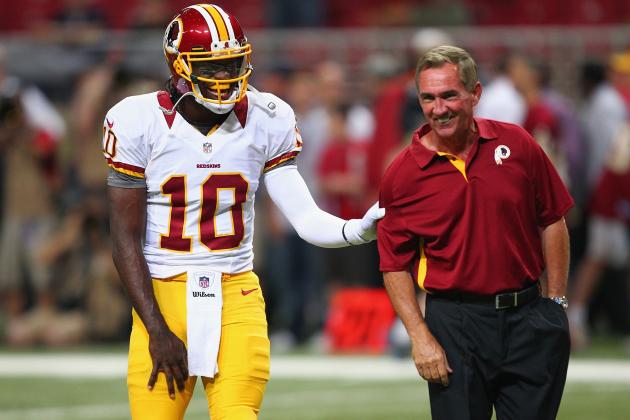 Dilip Vishwanat/Getty Images

Last Week: Room Temperature
After Week 4: Room Temperature
After two close losses in a row, the Redskins were finally able to sway one of those tight games in their favor. The Redskins went back and forth against the Buccaneers, and it took a final drive by Robert Griffin III to seal the deal.
This is not a season in which owner Dan Snyder will tolerate a losing record. Snyder has to be growing tired of life at the bottom of the NFC East. One more year of this could spell trouble for Shanahan.
With that said, the growing rapport between rising NFL star RG3 and his head coach is not to be underestimated. It would take a pretty poor season to get Shanahan fired and I don't see that as a likely scenario.
If the Redskins are scraping the bottom of the division by Week 12, expect Shanahan to at least be on the hot seat.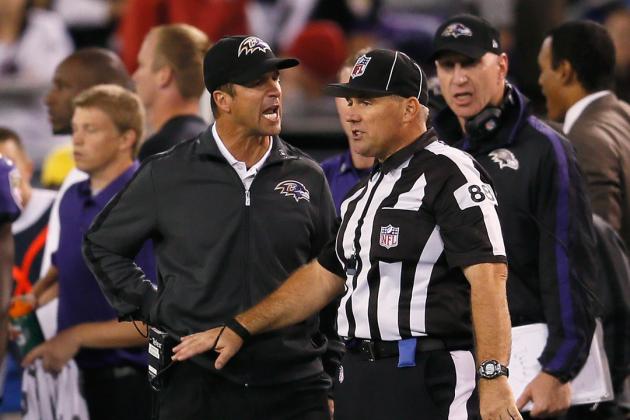 Rob Carr/Getty Images

Last Week: Cozy
After Week 4: Cozy
Thursday night's game was an expected victory against the struggling Browns. For the most part, Harbaugh has done a great job winning the games he's supposed to win. The best part about their wins early in the season are they are without the reigning defensive MVP Terrell Suggs.
Winning nearly 69 percent of his regular season games over four years, Harbaugh's job status is stable and will be unaffected by the outcome of any one game this season.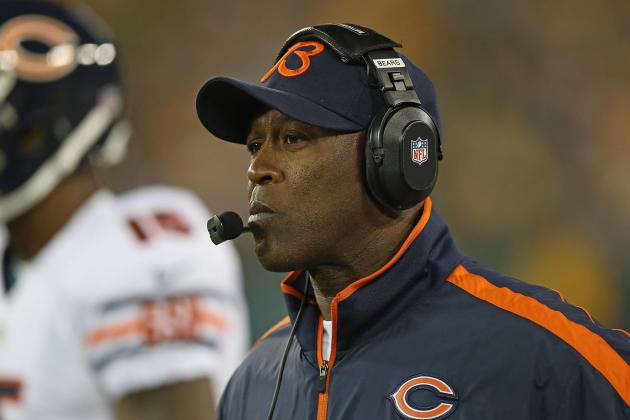 Jonathan Daniel/Getty Images

Last Week: Room Temperature
After Week 4: Room Temperature
With Brian Urlacher fading away due to age and injury and an offensive line that can't protect against a four-man rush, the Bears could have been on the verge of a locker-room meltdown reminiscent of the 2011 Jets.
Fortunately, for Lovie Smith, the Bears bounced back Sunday with a convincing 23-6 win over the St. Louis Rams. A win over the Cowboys on Monday night will likely send Lovie into the cool zone as the Bears continue to fight for a division that appears to be wide open.
For the time being, Lovie has righted the ship in Chicago and put the brakes on panic talk for another week. Smith has managed to field a consistently competitive team and is not in any immediate danger of being on the hot seat.
However, should signs emerge that his locker room is out of control, that could change quickly for Smith and his Bears.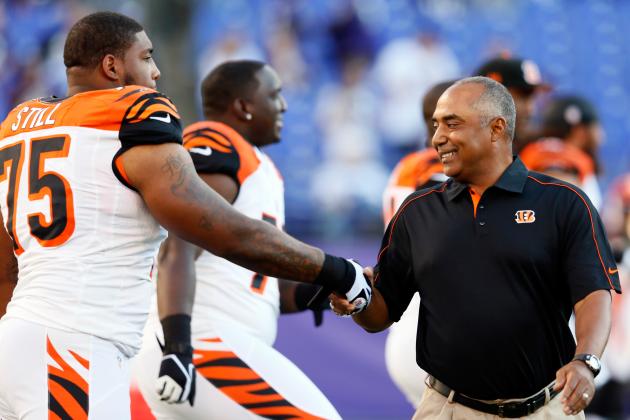 Rob Carr/Getty Images

Last Week: Room Temperature
After Week 4: Room Temperature
The Bengals had Sunday's game against the Jaguars well in hand all four quarters despite a defense that had several key starters missing.
Only Andy Reid and Bill Belichick have coached their current teams longer than Marvin Lewis has coached the Bengals.
He has been given a lot of time to create a champion, but his window of opportunity will be closing soon if the Bengals fail to improve on last year's success.
For now, his seat remains unchanged. The Bengals are in fairly good shape heading into the fourth week of the season.
With a great start to the season at 3-1, if Cincinnati can improve its banged up and questionable defense, it should be in good position to compete in the notoriously tough AFC North and Lewis should be safe heading into the 2013 season.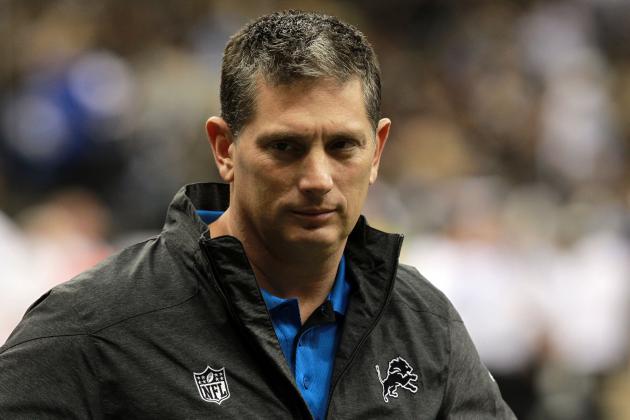 Ronald Martinez/Getty Images

Last Week: Room Temperature
After Week 4: Warm
After the giving up a kickoff and a punt for touchdowns in two consecutive games, it may be time for special teams coach Danny Crossman to be on the hot seat, if not replaced outright.
A 1-3 record is not exactly how the Lions envisioned to start the first quarter of the season. As a result, Schwartz must now face the added pressure of keeping his job.
Last week I had this to say about Schwartz's job status:
"Overreacting aside, this loss wasn't enough to push the temperature gauge in a negative direction. The Lions seem to believe in what Schwartz is doing, but he needs a win next week, or he will likely find his seat warm for the first time this year."
Well, Schwartz did lose another game and so his seat is warm for the first time all year.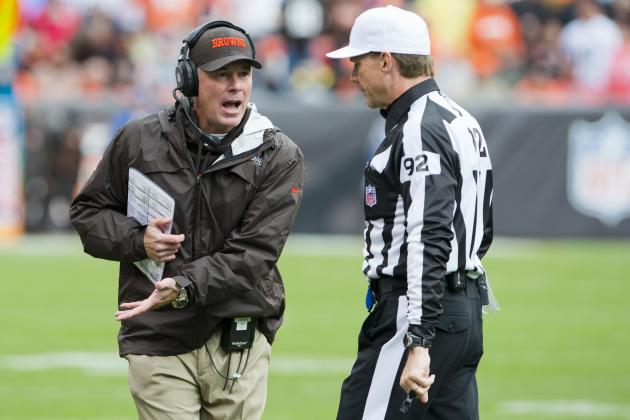 Jason Miller/Getty Images

Last Week: Hot
After Week 4: Hot
Losing another hard fought football game has Shurmur struggling to find the answers. One answer might have been to give Colt McCoy a chance to compete for the starting quarterback job.
28-year-old rookie quarterbacks are not afforded the same type of patience as the more common 22-year-old variety. Shurmur is 100 percent responsible for their QB situation which likely would have been to difference between a couple wins and losses.
Shurmur needs to be pull out some victories soon or he could find himself watching the end of the season from his couch.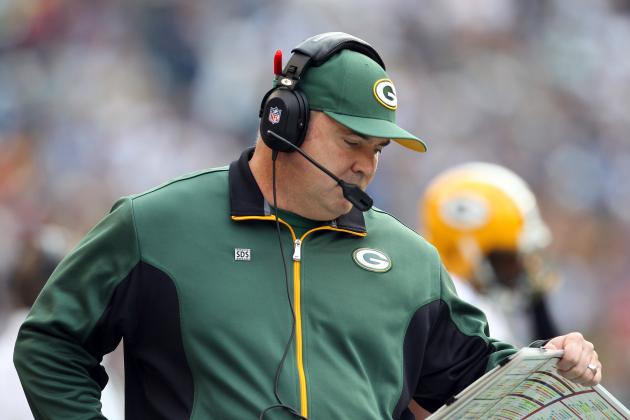 Kevin Casey/Getty Images

Last Week: Cozy
After Week 4: Cozy
Last week's loss on Monday night may go down as one of the worst calls in the history of the NFL and is likely the event that turned the tide of the referee lockout. One could only imagine how the Packers were going to bounce back from such a heartbreaking loss only six days ago.
Apparently, Mike McCarthy said all the right things to both the media and his team all week long. He had the Packers ready to play a tough game against a Saints team desperate for their first win.
McCarthy has proven to be a fantastic coach over the last seven years. It would take a whole lot more than a couple of early season losses to change his job security status.
Mike's seat remains quite cozy, and the Packers should use last week's game as an opportunity to grow as a team.
The Packers are still the team to beat in the NFC and can compete against any team in the league. Much of the team's recent success has to be credited to McCarthy.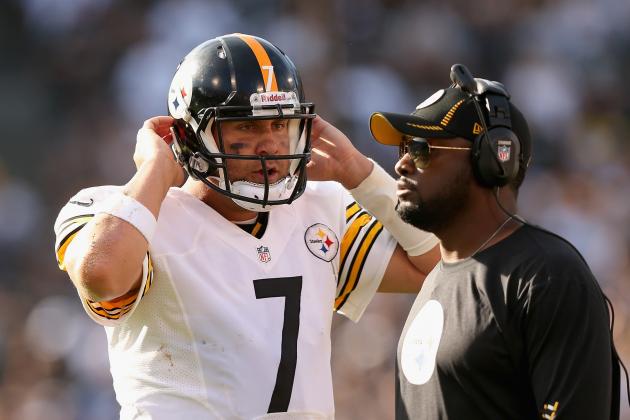 Ezra Shaw/Getty Images

Last Week: Cool
After Week 4: Cool
Perhaps this is the perfect time for the beaten and battered Steelers roster to have their bye week. They can rest key injuries and emotionally recharge from last week's last-second loss against a sub-par Oakland Raiders squad.
Pittsburgh dropped its second game this season and has looked rather mortal in the process.
Many expect this to be somewhat of a down year for Pittsburgh, but even that's relative. Winning records are commonplace for the Steelers. One thing the great teams are able to do is find a way to win. The Steelers have been one of those teams for a long time.
However, this may be the year they find themselves without a playoff spot.
Either way, Tomlin will return as coach, and the Steelers are only a few pieces away from contention. That minimizes the fact that Tomlin is the first coach to fall from his cozy status, but there is plenty of time for Tomlin to be sitting pretty again.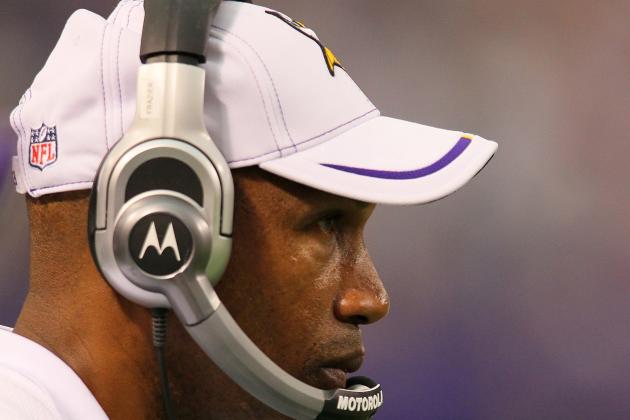 Adam Bettcher/Getty Images

Last Week: Warm
After Week 4: Room Temperature
After back-to-back wins over two playoff teams from a year ago, Leslie Frazier and the Vikings seem to be building something special in the Twin Cities.
Last week, they pulled off a shocking upset against the undefeated 49ers and this week was more of the same against an explosive Detroit Lions.
Frazier seems to have found the guy who can not only save his job, but also build around in Christian Ponder.
After their Week 2 loss to the Colts, I had Frazier on the hot seat. These days, he has cooled things down significantly. He may end up proving he can be the Vikings' coach for the long haul.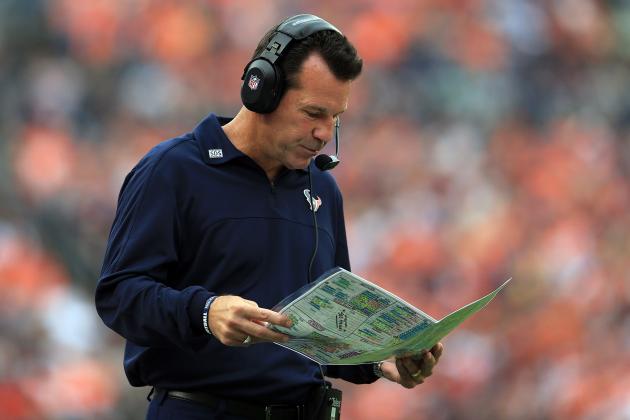 Doug Pensinger/Getty Images

Last Week: Cozy
After Week 4: Cozy
The Texans are looking like the team to beat this year as they have dominated every game up to this point.
Kubiak has slowly built a Super Bowl-caliber team in Houston. At 4-0, the Texans remain the last undefeated team in the AFC and have won each game convincingly, leaving little to chance.
The system and style of coaching implemented by Gary Kubiak has been invaluable to the Texans' success, so don't expect a move to replace him any time in the foreseeable future.
Given the team's consistent improvement through the years, Kubiak has bought himself a lot of leeway for an NFL head coach. His seat is cozy and should remain so for quite some time now.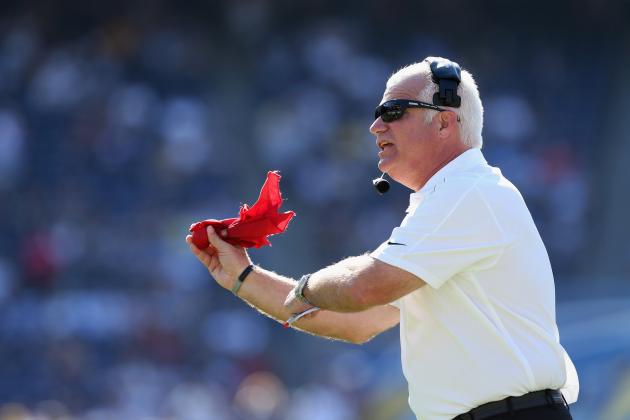 Jeff Gross/Getty Images

Last Week: Cozy
After Week 4: Cozy
Atlanta pulled off a nail-biter Sunday, with an exciting game-winning drive masterfully orchestrated by Matt Ryan. The Falcons remain one of only three undefeated teams left in the NFL.
Coach Mike Smith has never had a losing season during his tenure in Atlanta but what he still needs to prove is that he can win games in the postseason.
In four years of calling the shots, he has won 67 percent of his games and brought a level of consistent success that the Falcons organization has never had before. Smith's job security is cozy and should remain so for at least the next few weeks.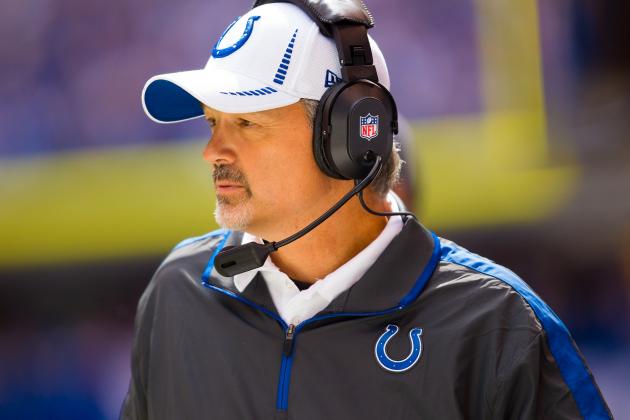 Michael Hickey/Getty Images

Last Week: Room Temperature
After Week 4: Room Temperature
Week 4 is a bye for the Colts, which should allow this relatively young squad to take a step back and make some necessary adjustments.
Chuck Pagano, who is just getting started at Indy, should remain in the room temperature range for the duration of his inaugural season as head coach. However, if he ends up racking up a ton of victories in what's supposed to be a rebuilding year, we may have to cool that seat down a notch or two, which is not to say that it's hot at the moment.
I spent time with Pagano in Oakland when he was the Raiders' defensive backs coach, and he seemed to be a low-key, low-risk type of guy. Some may question whether he was too conservative Sunday against the Jaguars in a close loss to a team that had yet to win a game.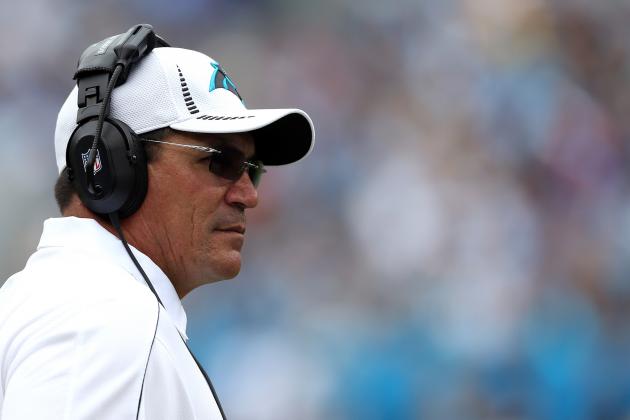 Streeter Lecka/Getty Images

Last Week: Warm

After Week 4: Warm
Coach Ron Rivera is on pace to have the same type of season he had last year, which isn't saying much in terms of his job security. To his credit, he was a few inches away from pulling out a victory against the undefeated Falcons, but a Cam Newton fumble prevented them from converting a game-winning first down.
Rivera's biggest disappointment so far this year has been the team's struggles defensively. Over the last three games, the Panthers' defense has allowed on average over 30 points per game. This has put too much pressure on the offense and must improve if the Panthers hope to make something of this season.
In the meantime Ron Rivera is faced with an increasingly hotter seat, as it's now officially warm.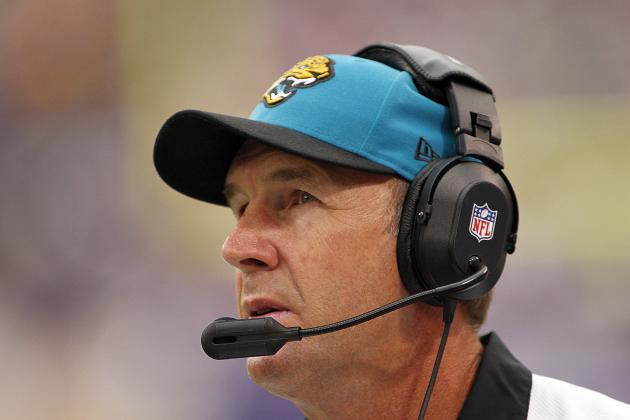 Andy King/Getty Images

Last Week: Room Temperature
After Week 4: Warm
Last week, I stated that Mularkey's job status would remain stable considering a hard fought win against the Colts. But after a non-competitive outing against a severely depleted Bengals defense, I was left with no choice but to downgrade Mularkey to warm for the first time this season.
Jacksonville is 1-3 after four weeks. They don't appear to be fielding a legitimate contender this season.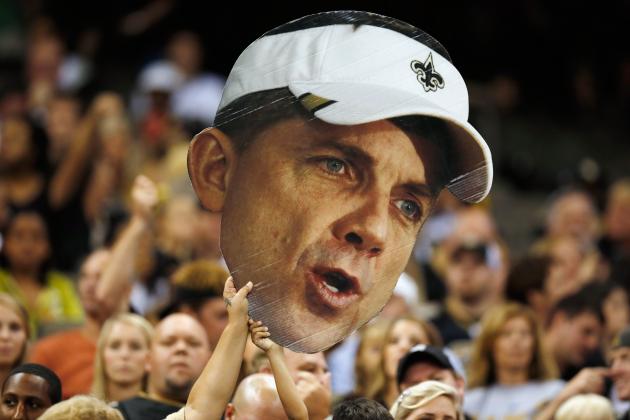 Chris Graythen/Getty Images

Last Week: Cozy
After Week 4: Cozy
Sean Payton's importance to the Saints is becoming more evident after each disappointing loss. The team is clearly lacking its mastermind with Payton being suspended for the season. The Saints are running around like an unpolished version of themselves.
This is the irony of Payton's hot seat update. He is best served by a poor display by the Saints, exactly the type of play we have seen for two consecutive weeks.
Considering Payton may be the second-most important person in the franchise behind only Drew Brees, the Saints may want to begin negotiating a contract extension for him as soon as possible.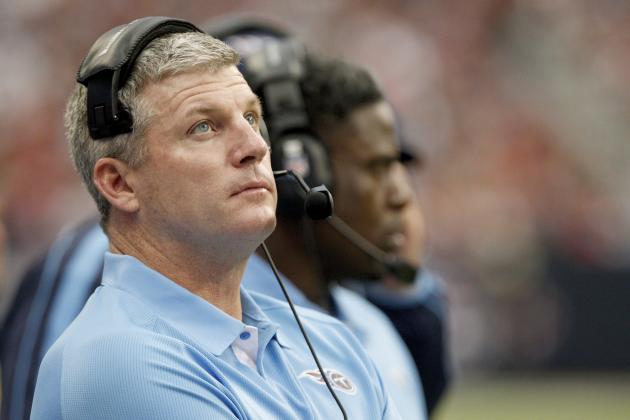 Thomas B. Shea/Getty Images

Last Week: Room Temperature
After Week 4: Warm
After edging out a roller-coaster victory against the Lions last week, the Titans were completely dominated by the Texans on all fronts this week. With a 1-3 record to start the season, I just don't see enough going right in Tennessee to justify stable job security.
The Titans do not seem to be improving from last season which plays a big factor in the regression of Munchak's hot seat status to warm.
The fate of the offensive approach could decide Munchak's future. If coordinator Chris Palmer fails to produce an effective offense, Munchak could end up on the hot seat sooner than many may have expected.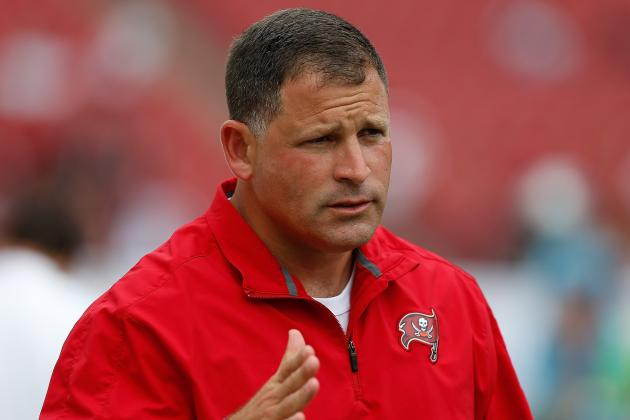 J. Meric/Getty Images

Last Week: Room Temperature
After Week 4: Room Temperature
The Bucs started Sunday's game by falling behind 18 points. They later made it competitive, but, as usual, they couldn't pull it out in the end. Schiano's Buccaneers deserve credit for fighting hard all season but a 1-3 record is not where they were hoping to be.
This is not a team generally looked at as one that needs a lot of time to rebuild. The Buccaneers may be one of the younger squads in the league, but they also are extremely talented, with three promising rookies in Mark Barron, Doug Martin and Lavonte David. They also brought in high-profile, free-agent wideout Vincent Jackson to be the go-to receiver.
A loss next week could finally push Greg Schiano's seat into the warmer regions of job security.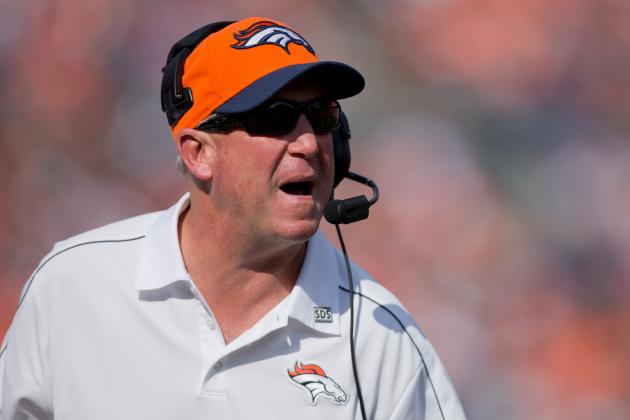 Justin Edmonds/Getty Images

Last Week: Room Temperature
After Week 4: Cool
Coming off of two consecutive losses, it wasn't time to panic just yet. John Fox and Peyton Manning are a work in progress but still the favorites to win the AFC West. Denver looked crisp as they fired on all cylinders against the Raiders.
Fox's seat has now cooled after the very convincing win on Sunday, even though he was demoted to room temperature after last week's loss to the Houston Texans.
With the addition of Manning, expectations are extremely high in Denver.
Fox's squad would have to implode for him to be in trouble. At the same time, he hasn't proven nearly enough in Denver to allow this hole to get much deeper. For now, the Broncos sit with a 2-2 record and a coach whose seat is now cool.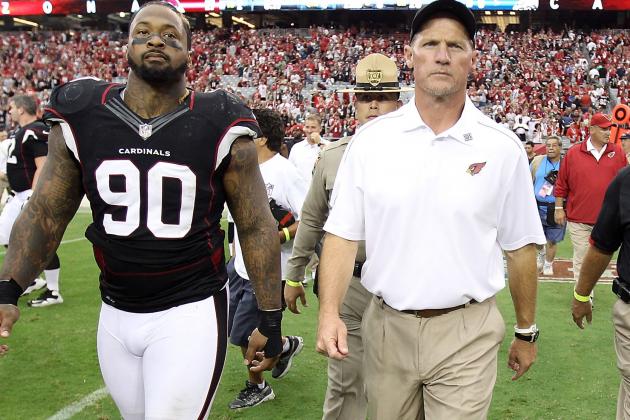 Christian Petersen/Getty Images

Last Week: Cozy
After Week 4: Cozy
Hey, guys, the Arizona Cardinals are 4-0 this year, can you believe it?
The Cardinals are a solid defensive team but are next to last in NFL offensive rankings. Yet they've started the season by beating three teams they had no business competing against.
The preseason was a great cause of concern for Cardinal fans. Watching their offensive line fall apart was scary and gave little hope for the near future.
For now, Whisenhunt can remain nice and cozy as head coach as we sit back and see how many more games his team can pull off like the first four.
Whisenhunt has maxed out his job security for this season, and it's well-deserved considering the recent Super Bowl appearance, the late surge last season and the 4-0 start in 2012.
Win or lose, I think we're seeing today that the #Cardinals aren't an elite team. Maybe a very good team, though

— Matt Miller (@nfldraftscout) September 30, 2012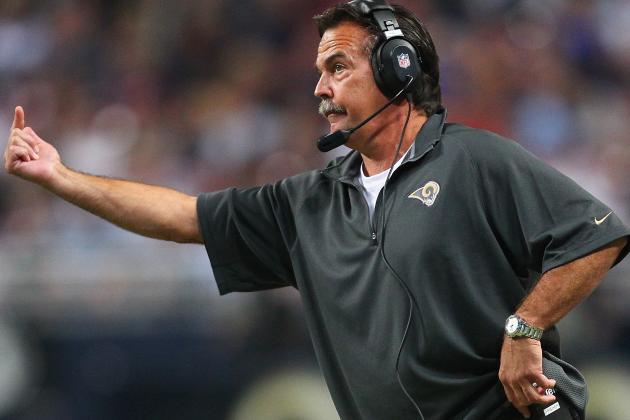 Dilip Vishwanat/Getty Images

Last Week: Room Temperature
After Week 4: Cool
Jeff Fisher's Rams followed up a hard-fought win over the Redskins with an abysmal performance in their loss to the Chicago Bears last week.
This week, Fisher and his squad were able to pull off the significant upset against the red-hot Seattle Seahawks. Defense was the name of the game in this contest as the Rams won a close battle at home 19-13.
Fisher must keep the Rams competitive, or he may end up on on a tight leash in 2013.
Luckily, the Rams have their franchise QB in Sam Bradford and can build around him for the next 10 years. All indications seem to point toward Fisher being a big part of that process, so his hot seat status will remain relatively safe.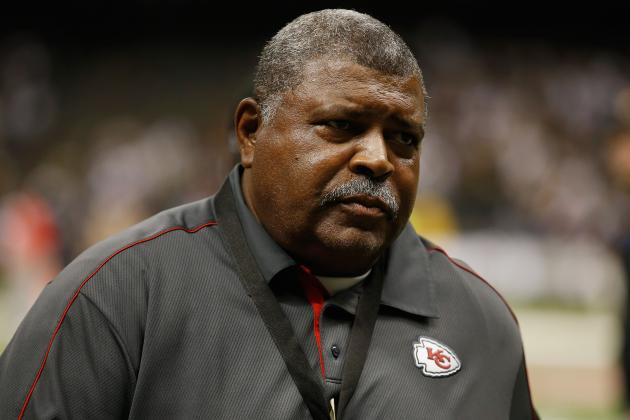 Chris Graythen/Getty Images

Last Week: Warm
After Week 4: Hot
The Chiefs organization expects immediate success in Kansas City, given the obvious talent on the roster. Anything less could cost Romeo Crennel his job. Unfortunately, starting the season off with a 1-3 record already has Crennel's job under fire.
The loss on Sunday to the Chargers was extremely disappointing, considering the lack of competitiveness is becoming more and more of a pattern. The last thing you want to see from a team with the talent level of Kansas City is losses that aren't even competitive.
It seems a winning record is the only outcome that can save Crennel's job for 2013. As of right now, his seat is very hot and he is in danger of not finishing out the season.
As for Chiefs GM Scott Pioli, this is likely the last head coach he will hire in Kansas City.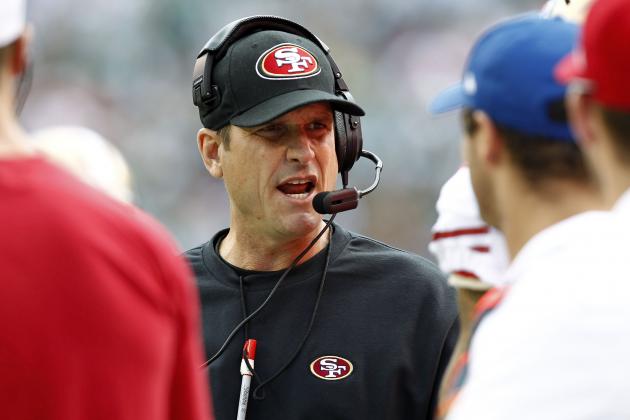 Jeff Zelevansky/Getty Images

Last Week: Cozy
After Week 4: Cozy
The 49ers bounced back from a tough loss to the Vikings by demolishing the New York Jets in their own house. San Francisco played inspired football Sunday, beating the Jets at their own game with sound running, dependable defense and a two-quarterback system to keep the defenses guessing.
In last week's edition, I told readers to expect a fired-up 49ers squad against the Jets, as they had a rare opportunity to learn from their arrogance and improve upon an already promising situation.
It turns out that prediction was accurate.
Once again, Alex Smith looked more like the guy we have come to know over the years, which is not to say he was terrible, but he sure didn't look like a top 10 quarterback.
Regardless, Harbaugh's job status remains unchanged. Getting the 49ers to the NFC championship game last year in his first season as head coach and, more importantly, creating a distinct identity for his team as a tough group with an old-school mentality, has him completely safe.
Harbaugh's turnaround of the organization and general style of coaching are hard to ignore. He will have to endure a series of terrible losses for anything to change in his status this year.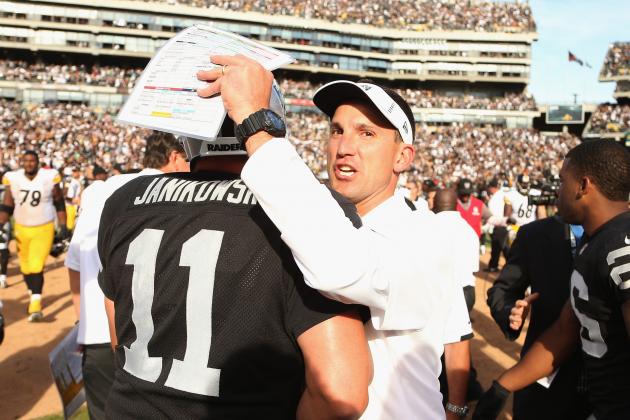 Ezra Shaw/Getty Images

Last Week: Room Temperature
After Week 4: Warm
The last thing Raiders fans want to endure is another season known as the most dysfunctional team in the NFL. This group looked to be headed in that direction before winning big at home last week against the Pittsburgh Steelers.
The good news is the Raiders looked like they were playing smart, disciplined football and fought for four quarters during that game.
Sunday's abysmal loss to the Broncos, however, seemed to be more reminiscent of the Raiders of old: unable to execute, poor defense and an offense that failed to reach the end zone.
The Raiders are now 1-3. Regardless of the record, Allen will be judged on his ability to make the team competitive in every game while showing improvement as the season progresses.
His job status will be more reflective of this premise rather than wins and losses. So considering they lost 37-6 in Denver, Dennis Allen will be taking a demotion in his hot seat status. His seat is now warm and could get hotter before the year is out.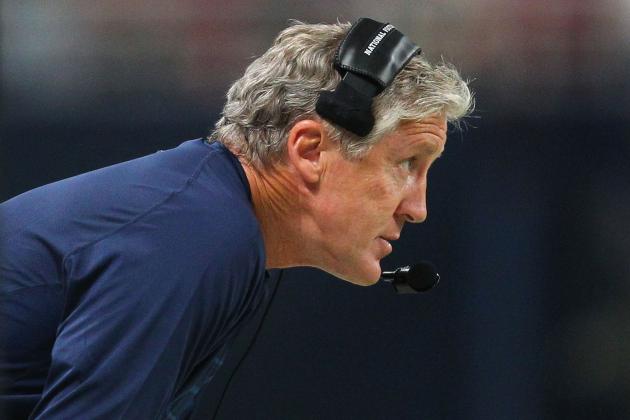 Dilip Vishwanat/Getty Images

Last Week: Room Temperature
After Week 4: Room Temperature
The Seahawks seem ready to contend for the playoffs this year, and Pete Carroll is proving more than willing to do what it takes to get them there, even if it means benching the big free-agent QB acquisition in favor of the shrimpy, third-round rookie because of his impressive play in the preseason.
Carroll has also built perhaps the league's most feared secondary.
As long as Seattle wins more than it loses, Carroll should be fairly safe for at least a few more years.
A controversial win on Monday night against the Packers was an impressive display of defense as well as a rookie quarterback truly capable of managing a game. Much of that excitement was grounded when they were upset by a Rams team that was 1-2 coming into the game.
After four games, the Seahawks are one of the better 2-2 teams in the league. Carroll's seat is stable for now but this really needs to be playoff year if he wants job security for the 2013 season.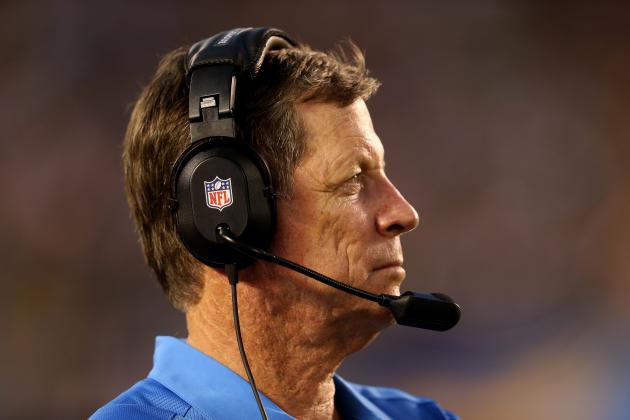 Stephen Dunn/Getty Images

Last Week: Hot
After Week 4: Hot
Yes, Chargers are in first place.
Yes, they won convincingly on Sunday against the Chiefs.
No, those things aren't enough for the ownership at this point in Norv's tenure.
Norv Turner's job is all but lost despite winning his first two games of the season.
The only way he can keep his job at this point is if he gets to an AFC championship game; anything less and it's, "Adios, Mr. Turner." If the Chargers can keep winning games, there is a good chance his seat could cool down before long.
As of right now, the seat doesn't get much hotter for a head coach who is 3-1, unless your name is Andy and you live in Philadelphia. Turner has nearly worn out his welcome in San Diego and was only retained after last season because of desperate pleas by Philip Rivers, who lobbied heavily to give him one last chance.
Just making the playoffs won't cut it in San Diego this year. The organization has completely lost its patience and is all but set for a complete overhaul from the top down.
This means that even if the Chargers play in a playoff game this year, Turner's status will likely be either hot or warm heading into that game. Should he fail to win a playoff game, we should assume there will be a head coaching vacancy in San Diego days after season's end.