This year, two teams expected to perform poorly and are miraculously in playoff contention: the Oakland Athletics and the Baltimore Orioles.
The A's, who have 18 rookies currently on their 25-man roster, traded away Trevor Cahill, Gio Gonzalez, and Andrew Bailey this offseason, only to somehow ascend past division-rival Los Angeles Angels and into the second Wild Card spot despite a league-lowest $49 million payroll—for now at least.
The Orioles almost edged out the big-spending New York Yankees for the AL East division lead, instead settling for the one game Wild Card and handling the reigning AL champion Texas Rangers. With such a strong division, nobody would have fathomed that Baltimore would be sitting atop teams like the Boston Red Sox, Tampa Bay Rays, or even the Toronto Blue Jays.
So which teams can duplicate this success despite low expectations and difficult circumstances?
One team that could potentially contend next year may be Baltimore's division-rival Blue Jays.
The Blue Jays have a lot of intriguing pieces that they are currently building around, and combined these players may be able to produce wins and embark on an October race next year, baring injuries.
Obviously, Jose Bautista is a critical piece of this Toronto offense. Despite playing just 92 games this season, Joey Bats still managed to slug 27 home runs for 65 RBI. In 2011, he hit 43 home runs and 103 RBI, and in 2010 he managed to crank 54 long balls for 124 RBI.
The three time All-Star and two-time Silver Slugger award winner also proved last year that when healthy, he can hit for contact as well as power, as he batted .302 last year. He saw a significant drop off in his batting average this year, but he was also struggling with injuries throughout the season. I believe he can return to form. Combine these totals with his high walk rate—Bautista walked over 100 times in both 2010 and 2011—and it's clear that he is a force at the plate and can carry this Blue Jays offense.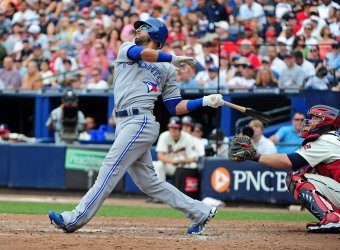 Scott Cunningham/Getty Images
Despite a decline in production after the All Star break, first baseman Edwin Encarnacion still had a breakout season in Toronto. Setting career highs in runs, hits, home runs, RBI, walks, on-base percentage and slugging percentage, Encarnacion boasted a solid stat line of .280/.384/.557 with 42 home runs. The increase in power numbers provides a boost to the middle of the Toronto lineup and gives the Blue Jays a formidable 3-4 combination.
Third baseman Brett Lawrie had decent numbers this season posting a line of .273/.324/.405. However, at just 22, Lawrie has plenty of room to grow, and could potentially have a breakout campaign in 2013.
Outfielder Colby Rasmus has struggled at the plate since coming over from the St. Louis Cardinals last year, but he still hit 23 home runs this season and at age 26 also provides some upside.
But aside from these intriguing players, the Blue Jays also have one of the deepest farm systems in the MLB, and, as we saw this year in Oakland, rookies can have a big impact on the success of a team despite their lack of experience.
At catcher, J.P. Arencibia has been serviceable, and has particularly good defense behind the plate, although his offense certainly needs work. But Toronto also has one of the best young catchers in the minors right now in Travis d'Arnaud, whose bat could add even more power to this slugging lineup.
The Blue Jays also have a couple good outfield prospects in Anthony Gose and Jake Marisnick. Gose was called up earlier this year and though he struggled at the plate, he played in just 56 games, and with a larger sample size and more experience with big league pitching, his numbers should improve next year. He is also very quick and a terrific fielder, so he provides other assets to the team as well. Although Marisnick did not get called up this year, he may be able to find his way into Toronto in 2013. Combined with Rasmus, Rajai Davis, and Moises Sierra, the Blue Jays will have more outfield options next year to choose from.
How many games will the Toronto Blue Jays win next year?
Toronto has a couple right-handed pitchers in Drew Hutchinson and Aaron Sanchez that have the potential to help their rotation. Hutchinson started eleven games for the Blue Jays before getting hurt, and posted an ERA of 4.50 and a WHIP of 1.35, not bad numbers for a 22-year-old. Sanchez did not play in Toronto in 2012, but might be able to work his way into the rotation sooner rather than later.
With Yunel Escobar having a down year both on and off the field, Adeiny Hechavarria could help the Blue Jays out at shortstop if they decide to part ways with Escobar. Playing in 41 games in 2012, Hechavarria hit .254, but he struck out a little over 25% of his at bats and managed just four walks in 137 plate appearances. Despite his poor plate discipline, he is also very young. Just 23-years-old, if he can figure out how to get his walks up and strikeouts down, he could serve as a productive option at shortstop in 2013 given his solid glove.
The Blue Jays have offensive weapons and young talent at their disposal, but in 2013 they will need to learn how to improve their pitching if they want to succeed.
Brandon Morrow emerged as the ace of the staff with a 2.96 ERA and 1.11 WHIP before his season was derailed with injuries. Ricky Romero proved unreliable in 2012, producing a 5.77 ERA and 1.67 WHIP. Henderson Alvarez was a little better with a 4.85 ERA and a 1.44 WHIP, but his strikeout to walk ratio was underwhelming. Carlos Villanueva showed some nice potential in his 16 starts, but is set to hit the free agent market this winter. Kyle Drabek was inconsistent for the Blue Jays, posting just six quality starts out of 13 games started to go along with a 4.67 ERA and 1.60 WHIP.
If the Blue Jays can find a steal or two on the seemingly barren free agent market in the pitching department, it would surely help their cause in contending next fall. Ranking 22nd or worse in ERA, WHIP, quality starts, and batting average against, if the Blue Jays can improve their pitching with some young call-ups or via free agency, they will be a vastly improved team.
The other issue surrounding the Blue Jays this season has been injuries. Bautista managed to play just 92 games this season. The pitching staff suffered the most, as pitchers such as Kyle Drabek and Dustin McGowan underwent Tommy John surgery. Brandon Morrow had an oblique injury that cost him two months. Drew Hutchinson also missed time, and Sergio Santos needed shoulder surgery. The pitching staff was by far the most injury-riddled this past season.
I think the Blue Jays definitely have some work to do in terms of their pitching and their young players need to develop at a rapid pace. But if these two issues are addressed and the team does not suffer a plethora of injuries like they did this year, this could be a team to look out for next season.