UFC on FX 5: Jake Ellenberger vs. Jay Hieron Head-to-Toe Breakdown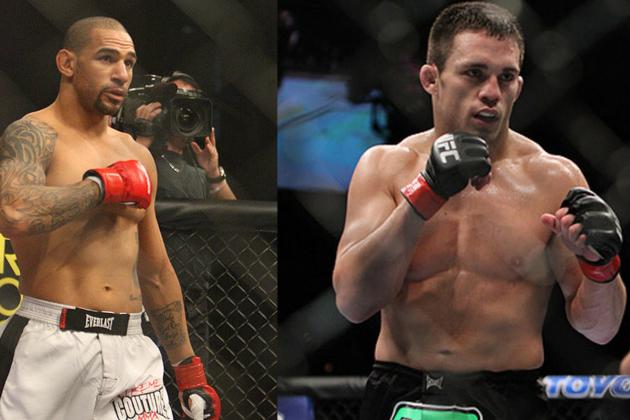 Photo Courtesy of mmaweekly.com
The fight was originally scheduled to co-main the cancelled UFC 151 card, but now the rematch between Jake Ellenberger and recently re-signed Jay Hieron will go down at UFC on FX 5 this Friday night in Minneapolis, Minn.
The fight will once again serve as the co-main event and a win for either man would place them in the mix so to speak at 170.
The two men faced off in IFL in 2006, where Hieron handed Ellenberger his first career loss. Now, Ellenberger has climbed the ranks and holds notable wins over top guys such as Diego Sanchez and Jake Shields.
Hieron hasn't fought inside the Octagon since 2005, but he has spent time with both Strikeforce and Bellator, including winning the Bellator Season Four Welterweight Tournament.
Ellenberger vs. Hieron has Fight of the Night potential, but before we get to looking at possible post-fight bonuses, let's take a look at how these two match up on paper with a head-to-toe breakdown of the UFC on FX 5 co-main event.
Begin Slideshow

»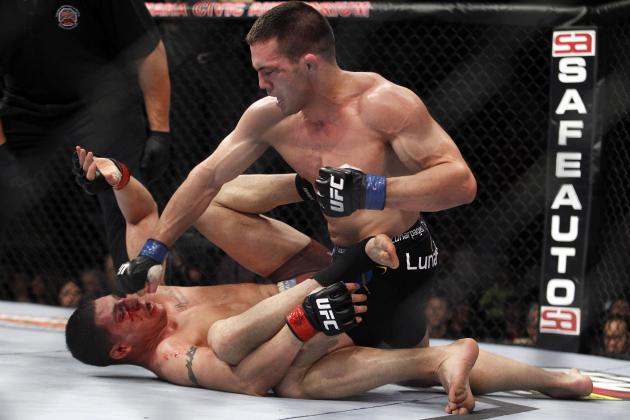 Matt Ryerson-US PRESSWIRE

Jake Ellenberger is one powerful dude who throws mean punches and has some vicious ground and pound. So, how can Hieron neutralize Ellenberger's power?
Hieron will have to work angles and pick when he comes forward wisely. I'm sure he knows about Ellenberger's famous early storm in which Ellenberger was cornered by Martin Kampmann when the two faced off earlier this year.
Hieron may be able to fight smart and avoid being dropped, but it's unlikely he holds an advantage on the feet.
Advantage: Jake Ellenberger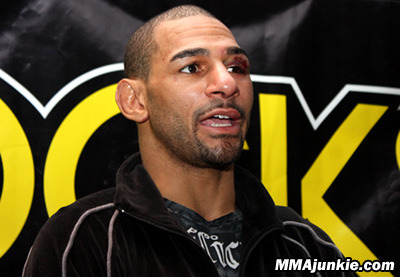 via mmajunkie.com
Both men have some good wrestling, but Ellenberger likes to use his more to set up vicious ground and pound, as mentioned in the striking slide.
Hieron will use his wrestling to win rounds as well as deliver some ground and pound of his own.
What it comes down to is who will use their wrestling better, and I look for Hieron to hold a slight advantage.
Advantage: Jay Hieron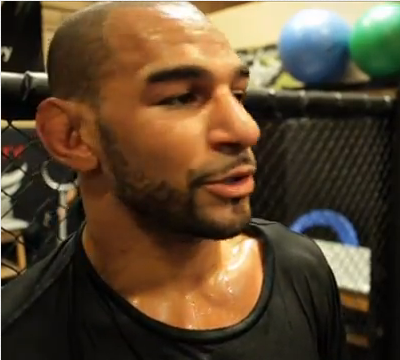 via heavy.com
Both men are very good grapplers, but neither are quick to get the fight to the ground. Ellenberger will grapple to move into better positions for ground and pound, which could lead to Ellenberger stopping Hieron.
I believe we're going to see Hieron mix it up a little and be more active in the grappling department. As mentioned earlier, he helped train and cornered Martin Kampmann when he defeated Ellenberger and will be working in the same camp as Kampmann to prepare for his matchup with "The Juggernaut."
If you saw Hieron's fight with Ben Askren, Hieron is very talented from his back, whether it be working submissions or just counters and sweeps to better his position. If the fight goes to the ground, look for Hieron to hold the advantage.
Advantage: Jay Hieron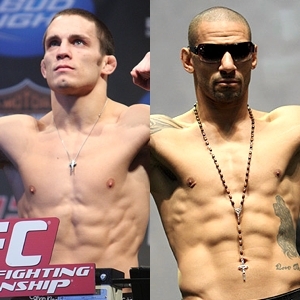 via mmaweekly.com
I usually will look at which man is better at either department and give him the overall edge, but with this matchup I'm going to split it.
When it comes to strength, both men are incredibly strong for welterweights and use their size to their advantage in fights. Ellenberger will rely heavily on his power to end this fight while Hieron will use his power more in wrestling and grappling exchanges. In the end, Ellenberger's power has potential to end this fight.
Strength Advantage: Jake Ellenberger
Ellenberger is a machine, but he has shown to be slow after his crazy first-round blitzes. Hieron is a year removed from his matchup with Bellator Welterweight Champion Ben Askren, but during the fight he showed his cardio by nearly stealing the fight with an excellent fifth and final round. Ellenberger could come into this fight with great cardio, or he could finish Hieron with one of those signature first-round blitzes, but for now, I believe Hieron will hold the cardio edge.
Conditioning Advantage: Jay Hieron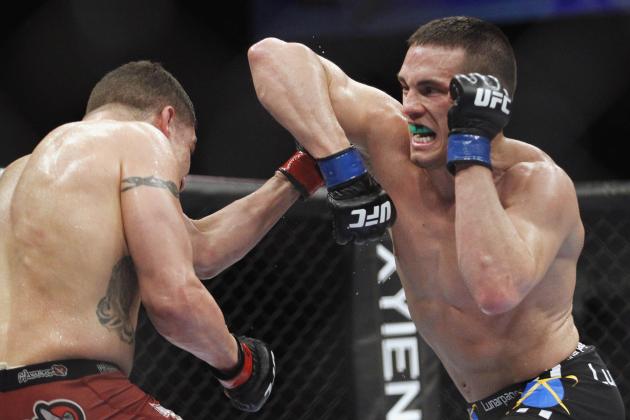 Matt Ryerson-US PRESSWIRE

Both guys are veterans of the fight game and they've fought a number of fights against a number of different types of opponents. You can also make the argument that Hieron holds the experience advantage due to him already holding a win over Ellenberger, but not to me.
Ellenberger is a different fighter now than he was in 2006, and he has finished fighters such as John Howard, Sean Pierson, Mike Pyle and Jake Shields. He's also defeated Diego Sanchez and lost a razor-close split decision to current Interim Welterweight Champion Carlos Condit.
Hieron hasn't been fighting slouches during his time away from the Octagon, but I'm not sure he's faced competition like Ellenberger.
Advantage: Jake Ellenberger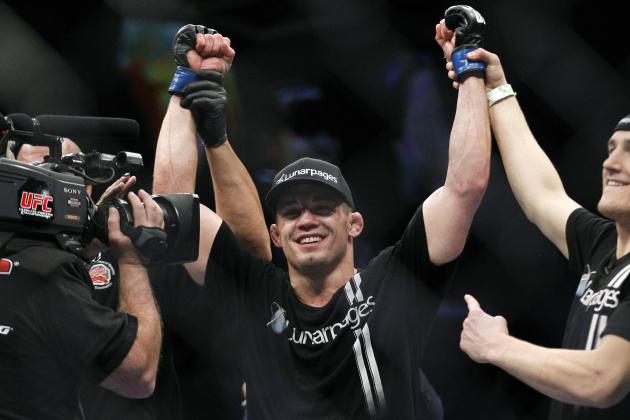 Matt Ryerson-US PRESSWIRE

Jay Hieron has been around a long time and knows how to scout an opponent, so I doubt Ellenberger will be able to finish him early.
I'm sure every fighter comes in to a fight with Ellenberger telling themselves to be wary of the early blitz, and yet every fighter seems to be caught off guard, but can you blame them? There is no doubt in my mind that in the first three minutes of a fight, there isn't a harder hitter at 170 than Jake Ellenberger.
Nonetheless, Ellenberger will use his improved striking and good wrestling to offset the majority of what Hieron offers and will walk out of Minnesota redeeming himself from his 2006 loss to Hieron as well as his last loss in the UFC.
Prediction: Jake Ellenberger defeats Jay Hieron by Unanimous Decision (30-27, 30-27, 30-27)