Ohio State Football: Grading All 22 Starters from the Michigan State Game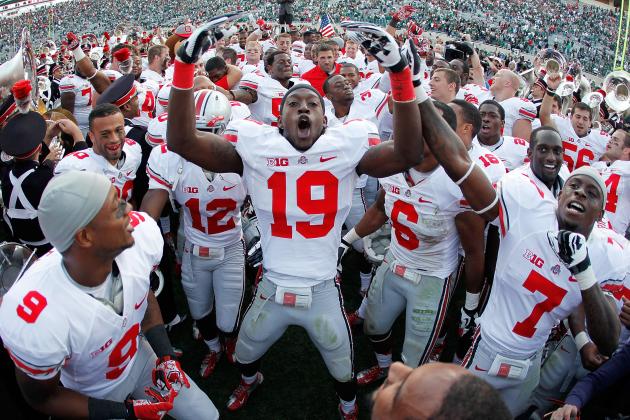 Gregory Shamus/Getty Images

Fueled by a Herculean effort from sophomore quarterback Braxton Miller and a strong performance from Ohio State's defense, the Buckeyes edged Michigan State 17-16 in East Lansing Saturday afternoon.
Ohio State made big plays in all three phases of the game—offense, defense and special teams—to hold off the talented Spartans.
Here are this week's grades for the Ohio State starters.
Begin Slideshow

»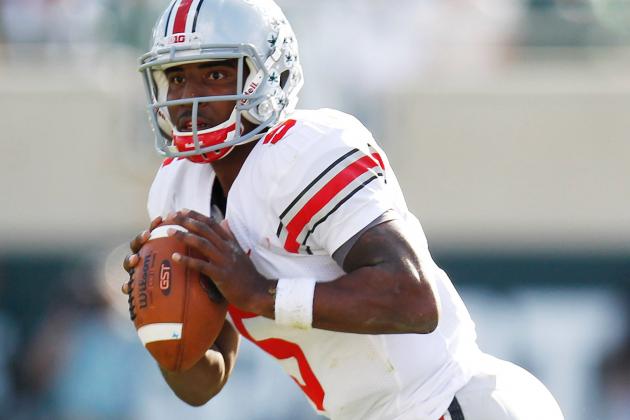 Gregory Shamus/Getty Images

Braxton Miller: A-
Miller was absolutely phenomenal Saturday, carving the nation's sixth ranked defense up with his arm and his legs.
The sophomore quarterback completed a hair under 70 percent of his passes for 179 yards with one touchdown and one interception while adding 136 yards on the ground. His 315 total yards accounted for 82 percent of Ohio State's offense on Saturday—an unbelievable number considering Michigan State sold out to limit his production.
The only knock against his performance—Miller coughed the ball up three times against the Spartans (one interception, two fumbles). If he doesn't turn the ball over, it would've been a flawless game from this Heisman contender.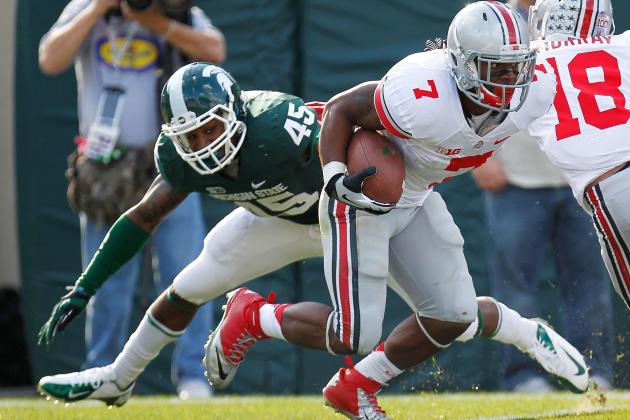 Gregory Shamus/Getty Images

Jordan Hall: Incomplete
Ohio State's injury woes in the backfield continued in Week 5 when Jordan Hall suffered a knee injury late in the second quarter.
To that point, Hall was playing pretty well. The senior running back had racked up 26 rushing yards and a touchdown with one catch for 10 yards, but he drew an incomplete grade because of the injury.
Zach Boren: B+
Boren didn't get a single carry in the game, but his impact was most certainly made paving the way for Ohio State with his incredible lead-blocking.
On the first play of the game, Boren pulled to the left side and allowed Braxton Miller to spring free for a 20-yard run. That trend continued all game, and without him, the Buckeyes wouldn't have come close to the 204 yards rushing they managed against one of the best defenses in the country.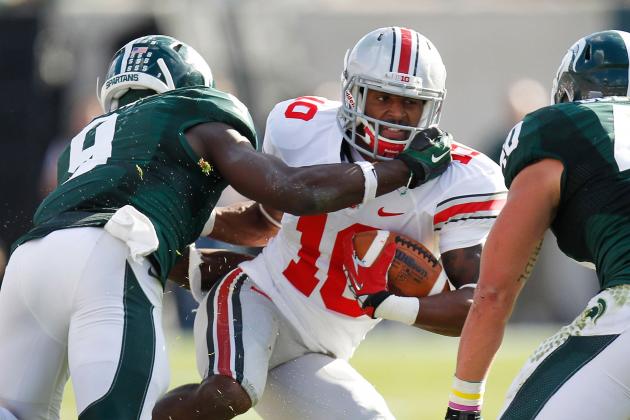 Gregory Shamus/Getty Images

Corey Brown: A
Brown was Ohio State's most consistent receiver, catching 12 of Ohio State's 16 completions for 84 yards.
Braxton Miller looked for Brown all day—especially on third down situations—and the junior receiver came through for his team. He hasn't been the home run threat that most people expected when he came to Ohio State, but through five games in 2012, he has 32 catches—more than double for his total receptions last year.
Devin Smith: A
On Ohio State's most critical drive of the game, Devin Smith once again came up huge for the Buckeyes.
Ohio State had just lost the lead it held for the entirety of the game when Keith Mumphery took a screen pass 29 yards for a touchdown. Trailing 13-10, Smith ran a streak route and beat his man—All-American cornerback Johnny Adams—for a 63-yard touchdown pass. The play gave Ohio State a lead it would never relinquish.
Jake Stoneburner: D
For the second consecutive week, Stoneburner failed to register a single catch all game.
Yes, part of that is on Braxton Miller, but most of the blame falls on his shoulders. This offense is tailored to get a player like him the ball, and a disappearing act like this is a huge letdown for the Buckeyes.
The only reason he didn't receive an F was because his blocking in the running game was actually pretty good. Without it, it would have been a completely wasted performance for the senior.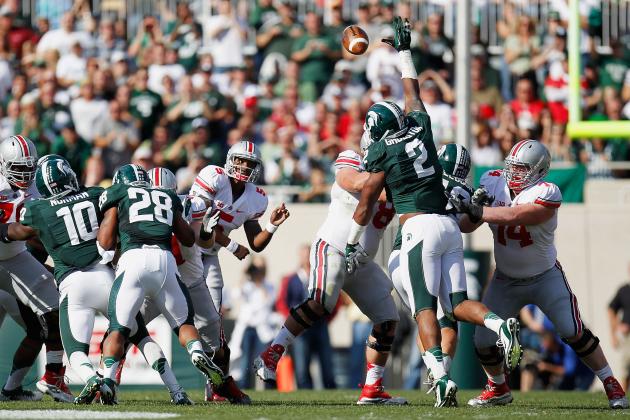 Gregory Shamus/Getty Images

Jack Mewhort: A
Mewhort played a phenomenal game against one of the Big Ten's best defensive linemen in William Gholson.
Ohio State has success running to the left side mainly because of Mewhort's fantastic performance. Lined up against Gholston most of the day, Mewhort held his own and kept Gholston from registering a sack, and the only reason he notched a tackle for loss was because of a misread by Braxton Miller.
Reid Fragel: A
Fragel is really starting to settle in at right tackle.
Against one of the most agressive run defenses in the country, the converted tight end held his own. The Buckeyes rushed for 204 yards against a team that had only given up an average of 69 yards per game coming into the week, and Fragel was a key part of Ohio State's success on the ground.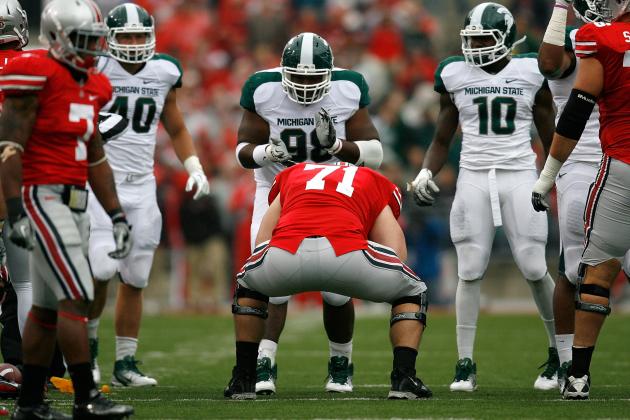 Kirk Irwin/Getty Images

Andrew Norwell, Corey Linsley, Marcus Hall: A
Ohio State's interior line registered A's across the board this week.
Norwell, Linsley and Hall were fantastic against the Spartans. Michigan State biltzed on almost every snap Saturday, and these three were a big reason why that strategy failed in the long run.
The Spartans used a similar strategy last year against the Buckeyes, limiting Braxton Miller and the offense to just 178 total yards. This year, Ohio State more than doubled that total against the Spartans, and Norwell, Linsley and Hall deserve much of the credit for rendering Michigan State's blitz package ineffective.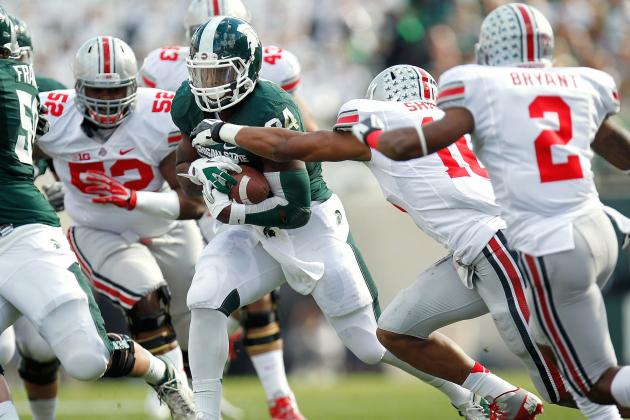 Gregory Shamus/Getty Images

Jonathan Hankins and Garret Goebel: A
These two played at an all-Big Ten level against Michigan State.
Hankins didn't register 10 tackles like he did against Cal and UAB—in fact, he only made three— but he and Goebel were unblockable for most of the afternoon.
Michigan State's star running back Le'Veon Bell only gained 45 yards rushing on 17 carries, mainly because these two took away Bell's ability to get any momentum going. Bell is a downhill runner, but Ohio State's defensive tackles prevented him from reaching that hill all day.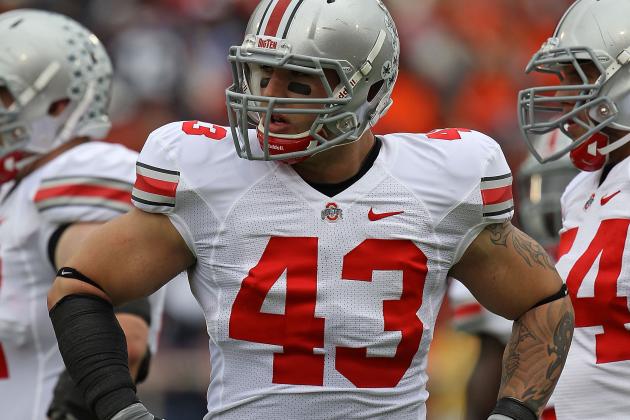 Jonathan Daniel/Getty Images

John Simon and Nathan Williams: A
If stuffing the middle was Hankins and Goebel's job, maintaining the edge was just as important—and these John Simon and Nathan Williams did a superb job doing so all day long.
Simon and Williams combined for nine tackles and each of them recorded a tackle for loss against the Spartans. Not only were they terrific in run support, they also pressured Spartans quarterback Andrew Maxwell consistently throughout the game.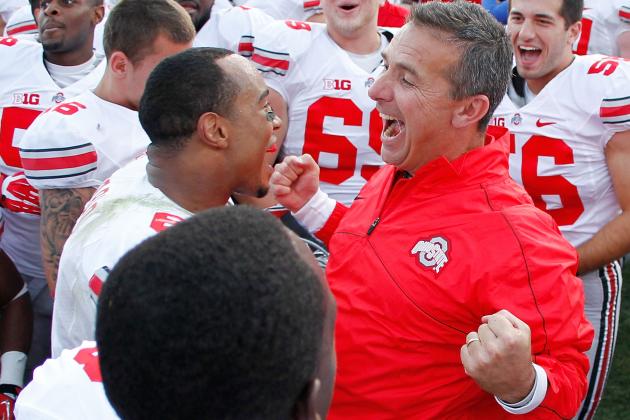 Gregory Shamus/Getty Images

Etienne Sabino: B+
Sabino had a solid game, racking up eight tackles against Michigan State.
The senior linebacker did a great job in run support and even pressured the quarterback well, notching one sack and two quarterback hurries. If not for his embarrassing tackle/strip attempt on this play, he would have earned an A.
Storm Klein: C-
Ohio State has had a lot of trouble getting production from the middle linebacker spot this year, and that was no different in Week 5 against Michigan State.
Klein registered just three tackles against the Spartans, an unacceptably low number for a guy playing in the middle of the field.
Ryan Shazier: A
Shazier continues to be Ohio State's best linebacker, and he matched Sabino's eight tackles against the Spartans on Saturday.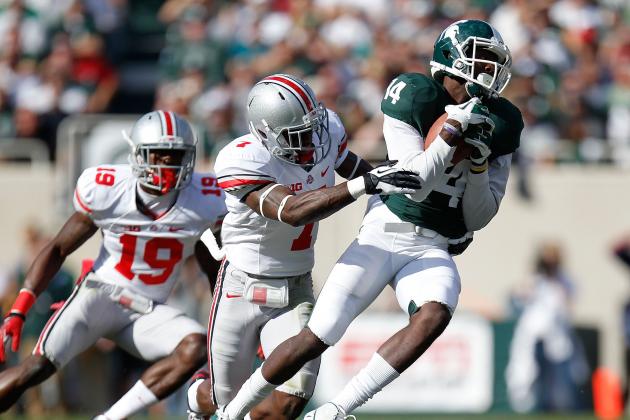 Gregory Shamus/Getty Images

Bradley Roby: A
Roby had a stellar game in the secondary, recording a team-high nine tackles with two pass-breakups.
The redshirt sophomore cornerback showed no signs of struggle coming back from a shoulder injury that kept him out of Ohio State's Week 4 game against UAB. Roby even came up with a huge play on special teams, breaking free in the second quarter to block a Michigan State punt attempt.
Travis Howard: B
Howard was also solid in the secondary and notched five tackles against the Spartans.
Michigan State quarterback Andrew Maxwell did manage to throw for 269 yards against Ohio State, but it took him 49 passes to get there. Travis Howard would've had an easy interception in the first quarter, but he lost the ball in the sun and it flew right past him.
Despite that, he still helped Ohio State limit Michigan State's offense.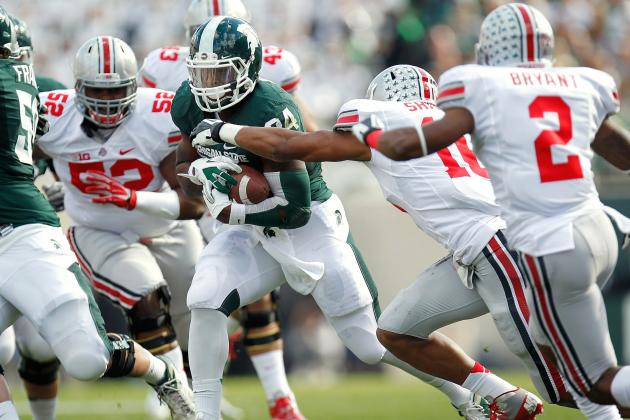 Gregory Shamus/Getty Images

Christian Bryant and Orhian Johnson: A
Ohio State's safeties were another reason Michigan State couldn't get anything going on the ground.
The coaching staff routinely put Bryant and Johnson in the box for run support, and because of that, Michigan State only rushed for 34 yards against Ohio State.
Bryant was all over the field and was fourth on the team with seven tackles. Johnson led the team with three pass-breakups and also had five tackles.