Chicago Bulls Training Camp Report: Latest News and Preseason Predictions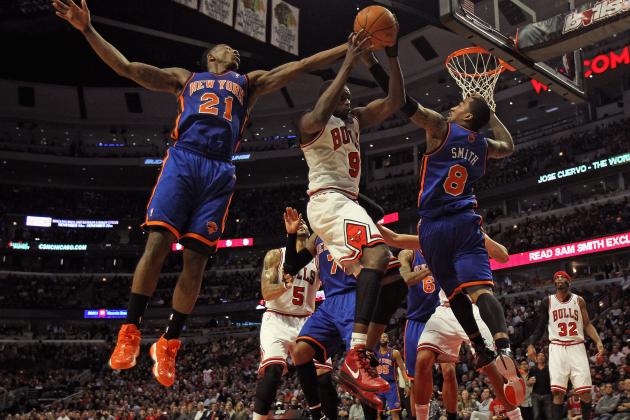 Jonathan Daniel/Getty Images

The 2012-2013 NBA season draws nigh! Training camps have opened across the league. The Chicago Bulls, sans Derrick Rose and with a new Bench Mob, will be facing an uncertain season.
Here we'll keep up with all the latest camp updates on the Chicago Bulls, including injury updates and personnel changes. We'll assess where the Bulls need to improve during the preseason and we'll project how they'll do during the regular season.
In short, here is your one-stop shop for all things related to the Chicago Bulls and their preseason.
Begin Slideshow

»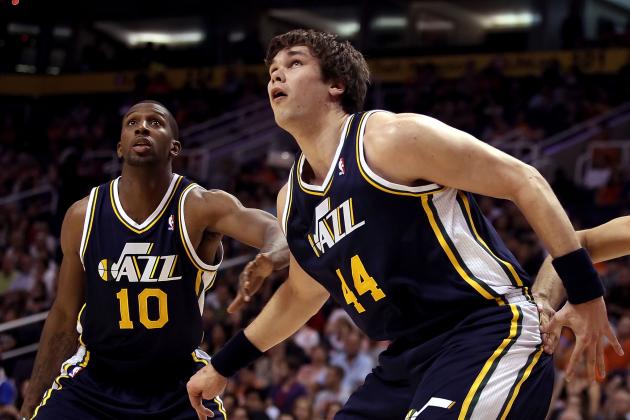 Christian Petersen/Getty Images

You know things are ready for training camp to start when inking Kyrylo Fesenko to a deal is the big news for the Bulls.
If you're wondering whether this is something worth getting excited about, don't. Fesenko isn't much of a rebounder on either side of the court, doesn't play defense very well, and isn't much of a scorer either. His career stats aren't even worth posting. Here's the link to basketball-reference if you insist on looking.
When a 25-year-old, genuinely athletic, seven-foot big is on the market the day before training camp on a non-guaranteed contract, there's a reason. He's bad.
There is a marginal upside here, Tom Thibodeau is outstanding with player development. If there's hope that anyone can turn Fesenko into the NBA player people once hoped he'd be, Thibodeau will bring it out of him.
Apparently he wasn't the Bulls' first choice either, according to Shams Charinia of Real GM:
Can assure you this: Fesenko was not #Bulls' top target to sign to a camp deal. All along, they badly wanted Malcolm Thomas on those terms.
— Shams Charania (@ShamsCharania) September 28, 2012
Thomas, who was one of two Bulls D-League All-Stars, (the other was Jimmy Butler) looks like he'll be heading to Israel to play for Tel Aviv instead, according to Sportando.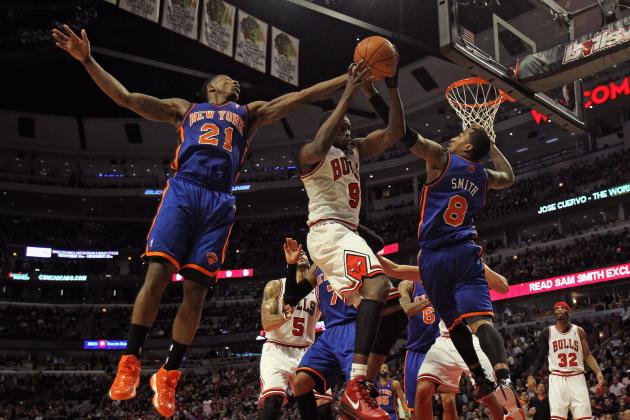 Jonathan Daniel/Getty Images

Update: Oct. 10, 2012 by Stephen Babb
We've heard that Derrick Rose is ahead of schedule, and we've heard that he's made significant progress in his recovery from knee surgery. Doing the math, it once seemed as though the former MVP would be back by March or April.
Don't be so sure.
According to Rotoworld, Rose told NBA TV's Steve Aschburner there's no guarantee he'll return at all this season. That's consistent with comments he made over a week ago (via ESPN Chicago staff):
"Everybody has their own opinions," Rose said in an interview Oct. 1 with ESPN's Rachel Nichols. "When the time comes I just have to be ready and prove to the people here that I am ready to play. Who knows when that time is? If it's all year I might wait the whole year, so what? If I come back at the All-Star (break), so what?
It's hard to tell whether Rose is telling it like it is or simply attempting to control expectations. The team may be surmising that it's better to leave the timetable an open question than over-promise. Rose and his teammates alike are probably eager to table discussion of his recovery and focus on the season ahead.
---End of Update---
Well, the good news is that the Bulls head into training camp with only one real injury concern. The bad news is that injury concern is Derrick Rose and his ACL.
First, let's look at the injuries that aren't a concern, as there was much ado about a couple of injuries and whether they might be issues at the start of the season—primarily Luol Deng's wrist and Joakim Noah's ankle.
Luol Deng
Deng tore a ligament in his left wrist last year, then finished the season with the injury rather than miss time. Many expected that he would get surgery during the offseason and the Bulls appear to have hoped he would.
However, Deng opted instead to play in the Olympics for Great Britain. He played well but shot horribly—if you can reconcile those two things.
Per K.C. Johnson of the Chicago Tribune, Deng averaged 15.8 points, 6.6 rebounds and 4.6 assists in five games, shooting 31.4 percent.
Sam Smith, writing for Bulls.com, addresses the wrist injury:
What wrist? All that talk about Deng and surgery seems to have dissipated. Deng went through the Olympics unscathed and then attended NBA camps and activities in Africa. He's been back at the Berto Center working out and seems motivated for the season as the leader minus Rose. The feeling now is Deng may not even have surgery, and if he eventually does it may be more to only ward off future discomfort. Deng has indicated to the Bulls if he has surgery he expects it will be the summer of 2013.
Note the portion, "the feeling now is Deng may not even have surgery..."
This is important, and is not at all unprecedented. Kobe Bryant had a similar injury last year, only this was on his shooting hand, and that also healed on its own.
Joakim Noah
Regarding Joakim Noah, there was some concern that he would miss part of the season or training camp due to the ankle injury which forced him to miss the Olympics.
However, he recently spent time working out with Hakeem developing his offensive game per Gary Washbrun, national NBA writer for the Boston Globe,
Kareem Abdul-Jabbar @kaj33 tells Globe he worked with #bulls C Joakim Noah this summer & expects him to have expanded post game this season

— gary washburn (@GwashNBAGlobe) September 19, 2012
This, combined with the lack of any news whatsoever since late June/early July, which would suggest that he wouldn't be ready, is reason to believe that he's fine. If he's well enough to work on his game with Kareem, he's well enough to work on his game in training camp.
Derrick Rose
Apart from that, there's the injury news on Derrick Rose, of which their isn't any. Sam Smith, in the previously linked article, speculates about Rose's return and the rumors therewith:
The general hope is Rose can return in February (halfway between that eight-to-12 months estimate), and then the issue will be for how long per game, how hard and wearing which sneaker model? No one knows that yet. I suspect the Bulls will answer their Rose questions Monday on Media Day and then not say much until he's ready to return. There will thus be much uninformed speculation the next four months.
That's probably the best assessment you're going to get. When the Bulls are ready to give more information, they will. Pretty much anyone who tells you something they know is probably just speculating, and their speculation is no better than yours, unless they are one of Rose's doctors or have talked to them.
That's why August's news from ESPN Chicago about Rose being "two to three weeks ahead of schedule" is encouraging." That's according to Rose himself.
Technically, he is not one of his doctors, but it's safe to assume he has talked to them and is in a position to know.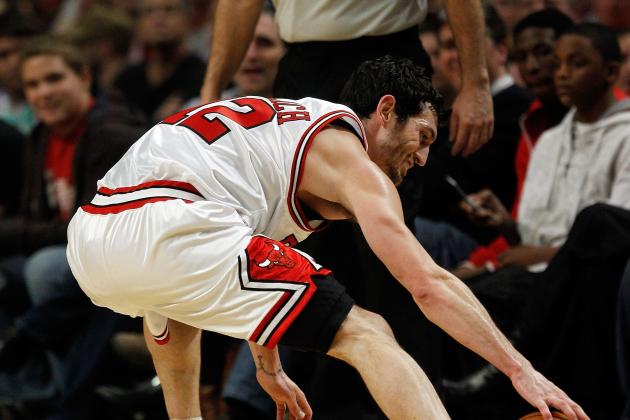 Jonathan Daniel/Getty Images

Point Guard
(1) Kirk Hinrich, (2) Nate Robinson, (3) Marquis Teague
With Derrick Rose injured, there really is only one place in the starting lineup that's up for grabs, and that is only barely up for grabs as Kirk Hinrich, the player whom Rose replaced four years ago as the starting point guard, has been inked to fill that role.
After that it gets completely dicey. Will Marquis Teague ever set his sneakers on court? Or will Nate Robinson spark the Bulls off the bench with the type of play he had last year with the Golden State Warriors?
Tom Thibodeau has shown a reluctance to give rookies much playing time in the past, so Teague might not get much of a chance. On the other hand, Teague has a guaranteed contract, which Robinson does not.
Shooting Guard
(1) Richard Hamilton (2) Marco Belinelli (3) Jimmy Butler
Richard Hamilton will resume as the starting shooting guard, supposing that he stays healthy in consecutive games on occasion this year.
Marco Belinelli is probably the only new player who is assured a regular part of the rotation, but even that has some question marks attached to it. His allergy to defense could have Thibodeau exasperated before the preseason is over.
Small Forward
(1) Luol Deng, (2) Jimmy Butler
Luol Deng will once again be the starting small forward. Carlos Boozer will be the starting power forward (in spite of many a fan's protest that it should be Taj Gibson). Joakim Noah will be the starting center.
Jimmy Butler played few minutes last year, but is expected to get more this year and rightly so. Butler showed a high defensive acumen last season, and his propensity to get the charity stripe this summer league raised serious eyebrows as he got the line 39 times in four games, making 35 his his attempts.
Power Forward
(1) Carlos Boozer, (2) Taj Gibson, (3) Vladimir Radmanovic
The majority of the minutes here are going to go Bozoer and Gibson as it's already been said that Gibson will average more time.
Radmanovic will spell them when they need a stretch forward, but it's hard to see how much of a role he'll play. It may be he's just there as a holding place for Nikola Mirotic until he comes over, i.e a chance for Tom Thobideau to "play" with a stretch-forward and work out some looks for the promising young Euro.
Center
(1) Joakim Noah, (2) Nazr Mohammed, (3) Kyrylo Fesenko
The easy call here is that Noah will be the starting center. He's one of the better defensive centers in the league and if his work with Kareem Abdul Jabbar pays off, he could sport more of an offensive game as well.
Perhaps the biggest question is who will be taking up the minutes that Omer Asik played last year? With Nazr Moahammed being past his "prime" (which wasn't much of a prime) and Kyrylo Fesenko possibly not ever having one, this will be tough.
It may end up that there will be more of a three-big-man rotation this year with Boozer, Noah and Gibson getting the bulk of the minutes. When Gibson is in, expect Boozer to rotate to center.
Other than that there will probably be some minutes for Mohammed and Fesenko, as well as new stretch forward Vladimir Radmanovic, with each player coming in based on what the current need would be.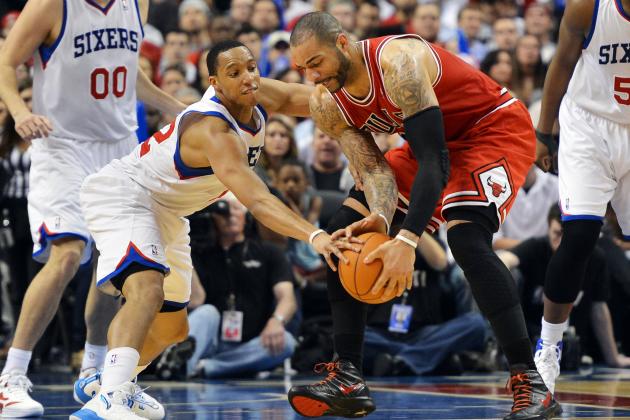 Drew Hallowell/Getty Images

The player for the Bulls who is under the most pressure to perform is Carlos Boozer, and there's no one else in the discussion.
Boozer has been a proverbial lump of coal since coming to Chicago, and he's under enough pressure that the only way for him to win over the fans is to have that pressure turn him into a diamond.
Boozer has actually played, per minute, not far off from when he was in Utah. According to basketball-reference.com he's been averaging 19.0 points and 10.6 rebounds per 36 minutes in Chicago. That's compared to the 19.0 and 11.2 he posted per 36 minutes in Utah.
The main issue is that he's been playing too fewer minutes, and that lowers his numbers. But the reason he has played fewer minutes is that he is so bad on defense that it counters the actual production that he has on offense.
The other issue is that he has traditionally disappeared when he is most needed, such as in the postseason or against the top-caliber teams. He's great when he doesn't need to be, and only when he doesn't need to be, which only bothers fans even more.
Boozer needs to step up this year and return to the All-Star form that brought him to Chicago to have. If he can rise to the challenge there will be cries of "Booz!" instead of boos, as Sam Smith said.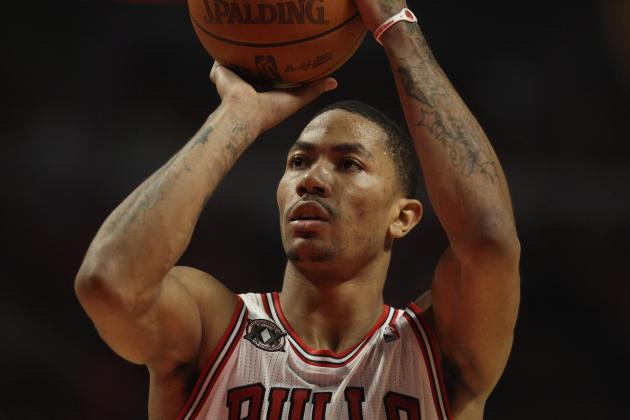 Jonathan Daniel/Getty Images

Last year the Bulls were, in a word, horrid when it came to getting to the free-throw line, and when they did, they didn't make the shot.
They shot a total of 1,394 free throw attempts in 2012, which was 23rd in the NBA. They also had the 27th-best (or fourth-worst if you prefer) shooting percentage from the line, hitting only 71.4 percent of their overall attempts.
As a result, only three teams actually made fewer free-throws than Chicago.
Sadly, this gets worse. Of those 1,394 attempts, 239 belonged to Rose, who also was one of their highest-percentage free-throw shooters at 81.2 percent.
Sans Rose's numbers, they have the fewest makes, the fewest attempts and the third-worst percentage in the NBA.
The Bulls, with their best shot creator, both in terms of creating shots for himself and his teammates, sidelined for half the season, will need to maximize their opportunities by getting to the line and making their shots when they get there.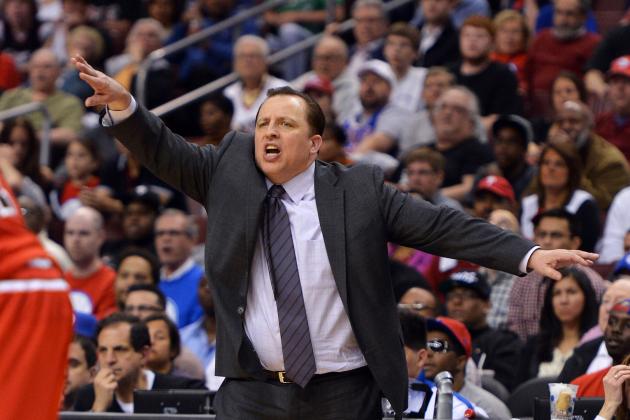 Drew Hallowell/Getty Images

So, how are the Bulls going to look this year?
Certainly, it would be entirely unrealistic to expect them to win the most games in the regular season for the third consecutive year.
That doesn't mean they are out of the playoff hunt, though. There still exist many of the reasons they have been an elite team in the NBA over the last two years.
Yes, they had a great deal of success last year without Derrick Rose, but that was because of the crew we came to know as the "Bench Mob", right?
Partly, but be careful not to overstate things here. Two years ago, the group that the present mob is replacing weren't considered to be the deepest group in the league, either. In fact, most of the projections for the Bulls going into the 2010-2011 season weren't all that different than entering the 2012-2013 season.
Assuredly, there will be struggles. The Bulls will have a big problem getting to the free-throw line and they will have trouble with players generating their own shots.
They do have some players who are shooters though, including Carlos Boozer, whose field goal percentage was 10th-best in the NBA last year. If Boozer steps up and stays consistent, he could have a big year. That's a huge if, though.
Whatever else their failings are going to be, there are three things the Bulls will do well this year: play hard, play defense and rebound.
Tom Thibodeau is a brilliant player developer, and that's what made the former group special. He can work with this group, too. A big part of what he does is bring the most out of players by motivating them to perform at their best level. He might scream a lot, but he screams with love; his players know that and are genuinely fond of him.
Thibodeau also has a penchant for teaching defense that few in the history of the game have ever had. His teams have finished in the top six in Defensive Rating for nine of the last 10 years. They'll do so again this year.
Finally, a big part of the reason why the Bulls were successful the last couple of seasons had a lot more to do with Joakim Noah and Carlos Boozer (egads!) than Derrick Rose, because they are a sensational rebounding team.
They had an offensive rebounding percentage of 32.6 percent. Their opponents had an offensive rebounding percentage of about 25.7 percent. Essentially, that means that the Bulls were able to get about 6.9 percent more possessions per game than their opponents, which in turn means about 6.9 percent more chances to score.
Leading the league in offensive rebound percentage was a key reason (other than Rose) that they finished in the top five in offensive rating.
That was not an issue that changed with Rose on or off the court, and it wasn't something that even Asik leaving should greatly impact (while Asik was the leading rebounder per minute, he only averaged 5.3 per game).
Noah was fourth in offensive rebound percentage and Boozer was 10th in defensive rebound percentage. When you put that together, you have a great rebounding team.
They will struggle on offense at times this year, especially without Rose, but their intensity, their defense and their rebounding will keep them in games.
Because of this, and the eventual return of Derrick Rose, expect the Bulls to still hit 50 wins this season, albeit barely. The Bulls will make the playoffs, and if Rose is able to get to 80 percent before the season ends, they'll be a threat once they get there.
Predictions:
Record: 50-32
Defensive Rating: 3rd
Offensive Rating: 18th
Total Rebound Percentage: 1st
Effective Field Goal Percentage: 17th
Scoring Leader Until Rose Returns: Carlos Boozer, 18.6 points per game.
Assist Leader Until Rose Returns: Kirk Hinrich, 6.2 assists per game.
Rebound Leader: Joakim Noah, 11.2 rebounds per game.
MVP Until Rose Returns: Luol Deng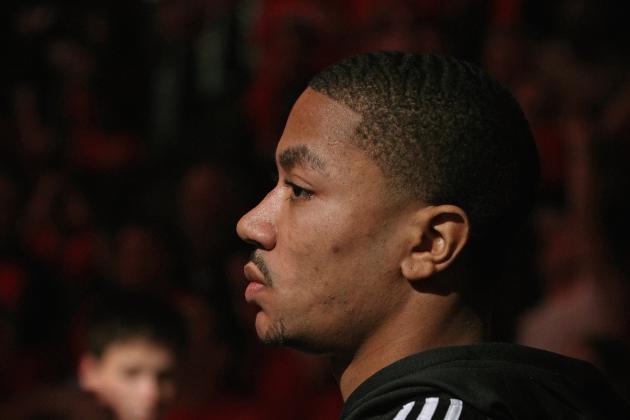 Jonathan Daniel/Getty Images

The biggest storyline for the Bulls this season is not a mystery. It's Derrick Rose, when he'll return, how he'll return, and how he'll be if an when he does return.
For every one of these questions, there are at least one million equally uniformed opinions, including those by the writer of this article.
What comes to mind on all of this was an incident a couple of years ago when Joakim Noah was supposed to be playing on limited minutes, because he was recovering from plantar fasciitis in his left foot.
Vinny Del Negro played him for 27 minutes, and allegedly, John Paxson nearly came to blows with Del Negro over the incident, according to the report by ESPN.com.
So what does this have to do with Derrick Rose? Only everything.
If the Bulls are going to be that sensitive over the future of Joakim Noah, how much more sensitive do you think they're going to be with Rose, who has actually won the MVP?
The bottom line is this: the Bulls are going to set Rose loose again once they, Rose and his physicians are all in agreement that he is fully recovered and there is no risk of him re-injuring the knee.
He will come back then, and he should come back then. Arbitrarily deciding that he sits out for the year makes no sense at all. If he's fully healed, he's fully healed. Waiting another four months won't make him more fully healed.
But then, my opinion is one of those equally uninformed ones.
Regardless, this will be the story that dominates the Bulls' season. First, it will be how is Rose doing, then it will evolve into when will he return, which will eventually morph into a date, which will finally come and glory will descend on the United Center (the one thing you can believe is he will return at a home game).
After he returns it will be about how is he doing. If he doesn't do well, people will say he returned too soon and if he does well, they will wonder why he didn't return sooner.
In all, this story will get ridiculous play, both locally and nationally. It will be the "Dwight Howard" story of this season.