Fantasy Football Live Blog for NFL Week 4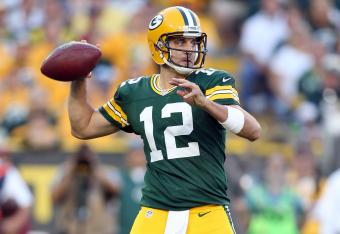 Andy Lyons/Getty Images
Week 4 of the fantasy football season continues Sunday, and we'll be here to keep you up to date with everything you need to know regarding injuries, sits/starts, big plays and more as the day progresses.
Check back throughout Sunday for everything you need to know regarding fantasy football for Week 4. We'll have updates until the conclusion of Sunday Night Football.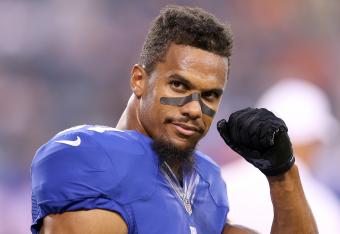 6 catches for 114 yards for Domenik Hixon.
The waiver wire would have beat me this week.
I hate fantasy football.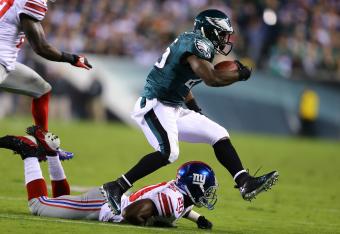 LeSean McCoy had six carries for 2 yards in the first half.
He has 12 for 89 in the second.
Go figure.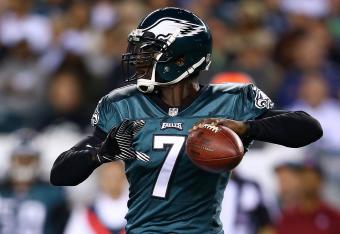 The Sunday night game has been a fantasy snoozer to this point, with the lone real highlight to this point being Philadelphia Eagles quarterback Michael Vick (11 of 19, 132 yards) finding wide receiver DeSean Jackson (3 catches, 62 yards) for the game's only touchdown.
Eagles lead the New York Giants 7-3 at the break.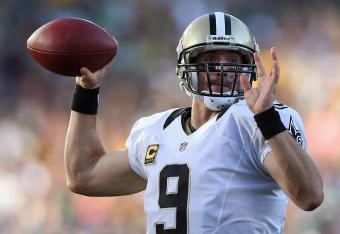 Game balls for this afternoon's late games:
Passing: Drew Brees, New Orleans Saints: 35 of 54, 446 passing yards, three touchdowns
Rushing: Alfred Morris, Washington Redskins: 21 carries, 113 yards, touchdown
Receiving: 12 catches, 251 yards, touchdown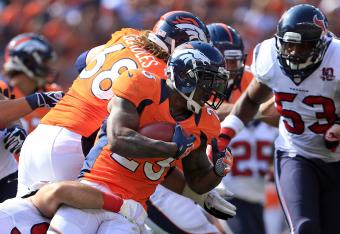 Very solid performance from Denver Broncos running back Willis McGahee, who notched 135 total yards and a touchdown in the win over the Oakland Raiders.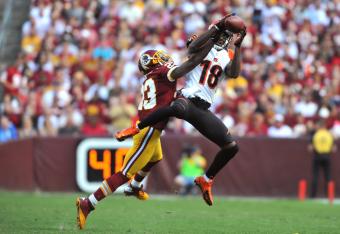 A.J. Green putting on another show in Jacksonville.
Six catches for 117 yards and a score for the second-year Bengals wideout.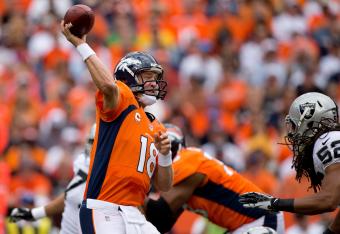 Denver opening a can on Oakland as Peyton Manning throws his third touchdown pass of the afternoon and closes in on 300 passing yards.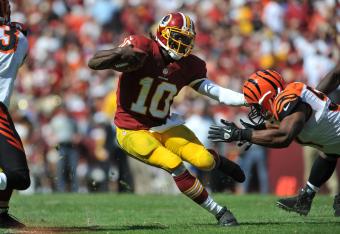 Robert Griffin III with an efficient, if not spectacular first half in staking the Washington Redskins to a 21-6 lead over the Buccaneers at halftime, throwing for 145 yards and scoring a TD on the ground.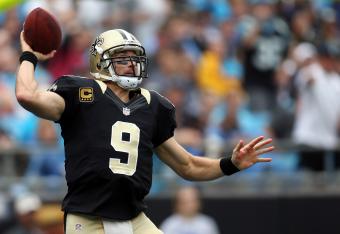 Offensive fireworks galore at Lambeau Field, where the Green Bay Packers lead the New Orleans Saints 21-14 at halftime.
The tale of the tape between the dueling signal-callers.
Aaron Rodgers: 17 of 22, 165 yards, three touchdowns
Drew Brees: 20 of 24, 195 yards, two touchdowns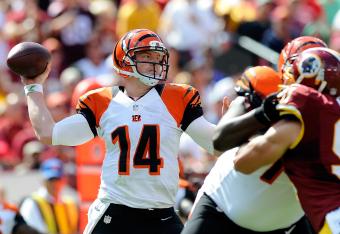 Very quiet first half fantasy wise in Jacksonville, where the Bengals lead the Jaguars 17-7, although Cincinnati quarterback Andy Dalton did throw a touchdown pass...
To fullback Chris Pressley.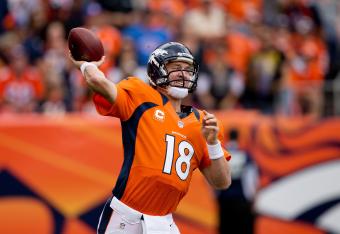 Offensive leaders from Sunday's tilt between the Raiders and Broncos in Denver, where the home team leads 10-6 at the half.
Passing: Peyton Manning, Denver: 17 of 22, 196 yards, touchdown
Rushing: Willis McGahee, Denver: 8 carries, 40 yards
Receiving: Demaryius Thomas, Denver: 2 catches, 63 yards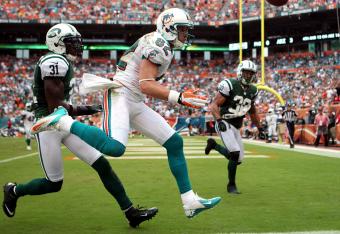 Not a lot of note to fantasy football enthusiasts in the game between the Miami Dolphins and Arizona Cardinals at halftime, where the Dolphins lead 13-0.
I bet if I told you before the game a wide receiver would have 110 yards on six catches at halftime you'd have guessed Larry Fitzgerald of the Cards.
Nope. Brian Hartline of the Dolphins.
My head hurts.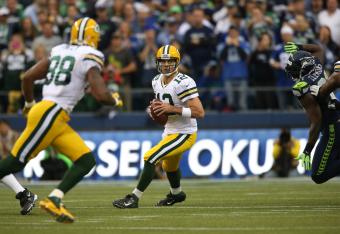 In just over a quarter Drew Brees and Aaron Rodgers have combined for all of five incomplete passes, 235 passing yards and three touchdowns.
Shootout, anyone?
Some early leaders from the early afternoon games:
Chris Johnson, Titans: 141 yards rushing, 16 yards receiving
Arian Foster, Texans: 86 yards, touchdown
Marshawn Lynch, Seahawks: 118 yards, touchdown
Minnesota defense/special teams: 13 points allowed, two touchdown returns
Cam Newton, Panthers: 215 yards passing, two touchdowns; 85 yards rushing, one touchdown
Greg Olsen, Panthers: 89 yards receiving, touchdown
Tom Brady, Patriots: 332 yards passing, three touchdowns
Stevan Ridley, Patriots: 107 yards rushing, two touchdowns
Brandon Bolden, Patriots: 137 yards rushing, one touchdown
Rob Gronkowski, Patriots: 104 yards receiving, one touchdown
Wes Welker, Patriots: 129 yards receiving
Jackie Battle, Chargers: 61 total yards, two touchdowns
Dwayne Bowe, Chiefs: 107 yards receiving, touchdown
Jamaal Charles, Chiefs: 107 total yards, two touchdowns
49ers defense/special teams: 0 points allowed, defensive touchdown
The New England Patriots have been a fantasy dream today, with two rushers (Brandon Bolden and Stevan Ridley) and two receivers (Rob Gronkowski and Wes Welker) over 100 yards. Tom Brady has 290 yards and two scores. All is well in New England Sunday.
Receiver Dwayne Bowe, who was questionable for the Chiefs' matchup with the San Diego Chargers, has had a nice day. A 29-yard touchdown catch in the fourth quarter has puit Bowe over the 100-yard mark.
Jamaal Charles has 107 total yards (84 rushing) and two touchdowns. The Chargers lead, 34-20.
We already mentioned Greg Zuerlin's 58-yard field goal earlier today on this blog, nothing that it was the second longest kick made in the NFL this season. Zuerlin has out-did himself in the third quarter, booting a 60-yard field goal to put the Rams up 16-7. Big fantasy day for the rookie kicker.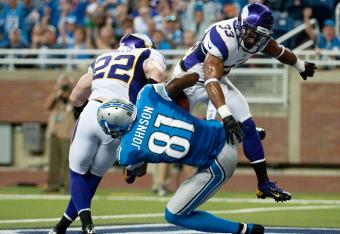 Not only is the Vikings defense holding the Lions to just six points, but Minnesota now has two special teams touchdowns after Marcus Sherels just returned a punt 77 yards for a touchdown. The Vikings lead 20-6, so anticipate the Lions being even more one-dimensional on offense the rest of the way. Detroit currently has just 15 yards rushing, with Mikel Leshoure receiving nine carries for six yards.
Top performers at half time of the early afternoon games:
Roddy White, Falcons: Six catches, 97 yards, two touchdowns
Stevan Ridley, Patriots: 11 rushes, 63 yards, one touchdown
Marshawn Lynch, Seahawks: 10 rushes, 61 yards, one touchdown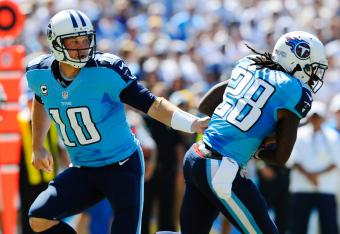 Titans running back Chris Johnson currently has 54 yards on nine carries today in Houston. Considering his struggles in the first three weeks, anything over 25 yards is blessing. Maybe he's ready to shake off the early rust.
Interesting start to the Chargers running back situation in Week 4, as Jackie Battle has carried six times to Ryan Mathews' one. Battle also got the goal line carry that produced a one-yard touchdown.
Tennessee Titans quarterback Jake Locker isn't a starter in most leagues, but owners who did start him today against the Houston Texans won't be happy. Locker left Sunday's game with a shoulder injury and is questionable to return. Matt Hasselbeck is in the game as Locker's replacement.
Today in kicker news: St. Louis Rams rookie kicker Greg Zuerlin connected on a 58-yard field goal, the second longest made kick in the NFL this season. Zuerlin has been a fantasy stud at kicker, if there's such a thing.
Early touchdowns for Marshawn Lynch, Cam Newton (pass to Greg Olsen), Eddie Royal, Stevan Ridley and James Casey.
Several key players are active for the early afternoon games. Here's the list:
Dwayne Bowe, Chiefs
Rob Gronkowski, Patriots
Jared Cook, Titans
Mikel Leshoure, Lions
Matthew Stafford, Lions
C.J. Spiller, Bills
Fred Jackson, Bills
Kyle Rudolph, Vikings
Jon Beason, Panthers
Steven Jackson, Rams
This article is
What is the duplicate article?
Why is this article offensive?
Where is this article plagiarized from?
Why is this article poorly edited?