Buccaneers vs. Redskins: Final Report Card, Live Grades, Analysis for Washington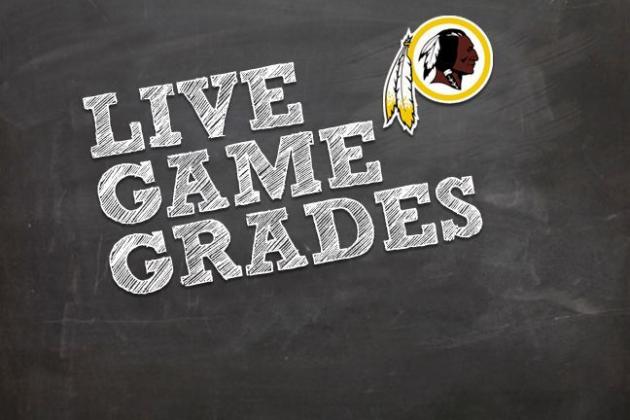 With the way drama seems to tail the Redskins, it's no wonder today's game ended the way it did.
The Redskins nailed a kick with three seconds remaining to defeat the Buccaneers 24-22 on a humid evening in Tampa Bay.
After leading the Bucs 21-6, the Redskins defense allowed a second-half comeback and relied on Robert Griffin III to pull it out in the end.
Luckily for Redskins Nation -- but not necessarily shocking -- the rookie delivered.
Begin Slideshow

»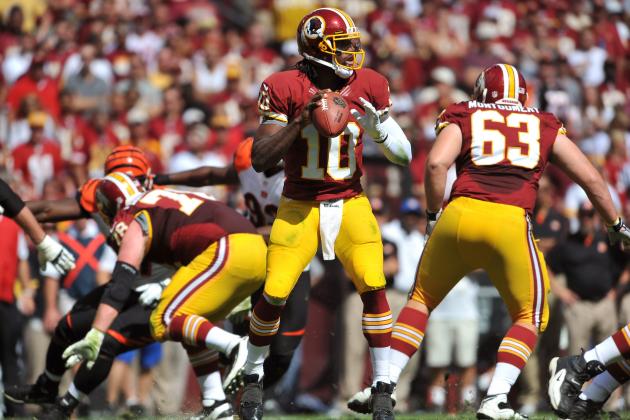 Larry French/Getty Images

Finishing the game with 323 yards on 26-of-35 passing, along with 43 rushing yards and score, rookie Robert Griffin III continues his run as one of the best quarterbacks in the NFL today.
Griffin demonstrated veteran pocket presence all game and his accuracy was arguably the best we've seen all year.
And beyond his actual skill and natural talent, Griffin showed incredible leadership with his team trailing and less than two minutes to go in the game. He showed emotion on the sidelines, got his team fired up, followed with precision passing and a huge scramble, and put his team in position to win the game.
Storybook feel.
On a night where Griffin fully represented his motto "No Pressure, No Diamonds", it's hard not to give him his best grade of the season through four weeks.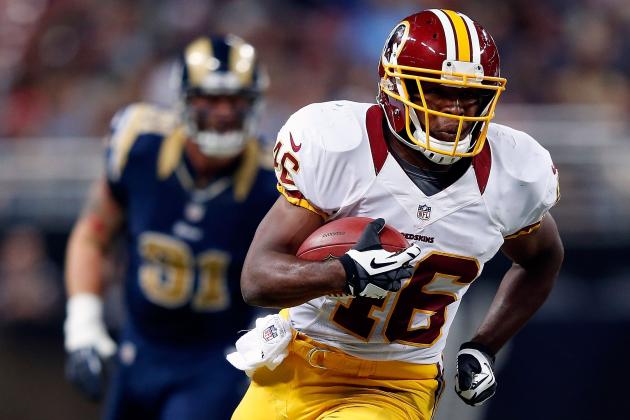 Jamie Squire/Getty Images

Alfred Morris -- A
With his first career 100-yard game, rookie Alfred Morris looked nothing shy of special today against the Bucs.
He finished the game with 113 yards on 21 carries and a touchdown.
Morris found every hole today -- or so it seemed -- and he had great burst. He gets behind his pads and the quiet guy from Florida Atlantic runs with authority on every play.
As he'll say about himself, Morris is never tackled by the first guy.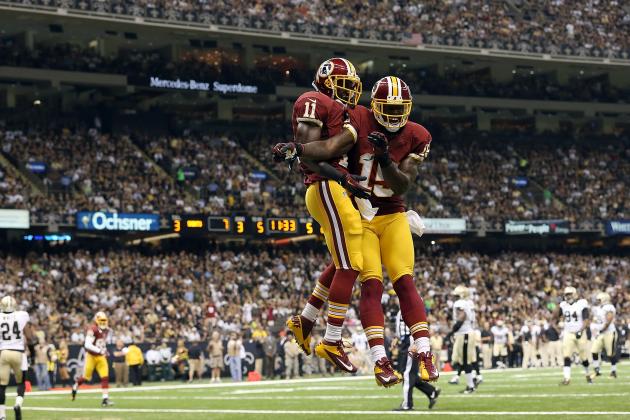 Ronald Martinez/Getty Images

Josh Morgan -- A
Finishing the game with four catches for 62 yards, Josh Morgan created space and looked smooth in his routes.
I still believe he's much more effective with a healthy Pierre Garcon, but that's based on matchups for the defense. Morgan is a sizable target and defenses know he's a sure pass-catcher.
Around the line of scrimmage, Morgan is dangerous.
Leonard Hankerson -- A
Leading the team with seven catches for 57 yards, Leonard Hankerson appeared to play his most confident game of the season today.
Like Morgan, Hankerson presents great size for Griffin and he has a wide catching range that makes it hard for defensive backs to cover.
Anticipate Hankerson getting better and better as the season goes on.
Santana Moss -- B-
Still the Redskins most reliable receiver, Santana Moss hauled in three catches for a quiet 33 yards today -- including a key pass on the Redskins game-winning drive.
Although not nearly the presence I thought he would be during the preseason, Moss is still a valuable asset on this team based solely off reliability.
Pierre Garcon -- C
I'll continue to criticize Pierre Garcon until he's on the field full-time and brings back the style of play we saw in Week 1.
In today's game, Garcon finished with one catch for 20 yards. He would later negate that play when he pulled a slimeball play and cleaned Bucs corner Aqib Talib off his feet with neither of them a part of the current play.
For a guy that is being questioned about his toughness, cheapshots aren't exactly helping his situation.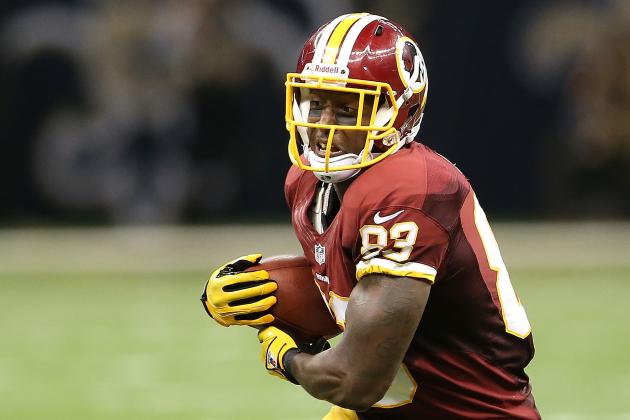 Ronald Martinez/Getty Images

Fred Davis -- A
Although quiet, Fred Davis led the team with 70 yards on four catches today and Griffin appears to be warming up to the tight end.
After being the team's only playmaker last year, many anticipated a large role for Davis this season. But with added speed and additional playmakers, Davis is simply a good tight end. Not necessarily a superstar.
And that's a good thing.
Davis is a beast with the ball in his hands and he's one of the better receiving tight ends in the league. But the pressure of being the only guy on offense capable of making a play doesn't make anyone feel warm and fuzzy inside.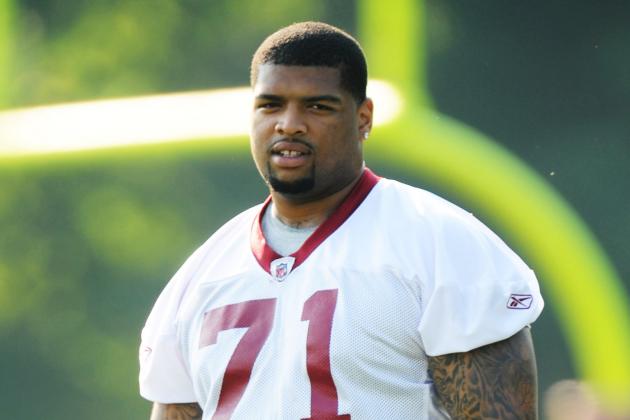 Mitchell Layton/Getty Images

Trent Williams -- A
After leaving last week's game with a leg injury, Trent Williams was a game-time decision today.
Luckily for Redskins fans, he played.
Williams was easily the team's best offensive lineman today and he was the reason for many of Alfred Morris' successful runs to his side.
In addition, Williams' speed and athleticism goes hand-in-hand with that of Robert Griffin III.
Kory Lichetensteiger -- C+
As much as I like Kory Lichetensteiger, he had two bonehead false start calls today that were downright frustrating.
The good news, though, is that they were uncharacteristic of 'Steiger.
Will Montgomery -- B-
Will Montgomery continues to string together a decent set of games this season. He appears to have great communication with his quarterback and he's performing well as a run-blocker.
Chris Chester -- B
The interior of the line looked good in the ground game today and Chris Chester helped to create holes for Alfred Morris.
Once Tyler Polumbus gets it together (fingers crossed), Chester's play will improve.
Tyler Polumbus -- C-
Although I won't say that Tyler Polumbus had a good game today, I will admit that it was better than his last two.
After looking more like a sack of potatoes the past two weeks, at least Polumbus could hold a block in front of his body today. Sure, he was pushed back and continues to struggle with leverage. But he was a tackle and Griffin wasn't beheaded.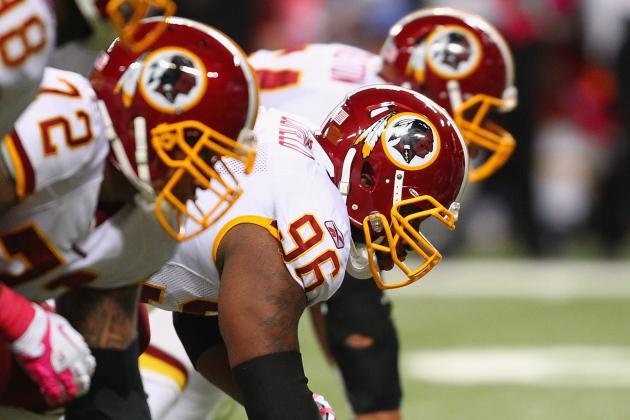 Dilip Vishwanat/Getty Images

Stephen Bowen -- B
Never with a bad word to say about Stephen Bowen, I did think he looked a bit gassed at times today.
With no word of injuries, you hope Bowen just had sort of a down game.
And that's not to say he was ineffective. But when Bowen isn't his usual self of being incredible in a 3-4 scheme, you notice immediately.
Barry Cofield -- A
Perfect player for the nose -- Barry Cofield controlled gaps today and even had a pass deflection.
He's the fuel behind the Redskins defensive line.
Jarvis Jenkins -- B
With each game, Jarvis Jenkins learns more and more.
He's a strong kid with a good football IQ and he does a great job of recognizing plays. But using that explosiveness and shrinking the pocket isn't consistent yet.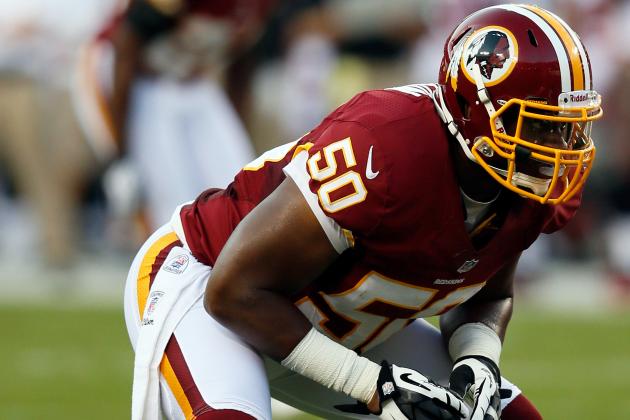 Rob Carr/Getty Images

Ryan Kerrigan -- A
As the Redskins best defensive player, Ryan Kerrigan rarely disappoints.
Finishing the game with two tackles, one sack and a pass deflection, Kerrigan continues his tear as an agitator on the right side and he disrupts the passer on nearly every down.
Perry Riley -- C+
Somewhat unlike the typical Perry Riley, we didn't see the linebacker around the ball today as much as we normally do.
It looked as if Riley was taking good angles and playing well in coverage, but game tape should tell more on Tuesday.
London Fletcher -- B
Although not the tackling machine we're used to, London Fletcher made his presence felt.
The veteran linebacker drops well into coverage despite his size creating huge mismatches for the offense. And during a dropback, the quarterback simply sees a man there and continues through his progressions.
Even when Fletcher doesn't make the play, he's helping.
Rob Jackson -- B-
Not quite as effective as last week, Rob Jackson is still finding his feet in this defense.
There were a few plays when you would find Jackson placing himself outside of the play or using a stagnant rush-move, but he's a quality player with a lot on his shoulders.
As a pass-rusher, the Redskins are lucky to have someone like Jackson backing up an absent Brian Orakpo.
Chris Wilson -- B
Finishing the game with three tackles, I thought Chris Wilson looked very active in his time on the field today.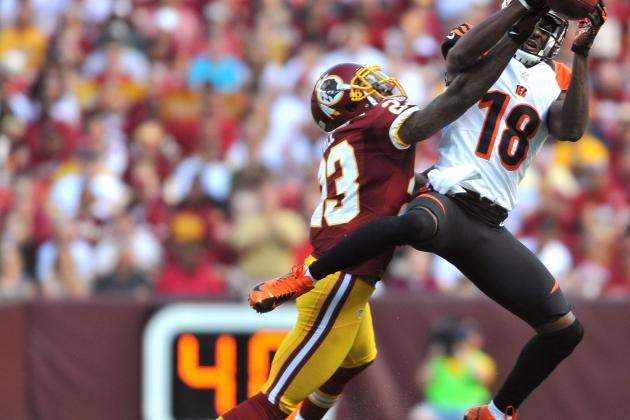 Larry French/Getty Images

DeAngelo Hall -- B-
Despite a key interception that resulted in seven points for the Redskins, DeAngelo Hall still comes off as more of a loud-mouth than his play is willing to back up.
Hall did get beat a couple times in man-coverage and he'll likely receive a lot of flack about that tomorrow morning. But, overall, Hall had a solid game and contributed with five tackles.
Josh Wilson -- B-
Almost with an interception of his own, Josh Wilson played well today with two pass deflections and five tackles.
The Redskins defensive play-calling today appeared to include a much tighter man-coverage than in weeks past, naturally allowing Tampa receivers to create space from time-to-time.
Richard Crawford -- D
Although seeing the rookie in on a few tackles today, Richard Crawford still needs to improve his coverage skills.
Last week, Crawford played the wrong shoulder of Andrew Hawkins. This week, Crawford was caught flat-footed off the line.
Madieu Williams -- B
Today was arguably Madieu Williams' best game of the year.
While I wasn't able to accurately gauge his coverage skills, I did notice that Williams led the Redskins with seven tackles and he seemed to play with some brains today.
Reed Doughty -- C+
Starting in place of DeJon Gomes, Reed Doughty did what he does best -- contribute in run-support and provide solid tackling.
Make no mistake about it, Doughty didn't miraculously learn to cover over the summer.
He finished with six tackles on the day.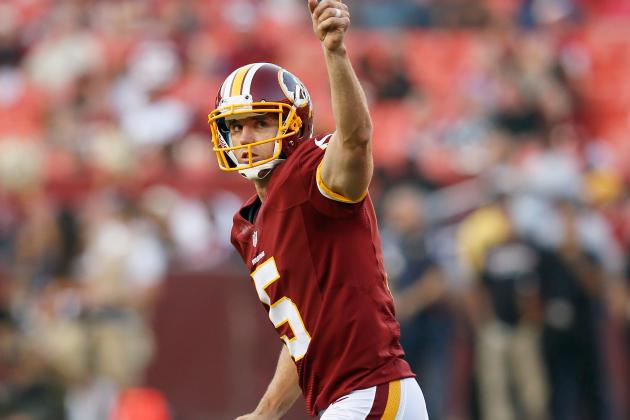 Rob Carr/Getty Images

Sav Rocca -- B+
Another game with at least five punts, Sav Rocca booted six of 'em with a 46.7-yard average and one pinned inside the 20.
As long as Rocca is getting the punts off, I guess there's not much to complain about.
Brandon Banks -- C+
Used strictly as a punt returner today, Brandon Banks was a non-factor after a nice 19-yard return on his first go.
Banks continues to struggle with getting up-field. Coaches need to get to him and improve his coverage.
Niles Paul -- B+
Once again, I thought Niles Paul had a great day as a gunner on the punt team today.
Paul also was the Redskins primary kick returner today and put on a nice showing of how to stay north and south when making his way up-field.
Paul finished with 42 yards on two kick returns.
Billy Cundiff -- D
Did Billy Cundiff make a 41-yarder to win the game? Yes. And that was following a terrible game in which Redskins fans were yelling for Graham Gano as if he was Sebastian Janikowski.
While I won't hold the 57-yard attempt at end the first half against Cundiff, I won't act the same towards his other misses.
Some how, some way, Danny Smith and the Redskins need to find a decent kicker like the other 31 teams in the NFL.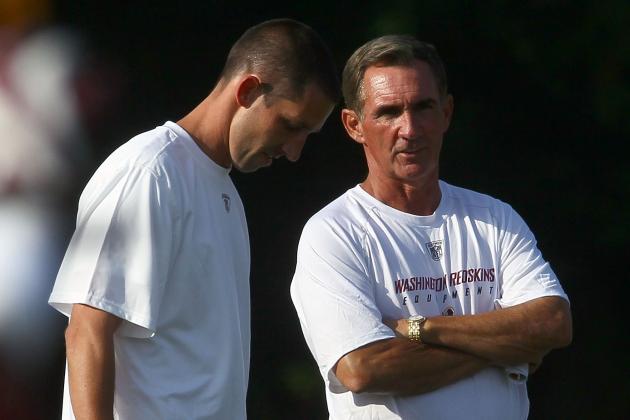 Win McNamee/Getty Images

Jim Haslett -- C+
An improved grade based on Jim Haslett's calling of a tighter man-coverage in today's game, but the Redskins defense still appeared out of position on a few plays.
The Redskins gave up 373 total yards and they made Josh Freeman look like a stud in the second half -- being outscored 16-3.
Kyle Shanahan -- B
Unlike most, I don't hate the long-pass call down the sideline with only a few minutes left in the game.
Do I understand the argument? Of course. But I'm not against creativity and attempting to catch a defense off-guard.
Also unlike most, I think Kyle Shanahan has done a fine job so far this season.
At the end of the day, the offense is balanced, making the most of their players and putting up some of the best numbers this town has seen in quite some time.
Mike Shanahan -- C
To end the first half, Mike Shanahan looked like he had an idea of what was going on. But to finish the game, Shanahan looked confused.
That, and let's not forget about the challenges over the past few weeks. Either Shanahan needs to find a reliable guy for the booth, or he needs to replace the one he already has.