Winners and Losers from Arizona's 24-21 Win over Miami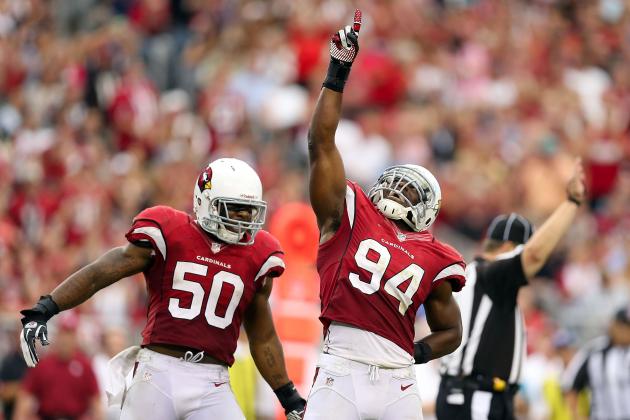 Christian Petersen/Getty Images
O' Brien Schofield (left) and Sam Acho celebrate as Arizona stays unbeaten.
The only thing more surprising than the Arizona Cardinals being 3-0 is the fact they are now 4-0. Arizona knocked off the Miami Dolphins 24-21 in overtime at University of Phoenix Stadium. Jay Feely booted a 47-yard field goal with 6:13 left in overtime to get the win.
The stout defense that shutdown Tom Brady and Michael Vick nearly lost its first game of the year to rookie quarterback Ryan Tannehill.
The Cardinals have taken advantage of their early-season home games. Dating back to last season, Arizona has won five consecutive overtime games at home.
Start the slideshow to see who the individual winners and losers were from this overtime thriller.
Begin Slideshow

»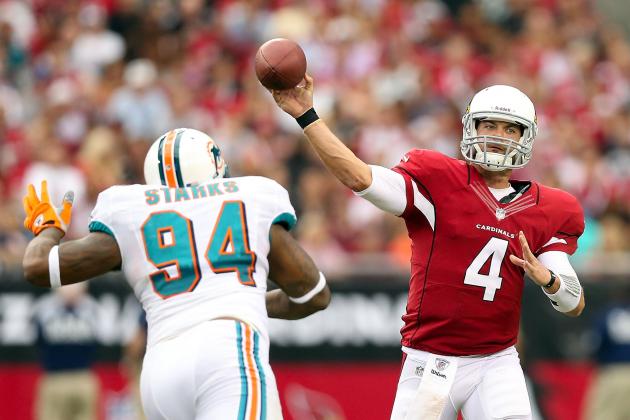 Christian Petersen/Getty Images
Kolb gets a pass away before the rush gets to him.
Kevin Kolb looks to have seized control of the starting quarterback job. He had a strong game with 29-of-48 passing for 324 yards and three touchdowns. It's even that much more impressive when you find out he got sacked eight times...and still won.
Kolb did a nice job of spreading the ball around as four different receivers each had at least seven targets. All told, eight different receivers had a catch.
Kolb finally looked like the player for whom the Cardinals traded. Now he has to prove it again very quickly when the Cardinals visit the St. Louis Rams Thursday night.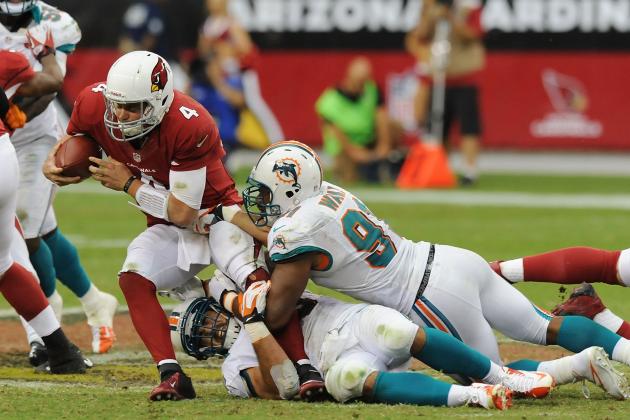 Norm Hall/Getty Images
Kolb got sacked eight times by the Dolphins.
Arizona's offensive line put in a poor performance against Miami. They allowed eight sacks to the Dolphins and Kolb wound up taking 10 total hits in the game.
Additionally, they were unable to provide sufficient blocking to allow the running game to develop. Arizona wound up with 28 yards on 15 carries for the game. With the Dolphins getting to the backfield to break up running plays, the Cardinals' running game was left as nothing more than a decoy.
The group of D'Anthony Batiste, Daryn Colledge, Lyle Sendlein, Adam Snyder and rookie Bobbie Massie needs to be able to sustain its blocks to open up holes for the ground game and keep Kolb upright.
Massie continually got bull rushed and beaten on swim moves. Batiste also fell victim to the edge rush as well. That is going to be an area that opposing teams will look to exploit going forward.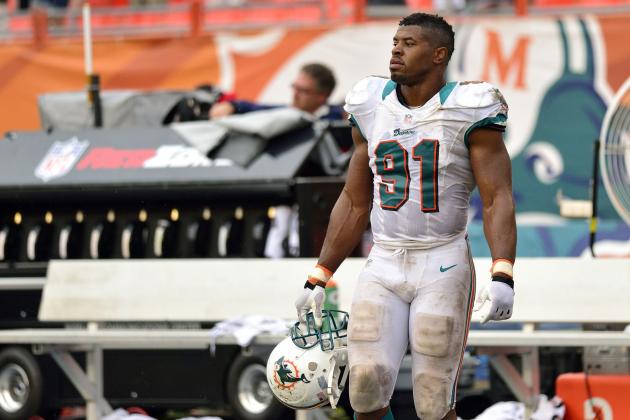 Steve Mitchell-US PRESSWIRE
Wake made Kolb's day a nightmare with 4.5 sacks.
Perhaps Miami linebacker Cameron Wake wanted to congratulate Kevin Kolb on the birth of his new baby girl that was born on Thursday. Maybe he was offering to babysit Saylor Kolb, the new bundle of joy.
Either way, Wake had plenty of time to talk it over with Kolb as Wake recorded 4.5 sacks of the Arizona quarterback. He was in the Cardinals' backfield quite often working his way past the offensive tackles with ease.
Wake showed the Cardinals an area of weakness that they need to try and address before Thursday's game with St. Louis.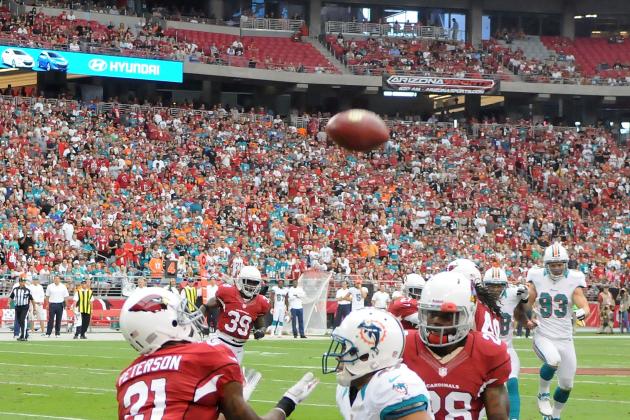 Norm Hall/Getty Images
Peterson (left) was unable to get anything going in the kick return game.
Patrick Peterson is one of the more dynamic punt returners in the NFL. He didn't look anything like it Sunday against Miami.
He returned four punts a total of 18 yards with the longest one being eight yards. He got bottled up due to excellent coverage by Miami like in the picture.
What's more disconcerting is that he fumbled the ball three times. He muffed a punt in the second quarter that he recovered. He did the same thing in the fourth quarter as well.
Yes, Peterson made a key play recovering Legedu Naanee's fumble in the fourth quarter running it back 60 yards. He gave the Cardinals a chance to put the game on ice but Kolb got picked off and the crazy ending came to be.
For a team that struggles to run the ball well, field position is everything. Hopefully Peterson can get going Thursday against St. Louis. And hold on to the ball.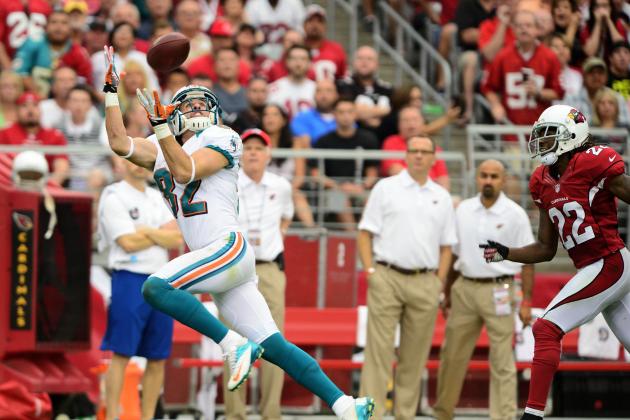 Jennifer Stewart-US PRESSWIRE
Hartline gets behind the coverage to reel in a touchdown pass.
Brian Hartline had a good day, which is an understatement. Hartline reeled in 12 catches for 253 yards and a touchdown in the losing effort.
Hartline recorded career bests in receptions and yardage. Those eye-popping numbers were also record setters. The 253 yards is the best in team history and the 12 catches tied for second place for receptions in a single game.
This was his second game with more than 100 yards receiving this season. The other was 111 yards on nine catches against Oakland.
His performance was part of the Dolphins' first game with twin 100-yard receivers since 2001. Davone Bess racked up a career-high 123 yards against the Cardinals on seven catches.
What's more impressive for the Dolphins is that this was done against the ninth-ranked passing defense.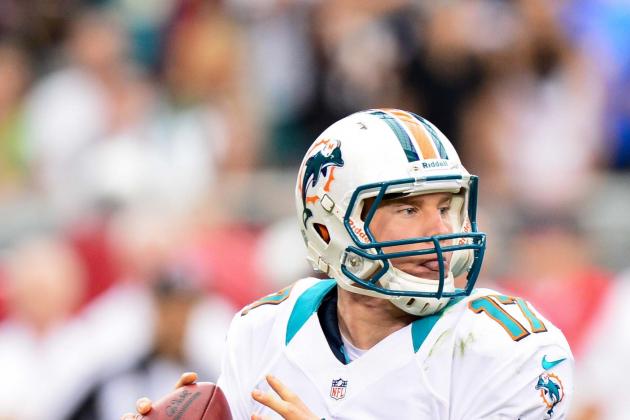 Matt Kartozian-US PRESSWIRE
Tannehill threw for more than 400 yards against Arizona and lost.
People scratched their heads when Ryan Tannehill was taken by the Miami Dolphins in the first round of the NFL Draft in April. They wondered if he could be that franchise quarterback of the future as he battled David Garrard and incumbent Matt Moore in training camp.
Tannehill won the job and gave the Dolphins' faithful a glimpse into a potentially bright future with his performance against Arizona.
He went 26-of-41 for 431 yards and a touchdown. That performance was just a yard behind Cam Newton's rookie record-setting 432-yard aerial barrage against Green Bay last season. His completions and passing yardage were both rookie records for the Dolphins.
Brian Hartline and Davone Bess combined for 376 of those yards as they both had career games.
Tannehill will have to find a way to cut down on his interceptions (six in four games) to increase his production but knows he has a pair of dependable receivers.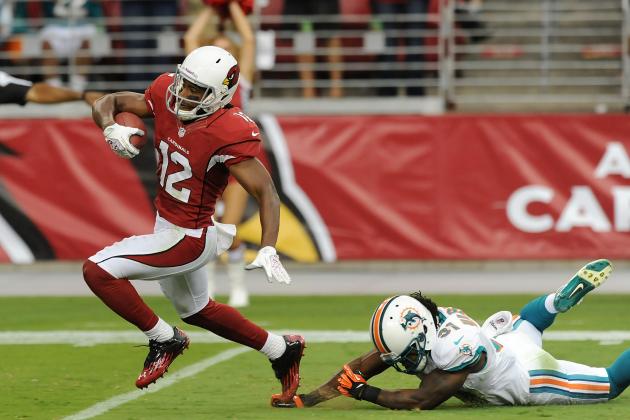 Norm Hall/Getty Images
Roberts leaves a Dolphin in the dust.
Andre Roberts led the Cardinals in receiving with six catches for 118 yards and two touchdowns. Roberts reeled in the game-tying 15-yard touchdown pass with 22 seconds left in regulation.
That touchdown catch came on a 4th-and-15 that Arizona had to have in order to have a chance. The other touchdown came when he was covered by a linebacker and got behind the defense.
Roberts is becoming the compliment to Larry Fitzgerald. It looks like it will be his breakout season if he can continue putting up stats like he did today.
Roberts doubled his touchdown total to four in this win. He only had 10 in his career before this season.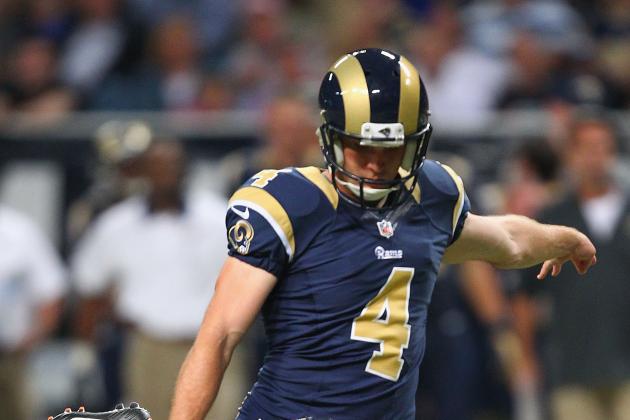 Dilip Vishwanat/Getty Images
The Cardinals will try to block the kicks of Greg Zuerlein on Thursday night.
Up next, Arizona has the short week and travels to St. Louis for a game on NFL Network. The Rams are 2-2 following a 19-13 win over NFC West foe Seattle.
Rams' running back Steven Jackson has been hampered by some groin problems to limit his effectiveness. Arizona will try to contain wide receiver Danny Amendola. He's been the favorite target of quarterback Sam Bradford so far this season with 31 catches for 351 yards and two touchdowns.
Their best offensive weapon is kicker Greg Zuerlein. He was drafted in the sixth round from Missouri Western State. "Greg The Leg," as he is called, has been perfect this season and has amazing range.
He hit an impressive 58-yarder against Seattle. Then he hit a 60-yarder against the Seahawks to set the team record for the second time in the same game. His only miss was a 64-yarder against Baltimore in preseason.
Arizona will have to keep the Rams stifled on their half of the field to have a good chance of going to 5-0.