Patriots vs. Bills: Final Report Card, Player Grades for New England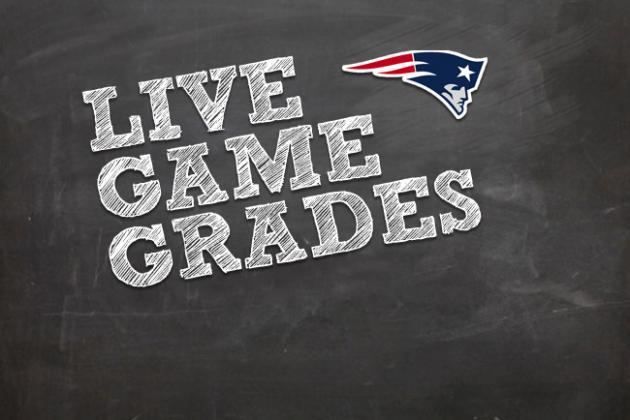 New England Patriots 52, Buffalo Bills 28
New England Patriots fans should be thrilled with what they saw from their team in the second half of their contest Sunday versus the Buffalo Bills.
The Patriots scored on their final seven offensive possessions of the game, while their defense came away with six takeaways. In a game that they once trailed 21-7, a dominant second-half performance allowed them to turn the game around with a 38-point swing.
Which players earned A grades in leading the Patriots to this exciting victory? Read through the following slides to find out!
Begin Slideshow

»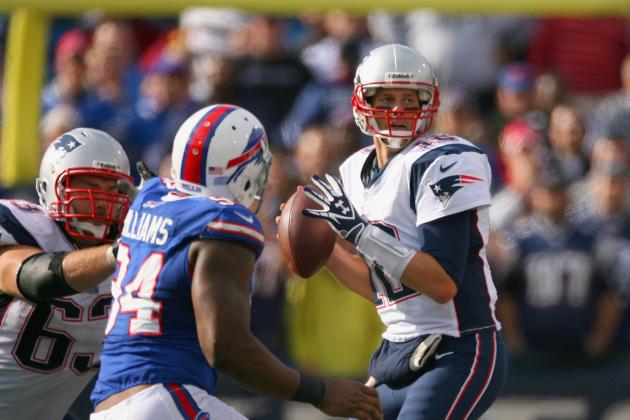 Rick Stewart/Getty Images

Tom Brady: A

Tom Brady wasn't flawless, but he had his best game of the season thus far. Brady completed 22 of 36 passes for 340 yards and three touchdowns, while taking only one sack and throwing no interceptions.

Brady led the offense back in the second quarter, seemed very much in control of the game once the Patriots started rolling. He also made some fantastic throws in this game, including an early 41-yard completion to Rob Gronkowski, and a beautiful 25-yard touchdown pass to Brandon Lloyd.

Brady also did a great job of holding up under pressure today, something that has given him some issues in earlier games this season. He even scrambled for a 4-yard touchdown to conclude one of the Patriots' second-half touchdown drives.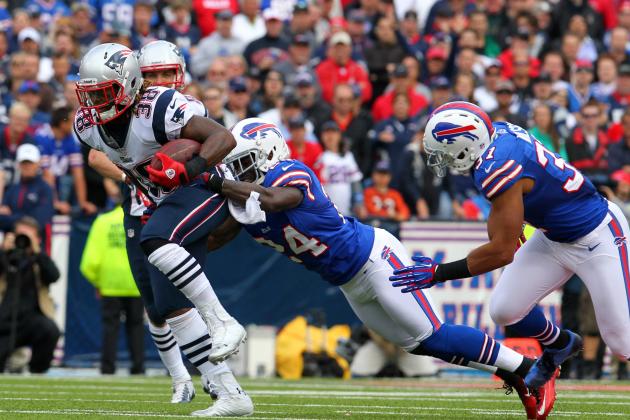 Timothy T. Ludwig-US PRESSWIRE
Brandon Bolden
Brandon Bolden: A+

After running for just 15 yards on seven carries through the first three games of his NFL career, Brandon Bolden came out of nowhere for an outstanding performance against the Buffalo Bills on Sunday, running for 137 yards for 16 carries.

Much like former Patriot running back BenJarvus Green-Ellis, who like Bolden was signed as a free agent by the Patriots after going undrafted out of Ole Miss, Bolden is a hard runner who does not shy away from contact and has a tendency to drive forward as he runs.

Bolden only ran the ball four times in the first half, but in the second half, he became the star of the Patriots' offense. At one point, Bolden gained 51 yards on a string of three carries, all of which were for 10 yards or more.

In total, Bolden had six runs of 10-plus yards, and also had a 7-yard touchdown run.

For a rookie who had shown nothing as a runner in his first three regular-season games, the Patriots could not have asked for more.

Stevan Ridley: A-

Stevan Ridley bounced back in a big way from a disappointing game versus the Baltimore Ravens, by running for 106 yards and two touchdowns on 22 carries against the Bills.

Ridley did not have the big plays in the ground game that Bolden had, but he was a reliable source of positive yardage for the Patriots in this game, which is exactly what they need him to be.

Including the two touchdowns for scored, Ridley ran for 10 first-downs on Sunday.

Danny Woodhead: B

One week after receiving the majority of snaps at running back for the Patriots, Woodhead did not have a single rushing attempt against the Bills.

Woodhead did, however, do a very good job as a pass receiver to score a touchdown. He made a play to get open about 10 yards downfield for a catch, then finished the play for a 17-yard score.

Woodhead may not have received many touches in this game—he only had two catches—but he did an effective job when called upon.

Shane Vereen: C

This game was a positive step forward for Shane Vereen, in that it was his first game active this season for the Patriots. Unfortunately for Vereen, he made no actual impact on the field.

When the Patriots threw a screen to Vereen on the second play of the game for a 5-yard gain, it appeared that it may finally be Vereen's opportunity to make a name for himself. Unfortunately, those were the only yards he gained in the entire game.

With the continued strong performance of fellow second-year running back Stevan Ridley coupled with this game's emergence of rookie Brandon Bolden, it appears unlikely that Vereen will ever have much of a chance to make an impact unless injuries strike on the depth chart above him.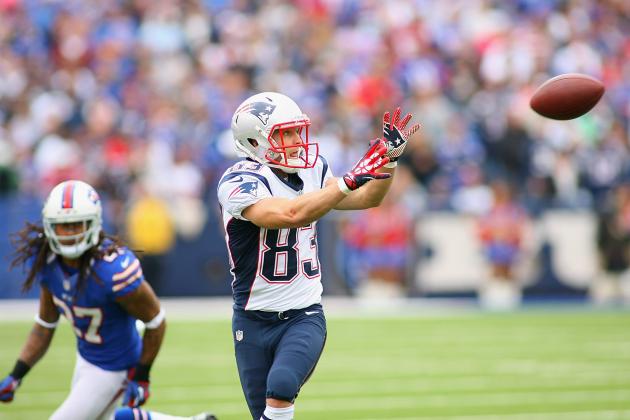 Rick Stewart/Getty Images
Wes Welker
Wes Welker: A

With Aaron Hernandez and Julian Edelman both out of the lineup for this game, it was no secret that Wes Welker would once again become a focal point of the Patriots' offense. He responded with a terrific performance, catching nine passes for 129 yards.

After a very quiet start to the season for last year's NFL leader in receptions, the Patriots have turned right back to Welker, and he was in full stride in this game. Welker looked very good running routes and catching passes, and did not have any drops.

Welker also served as the Patriots' punt returner in this game, and had one return for 14 yards. The lone blemish of Welker's game was a fumble off a catch inside the Patriots' own 30-yard line, but aside from that, his game was great.

Brandon Lloyd: B

For the most part, Brandon Lloyd had a very quiet game, as he was locked down for the most of the game by talented Buffalo Bills rookie cornerback Stephon Gilmore. Lloyd did, however, end the game with three catches for 50 yards, including a beautiful end-zone catch on which he laid out to grab a 25-yard touchdown throw from Brady.
Rick Stewart/Getty Images
Rob Gronkowski
Rob Gronkowski: B

Rob Gronkowski had an up-and-down game for the Patriots on Sunday, but fortunately for both parties, the ups outweighed the downs.

Gronkowski's five-catch, 104-yard effort included two big plays: a 41-yard downfield catch on the first drive of the game, and a 28-yard touchdown catch in the middle of the end zone on the first play of the fourth quarter.

Gronkowski also made a clutch play on special teams by recovering an onside kick attempt by the Buffalo Bills.

On the other hand, Gronkowski did have a fumble at the Patriots' own 24-yard line, as well as a drop on a pass four yards out of the end zone. Considering the big plays, however, that the Patriots made, his mistakes do not hurt his grade too badly.

Daniel Fells: C

The Patriots completed an 18-yard pass to Daniel Fells, his first catch of the 2012 regular season, on their first play from scrimmage. Fells, however, did not have another catch and was quiet for the rest of the game.

Michael Hoomanawanui: B

Hoomanawanui gets a B for blocking for his performance in this game. He did not have a single catch, nor was he even targeted for a catch, but he did a very good job when he was called upon to help out the offense as a pass and run blocker, which is the reason he remains a member of their active roster.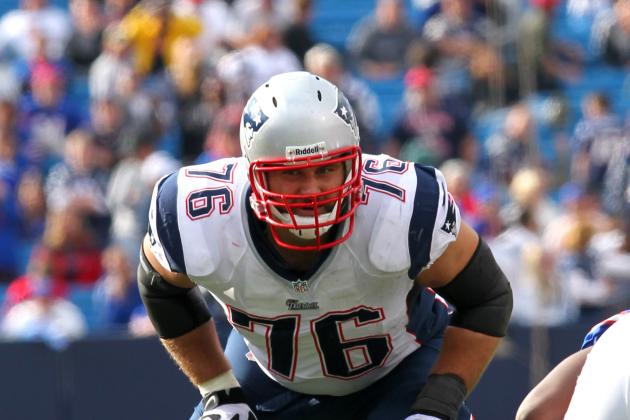 Timothy T. Ludwig-US PRESSWIRE
Sebastian Vollmer
Nate Solder: A-

Nate Solder has improved every single game this season as the New England Patriots left tackle, and in this game, he really seemed locked in.

Tom Brady had very little blind side pressure to worry about in this game, and the reason for that was Solder did a great job in pass protection. He also did a terrific job in leading the run blocking effort on the left side, and the Patriots had great success throughout the game in running to the left side.

In the preseason, there was reason for concern that Solder was not ready to be the Patriots' left tackle, but that is no longer the case.

Sebastian Vollmer: A

Sebastian Vollmer struggled early in the season as he continued to recover from back surgery, but there was no struggle for him on Sunday. Working against star defensive end Mario Williams for the majority of the game's snaps, Vollmer held Williams completely in check, not allowing him to bring much of any pressure into the Patriots' backfield.

While the Patriots may have been best running to their left in this game, they were also successful going to their right, and Vollmer played what was by far his best game of the season yet.

Donald Thomas: A-

Even without Logan Mankins in the fold and going up against a tough Bills front four, the Patriots' offensive line had its best game on Sunday. A big reason for that was the admirable fill-in effort for Mankins done by left guard Donald Thomas.

Thomas struggled early in the game against a terrific defensive tackle, Kyle Williams, but as the Patriots' offense found their groove in the second half, so did he. Thomas did a very effective job of handling Williams in the second half, and was a big part of why the Patriots were so effective running the ball up the left side.

Ryan Wendell, Dan Connolly: A-

It was a great all-around effort by the Patriots' interior offensive line to pave the way for the rushing offense's success while keeping interior pressure out of the backfield. Center Ryan Wendell and right guard Dan Connolly both had strong performances as well, as they did a good job keeping the Bills' star defensive tackle duo, Williams and Marcell Dareus, in check.

The Patriots' offensive line looked back to business on Sunday, and all five players played a strong part in that.
Vince Wilfork: A+

The Patriots' defensive line did a good job keeping Bills running backs Fred Jackson and C.J. Spiller quiet in their returns from injuries, and leading that charge was defensive tackle Vince Wilfork.

Wilfork had a strong game leading the run defense effort inside, but his two best plays of the game actually came in pass defense.

In the first quarter, Wilfork created the Patriots' first of six defensive takeaways of the game by tipping a pass at the line of scrimmage which was intercepted by Jerod Mayo.

Later, in the fourth quarter, Wilfork had a memorable play when he dropped back from the defensive line into pass coverage, then laid a huge hit on Donald Jones on a short pass to break up the pass, on a play where Wilfork looked more like Ray Lewis than a 325-pound nose tackle. Check out the video if you want to see this fantastic play.

In addition to all of that, Wilfork also had a fumble recovery at the Patriots' own 2-yard line, turning what could have been a Bills' touchdown into a Patriots' possession. Wilfork's game could not have been much better.

Chandler Jones: A-

The Patriots' defense did not have one of its strongest pass-rushing days, but rookie Chandler Jones got off to a very strong start to the game. Jones had five tackles and two tackles for loss, with both of his tackles for loss coming in the first quarter.

Jones did not bring as much pressure the rest of the game, but his big plays early in the game and his leadership of the Patriots' pass rushing effort earn him a strong grade.

Rob Ninkovich: A-

Rob Ninkovich made his most active impact of the season yet on Sunday. Ninkovich brought strong pressure against right tackle Erik Pears in this game, while he was also effective against the run and in dropping back into coverage.

Ninkovich tied for the Patriots' lead in this game with seven total tackles, and had a strip sack, although that fumble was recovered by the Bills. While Ninkovich did a solid job on the line, he often looked like a linebacker in this game by dropping back and making plays.

Ninkovich is another player who has seemed to improve as the season has gone along, and the Patriots should be pleased with his efforts in this game.

Kyle Love: C+

Starting defensive tackle Kyle Love did not make much of a presence in this game. Most of the Bills' bigger rushing gains in the game came on his side of the line, and he failed to make any big plays in the line of scrimmage.

Love did not necessarily have a bad game, but he has been much better.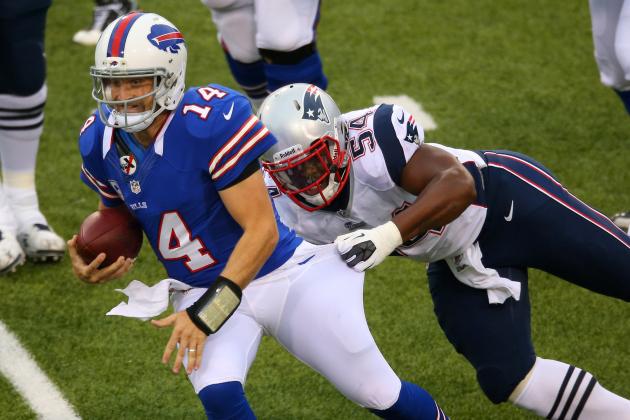 Tom Szczerbowski/Getty Images
Dont'a Hightower
Brandon Spikes: A

Brandon Spikes' season has been more up-and-down than that of any player on the Patriots' roster, but after grading very poorly from the team's loss to the Baltimore Ravens, he had a terrific game against the Bills.

Spikes, who came up with a huge forced fumble that set up the potential game-winning field goal that was missed at the end of the Patriots' loss to the Arizona Cardinals, came up with two more big forced fumbles in this game.

One of those forced fumbles came at the 2-yard line, where a big hit by Spikes knocked the ball out, and also saved a touchdown near the end of the first half. The second set the Patriots up for a short touchdown drive from the 42-yard line.

In addition to those forced fumbles, Spikes tied for the team lead with seven total tackles, and tipped a pass at the line of scrimmage.

Jerod Mayo: B

Mayo had a terrific start to the game, with five tackles and an interception off of a tipped pass all coming in the first quarter. He was quiet in the game's final three quarters, however, coming up with just one tackle after the Bills' first drive of the game.

Dont'a Hightower: Incomplete

Dont'a Hightower made a big play in the first quarter of the game, when he lined up outside as an edge-rushing linebacker, blitzed immediately, pushed aside a blocking attempt from Bills running back C.J. Spiller and sacked Ryan Fitzpatrick.

Unfortunately, Hightower injured his hamstring on that play, and did not return to the game. One big play was not enough for Hightower's game to warrant any grade.

The good news for Hightower is that his hamstring is "good," according to Jeff Howe of the Boston Herald. Additionally, he showed that he can be a real contributor as a pass-rusher with his big play that cost him the rest of the game.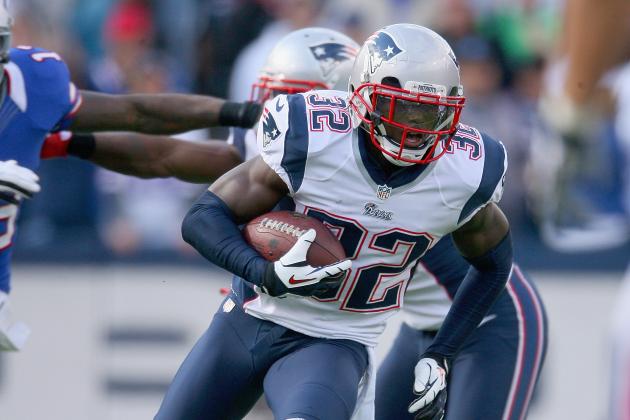 Rick Stewart/Getty Images
Devin McCourty
Devin McCourty: A

After a shaky, up-and-down game against the Baltimore Ravens, cornerback Devin McCourty bounced back in a big way with a tremendous performance against the Buffalo Bills.

McCourty made two nice interceptions in the game, and was not burned for any big plays. He played the way that the team needs him to play on a consistent basis, and he led the Patriots' secondary effort in this game.

Kyle Arrington: B-

Sunday was another subpar game for Kyle Arrington, who has not had a strong 2012 season thus far. This time, it was Arrington who was beaten off the line by Donald Jones, who tore through the Patriots' secondary for the Bills' biggest play of the day, a 68-yard passing touchdown.

Arrington did have one pass breakup in the game, and was not repeatedly beaten as he has been in some games, but there is certainly room for improvement in his game.

Patrick Chung: B-

Patrick Chung was also responsible for the big touchdown play by Donald Jones, as he completely whiffed on a tackle attempt that could have stopped the play much earlier. Overall, it was a bad day for Chung in pass defense, who was also beaten on a 24-yard touchdown pass by tight end Scott Chandler.

Aside from the miss, Chung had a fairly solid day of tackling with six total tackles, and he did break up another pass intended for Chandler, but he will be most remembered from this game for the times he was beaten.

Steve Gregory: B-

It was a quiet game in the secondary for free safety Steve Gregory.

Gregory was in position where he could have made plays, but did not, on both of the Bills' big passing plays in this game: Donald Jones' 68-yard touchdown and Brad Smith's 35-yard touchdown. He had four tackles, but all of them were at least seven yards beyond the line of scrimmage.

Tavon Wilson: B+

Coming in as the third safety, Tavon Wilson made the biggest impression of any Patriots' safety in this game.

Wilson's interception was just being in the right place at the right time, as the ball was thrown directly at him with no receiver near him, but he also made a fumble recovery. Additionally, Wilson made three total tackles, including a very good tackle in which he laid out to take down Fred Jackson at the line of scrimmage.

The one gaffe of Wilson's game came when he was called for a holding penalty on the punt return team, on a ball that was fair caught, but he had an otherwise strong showing.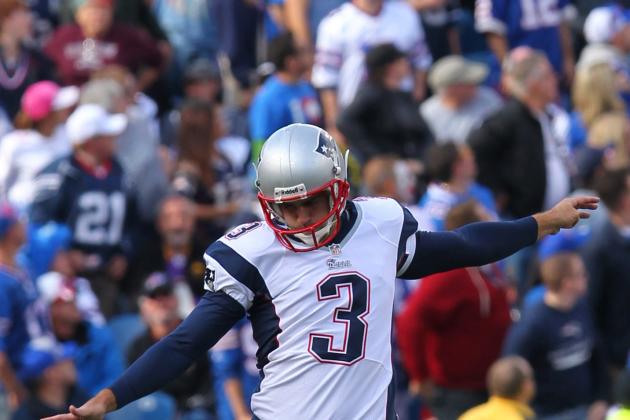 Timothy T. Ludwig-US PRESSWIRE
Stephen Gostkowski
Stephen Gostkowski: C+

Kicking field goals in this game proved to be a struggle for Patriots' placekicker Stephen Gostkowski, who missed a 49-yard field goal wide right and a 42-yard field goal wide left, both in the fourth quarter.

Gostkowski did, however, record touchbacks on eight of his nine kickoffs, showing how good he is at kicking the ball deep. He did also make one field goal, a 30-yard field goal, but his two misses really hurt his grade.

Zoltan Mesko: B

Zoltan Mesko's punting average in this game was low again, at only 39.7 yards, but all three of his punts were downed within the 20-yard line, including two that were downed within the 6-yard line. Therefore, Mesko's low average was more of a result of the Patriots not burying in deep field territory, as he actually did a good job of situational punting.

Matt Slater: A-

Matt Slater had a strong game on special teams, making plays on every true opportunity to do so. He downed two punts within the 6-yard line, with the only other punt in this game being fair caught. He also had a tackle assist on the only Bills kickoff return of the game.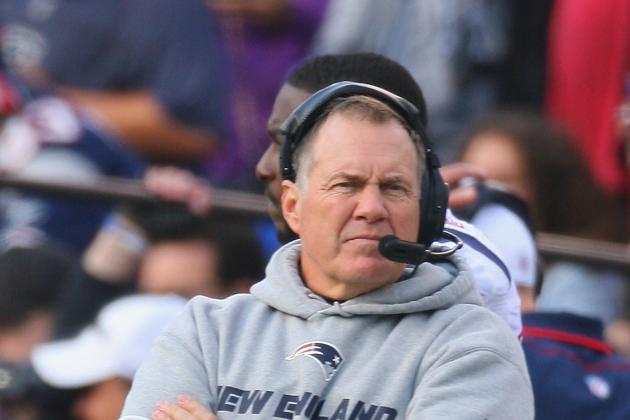 Rick Stewart/Getty Images

Coaching Staff: A

Having given up two touchdown drives in the second quarter, and coming off of seven consecutive drives without their own offense scoring, the Patriots had to make some serious adjustments in the second half. They certainly did.

The Patriots started off the second half slow, punting on their first drive and giving up a touchdown, but after that, something was clearly sparked within the team. It suddenly became an entirely different game, as the Patriots closed out the game on a 45-7 run.

For having their team ready to make a big comeback trailing by two scores on the road, the coaching staff deserves an A grade.

Josh McDaniels: A

Josh McDaniels gets an additional mention in the coaching category, for finding weapons to add into the Patriots' offense and utilizing them well.

While the Patriots becoming only the second team to have two 100-yard rushers and two 100-yard receivers in a single game is not stunning, no one would have guessed that would happen in a game where left guard Logan Mankins, tight end Aaron Hernandez and wide receiver Julian Edelman were all out injured.

McDaniels found a new playmaker to use, however, in running back Brandon Bolden, while the Patriots successfully returned the emphasis of their passing game to Wes Welker and Rob Gronkowski. Additionally, Donald Thomas filled in well for Logan Mankins as the choice to start at left guard.

Dan Hope is the New England Patriots game day correspondent and an NFL draft Featured Columnist for Bleacher Report. For more coverage of the Patriots, follow him on Twitter @Dan_Hope.