UFC Fight Bonuses for the Month of September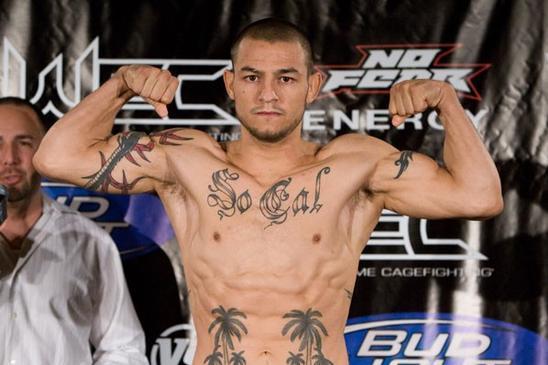 Photo credit: MMA Linker
September was pretty quiet for the UFC—at least inside the cage.
Only two events actually ended up happening during the month: UFC 152 and UFC on Fuel TV 5. Originally, there was supposed to be a third event, but something happened to it. Details are hazy. You can look into it on your own if you want. I'm not your information butler.
This is especially true right now, when we celebrate the things that did happen in September, not the things that didn't. These are the bonuses for the UFC's best knockout, best submission and best fight for the month.
It's just like the bonuses the UFC doles out after each fight card, except it's for the whole month, and there's no money. For those with the right priorities in life, starring in a slideshow is more than enough of a reward.
As with the UFC version, random bonuses are always possible in the event that something especially memorable went down. Any of those this month? I guess you'll just have to read on, won't you.
Begin Slideshow

»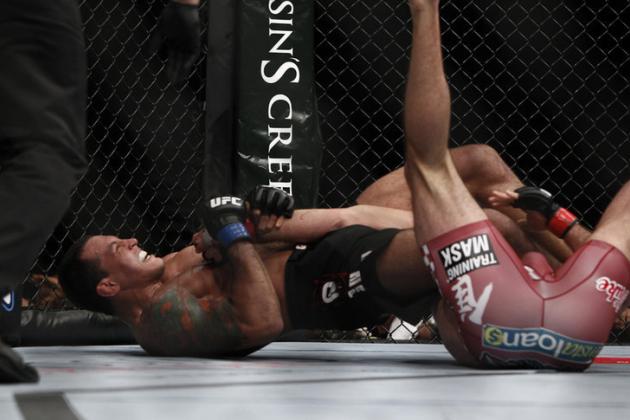 Photo credit: Esther Lin for MMA Fighting
Why's everybody always pickin' on Vinny Magalhaes? That's what Vinny's wondering, although "everybody" in this case just means Jon Jones.
First, UFC 151 was cancelled. Then at UFC 152, Jones and his americana-ing of Vitor Belfort stole Submission of the Night honors from Magalhaes and that beautifully executed armbar on Igor Pokrajac.
Magalhaes is lucky I'm here to right these wrongs. Here's hoping his local suntan oil retailer accepts payment in congratulatory slides.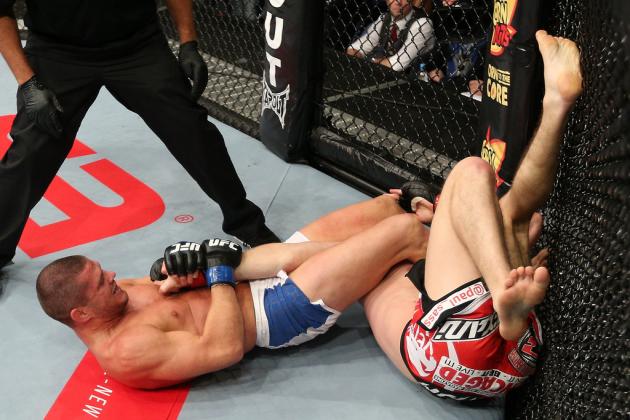 Photo credit: Josh Hedges/Zuffa LLC/Zuffa LLC via Getty Images
Turnabout was fair play when Matt Wiman tapped Paul Sass at UFC on Fuel TV 5.
Coming into Nottingham, Sass, a master of the triangle choke, was 13-0 with 12 wins by submission. Wiman employed an armbar and a well-honed sense of irony to hand Sass his first professional loss.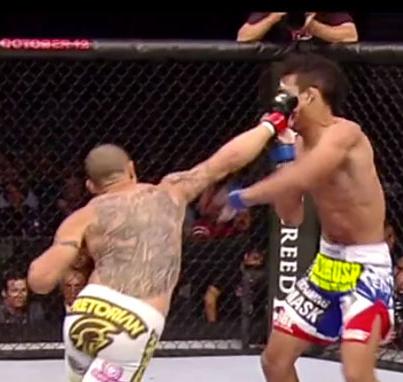 Photo credit: CageWall.com
You know in the movie when the guy sets the bomb, then starts walking away and it blows up behind him but he never breaks his stride? That was sort of like what Cub Swanson did to Charles Oliveira.
Swanson buried a fist in Oliveira's liver, then a moment later, unloaded a titanic overhand right onto Oliveira's temple. Swanson stood back and watched as Oliveira's brain, legs and spinal cord argued about next steps. I'm not sure who won, exactly, but the result was Oliveira falling down.
This may not mean much, but I personally have no recollection of a delayed-reaction knockout like that. It was quite an odd—and oddly compelling—thing to watch.
It was Swanson's second consecutive Knockout of the Night performance. And now, he was a Knockout of the Month. Honorable mention goes to Brad "One Punch" Pickett, who lived up to his nickname with a crushing of Yves Jabouin at UFC on Fuel TV 5.
Tom Szczerbowski-US PRESSWIRE

It was a bloodbath. But, it was a bloodbath with good technique. So, it's acceptable.
Despite being split open by a Grant knee, Dunham gamely waged a 15-minute war, not only surviving but scoring, usually with the takedown. After the fight went the distance, the judges determined, rightly, that Grant and his pressure had more of an overall advantage.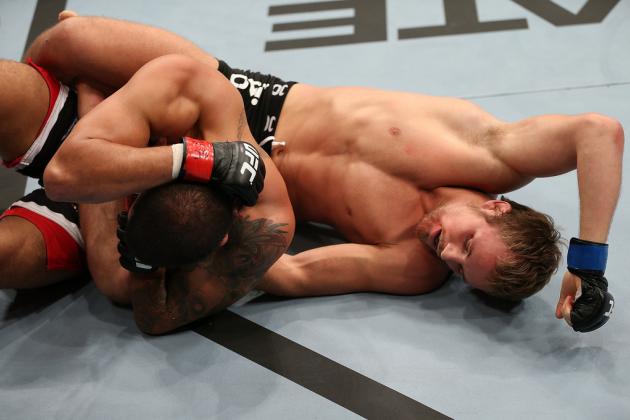 Photo credit: Josh Hedges/Zuffa LLC/Zuffa LLC via Getty Images
Somewhere, Mark Hunt is squirming on his silent throne. Gunnar Nelson may be a new challenger to the crown of post-fight interview stoicism.
After spending his UFC debut tearing apart a pile of rags that had been dressed up to resemble DeMarques Johnson, the Icelandic uber-prospect, who seemed completely comfortable with English, needed only 72 words to answer all four of Jon Anik's questions.
That's 18 words per question. It's that kind of Northern European efficiency that brought us things like Ikea and hakarl. And I think it's something we can all embrace.