Giants vs. Eagles: Final Grades, Analysis for Philadelphia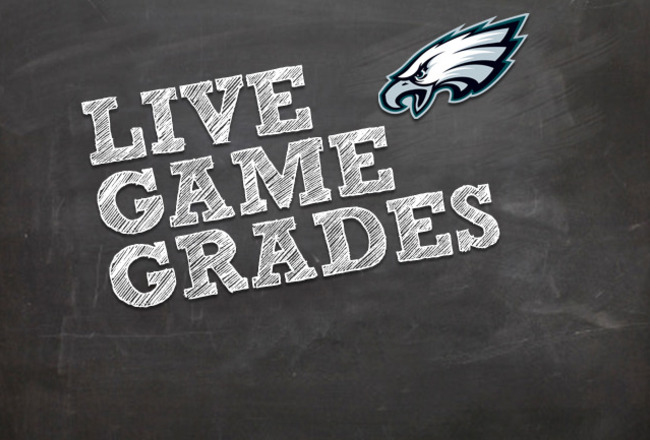 The Philadelphia Eagles have knocked off the defending world champion New York Giants in an absolute nailbiter, coming away with a 19-17 victory on a pair of missed 54-yard field goals by Giants kicker Lawrence Tynes in the game's closing seconds.
The Eagles are 3-1 and sitting in sole possession of first place in the NFC East, and they've now knocked off the Giants in seven of their last eight meetings.
Read here to catch the full player grades for the Eagles as we break down each starter and key backup.
Quarterback
Rob Carr/Getty Images
Michael Vick: A
I was extremely impressed with the way Michael Vick played today, considering he was going up against an extremely tough New York Giants team coming off a Super Bowl championship and with a very subpar offensive line in front of him.
Vick looked like the $100 million quarterback the Philadelphia Eagles are paying him to be, as he looked sharp with his arm, his legs, and played turnover-free football for 60 minutes against the Giants. He completed 19 of 30 passes for 241 yards and a touchdown pass, running six times for 49 yards as well and converting several key third-down plays. He hit eight different receivers for completions today and shone down the stretch when it really mattered.
Vick was given his third opportunity of the season to lead a game-winning drive, but he's now three for three at doing so against three very good defenses, and that's absolutely huge for the Eagles. When Vick is on, the Eagles can beat anyone in the league, and he was on today.
Running Backs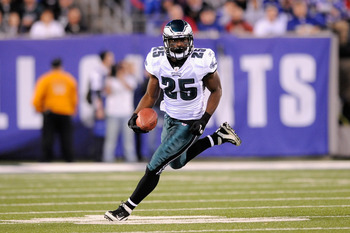 Patrick McDermott/Getty Images
LeSean McCoy: A-
For the first two quarters of the game, I thought LeSean McCoy really struggled to find his form. He only received six carries but two yards from a back of his caliber is shocking. McCoy then broke out in a big way to start the third quarter, running 34 yards and 22 yards on consecutive plays to put the Philadelphia Eagles immediately in New York Giants' territory. McCoy was a huge factor on the Eagles' go-ahead drive late in the fourth quarter, and he finished the day with 23 carries for 123 yards, averaging 5.3 yards per carry, and he also added three receptions for 17 yards.
Bryce Brown: D+
The Eagles really like Bryce Brown as a change-of-pace back for McCoy, and he may one day be a very fine complement. But so far, I'm not seeing much from Brown that would make me want to give him the ball regularly, and he finished today with just four carries for five yards, including just a one-yarder on a huge 2nd and goal from the three yard line with fewer than two minutes to play.
Stanley Havili: A
Back in preseason, I wasn't sure whether I thought the team should keep a fullback on their official 53-man roster, but I am really happy they did. Stanley Havili played very well in all the aspects of the game. He ran the ball twice for 15 yards, caught one pass for seven yards, and was a tremendous lead blocker for McCoy on run plays.
Wide Receivers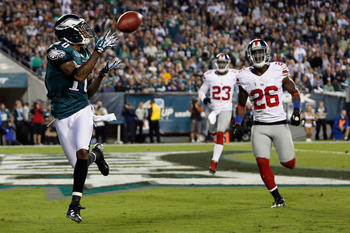 Rob Carr/Getty Images
DeSean Jackson: A-
I've been very pleasantly surprised with DeSean Jackson this year. He seems to be much less of a hit-or-miss player and much more of an all-around solid receiver. Jackson caught six passes for 99 yards, including a touchdown in the second quarter when he was wide open in the corner of the end zone. He's assumed the Philadelphia Eagles' No. 1 receiver role very well this year after signing the lucrative contract extension in the offseason that he did.
Jeremy Maclin: D
I actually questioned myself at one point as to whether Jeremy Maclin was still on the field. Maclin had been targeted just once as of three minutes left in the third quarter and he finished the game with just one catch for seven yards, a shockingly low total for Maclin.
Jason Avant: B-
It was a typical Jason Avant game, as he didn't single-handedly win the game himself, but he provided a few nice plays when the Eagles needed him. Avant finished with two receptions for 30 yards, solid enough totals for a slot receiver.
Damaris Johnson: B-
Damaris Johnson has now caught a pass in all four of his NFL games, and that's a very good total for an undrafted free agent who was probably a long shot to make the team at the start of the season. Johnson finished with one reception for 17 yards.
Tight Ends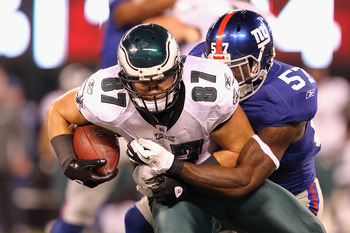 Al Bello/Getty Images
Brent Celek: A-
Brent Celek continues to put up very solid numbers because he is a very solid tight end who could be looking for his first Pro Bowl invitation at the end of the season. Celek caught four passes for 57 yards, including a 27-yarder, and he's extremely difficult to bring down immediately. Celek is also an underrated run blocker who has been relied on frequently in that aspect as of late.
Clay Harbor: B-
Clay Harbor's game total of one catch for seven yards doesn't really reflect his performance for today because he was mostly asked to stay in and run block for LeSean McCoy or help pass block for Michael Vick.
Offensive Line
Patrick McDermott/Getty Images
Demetress Bell: C-
All week, I had visions of Demetress Bell being the next Winston Justice, a la the Philadelphia Eagles' left tackle who (five years ago to the day) gave up an unprecedented six sacks to Osi Umenyiora in a brutal 16-3 loss to the New York Giants. Bell certainly was no Jason Peters but he wasn't awful. His pass blocking needs some work but then again he was lining up against Jason Pierre-Paul.
Evan Mathis: B
I like Evan Mathis much better as a guard pulling on a run play than a lineman trying to stand in against a bull-rushing defensive end or tackle. I thought Mathis, like the rest of his teammates, really struggled early on but adjusted very well after halftime and helped open some holes in the third and fourth quarter for LeSean McCoy.
Dallas Reynolds: D
I thought Dallas Reynolds really looked exposed for much of the game, struggling as a pass blocker and run blocker against the Giants' defensive line. Too many times I saw him get pushed back and mauled in the run blocking aspects, and that meant LeSean McCoy had to make things happen by himself.
Danny Watkins: C
As a pass blocker, Danny Watkins makes me want to rotate in a new offensive line for long pass plays. As a run blocker though, I think Watkins has shown some significant improvement, and I give him a lot of credit for the times I saw him downfield blocking for McCoy in the end.
Todd Herremans: D
Yikes. This concerned me when Todd Herremans was whistled for a holding penalty on a 12-yard run by McCoy early on and then flagged immediately once again on a play in which he simultaneously got knocked on his can by Osi Umenyiora. I guess the entire offensive line, even Herremans all the way over on the right side, is a completely different group with Peters than without.
Defensive Line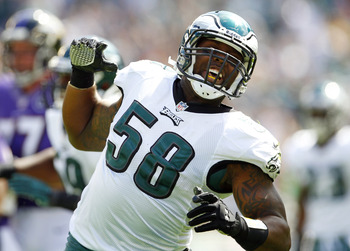 Rich Schultz/Getty Images
Trent Cole: B
I'll be honest when I expected to hear Trent Cole's name more times today than I did, especially considering he's a top-five defensive end in the league lining up one of the worse offensive lines in the league. Cole finished with just two tackles, no sacks, and no tackles for a loss but he did help hold the New York Giants to just 57 rushing yards on 19 carries, an average of just 3.0 yards per rush (and no touchdowns).
Cullen Jenkins: A-
Cullen Jenkins had a very solid game as a pass rusher and a run stopper. He finished the night with four tackles, including one for a loss when he dragged Ahmad Bradshaw down a full five yards behind the line of scrimmage in the first quarter.
Fletcher Cox: A
Fletcher Cox is a talented enough interior defensive lineman that the New York Giants better think about drafting a guard or center in the first round simply for the task of taking care of Cox twice a season. Cox is just a rookie but you would never guess it by the way he's playing, and I'm sure Eli Manning wasn't thrilled that Cox is every bit as good as people say he is. He finished with only two tackles but his value wasn't in the numbers. It was in fact that the Giants' running game failed to generate a rhythm and Manning didn't have as much time to throw as he would have liked.
Jason Babin: C-
Like Cole, I expected more out of Jason Babin, who has now gone against four very subpar right tackles in his four games this season. Babin had just one sack and because he plays so wide in the wide nine scheme the Eagles run, he's not the biggest help in the run game. Babin also had his patented penalty to extend an early drive for the Giants.
Derek Landri: B
Part of the reason the Eagles have such a talented defensive line is its depth—the team can rotate in players like Derek Landri and not miss a beat. Landri finished today with four tackles, having a huge impact in the stellar performance by the run defense.
Brandon Graham: B
I'm interested to see the official snap count for Brandon Graham in this Sunday's game because I know he doesn't get many snaps, but he has been making the most of them. Graham was lined up against Giants right tackle Sean Locklear when he did play and he put a lot of pressure on Locklear.
Cedric Thornton: B
Cedric Thornton didn't even make the Eagles in 2011 but now he's playing a pivotal part of their run defense, as he's one of a bunch of backups the team can rotate in to keep everyone fresh. Thornton is more of a run stopper than a pass rusher and he fared well in that aspect today.
Linebackers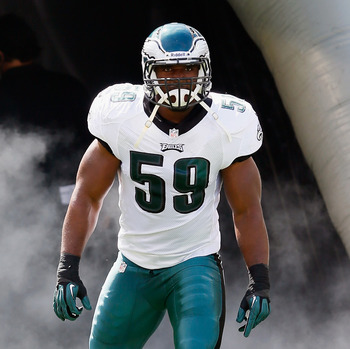 Rob Carr/Getty Images
DeMeco Ryans: B-
I thought DeMeco Ryans has been a tremendous acquisition thus far, although I did think his performance tonight against the New York Giants was by far his worst as a member of the Philadelphia Eagles. Ryans finished with just two tackles and whiffed badly on a touchdown pass to Victor Cruz, although I do give him a lot of credit for the third down play he had against Eli Manning when he all but forced Manning to throw the ball away rather than take a sack.
Mychal Kendricks: B
Before the game, the Eagles had assigned rookie Mychal Kendricks the difficult task of covering 6'7" Martellus Bennett, who had caught a touchdown in each of his first three contests with the New York Giants. Bennett finished the game with one catch for two yards and no touchdowns—that goes as a big win for Kendricks. (In all fairness, Kendricks did give up one fairly big play to Bennett that was called back due to a holding penalty).
Jamar Chaney: B
Jamar Chaney had his coming out game against the Giants two seasons ago when NFL Network analyst Brian Baldinger proclaimed the rookie Chaney to already be a top-10 inside linebacker in the league after just one start. Chaney had played just one play this entire season coming in to this game but the injury to Akeem Jordan gave him the opportunity to start, and he finished with a respectable three tackles.
Defensive Backs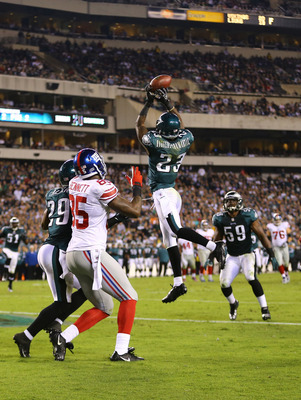 Al Bello/Getty Images
Nnamdi Asomugha: C
It's always difficult to grade Nnamdi Asomugha considering the enormous expectations bestowed upon him when he signed that $60 million contract in free agency. He spent much of tonight's game getting treatment to an eye injury he suffered during the game but then became a huge factor on the final drive. Moments after Dominique Rodgers-Cromartie suffered a costly penalty that gave the New York Giants a first down and kept their drive alive, Asomugha was flagged for one, although if you watch the replay, it really didn't look like Asomugha did much at all. And then Asomugha was manhandled on an offensive pass interference play which ended up pushing the Giants back out of field goal range and ultimately winning the game for the Philadelphia Eagles. Watching Asomugha play can be frustrating and make one wonder how he's worth the money he's being paid but the moment he's off the field, the defense becomes shockingly vulnerable.
Dominique Rodgers-Cromartie: B
Rodgers-Cromartie sure had an up-and-down game tonight. He finished with five tackles and a huge interception of Eli Manning in the end zone, the importance of which cannot be understated. DRC did make an ill-advised decision to run the ball out of the end zone, which wasn't smart on his part. He also was flagged early on for an illegal contact play and then he nearly blew the game late when he was whistled for a pass interference penalty on fourth down.
Brandon Boykin: C
Brandon Boykin had his work cut out for him tonight, as he had to stick with All-World wide receiver Victor Cruz for much of the evening. Cruz finished with nine catches for 109 yards and a touchdown, although Cruz gives a lot of cornerbacks that aren't rookies trouble.
Brandon Hughes: C+
Brandon Hughes was immediately thrust into action when Asomugha was sidelined. He had a huge knockdown when the Giants had a 3rd and 3 near midfield, although he then dropped an interception in the end zone that really would have swung the momentum in the Eagles' favor (although in all fairness, he was being held by Domenik Hixon).
Nate Allen: B-
Nate Allen finished with three tackles today in run defense, and he helped the Eagles really contain big-play tight end Martellus Bennett. Allen is a better safety in pass coverage than run defense, but I thought he played fair enough in both aspects tonight.
Kurt Coleman: C+
Kurt Coleman led the team with six tackles, helping the Eagles hold the Giants to just 57 rushing yards and no touchdowns on 19 carries. He was beaten badly down the stretch though, first on a 31-yard pass that was floated to Ramses Barden off a play fake and then immediately afterwards on a 41-yard to Domenik Hixon.
Special Teams
Alex Trautwig/Getty Images
Alex Henery: B
Alex Henery made every field goal that was asked of him and that's huge in a two-point game, although it would have been nice if his kickoffs had traveled a little farther and had been touchbacks.
Mat McBriar: B
The good thing about Mat McBriar's first game being against the New York Giants was that he already hates the Giants having played with the Dallas Cowboys for so many years. McBriar's first punt as an Eagle was a 56-yard blast and he finished the day with four for 182 yards, a 45.5 average.
Brandon Boykin: D-
Brandon Boykin provides absolutely nothing as a kick returner. He returned three kicks for 50 yards today, averaging a paltry 16.7 per return.
Damaris Johnson: D
Damaris Johnson broke a streak tonight of two consecutive games in which he made a really dumb decision returning punts. But he returned just one for three yards and let another one go that he probably should have returned. I get the feeling watching Johnson that he literally has no clue what he's doing back there.
Special Teams Coverage: F
David Wilson averaged 36.2 yards per kick return today on six returns. That nearly cost the Eagles the game. That's absolutely brutal.
Coaching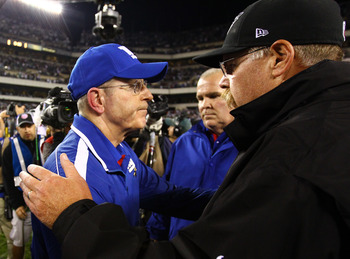 Al Bello/Getty Images
Andy Reid: C
It was an up-and-down game for Andy Reid, but the bottom line is that he beat a quality NFC East opponent in a primetime matchup, and that's what matters. His controversial icing the kicker decision didn't backfire as badly as it could have and the Philadelphia Eagles are now 3-1 after a solid all-around win. He utilized LeSean McCoy heavily in the second half and put his team in good positions to make plays.
Juan Castillo: B
The Eagles didn't have any sacks but they put pressure on Eli Manning and really limited the New York Giants' running game. Castillo is showing steady improvement as a defensive coordinator, which may just be because he had so much room for improvement.
Bobby April: F
The Eagles' special teams coach better get some production out of the coverage teams and out of Brandon Boykin and Damaris Johnson as returners because special teams did not help the Eagles tonight. Well, until Lawrence Tynes mercifully missed consecutive field goals late in the game.
Keep Reading

Philadelphia Eagles: Like this team?