Grading Miami Dolphins' Positional Units at the First Quarter Mark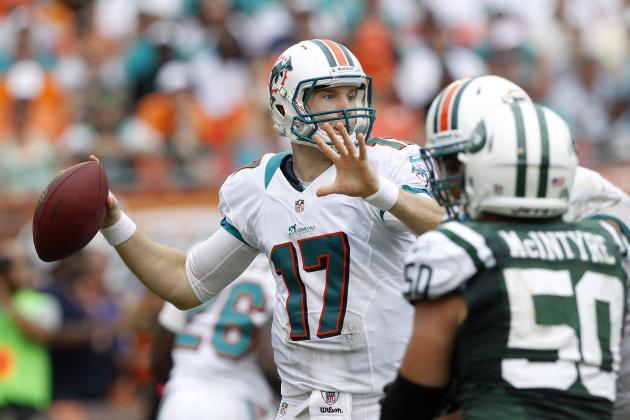 Joel Auerbach/Getty Images

Coming into the season, there was little hope for the Dolphins to be a top team or even compete against top teams. They were playing with a rookie quarterback that many thought didn't have enough experience to start, they had a completely new coaching staff, and they traded their best wide receiver and cornerback.
However, even with all these new changes, the Dolphins have been competitive in every game and have shown that they are not going to be a pushover team this season.
The Dolphins now stand at 1-3 after a heartbreaking loss to the Arizona Cardinals in overtime. It was the second week in a row the Dolphins lost on a game-winning field goal in overtime.
Miami has seen a lot of positives and its share of negatives.
Rookie quarterback Ryan Tannehill has been showing improvement and showing coaches and fans why they took him with the eighth overall pick.
The running game has been stellar for the Dolphins and is a big reason why they have been competitive in all four games.
As for the negatives, the secondary continues to be a problem and the wide receiving corps is real short on talent.
Let's now take a look at how the positional units have performed after the first quarter of the season.
Begin Slideshow

»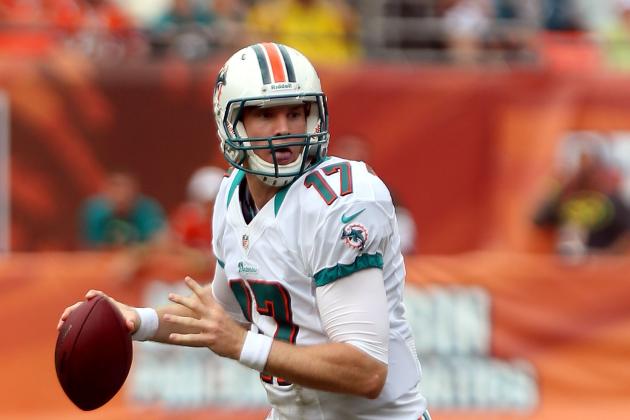 Marc Serota/Getty Images

It's safe to say that when the Miami Dolphins named Ryan Tannehill their starting quarterback, there was a plethora of doubters.
Tannehill started only a few games at Texas A&M after moving from wide receiver to quarterback. He was named the starting quarterback after David Garrard went down with an injury and was able to outplay Matt Moore in training camp.
His regular season debut was one Tannehill will probably want to forget. He was picked off three times against the Houston Texans as the Dolphins lost 30-10. Tannehill didn't play his best against one of the league's top defenses, but he showed signs that he has the ability to be a quality quarterback in the league.
Tannehill was able to bounce back against the Oakland Raiders as he ran for his first touchdown and also threw his first career touchdown. His play helped the Dolphins beat the Raiders, giving Tannehill his first career win.
Against the New York Jets, Tannehill had his ups and downs but had an overall solid game. His pick-six to start the second half appeared to be a back breaker, but Tannehill showed composure and was able to keep the Dolphins in the game. He led a drive to tie the game at the end of regulation, and gave the Dolphins a chance to win the game in overtime. He proved he has the poise needed to be stay in a game after making mistakes which is a key trait of a successful NFL quarterback.
In his latest game against the Arizona Cardinals, Tannehill proved why the Dolphins took him with the eighth overall pick. He was very effective against a tough Cardinals defense. Tannehill threw for a franchise rookie record 431 yards. He has been showing improvement from week to week, which is a good sign for the Dolphins.
Overall, Tannehill has shown potential that he can be Miami's franchise quarterback. He's still young and has a lot of things to learn, but his future looks bright.
Overall Grade: B-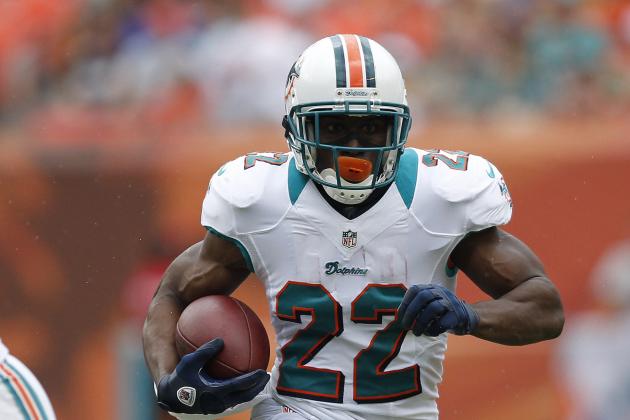 Joel Auerbach/Getty Images

Reggie Bush has been spectacular during the first quarter of the season. He has been without a doubt one of the best running backs in the league.
A lot of people questioned him when he publicly stated that he wanted to win the rushing title this year. However, he is currently ranked sixth in total rushing yards, 22 yards behind the leader, after four games.
His durability has been a question since he came into the league with the Saints, but it appeared those questions had finally been answered during first couple games as Bush carried the load in the running game.
Against the Jets, however, Bush injured his knee, and all those questions came back. He missed the entire second half and, even though he didn't miss significant playing time, the question is still whether Bush can play the entire season.
Lamar Miller has also been a breath of fresh air for the Dolphins rushing attack. Many draft analysts had Miller being drafted in the first or second round. He fell to the Dolphins in the fourth round, and many believed they had the steal of the draft.
Miller has shown the explosiveness that made him special in college. He has rushed for 113 yards and one touchdown in limited activity. He is currently third in the depth chart, but with the way he's playing, he might jump up a spot.
Daniel Thomas has been sort of the weak link in the Miami backfield. He has only rushed for 80 yards on 22 carries and scored one touchdown and has had two costly fumbles. His productivity was expected to pick up substantially from his rookie year, but he has failed to prove he can be a reliable running back.
Jorvorskie Lane has also been a bright spot for the Dolphins. Undrafted out of Texas A&M, offensive coordinator Mike Sherman convinced Joe Philbin to give Lane a tryout, and it has proven to be one of the best decisions thus far. Lane has proven to be vital in the running game as well as the passing game. He has quickly become one of the most reliable fullbacks in the league.
Overall, this unit has been a high point for the Dolphins offense. They have given Tannehill the confidence of handing the ball off and knowing good things are going to happen.
Overall Grade: A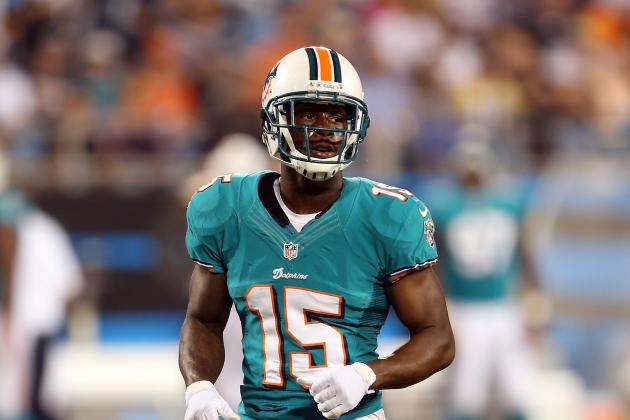 Streeter Lecka/Getty Images

Everybody knew the Dolphins wouldn't have the best wide receiving corps in the league. Many thought they might even have the worst. Through four games, it hasn't been pretty.
When the Dolphins traded Brandon Marshall, they were left with no impact receivers. They had a slot receiver as their best receiver and someone who is possibly a third string receiver on any other team as their top receiver.
Miami failed to address this issue through the draft. They did draft two wide receivers, but they were drafted in the sixth and seventh round. They also brought in some undrafted rookies and added a couple free agents. None have panned out.
Miami's lack of wide receiver talent has obviously hurt the passing game. With a rookie quarterback, they need to do a better job of getting open and catching those passes that are going through their hands.
Davone Bess and Brian Hartline have been Miami's most reliable receivers. They are able to give Tannehill some confidence with his short and intermediate throws. Besides them, other receivers need to step up. Legedu Naanee has been a ghost through the first four games, and Anthony Armstrong has seen limited action.
Miami's biggest need for the next draft is evident. They can't expect the passing game to be successful without a game-changing receiver.
Tight end isn't exactly a position of need for the Dolphins, but it can certainly be upgraded. Anthony Fasano is a reliable target, but he could use a complement. Charles Clay comes to mind when thinking about a pass-catching tight end, but he has been unreliable thus far.
Overall, this group lacks the talent needed for an elite passing offense. Other than Bess and Hartline, receivers have to be more consistent and reliable for Tannehill. They receive a somewhat high grade because of the stellar performances of Hartline and Bess.
Overall Grade: C-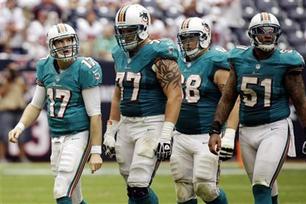 One positive the Dolphins can take out of the offensive line after the first quarter is that it's a lot better than last year.
Miami has one of the best left tackles in football in Jake Long. He has been his usual self after coming off an injury last year. He has provided Ryan Tannehill the security that nobody will be hitting him from the blindside. He is the anchor to this offensive line. Long is in a contract year, and depending on how well he plays, Miami will either re-sign him or let him walk.
Mike Pouncey is also becoming a cornerstone of this offensive line. He has been the most consistent player on the line this season. Pouncey is also quickly becoming one of the best centers in the NFL. He rarely allows pressure and has yet to give up a sack this season.
Jonathan Martin has been improving. He is an improvement from last year's Marc Colombo debacle and appears that he could be Miami's right tackle for many years. He has been getting used to the speed of the game and the transition from left tackle to right tackle.
Overall, this is an improving group that is a key component to Ryan Tannehill's development. They have the talent and ability to be a great offensive line.
Overall Grade: C+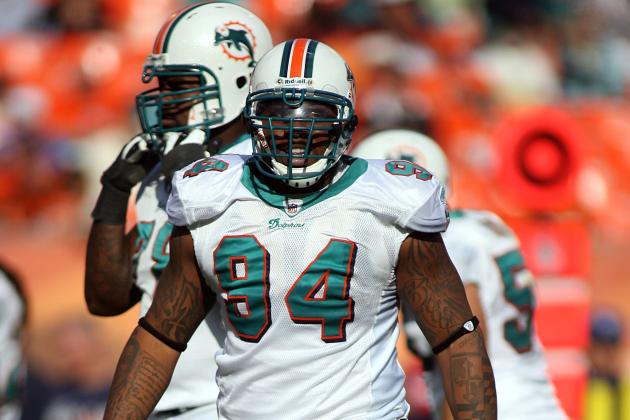 Marc Serota/Getty Images

By far Miami's best unit. The defensive line is the backbone to this team, and they will dictate the Dolphins success this season.
They are one of the best defensive lines in the NFL. They put constant pressure on the quarterback and are ranked fourth in the NFL in rushing yards allowed, largely thanks to their efforts.
Randy Starks has been tearing it up this season. He changed from a 3-4 defensive end last year to a 4-3 defensive tackle. This change is better suited for Starks' ability. He has been bullying opposing offensive linemen and harassing opposing running backs in the backfield. He is playing at a Pro Bowl level and is a big part of why this group is so good and so consistent.
Cameron Wake is the other impact player on this line. His presence is felt on every snap. He is putting constant pressure on the quarterback and demanding double teams at times. He is close to recording a sack on every snap and forces the quarterback to feel uncomfortable in the pocket. Wake's presence and intensity translates to his teammates and allows the front four to be a factor in every game. Wake came to life against the Cardinals when he recorded 4.5 sacks.
Jared Odrick and Paul Soliai have also been solid. It's hard to focus on these two players when Starks and Wake are constantly jumping off the screen, but their presence is also important for the other two to be productive.
Soliai usually requires a double team due to his size, which allows Starks to work against single lineman. Odrick has also been solid, but he hasn't reached his pass-rushing potential. If he can generate constant pressure, this line can be a lot better.
Overall, the defensive line is playing at a high level, but the scary part is that they could be playing at an even higher level. I don't believed they've reached their full potential and could be the best defensive line in the NFL if they get all four players playing at the same level.
Overall Grade: A+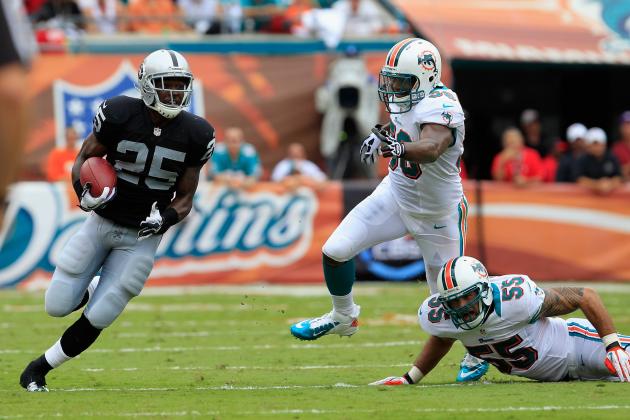 Chris Trotman/Getty Images

The linebackers are the biggest beneficiaries of the stout play from the defensive line.
This was a group that came into the season with a lot of question marks. Karlos Dansby had proclaimed himself as the best linebacker in the league. Koa Misi had not shown any progress, and they would be changing defensive formations.
Dansby is now playing as a middle linebacker, the same position he played for the Arizona Cardinals before signing with the Dolphins as a free agent. He appears to be more comfortable in this defense and has been flying all over the field during the first four games. He leads the team in tackles and has been great when dropping into coverage.
Koa Misi hasn't been great in this new system, but he hasn't been horrible either. Until now, he's played well enough, but there is obviously still room for improvement. He hasn't reached the level expected when the Dolphins drafted him in the second round, and it's doubtful he ever will.
Kevin Burnett has been solid for the Dolphins. He has been known to be great in coverage and hasn't disappointed. He has also been good generating pressure when they blitz and has been a reliable tackler in the open field. Burnett also appears to be comfortable in this new system which has allowed him to play at a high level.
Overall, this group is solid with room for improvement. They have improved from last year and are a big reason why the Dolphins ranked so highly in rushing yards allowed.
Overall Grade: B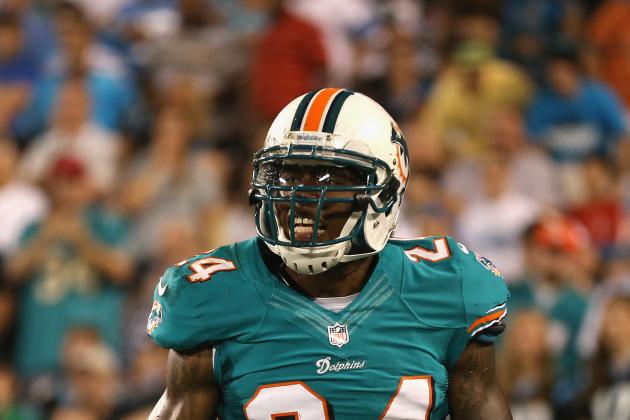 Streeter Lecka/Getty Images

Miami's secondary was expected to be a liability this season, especially after they traded highly talented cornerback Vontae Davis before the season began.
This unit has given up big plays to opposing quarterbacks and ranks 29th in the league in passing yards allowed. They are paper thin at cornerback, and the safeties are inconsistent.
Sean Smith is Miami's best secondary player when he is on. However, he can be highly inconsistent at times. He is constantly matched up with opponents' best receivers and can be a tough matchup for a receiver. He has great size and length for a cornerback and needs to start using that to his advantage.
Richard Marshall is responsible for making the Vontae Davis trade easier for head coach Joe Philbin. Marshall beat out Davis for the other starting cornerback spot after he impressed coaches in training camp. However, he has been a liability early in the season. He has been penalized for pass interference on numerous times and has been beaten deep on key plays. Against the Jets, Marshall was taken to school by Santonio Holmes.
The safeties, Reshad Jones and Chris Clemons, have been highly inconsistent. Jones has shown improvement from last year. He is always around the football but is a liability in coverage. Clemons has done his best in replacing Yeremiah Bell, but Bell is still missed. The safety play hasn't been as bad as expected, but it's still shaky.
Overall, this unit is the weakest for the Dolphins and needs a major upgrade. The season is still young, but I don't see them getting much better.
Overall Grade: D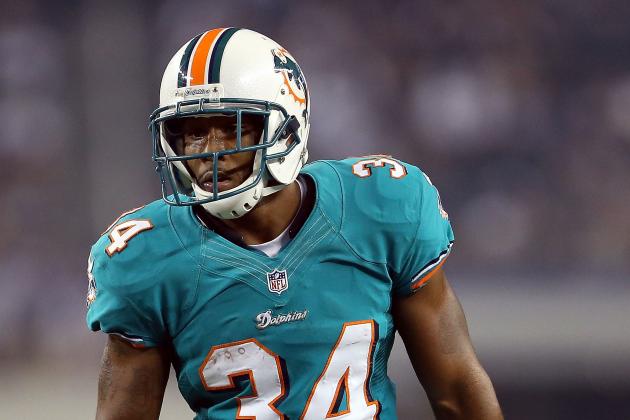 Ronald Martinez/Getty Images

Special teams has been one of Miami's biggest weapons the last few years.
This year hasn't been much different.
Brandon Fields is one of the best punters in the league and has shown it through the first quarter. He constantly pins opposing offenses inside their own 20-yard line. He is averaging 52.8 yards per punt and has become one of Miami's biggest weapons.
Dan Carpenter is usually a reliable kicker. However, he missed two field goals against the Jets that cost the Dolphins the game. He also missed a key field goal against the Cardinals at the start of the of the second half that shifted the momentum. For the season, he has made three out of five field goals, including one of over 40 yards. Carpenter has been inconsistent this season, and it wouldn't surprise me if the coaches keep an extremely tight leash.
As for the return game, the Dolphins are one of the top teams in the league. Marcus Thigpen has done a great job returning in his first season in the NFL. He is averaging 22.7 yards per kick return and has one punt return for a touchdown.
Overall, this is a solid group for the Dolphins. Special teams is often overlooked, but it can make the difference between winning and losing a game, which Miami is very familiar with. Carpenter's inability to make pressure field goals drops their grade a bit.
Overall Grade: C+