Oregon vs. Washington State: Final Report Card, Final Grades for Oregon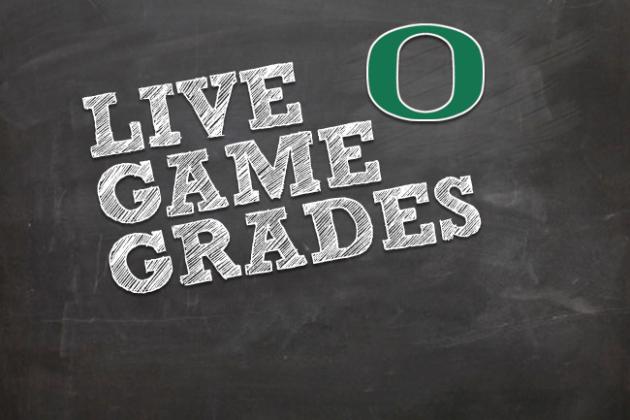 The final gun has sounded.
In an up and down game, Oregon triumphed over Washington State, 51-26 at CenturyLink Field in Seattle, WA.
There were some rough patches for the Ducks, but in the end Oregon led from start to finish to improve to 5-0 on the season, and hope to build off of their AP No. 2 ranking.
Let's take a look at how the Ducks graded out against the Cougars.
Begin Slideshow

»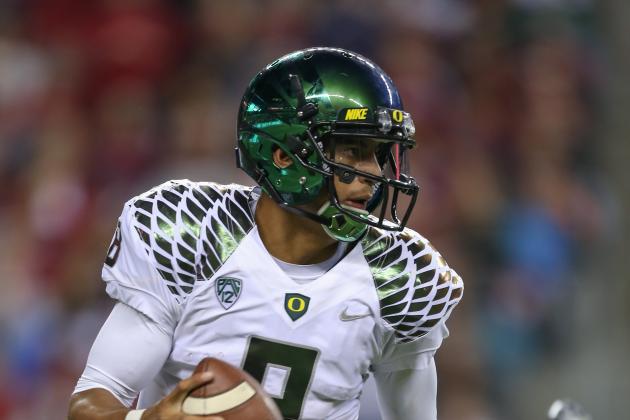 Otto Greule Jr/Getty Images

Overall Grade: B-
Mariota was far from impressive in the final three quarters against the Cougars.
After coming out of the gates hot, running and passing the ball effectively, Mariota ended the first quarter with an interception.
From there things went down hill for the red shirt freshmen.
Mariota finished the game 21-of-32 for a mere 169 yards with one touchdown and two interceptions, a season high for the Hawaiian native known for his poise.
Watching film of Mariota before his first interception, and watching film of after that interception show us one thing: Mariota played the game scared.
We didn't see the poise and calm that we have become accustomed to seeing.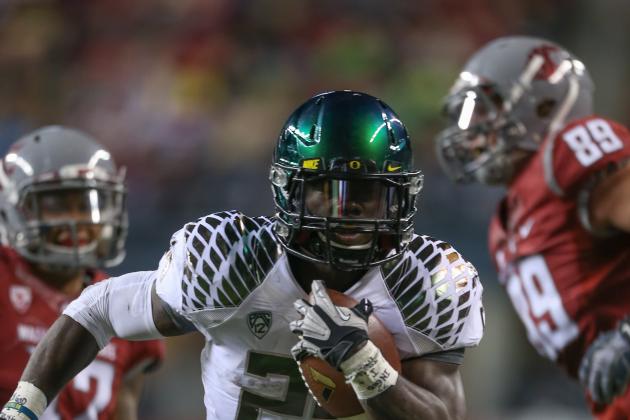 Otto Greule Jr/Getty Images

Overall Grade: A
If it wasn't for Kenjon Barner, the running backs would not be receiving an A for their effort against Washington State.
Barner led the way with 195 yards and three touchdowns on 28 carries.
From there, we see a drop off.
De'Anthony Thomas, who was profiled as the Black Mamba on ESPN College Gameday, was anything but electric. Thomas averaged a pedestrian 4.5 yards on 12 touches.
As for Colt Lyerla, we saw nothing like we did last week.
Lyerla managed only 10 yards on four carries.
Barner has returned to carrying this unit after seeing limited time the past two weeks with the rest of the offense doing so well.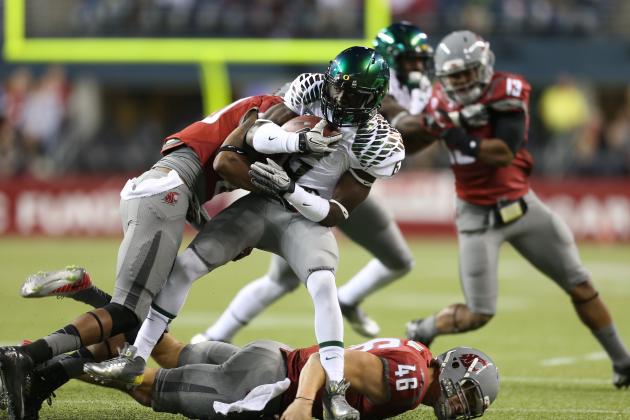 Otto Greule Jr/Getty Images

Overall Grade: A
As we've seen all season, there is no No. 1 receiver like there was in 2010 with Jeff Maehl.
Instead, Mariota dumped the ball off to eight different receivers.
While the only touchdown came from a wide open Barner on a pass even Dustin Haines could have completed, the wide receivers earned their A doing the dirty work: blocking.
If not for the blocking that Huff and Co. provide, Barner would not have scored three touchdowns, and Mariota would not have rushed for 59 yards and another score.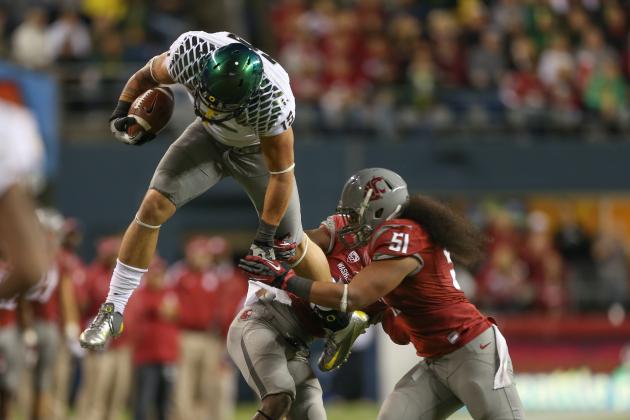 Otto Greule Jr/Getty Images

Overall Grade: B-
With Mariota struggling, their wasn't much of a passing game against Washington State.
Lyerla was the only tight end to record any stats, an 11-yard reception.
The tight ends did not provide any protection for Mariota, leading him to be pressured all night long which is why the will have to settle for a B-.
If it wasn't for the blocking they provided for Barner, the unit would have graded out much lower.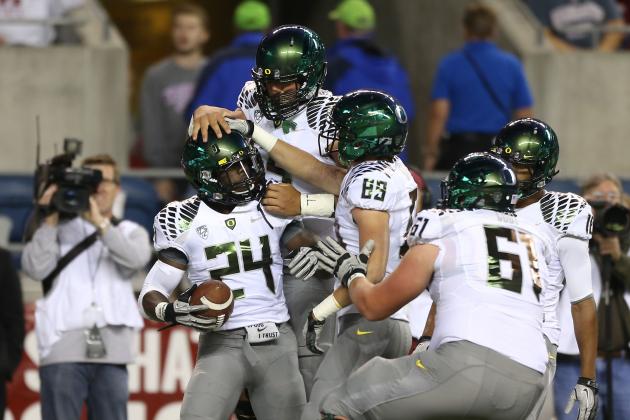 Otto Greule Jr/Getty Images

Overall Grade: C+
It was the best of times, it was the worst of times.
While the offensive line was able to pave the way for 300 yards rushing, 195 of which came from Kenjon Barner, their pass protection was absolutely terrible.
Mariota was under pressure all night, and if it were not for his legs, would have been sacked multiple times.
Washington State is not famous for their pass rush, yet for some reason their defensive linemen found a way to make plays in our backfield all night long.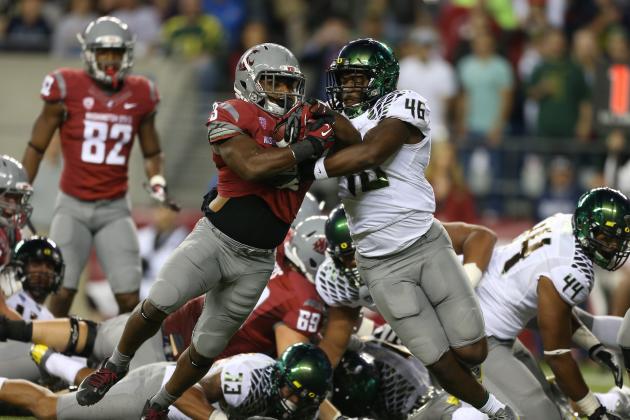 Otto Greule Jr/Getty Images

Overall Grade: A
The defensive line is definitely Oregon's second biggest strength after offensive skill players this season.
Connor Halliday may have played a good game, but the defensive line did not make it easy, and made the Cougars earn every one of their 410-yards passing.
Halliday dealt with the pocket collapsing all night long, and was sacked seven times.
While this was Oregon's ugliest win of the season, the defensive line was anything but ugly.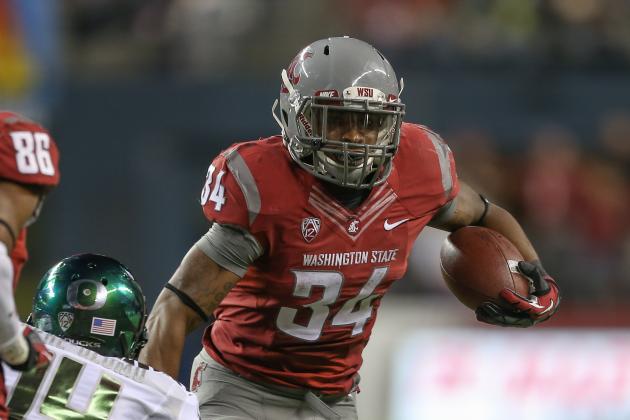 Otto Greule Jr/Getty Images

Overall Grade: B+
The one-two punch of Michael Clay and Kiko Alonso continues to take the Pac-12 by storm.
Clay added another sack before exiting the game in the second half with an ankle injury, and the linebackers continued to force pressure on the quarterback, and contain the run game.
Washington State managed -43 yards rushing against the Ducks, and their top rusher was only able to gain 23 yards on the ground.
The linebackers also were able to break up plays in the passing game, and played a role in all seven of the Ducks sacks.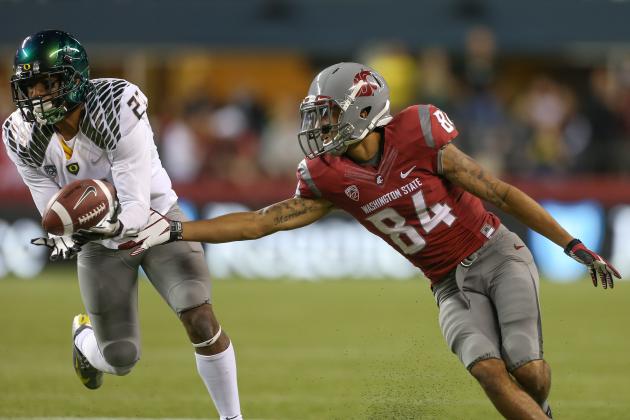 Otto Greule Jr/Getty Images

Overall Grade: C+
The past two weeks Oregon's defensive backs have been so good they were able to give the Ducks a well-rounded and stout defense.
They didn't prove that tonight against the Cougars.
Throughout the entire game, Oregon corners blew coverages, leaving Washington State receivers wide open, thus allowing Marquess Wilson to catch 12 passes for 182 yards and a touchdown.
That was only the tip of the iceberg however.
Penalties continue to hamper Oregon's defense, as the Ducks secondary was flagged all night long for pass interference.
The only bright spot was Avery Patterson's pick six in the third quarter to give Oregon a two score lead.
With Keith Price coming to town next week, the defensive backs are going to have to play better.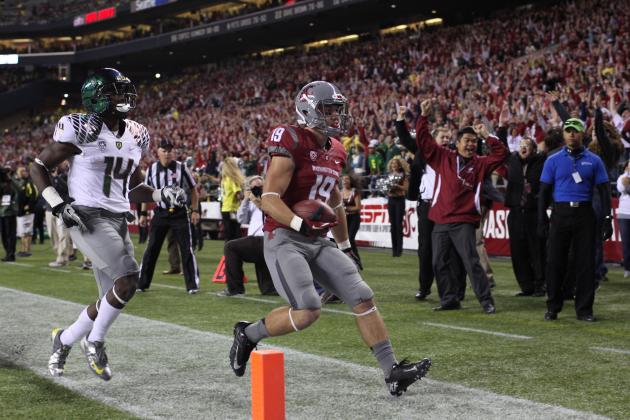 Otto Greule Jr/Getty Images

Overall Grade: B-
Last season, special teams was Oregon's bread and butter.
This season has not been so fortunate,
With the new kick off rules, and opposing teams learning what happens when you kick it to DAT, the return game has been non-existent this season.
The Ducks offense was only able to gain such good of field position because the defense forced Washington State to punt it from deep in their own territory.
The darkest team for the special teams unit came when Teondray Caldwell broke free for a 92-yard kickoff return, and almost scored but was tripped.
Oregon failed to convert on a two-point attempt as well.
Bright spots for special teams was blocking a Cougar PAT attempt, and Rob Beard's 34-yard field goal.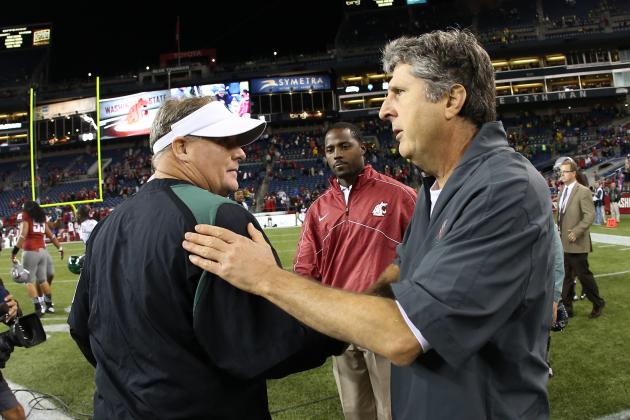 Otto Greule Jr/Getty Images

Overall Grade: A-
While it was an ugly win, it was still a victory and Chip Kelly kept his team together.
Up by only four at halftime, Kelly was able to instill something in his team in the locker room because the Ducks came out hot in the second half and pulled away from Washington State to win, and have their fifth straight 40-point effort of the season.