What Steve Spurrier Learned from Georgia's Struggles Against Tennessee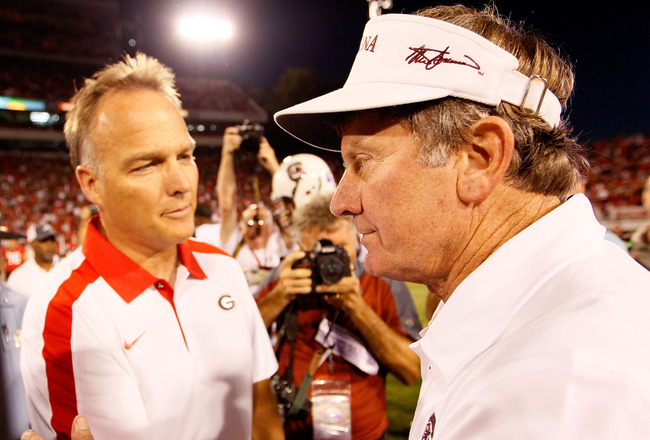 Kevin C. Cox/Getty Images
Mark Richt and Georgia probably hope that South Carolina head coach Steve Spurrier doesn't watch the replay of their close win against Tennessee.
While Spurrier wasn't able to watch the Volunteers take the Bulldogs down to the wire live, as he had his hands full with Kentucky, he's bound to learn a lot about his next opponent from the film.
So, what will Spurrier learn about Georgia from this game? Read on.
1. The Georgia Defense Has Issues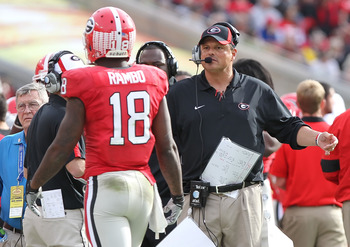 Kim Klement-US PRESSWIRE
The Georgia defense was supposed to get a huge shot in the arm by getting Baccarri Rambo and Alec Ogletree back from suspension.
Instead, the Bulldogs gave up 478 yards of total offense and 44 points.
Georgia has some amazing talent on the defensive side of the ball, including USC transfer Jarvis Jones. Still, they really have been underperforming up to this point.
This was supposed to be the game that Georgia went back up to full strength. They didn't live up to expectations, as Tennessee pretty much moved the ball at will.
2. Georgia Can Force Turnovers When Called Upon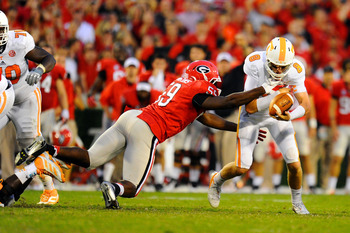 Dale Zanine-US PRESSWIRE
Georgia's overall defensive issues aside, Steve Spurrier would be wise not to miss the fact that the Bulldogs forced turnovers when they needed them.
With Tennessee driving up to the Georgia 27 trying to score what would have been a tying touchdown, Jordan Jenkins forced a Tyler Bray fumble. That was the play that gave the Bulldogs the win.
Message to South Caroline: Hold onto that football!
3. Aaron Murray Can Be Pressured into Mistakes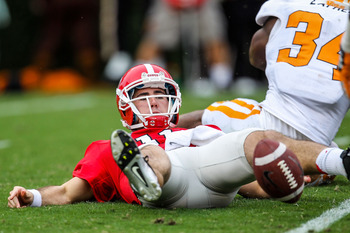 Daniel Shirey-US PRESSWIRE
While Aaron Murray had a pretty solid game overall, the Bulldogs QB made two key mistakes that turned into 14 points for Tennessee.
The first was an interception on Georgia's second drive of the game that Byron Moore took to the house.
The second happened late in the second quarter as Aaron Murray stepped up in the pocket, got tackled from behind and lost the football. This made it 1st-and-goal from the 8-yard line.
Three plays later, Tennessee cashed the turnover in for a touchdown.
Spurrier will keep this in mind as he prepares his defensive line.
4. Beware of the Georgia Running Game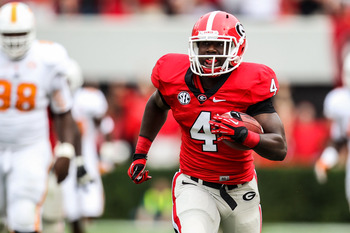 Daniel Shirey-US PRESSWIRE
If Georgia did one thing right, it was running the ball.
Keith Marshall and Todd Gurley ran all over Tennessee as they combined for 294 yards and five touchdowns.
Three of those TDs were on runs of 50 yards or longer. In fact, Marshall had two TD runs for more than 70 yards.
Spurrier does have one of the best defensive lines in the nation, headed up by Jadeveon Clowney. That defensive line is going to have to be ready to face perhaps their biggest test of the season.
5. Georgia Won't Quit If Down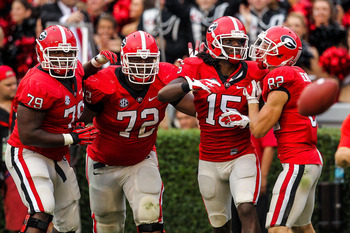 Daniel Shirey-US PRESSWIRE
It was a rougher game than most people thought it should have been, but Georgia held together for the win.
South Carolina can't just count on demoralizing the Bulldogs for the win. Georgia is going to fight the entire game.
Steve Spurrier needs to make sure that his Gamecocks play all four quarters, or Georgia's toughness may win out.
Keep Reading

South Carolina Football: Like this team?