UFC on Fuel TV 5 Results: Power Ranking the Main Card Bouts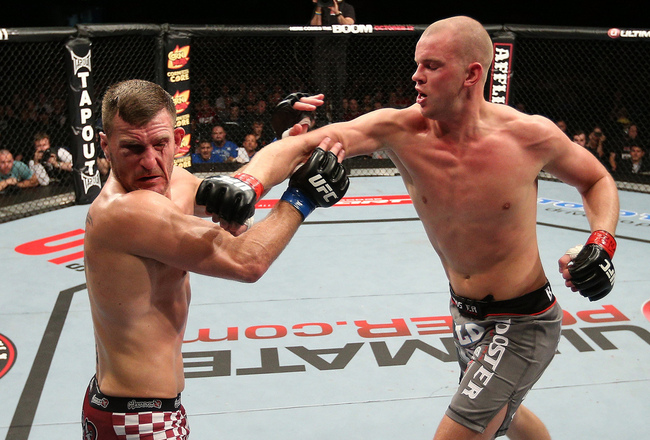 Photo by Josh Hedges/Zuffa LLC/Zuffa LLC via Getty Images

UFC on Fuel TV: Struve vs. Miocic delivered a fun afternoon of fights.
The free card hailing from Nottingham, England featured a mixture of up and comers, veterans, strikers, grapplers and everything in between.
The majority of the fights were entertaining. It was a great way to wet our appetite as the UFC brings a couple of more cards to the viewing public in the coming weeks.
Of the six main card bouts, only two went to the judges. Fans love finishes and the card delivered.
Here is how the fights stacked up against one another.
No. 6: John Hathaway Defeats John Maguire by Unanimous Decision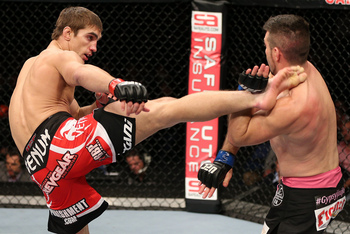 Photo by Josh Hedges/Zuffa LLC/Zuffa LLC via Getty Images
This fight had all the makings to be a fantastic fight. I certainly thought it would deliver, and I was wrong.
Hathaway dominated the action. He dictated where the fight took place, and Maguire had a hard time getting inside of Hathaway to mount any sort of offense.
Finally, in the third round, Maguire made it somewhat interesting when he took Hathaway down, but it was way too late to make a difference.
It was a lackluster fight, but Hathaway got a sizable victory for his welterweight status. The win will keep him moving forward in his quest to be one of the next contenders at 170 pounds. It's just a shame he could not have done it in a more exciting bout.
No. 5: Che Mills Defeats Duane Ludwig by TKO (Injury)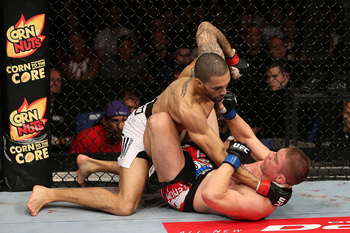 Photo by Josh Hedges/Zuffa LLC/Zuffa LLC via Getty Images
The injury to Ludwig was unfortunate, but, by the looks of the fight up to that point, it would not have changed the outcome. Mills was mauling Ludwig.
Had Ludwig not suffered what seemed to be a knee injury, it could have been a dominating performance from Mills that earned him some extra cash at night's end.
The fans were merely treated to 2:28 of action before the injury halted the bout and gave Mills the victory. Mills rebounds from his last outing versus Rory MacDonald and picked up a win in the main card's opening fight.
No. 4: Dan Hardy Defeats Amir Sadollah by Unanimous Decision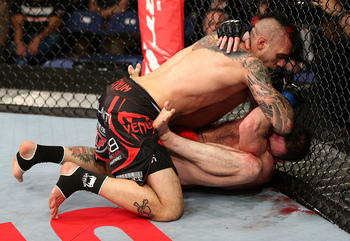 Photo by Josh Hedges/Zuffa LLC/Zuffa LLC via Getty Images
Dan Hardy unexpectedly showed off some of his wrestling in the bout. It was not exactly the most beautiful wrestling we have ever seen, but it shows everyone that he is working hard at developing all facets of his game.
Sadollah and Hardy exchanged on the feet early with both men finding a little bit of success, but when Hardy went to the wrestling well it spelled doom for Sadollah. He was easily taken down and was on the end of some nasty short elbows from the Nottingham native.
Hardy picks up his second victory in a row and slowly makes his climb back up the welterweight ladder.
It was not the best fight on the card, but seeing Hardy start to evolve in to a complete mixed martial artist was a great sight.
No. 3: Matt Wiman Defeats Paul Sass Via Submission (Armbar)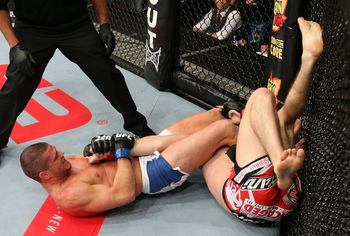 Photo by Josh Hedges/Zuffa LLC/Zuffa LLC via Getty Images
The upset of the night featured Matt Wiman submitting the submission specialist.
Sass took the fight to the mat where he had a decided edge, and after a missed submission attempt he was the one on the defense.
Wiman threatened with an armbar, but Sass was able to defend. The crafty UFC veteran stuck with it however and managed to force the tap 3:48 in to the first round.
Wiman is now a winner of six of his last seven outings and could find himself in a more high profile lightweight scrap his next time out. The six-year UFC veteran can finally have his opportunity to make his mark in the division.
No. 2: Stefan Struve Defeats Stipe Miocic by TKO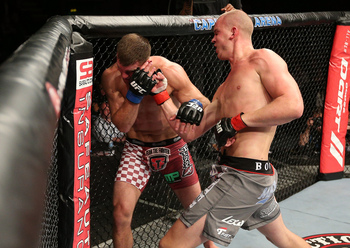 Photo by Josh Hedges/Zuffa LLC/Zuffa LLC via Getty Images
The night's main event was the only finish that did not happen in the first round.
The first round of action saw Miocic get on the inside and land a multitude of strikes on Struve. The most damaging may have been a couple of nice body shot combinations.
In the second round, Struve started to utilize his jab and hurt the Ohioan. Once he controlled the distance, he was able to pick him apart and go for the finish.
Struve had Miocic hurt multiple times, but was patient enough to wait for the proper time to end the fight. He did not rush in and make a drastic mistake as Miocic showed a great chin and recovery in the fight.
With his fourth consecutive win in the heavyweight division Struve certainly jumps in to the fray of potential contenders. Without question he is now only a fight or two away from competing for the UFC Heavyweight Championship of the World.
A quality fight, but a better performance from Struve.
No. 1: Brad Pickett Defeats Yves Jabouin by KO
Photo by Josh Hedges/Zuffa LLC/Zuffa LLC via Getty Images
The night's best fight only lasted 3:40.
Pickett and Jabouin exchanged strikes before Pickett leveled Jabouin with an uppercut to end the fight.
Both fighters were exciting with their movement and striking. It was a fast-paced fight with good exchanges. Each man was able to land on the other, but Pickett lived up to his "One Punch" nickname with the uppercut.
The win surely moves Pickett closer to a potential title shot in the near future. The bantamweight division was in need of its fighters to step up and be exciting, and these two men certainly did. Unfortunately for Jabouin, he was knocked unconscious in the bout.
3:40 of bantamweight excitement.
Keep Reading