Texas vs. Oklahoma State: Final Game Grades & Player Analysis for the Longhorns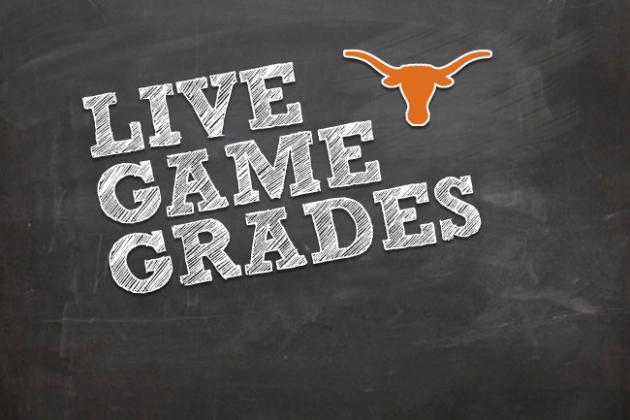 The Longhorns pulled out an unbelievable win Saturday, no thanks to their defense or running backs, but to a career night from sophomore quarterback David Ash.
The 41-36 win over Oklahoma St. pushes the Longhorns to 4-0 and has them riding high as they head into their matchup with the AP's current No. 9 West Virginia Mountaineers in Austin.
Here are the final game grades and player evaluations for the Longhorns following their huge road win.
Begin Slideshow

»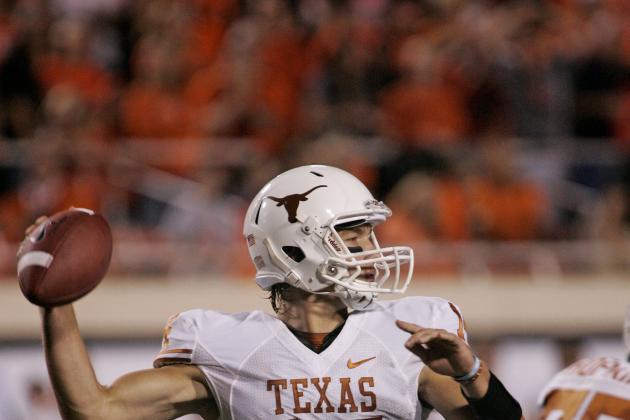 Brett Deering/Getty Images

That's how you get it done, David Ash.
There are almost no words to describe what David Ash has done these first four weeks of the season. He was kicked in the ribs all offseason by those that believed he was not up to snuff and was criticized heavily for underwhelming performances in the first two games of the season.
Now, after leading the 'Horns on his first career game-winning drive, Ash is clearly a starting quarterback in the Big 12.
Ash finished the game going 30-of-37 for 304 and three touchdowns, including 70 yards on the final drive that won Texas the game. He had ice water in his veins when faced with a critical 4th-and-6 on the drive and then again on a 32-yard bomb to Mike Davis.
Calmness and confidence are two very important traits for any starting quarterback, and Ash showed he has both of those Saturday. After the improvement he has shown with his past two performances, one can only help but wonder how good Ash is going to be by the end of the season.
Ash's grade would be an A were it not for his interception and a few misses on sure-touchdowns.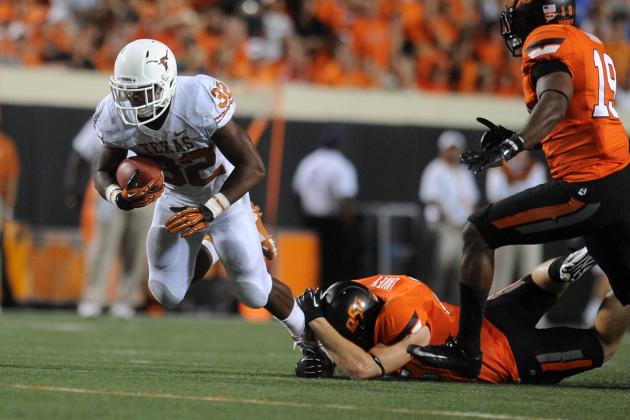 Mark D. Smith-US PRESSWIRE

Their stats are not gaudy and they did not dominate this game by any means, but the running backs played a very good game despite sub-par blocking from the offensive line.
In the biggest game of the season, freshman Johnathan Gray went out and had the best game of his young Longhorn career in leading the team in rushing yards against Oklahoma State.
Gray's quickness and agility allowed him to hit holes the team's other backs simply could not. His running on Texas' second-to-last drive was instrumental in getting Joe Bergeron into the end zone to put Texas back on top.
Speaking of Bergeron, he was not too shabby himself. His 3.2 yards per carry are not very impressive, but his three touchdowns and 72 total yards of offense were huge for this team. His game-winning touchdown run may be questionable, but it's in the box score and that's all that matters.
Ryan Roberson and Jeremy Hills also got into the action, coming up with seven receptions for 47 yards between them. Those numbers do not look like much, but those receptions paid serious dividends and helped keep big drives alive.
In total, this group gave the 'Horns 187 yards and two touchdowns without coughing up the rock. And in a game where literally every yard mattered and the blocking was not there, that is a great effort.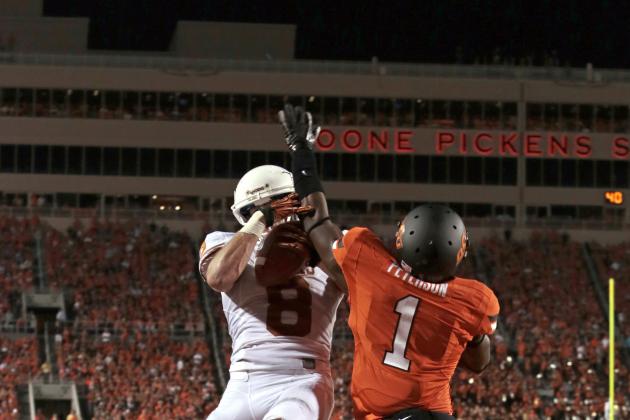 Brett Deering/Getty Images

The diversity of talent at the wide receiver position has totally revamped the Longhorn offense so far this season, and this contest was yet another example of that asset.
The Longhorns were able to keep the Cowboy defense guessing all night thanks to this group's ability to catch, run and throw the football. And the hands of Mike Davis and Jaxon Shipley were probably the difference in this game as the two combined for 131 yards, three touchdowns and the biggest play of the game on the game's final drive.
Speedsters Daje Johnson, D.J. Monroe and Marquise Goodwin also made major impacts for this Longhorn team from the wide receiver position. Monroe took a kickoff 100 yards to the house in the first quarter and Johnson ran after the catch with an absolute vengeance in earning every single one of his 45 receiving yards.
This Texas offense has looked much better than many thought it would heading into the season, and the wide range of talent at the wide receiver position is a major reason why. This is especially so when you consider that these guys did it against Brodrick Brown and Justin Gilbert, who form one of the top corner tandems in college football.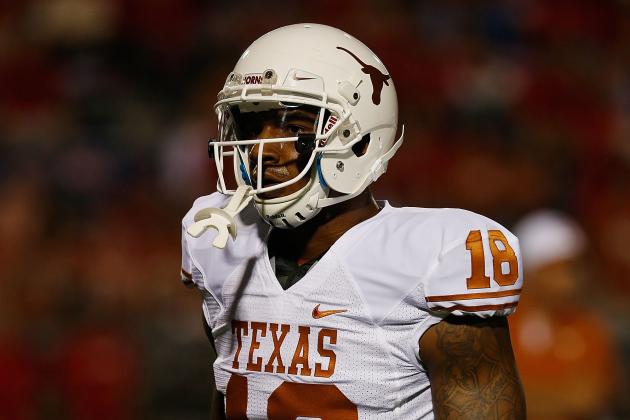 Scott Halleran/Getty Images

A tight end will probably never be the star of the game this season for the Longhorns, but senior D.J. Grant was there in a big way when his team needed him.
With the David Ash and the 'Horns staring defeat in the face on 4th-and-6, Grant's number was called and he delivered. Grant took a short completion up the sideline for 29 yards and sent his teammates to victory with the biggest play of his career.
Grant is certainly capable of being a great weapon for this team, as we saw in last year's game against UCLA (77 yards, three touchdowns). If he can improve his blocking, he could be a serious asset for this already talented group of Longhorn pass-catchers.
On the whole, the tight end group was very mediocre, with Grant's reception skewing the grade for this group. Their primary role is to block, and the blocking was not good enough. Backup lineman Luke Poehlmann had to come in as a tight end to stop the bleeding, meaning the tight ends were not getting it done.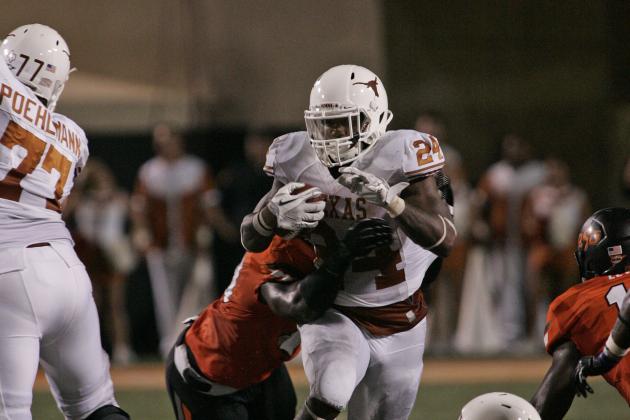 Brett Deering/Getty Images

After dominating inferior competition for the first three games of the season, the offensive line was very much humbled by the Oklahoma State front.
Through the first three games, the offensive line was stellar. They allowed only two sacks of quarterback David Ash and their run blocking was yielding a 5.9 average.
Saturday was a totally different story as the Cowboys hit David Ash multiple times (two sacks) and held the Longhorns in check with a 3.2 yards-per-carry average. As previously mentioned, the Longhorns were having such a hard time up front that backup lineman Luke Poehlmann was brought in as an extra blocker at tight end.
Luckily for the 'Horns, this is one of the tougher fronts they will face this season and they will have two weeks to prepare for OU's defensive front. But on this occasion, they did not look anything like the group that had 101 knockdown blocks against Ole Miss.
Do give these guys credit for creating enough push for Joe Bergeron's two red-zone touchdown plunges, especially the two-yard game winner. Otherwise, they have a lot of work to do.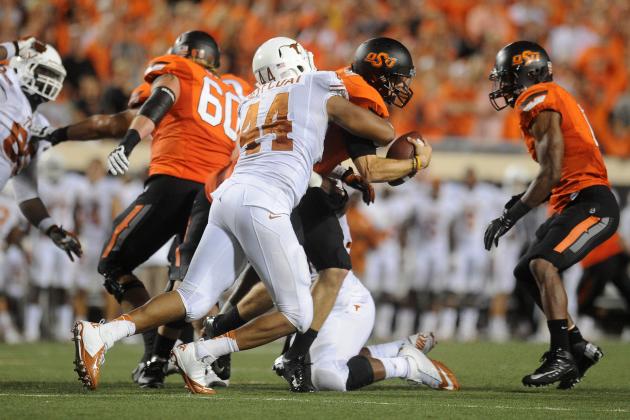 Mark D. Smith-US PRESSWIRE

Once again, the defensive line was the toast of this Texas defense as bookends Jackson Jeffcoat and Alex Okafor continue to live up to the hype.
If Okafor and Jeffcoat are not both first-team All-Big 12 this season, then Longhorn fans need to revolt. These two were great once again in combining for 10 tackles, two sacks and another three tackles for loss, with Jeffcoat leading the team with seven tackles and four for a loss. And Jeffcoat's sack and forced fumble on OSU's final drive pretty much wrecked any chance the Cowboys had of pulling off a miracle.
Jeffcoat and Okafor have been great, but the reason this line has been so good is they are getting great help from their mates along the defensive front. Three of the four defensive tackles that saw time in this contest recorded a tackle for a loss and did their job despite the gaudy offensive numbers that the Cowboys put on the board.
This unit did struggle in the first half, especially on the left side, though it was not getting much help from the linebackers not named Steve Edmond. The defensive issues were not the defensive linemen's fault.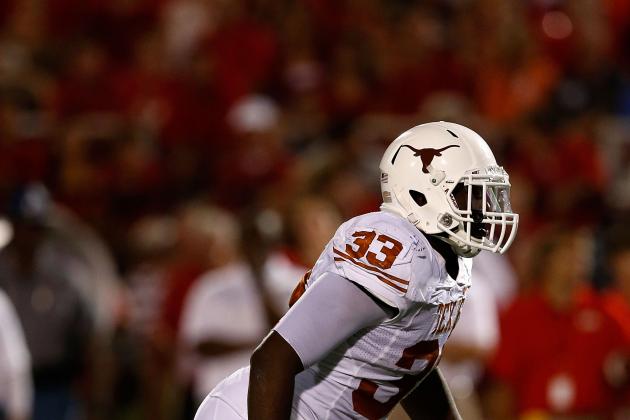 Scott Halleran/Getty Images

It became painfully obvious just how important Jordan Hicks is to this inexperienced group of linebackers. Let's hope his hip pointer gets better very soon.
Oklahoma State running back Joseph Randle ran absolutely wild with 208 rushing yards for 8.0 average and two touchdowns, and Hicks' absence is a key reason as to why.
Other than Steve Edmond, who tied for the team lead in tackles, the Longhorns just do not have much at linebacker. Demarco Cobbs still looks lost out there, and both backups— Kendall Thompson and Tevin Jackson—were ineffective.
The Cowboys started running the ball immediately, never looking back after Randle's 69-yard touchdown run on the second play from scrimmage. This type of effort is totally unacceptable with Oklahoma only two weeks away and, Hicks or no Hicks, the linebackers have to get it together.
This would be a failing grade were it not for Edmond's effort.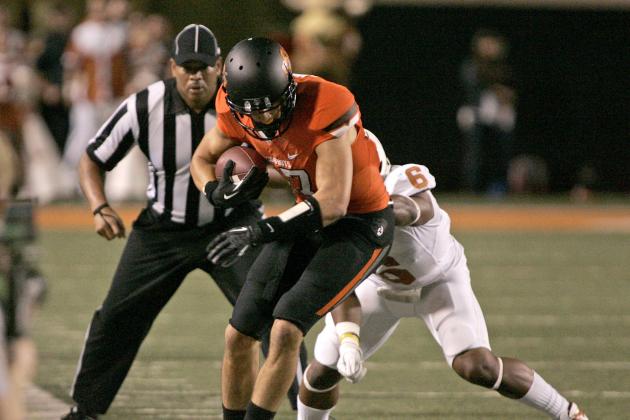 Brett Deering/Getty Images

Considering the amount of pressure that was placed on the defensive backs with the absence of Jordan Hicks, these guys played a very good game for Manny Diaz's defense.
Quandre Diggs played with great toughness throughout the entire game, backups Josh Turner and Mykkele Thompson played like starters, and Carrington Byndom had one of his better games of the season on the outside.
Kenny Vaccaro's interception on OSU's second drive was one of the biggest plays of the game and his leadership was instrumental to the victory.
Missed tackles are still an issue for a group that allowed another 300-yard passing game, but they made plays when it mattered and played with a lot of heart. Hicks' return will make things much easier on this unit.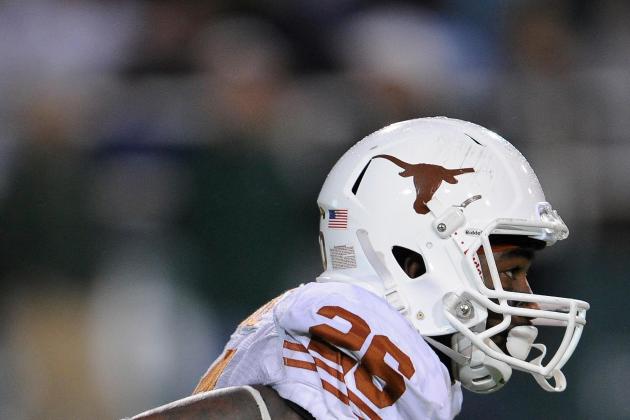 Jerome Miron-US PRESSWIRE

After four games, it seems that the only thing these Longhorn special-teamers do consistently is be inconsistent, though Saturday was one of their better outings of the season.
Normally a 100-yard kickoff return like the one D.J. Monroe had would put the special teams in position to receive an A for their effort. But these guys decided to keep it interesting and played more erratic football.
First, this unit gave the Cowboys 20 free yards after absolutely butchering a punting situation with two false starts and a snap that was rolled to punter Alex King. Then these guys were burned for 95 return yards that gave OSU great field position on two occasions, including the late third-quarter touchdown that gave the Cowboys life heading into the fourth quarter.
Also worth mentioning is how vehemently Mack Brown avoided trotting freshman Nick Jordan, who missed four of his seven field-goal attempts, out onto the field for a three-point try. This does not hurt the grade, but the Longhorns would have had to trust the game to Jordan's leg had David Ash not been able to hit Mike Davis inside the 5-yard line.
Hopefully, Anthony Fera is ready for next weekend because Jordan clearly cannot handle the job right now.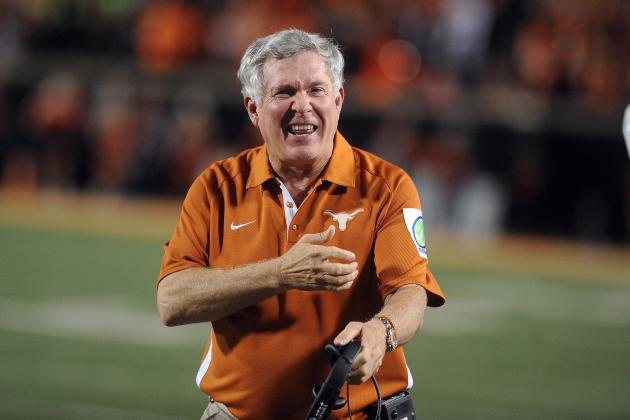 Mark D. Smith-US PRESSWIRE

In a game that would lead to chatter about his job security no matter what, head coach Mack Brown and his staff called a great game and coached this team to its most important win of the season.
As if the absence of Jordan Hicks was not enough, the Longhorn coaches had to basically pitch a shutout in the fourth quarter in order for the Longhorns to pull it out. Manny Diaz's defense was certainly humbled by Saturday's performance, but they held their ground twice in the red zone in the second half and stayed focused on the Cowboys' last desperate attempt at victory.
The man who deserves a lion's share of the credit for this victory is offensive coordinator Bryan Harsin. He placed a lot of trust in freshman Johnathan Gray, who rewarded that trust with the best game of any Texas running back.
Harsin also called a flawless final drive in which sophomore quarterback David Ash proved that he can play with the big boys of the Big 12.
My only issue with the coaching staff was the use, or lack thereof, of leading rusher Malcolm Brown. The star sophomore had only three carries the entire night despite the struggles of Joe Bergeron. Had Johnathan Gray not had the game he did and Texas lost, Harsin would be under some serious fire right now.
Still, you have to give these guys credit for how they adjusted throughout the game and kept their players cool under an immensely pressure-filled situation. These guys were worth every penny.