Virginia Tech Football: 10 Things We Learned from Hokies' Loss vs. the Bearcats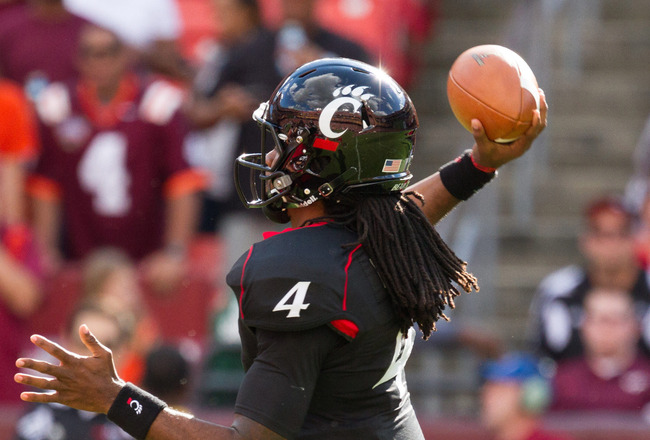 Paul Frederiksen-US PRESSWIRE
Things couldn't have gone much better for the Cincinnati Bearcats Saturday as they defeated the Virginia Tech Hokies 27-24 in Landover, Maryland.
After a first half in which each team struggled offensively, the second half began much better for both teams.
It became a game where whoever had the ball last, was likely to come out on top.
Today was truly a tale of two quarterbacks as Cincinnati's Munchie Legaux thoroughly outplayed Virginia Tech's Logan Thomas in the Bearcats' win.
Here are 10 things we learned from the Hokies' last-second loss to Cincinnati.
Bruce Taylor Is Back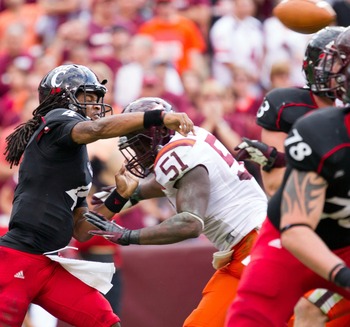 Paul Frederiksen-US PRESSWIRE
Taylor, who has dealt with nagging injuries and missed time so far in 2012, was dominant in today's loss to Cincinnati.
He was active in the running game, being credited with eight tackles unofficially, and applied pressure on Munchie Legaux on more than one occasion.
Taylor's biggest contribution, however, was his tipped pass inside Cincinnati's 15-yard line that freshman defensive tackle Kris Harley made a diving catch on to set up the Hokies' first score.
A.J. Hughes Has Solidified the Punting Position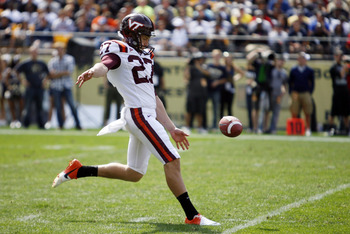 Charles LeClaire-US PRESSWIRE
Give Frank Beamer credit for sticking with freshman punter A.J. Hughes after his early-season gaffe against Georgia Tech.
Hughes has been consistent throughout much of this season and shows a knack for getting the ball inside the opposition's 20-yard line.
His punts helped the Hokies' defense today, as they were needed to bail out the offense on more than one occasion. Hughes was busy today, finishing with seven punts and averaging just under 46 yards per punt.
Logan Thomas Continues to Disappoint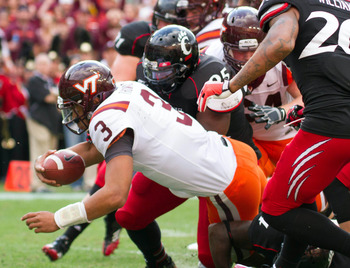 Paul Frederiksen-US PRESSWIRE
Thomas continues to force throws into coverage and was lucky he didn't have at least four interceptions today.
His throws continue to sail high and it appears he tries to lob every throw. As big as he is, he needs to plant his feet and release the ball.
His inaccuracy is looking like a trend at this point.
He did make plays when it mattered most as he led the Hokies on the go-ahead drive late in the fourth quarter. His throw to Corey Fuller for the 56-yard touchdown was an excellent throw.
Tough Day for Antone Exum
Justin K. Aller/Getty Images
To say Antone Exum had a bad day would be a gross understatement.
He was flagged for multiple defensive penalties and couldn't stay with Cincinnati receiver Kenbrell Thompkins.
Exum, a junior, was solid through the first four weeks of the season but Cincinnati clearly felt they had a mismatch with Thompkins and exploited it.
You have to wonder if Exum is better off at rover or free safety at this point. Perhaps he can move back to free safety and replace Detrick Bonner. But today, Bonner was better than Exum.
His missed tackle of Ralph Abernathy sums up Exum's day perfectly. Abernathy wasn't his responsibility, but his poor attempt of a tackle mirrored Exum's day.
Marcus Davis Needs the Ball More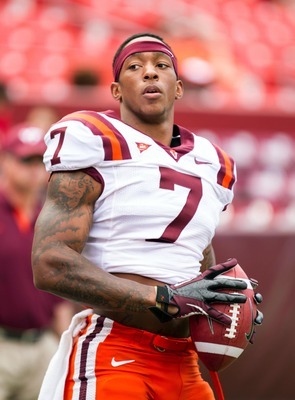 Paul Frederiksen-US PRESSWIRE
Yes, it is obvious Davis needs the ball more than he currently gets it.
It was no coincidence the Hokies' offense started moving the ball consistently once Thomas fed Davis the ball. He is a mismatch for any college defensive back and he continues to develop consistency.
His catch inside the 5-yard line was one NFL scouts will love. Davis showed tremendous ball skills and followed through on the catch.
While Davis only had one reception for three yards in the first half, he finished the game with five catches for 101 yards.
The more he gets the ball, the better this offense will be.
Michael Holmes Continues to Impress
Paul Frederiksen-US PRESSWIRE
With each passing week, Michael Holmes continues to show less hesitation when he gets the ball. This isn't a great offensive line, but Holmes doesn't use that as an excuse. He sees the hole and doesn't waste any time in getting up the field.
Holmes has excellent vision and you can see it as soon as he gets the ball. Holmes also showed impressive power on his fourth quarter touchdown run.
He finished today's game with 61 yards on 12 carries and one touchdown. Those numbers don't tell the story on how good Holmes was.
J.C. Coleman Is a Playmaker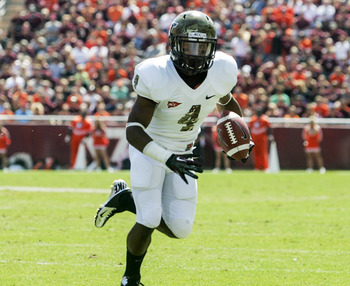 Peter Casey-US PRESSWIRE
J.C. Coleman has limited snaps every week, but continues to take advantage of his opportunities.
Twice, Coleman took a Logan Thomas screen pass that was blocked well, and picked up several yards.
Coleman's first catch was on third-and-long—if the play would have been called on first or second down it would have had more of a chance for success.
Coleman finished the game with two receptions for 33 yards and had seven rushes for 32 yards. He makes the most out of every snap he gets.
The Hokies' young running backs are coming along nicely.
Corey Fuller Stepped Up Again
Paul Frederiksen-US PRESSWIRE
Before his fourth quarter touchdown to give the Hokies the lead, Corey Fuller had a day to forget.
It is a testament to Fuller that he bounced back and kept his head in the game to run an excellent route and take the Thomas throw to the end zone for the go-ahead score.
Fuller finished the game with 80 yards on four receptions and one touchdown.
His fumble early in the game put the Hokies in a bad position. On the next drive, Fuller dropped an excellent pass from Thomas that would have given the Hokies good field position.
Credit Fuller, though, he showed mental toughness by continuing to block in the running game and make the game's biggest catch, at that point.
The Defense Failed When It Mattered Most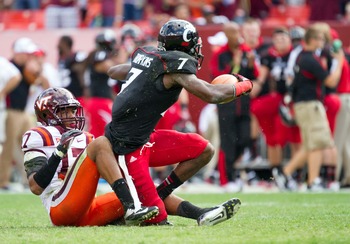 Paul Frederiksen-US PRESSWIRE
The Hokies couldn't have asked to be in a better position at the end of the game.
Their strong defense would take the field with under two minutes remaining and Cincinnati without a timeout.
Defensive coordinator Bud Foster kept the pressure on Legaux but he continued to make plays with his feet as well as his arm. The Hokies' defense struggled on third down, especially late in the game.
And as far as the touchdown pass, the Hokies had their best defender, Kyle Fuller, one-on-one with Damon Julian and he got beat. It was a tremendous pass and catch, but Foster would likely take that matchup every time.
How quickly have we forgotten all the talk that this defense could be one of the best in school history?
Corey Moore & Co. from the 1999 team are laughing at such statements now.
The Hokies Are a Bad Big East Team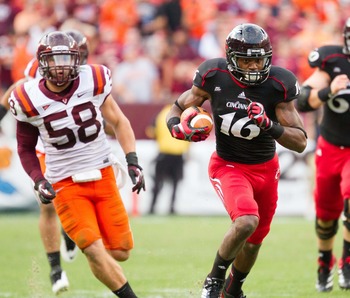 Paul Frederiksen-US PRESSWIRE
Sure, the Hokies are still alive for the ACC's Coastal Division title.
But, they are 0-2 against Big East teams. Folks, the Big East isn't exactly the SEC.
The Hokies are now 2-2 on the season and they could easily lose four more games.
What have we seen to make us think otherwise at this point?
Five games into the season and Logan Thomas still hasn't played a complete game. His issues seemingly grow week-to-week and if he doesn't step up fast, the Hokies will get steamrolled within the Coastal Division they have dominated for so long.
Keep Reading

Virginia Tech Football: Like this team?