Miami Dolphins vs. Arizona Cardinals: Live Score, Highlights & Analysis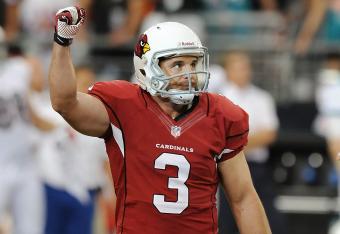 Norm Hall/Getty Images
Jay Feely ends what might have been the craziest game of the 2012 season with a 45-yard field goal in overtime, lifting the Arizona Cardinals over the Miami Dolphins.
Thanks to a gutsy second half performance from Kevin Kolb—that included countless clutch conversions (and a few boneheaded plays)—the Cardinals overcame a 13-point halftime deficit to pick up their fourth win of the season.
Despite record-shattering performances from Brian Hartline and Davone Bess, the Dolphins couldn't fend off the Cardinals when it counted most, and they drop their second consecutive overtime game.
Although Arizona won this game, it's clear they have plenty to work on. Similarly, although Miami lost, it's clear they have a special prospect in Ryan Tannehill, who shredded the Cardinals secondary for 418 passing yards.
FINAL: Dolphins 21 - Cardinals 24
CARDINALS WIN
Jay Feely hits a 45-yard field goal in overtime to lift the Cardinals over the Dolphins.
Another huge win for Arizona and another devastating OT loss for Miami.
FINAL: Dolphins 21 - Cardinals 24
Joe Philbin calls a timeout to ice Feely.
11:11 4Q
Kevin Kolb comes up with another clutch play, hitting Early Doucet for a monumental third down conversion.
The Cardinals are now at the 35 yard line and creeping closer to ideal field goal range.
By the way, Jay Feely is yet to miss a field goal in 2012.
Cardinals kicker Jay Feely's career long is 55 yards.
Cardinals need about eight more yards to set that up.
And Ryan Tannehill is dragged back down to earth again:
Tannehill hit on Blitzby Lenon, Rhodes intercepts. Arizona ball at the Miami 47. Need about 15 yards for reasonable shot

— Kent Somers (@kentsomers) September 30, 2012
The Dolphins can win the game with either a touchdown or a field goal.
This is a prime opportunity for Dan Carpenter to redeem himself but an even better one for Ryan Tannehill to construct his first signature drive.
Miami will take over at their own 21 after another monstrous punt by Dan Zastudil.
And the Cardinals go three and out, lost three yards on 3 plays. awful. Nice job by Miami

— Kent Somers (@kentsomers) September 30, 2012
William Powell nearly ends overtime on the opening kickoff but Dan Carpenter comes up with the game-saving tackle.
Does that compensate for his missed field goal?
Remember, new overtime rules allots each team a possession unless the first team (in this case, the Cardinals) scores a touchdown on its first drive.
Ryan Tannehill takes a knee and the Dolphins and Cardinals are heading to overtime.
This is the second consecutive week Miami will play in overtime.
Assuming OT, this will be just the 2nd time in Dolphins history they'll play overtime two straight weeks. The other in OCT '87.

— Jesse Agler (@finsjesse) September 30, 2012
Given the absurdity of this game, these final 22 seconds could easily produce multiple scores.
And Kolb has all kinds of time. Hits Roberts for TD with 22 seconds left. Up to Feely to tie it

— Kent Somers (@kentsomers) September 30, 2012
4th-and-10 coming up.
Once again, game is on the line.
0:38 4Q
After a trio of clutch passes, the Cardinals have marched into the redzone.
They still have two timeouts left.
The clock is running and Kevin Kolb has the Cardinals at the Dolphins' 15 yard-line.
1:50 4Q
Kolb connects with Andre Roberts for 16 yards, leaving the Cardinals two yards shy of a first down.
Arizona uses its first timeout of the half.
This could be the game.
2:00 4Q
The Dolphins sack Kolb on back-to-back plays and boos are reigning down from the stands at University of Phoenix Stadium.
Arizona has a third-and-18 waiting for it after the two minute warning.
You really can't make this stuff up.
Why did the Dolphins feel compelled to throw the ball right there?
Cardinals take over at midfield with three minutes to go.
Cards sack tannehill (DWash) and Cards come up with the ball. I have no adjectives left.

— Darren Urban (@Cardschatter) September 30, 2012
4:45 4Q
A Jared Odrick sack forces the Cardinals into a 3rd-and-20 inside of their own 20 yard-line.
Kevin Kolb throws a safe pass well shy of the marker and the Dolphins get the ball back with just under five minutes to play.
If Miami can get Reggie Bush going here, then they can potentially put this game away.
You can hear a pin drop in University of Phoenix Stadium

— Ben Volin (@BenVolinPBP) September 30, 2012
This article is
What is the duplicate article?
Why is this article offensive?
Where is this article plagiarized from?
Why is this article poorly edited?