WWE: 7 Reasons Why AJ Needs a Character Change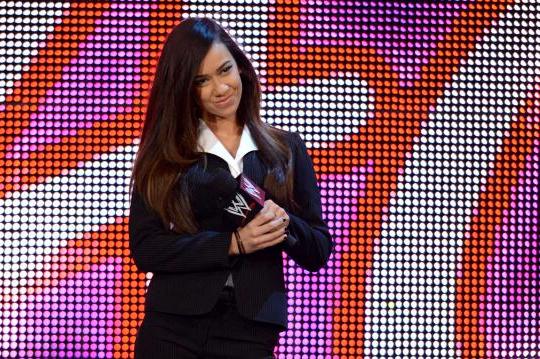 Photo courtesy of WWE.com
Not all that long ago, AJ Lee was the hottest act in the WWE.
There was more buzz about her than CM Punk and even Daniel Bryan, and she managed to find herself consistently stealing the show on both Raw and SmackDown.
But now that seems like such a distant memory.
Ever since AJ stepped into her new role as the Raw general manager on Raw 1000, she's struggled to find her identity, and rather than being one of the must-see acts on TV every week, she's become just another part of the show.
I don't want to act like this is a do-or-die scenario here because AJ is still in a better situation than the vast majority of the WWE roster, but I do think she needs to change things up a bit. Right now.
Here are seven reasons why AJ badly needs a character change.
Begin Slideshow

»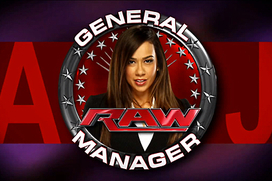 Photo courtesy of fanpop.com
This would be true regardless who Raw's general manager was—the position is completely unnecessary.
Let me just put it this way: Why can matches still be made one week when Raw doesn't have a GM, but then the WWE feels the need to have a GM to make matches the next?
It doesn't really seem to make sense when some matches just happen and then other matches are announced by AJ. Are we supposed to assume that she already made those matches or that someone else made them?
What about when a superstar reveals that he's facing someone that night? Did AJ tell him that, or did he just make the match himself?
I think you get the point. It's that the GM position has so many inconsistencies that it's become totally irrelevant and unnecessary, especially since AJ has stepped into the role.
Essentially, she's there just to be there, and the WWE is destroying any interest I had in her character by putting her in a position that ultimately means absolutely nothing.
It's a waste of AJ to stick her in a role that never accomplishes what it should and, at least in my view, hurts the quality of Raw each week because of the inconsistent way it is booked by the creative team.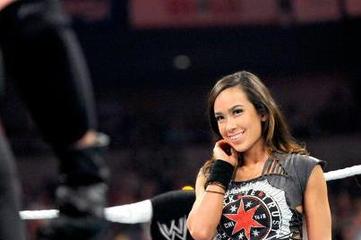 Photo courtesy of WWE.com
Some of you may be thinking that changing AJ's character again (which would be her third character change in a relatively short span) would simply be too much.
But the gimmick that AJ thrived in the most was her "crazy chick" persona, and what do crazy chicks do? Change their minds all the time.
It would be perfectly fitting for AJ's former "crazy chick" gimmick (which she's somewhat abandoned) if she just consistently changed her character month by month. After all, that's what made her so popular over the summer.
She'd be happy one week, sad the next and then angry the next, essentially thriving in her former role as a bipolar-like woman, which often made for very entertaining TV.
Were AJ to go through another character change, it would essentially be her reverting back to her "crazy chick" character. Yet at the same time, she'd technically be a new character if she was switching up from her rather bland GM role and bringing out new emotions each and every week.
Rather than being a mundane GM, she should let her bipolar personality disorder shine through each week again.
After witnessing all of AJ Lee's fantastic performances over the summer, the WWE audience's expectations of her are now ridiculously high.
She did so well in her role as the "crazy chick" earlier this year that we now almost expect her to deliver those awesome performances on a consistent basis. If she doesn't, we're going to be left disappointed.
Needless to say, I think we've been disappointed more often than not lately. But it's really the fault of the creative team as opposed to AJ.
She's still doing really well as a performer. It's just that the material for her isn't as good, a result of what looks like no clear-cut direction for the future of her character.
As a result, our lofty expectations of AJ aren't being met, and should the WWE want to change that, then perhaps a character change needs to take effect.
Although I enjoy watching AJ and think she's one of the top breakout stars of 2012, she was so good at her peak that we've come to anticipate that she'll deliver memorable performances each and every week.
Either we need to tone down our expectations, the WWE needs to change things up for AJ a bit or perhaps even a little bit of both need to occur.
AJ Lee is the most well-rounded female performer on the WWE roster.
She can wrestle, she's an above-average actor, she can work the mic and she has a charisma about her that has gotten her ridiculously over with the fans.
All of those things are currently being wasted, however, because AJ isn't really getting the same opportunities to show off her skills that she was getting over the summer.
Just a few months ago, she was consistently cutting promos, getting involved in major segments and actually wrestling, too. Now, she doesn't do much beyond get involved in referee controversies or make matches.
That's a shame because it's depriving AJ of utilizing her talents that helped propel her to new heights over the summer. When she was given the opportunity to shine in all phases of pro wrestling, she did just that.
But she's now being limited with what she can do, and as a result, she is struggling to make the sort of impact that she was consistently making not all that long ago.
Perhaps I'm being a bit over-analytical here, but it seems as if AJ has struggled to find an identity over the last couple of months.
During the peak of her great run back in June and July, we knew she was the "crazy chick" who would do insane things week after week and essentially thrived on being that bipolar-like girl that everyone knows at least one of.
Now, however, AJ's character seems to be left in a state of flux, and she has no true identity, instead being booked on the fly rather than for the long term.
When she was the "crazy chick" who was involved with Kane, CM Punk and Daniel Bryan, we knew what her role was, and we knew that on each episode of Raw or SmackDown she was going to do something that was borderline insane.
While AJ is still somewhat in that "crazy" role, it's a lot less defined now, and it has significantly less depth than it did just a few short months ago.
I still think AJ is a good performer. I just don't see any real direction with her current character.
One thing I've found to be very odd about AJ's current GM character is that she hasn't used it to her advantage whatsoever.
Rather than utilizing her power to get in the ring and make her way into the mix for the Divas Championship, her position as GM has taken her even further away from the squared circle.
If I remember correctly, AJ hasn't wrestled a match on TV since taking over as GM, which is basically proof that she's probably not going to be wrestling much as long as she's in that role.
After all, the Board of Directors issued an order that she is forbidden to touch anyone under WWE contract (a stipulation that she broke by slapping Paul Heyman), which essentially guarantees that she's going to stay out of the ring.
Either way, AJ is one of the WWE's most talented Divas, and with Kelly Kelly gone and the likely upcoming departure of Beth Phoenix, the Divas division needs to have someone it can build around.
That someone should be AJ, but as long as she's stuck in her current role, that likely won't happen.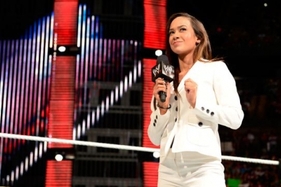 Photo courtesy of WWE.com
Over the summer, AJ Lee was arguably the most intriguing character on WWE TV.
She broke down barriers by consistently being involved in main-event angles and show-closing segments, and she became the most talked-about Diva that we've seen in several years.
But from pretty much the night she became Raw's GM, her character has regressed considerably.
Once one of the most developed characters in the company, AJ has become rather bland and mundane since taking over as GM. Although she's still in a better position than most people on the main roster, she's not at anywhere near the level she was just a few short months ago.
I think that can be attributed to the GM role/character severely limiting what she can do and taking away the uniqueness that made her so successful over the summer.
AJ needs to regain her identity, and in order to do so, she needs to drop this not-so-exciting GM character and find something new.
At the very least, the creative team needs to give her something more to do than make tag team matches. That's what Teddy Long was for.
Drake Oz is a WWE Featured Columnist for Bleacher Report. Follow him on Twitter!