Everton vs. Southampton: 6 Things Learned from Yesterday's 3-1 Win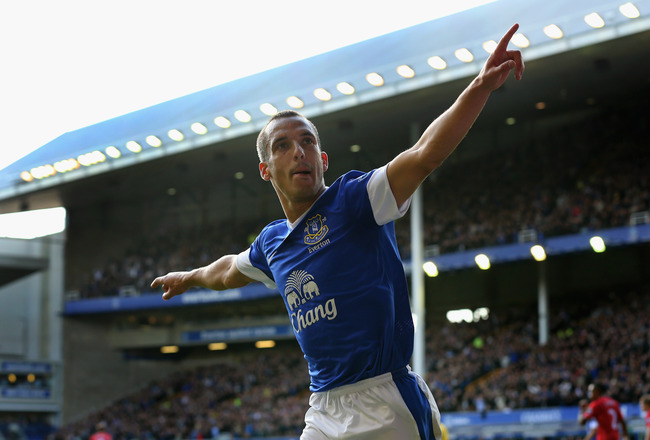 Alex Livesey/Getty Images
After an early scare, Everton produced enough quality in the final third to overcome a plucky Southampton and rise up to second in the Premier League table.
At times, this was a peculiar spectacle. The Toffees appeared surprisingly tentative during the first 15 minutes and the Saints capitalised on this well, with Gaston Ramirez giving the visitors the lead.
There was certainly concern in the stands, before Leon Osman's equaliser finally got the home side going. Everton then went on to produce some of the most sumptuous, flowing football the Goodison Park natives have seen this season, and Nikica Jelavic's brace proved enough to eventually seal the points.
Having dominated up to the hour mark, the Toffees then visibly eased off and once again seemed vulnerable and slightly disjointed at the back.
Of course, all anyone concerned with the Toffees will care about after this is the points and it is now an impressive four wins from six in the league for Moyes' improving side.
Here are six talking points to take from yesterday's showing.
Coleman Staking a Claim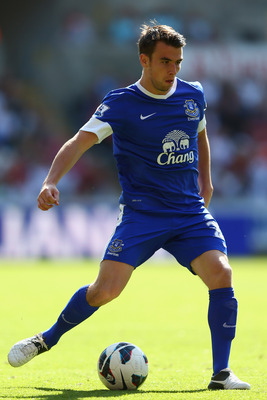 Michael Steele/Getty Images
Starting his second consecutive game in the top flight, it seems Seamus Coleman is finally getting a chance to prove himself as a Premier League right-back.
Having burst onto the scene as exactly that, Moyes' loyalty towards Tony Hibbert and Phil Neville in this position has seen the Irishman reinvent himself as a right winger just to make the team.
Now finally given an opportunity in his more favoured role, thanks to Hibbert's recent injury, Coleman has reacclimatised well and was one undoubtedly one of yesterday's standout performers.
He continually beat his man, went on several marauding runs forward, linked up well with Kevin Mirallas and ensured, for once, Everton's right was just as threatening as their left.
There have been times in the past when his end product has let him down, so being involved in the first goal and registering an assist for the third will clearly please the Irishman.
Far more at home going forward, in games where the emphasis is firmly on the Toffees to attack, such as today, his attacking nous will prove handy as he noticeably upgrades his side's attack.
Coleman may still need to prove his defensive durability against the very best to earn a prolonged run in the side, but on today's evidence, Hibbert now has fierce competition for his jersey.
Unusually Slack Marking Continues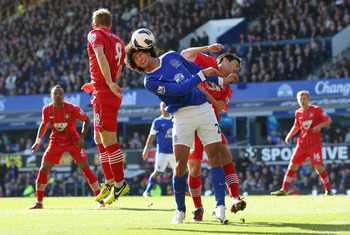 Alex Livesey/Getty Images
A slightly sour point for David Moyes to mull over was some more lazy marking at a set piece, as Everton conceded another avoidable goal.
Having let in dead-ball scores against West Brom and Leeds, and been troubled by a number of accurate deliveries against Swansea, this is certainly a trait the Toffees' manager will be keen to eradicate quickly.
However well opponents were marked, for a long time Tim Cahill was so often the man to head clear in these situations and it's possible this is an area the Toffees will need to readjust in his absence.
Generally perceived to be a well-drilled unit at the set piece, expect the players to be put through some extra shifts on the training ground to improve their approach here.
Mirallas Playing a Key Role Already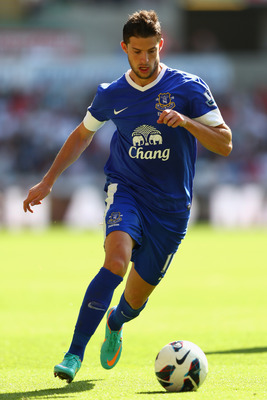 Michael Steele/Getty Images
Kevin Mirallas gave another fine performance yesterday and it was his clever movement and fluid positional play that kept on opening up space in the final third of the field.
With Southampton in possession, he would stick to the right of Everton's 4-4-1-1, as instructed. However, once the Toffees took the ball, he became an impossible man to track, drifting across several positions and dragging some confused markers all over the pitch.
By occasionally popping up on the left, with Steven Pienaar and Leighton Baines, he allowed his side a couple of chances to blitz and overload Southampton, and then by attacking a central line, it was his forceful run that set up Everton's second goal.
Throughout the match, his movement continued to create chances or free up space for others, as Southampton struggled to keep track of who should be following him.
It's unusual for Moyes to allow one of his players such radical positional freedom, but the Belgian's unpredictability continued to flummox the visitors and ultimately proved decisive in Everton's win.
Central Midfield Still an Issue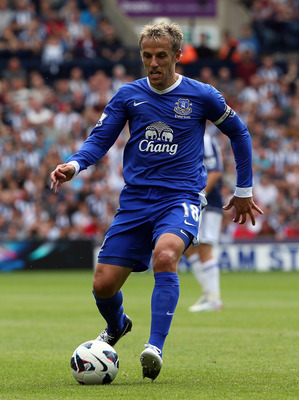 Ross Kinnaird/Getty Images
This may become a recurring theme, but once again, the partnership of Phil Neville and Leon Osman did not install much confidence into supporters.
Defensively, too often they were indecisive. They picked up the wrong man, were frequently turned and left for dead and surrendered far too much space by backing off.
Going forward, they were unimaginative with the passing game, and whilst Osman improved as his team grew in confidence, Neville opted to pass backwards far too much instead of advancing the play.
Both players have been fine performers at Everton for a long time, and that is certainly not up for debate, but as a pairing, in the middle of the field, it's not working.
Darron Gibson's return in the next fortnight should eventually amend this, but until then, the Toffees will remain vulnerable to quick passes, incisive breaks and clever movement through their core.
Goals Are Flowing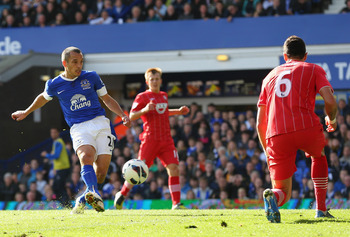 Alex Livesey/Getty Images
Another three goals yesterday makes it an impressive 12 for the Toffees in their opening six league games, a tally they have only bettered once over the past 47 years—in 1985/86.
Compared to this stage last season, when Everton were so often void of ideas in the final third, David Moyes has a completely different animal at his fingertips.
Before today's round of matches, incredibly, no other side in Europe's top five leagues had registered more shots than the Toffees so far this season.
Nikica Jelavic now has 10 goals in his previous 11 Premier League games, and with the Croatian spearheading an attack capable of creating and scoring goals from all areas, confidence and belief are permeating the entire squad.
Best Start Under Moyes Since Champions League Season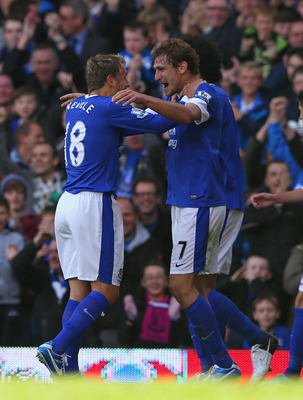 Alex Livesey/Getty Images
With 13 points taken from six games, Everton are now second in the league, equalling their best start to a Premier League campaign under David Moyes.
Taking the same tally from their first six games in 2004/05, the Toffees went on to finish in the top four that season and if they continue on with this early form, there is no reason to suggest they cannot continue to mix with the pace-setters.
Most will doubt a Champions League finish could once again be on the cards, but given their play so far, at the very least Moyes should honing in on the top six this season.
If this start does continue, and Everton can then go on to repeat their renowned late-season surge, who knows what can be achieved over the next few months?
Thanks for reading. If you liked this article, follow me on Twitter for more EFC chat.
Keep Reading

Everton: Like this team?