WWE: 7 Reasons Kofi Kingston Deserves a Push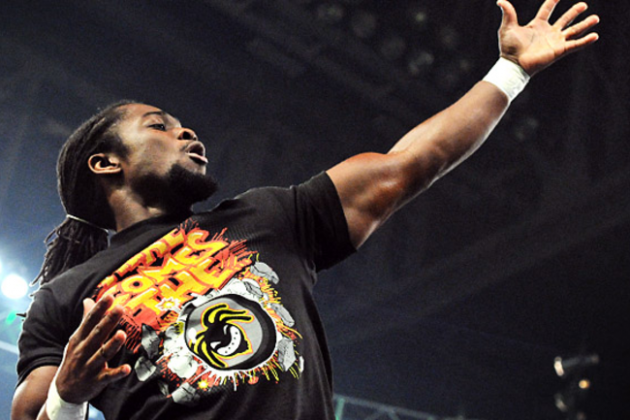 Photo courtesy of WWE.com
Kofi Kingston has spent the last year as part of a tag team, partnering with both Evan Bourne and R-Truth to become a dominant force in the division.
However, all it took was one fantastic match with Dolph Ziggler on last week's Raw for Kingston to remind wrestling fans everywhere that he's more than just a tag team wrestler. Much more.
Kingston and Ziggler delivered what was easily one of the best TV matches of the year, and according to F4WOnline.com (via WrestlingInc.com), their incredible bout may have been the start of a big singles push for the high-flying superstar.
I surely hope so, because there aren't many current WWE stars who deserve a push more than Kofi Kingston.
Here are seven reasons why.
Begin Slideshow

»
There may not be anyone on the WWE roster who has the pure athleticism that Kofi Kingston possesses.
Some of the things he does on a consistent basis (his amazing crossbody or running leap into the turnbuckle, in particular) show his downright unbelievable athleticism and agility, which may be unmatched in the WWE.
However, it's not just his signature moves that are so impressive.
It's also his frequent incredibly athletic spots, such as his unforgettable handstand in the 2011 Royal Rumble, that make him truly stand out amongst the WWE's midcarders.
Obviously, just about every WWE star has some type of athleticism, but Kingston takes it to a new level. Week in and week out, he surprises us with amazing spots whenever he gets the opportunity to do so.
Why the WWE has yet to truly highlight Kingston's unparalleled athleticism with a sustained push is beyond me.
He can do things that no one else on the roster can do. He just needs the opportunity to prove it.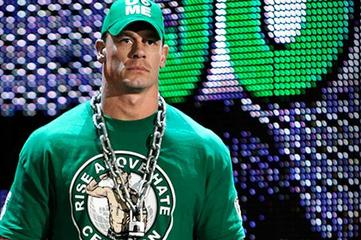 Photo courtesy of WWE.com
Now that CM Punk has officially turned heel, we have three top babyfaces who separate themselves from the pack.
John Cena, Sheamus and Randy Orton.
After that, there is a substantial drop-off. I'm not even sure who the No. 4 babyface may be. It appears that it could be either Daniel Bryan (his storyline with Kane has essentially turned him face) or Ryback (he's getting a massive push).
Either way, the WWE is sorely lacking when it comes to top faces, especially when you consider how many top heels the company has in comparison. Thus, it's absolutely imperative that the WWE build up someone as another potential top babyface.
Why not Kofi Kingston?
I realize that he may not be the superstar who Vince McMahon wants to push to the top. However, he is someone who I think could make it there relatively easily. He's a big enough name who's been around for a while and has built up a sizable fanbase.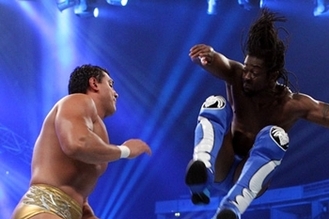 Photo courtesy of WWE.com
The list of superstars who have reportedly had backstage problems in the WWE goes on and on and on.
Yet, one name we've never heard mentioned in the same breath as "backstage problems" (at least to my knowledge) is Kofi Kingston.
By all accounts, he hasn't had any type of issues that many other stars have had, whether that be with his attitude, Wellness tests or anything along those lines.
That's saying a lot for Kingston, too, because just about every other veteran has reportedly had at least some type of backstage issue at some point in his career.
Not Kingston.
As far as we know, he's been a model employee who does what he's told and doesn't complain when things aren't exactly going his way.
That's rare in today's world. Perhaps Kingston should be rewarded for his patience.
Though he's had some small, short pushes here and there, Kofi Kingston hasn't really had a substantial one since way back in 2009.
That, of course, came late in the year. Kingston had a major feud with Randy Orton, then a heel. While it initially looked like that rivalry could catapult Kingston to new heights, his push stopped suddenly, and things sort of fell apart for Kingston from then on.
Even though the push didn't end very well, I still thought that Kingston did a great job in his first main-event caliber feud, especially because he hadn't been around for long. It's a shame that he hasn't really had a chance to make it to the main event scene since then.
If for no other reason, that's precisely why I think Kingston deserves another chance.
Quite simply, he hasn't had a real one in roughly three years, which is far too long for someone who's so talented. He should get an opportunity to make it back to the level he was at when feuding with Orton in the fall of 2009.
And he should get it ASAP.
Even when Kofi Kingston was one half of the WWE tag champions, he spent much of his time putting over the WWE's top heels.
Just think about all the big names he's lost to in 2012, and you'll see that Kingston stepped up and performed as someone to beat for whatever heel was being pushed at the time.
I can recall Kingston losing to Daniel Bryan and Chris Jericho earlier this year, and of course, he also put over Dolph Ziggler just last week on Raw.
Kingston has put over a ton of talent over the last year and especially in 2012, but he's somehow managed to remain over in the process. That's a telltale sign of his incredible abilities in the ring.
The fans can overlook his losses because he's such a good wrestler, so perhaps the WWE should overlook those losses and start booking him to win on a consistent basis like he deserves to.
Kingston has put over more stars than just about any other midcarder in 2012. It's time for the WWE to return the favor.
Since Kofi Kingston debuted in January 2008, he has been one of the WWE's most popular stars.
He has that "it" that the fans are drawn to, and even though he's been around for almost five years now, you never really hear people complain about him being "stale" like you do with someone like John Cena.
A big reason for this is because he has remained over for the entirety of his WWE career. Kingston developed into one of its most beloved stars early on and has remained in that spot on a pretty consistent basis.
Though Kingston has had his times in and out of the spotlight, he always generates a reaction when he enters the arena. Perhaps more importantly, the fans are always into his matches.
You can't say that about very many other WWE stars, who can get extremely boring from time to time. Even though Kingston has had very little character development throughout the years, the bottom line is that he remains over.
If someone like Ryback can get a push because the fans cheer for him, Kingston should certainly get one, too.
Over the last couple of years, the WWE has made a habit out of pushing guys who can really go in the ring.
Guys likes Dolph Ziggler, Daniel Bryan and CM Punk immediately come to mind. While they are great performers as well, these are superstars who made it to the main event level in large part because of their abilities as wrestlers.
If those three guys can make it there, so can Kofi Kingston.
To put things in very simple terms, Kingston can flat-out wrestle. He's proved it time and time again, whether he's in a main event angle (like with Randy Orton), a midcard rivalry (like with Dolph Ziggler) or a tag team (like with R-Truth or Even Bourne).
In every situation that Kingston has ever been in, he ranks among the WWE's best and most consistent in-ring workers, with a nearly unmatched ability to work with a wide variety of opponents and always put on entertaining matches.
It's rare that Kingston has a bad match, and it's even rarer that the crowd doesn't react to his matches.
If anyone is the measuring stick for consistency, it's Kofi Kingston. The guy can wrestle, and in a time where wrestling is a big priority, he's worthy of wrestling in the main event scene.
Drake Oz is a WWE Featured Columnist for Bleacher Report. Follow him on Twitter!