WWE: Dolph Ziggler's 10 Best Matches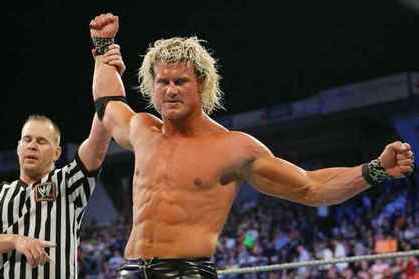 Photo courtesy of WWE.com
Dolph Ziggler has developed a reputation as one of the (if not the) best wrestlers in the WWE.
But is all that praise warranted, or is he actually a bit overrated?
I kid, I kid. Of course, Ziggler is on the short list of the WWE's top in-ring performers.
Especially over the last year or so, he has been consistently great in the ring, showing a nearly unmatched ability to work with a wide variety of opponents and make them all look fantastic in the process.
In fact, Ziggler has made a career out of putting on great matches and entertaining the crowd with his incredible athleticism and amazing selling.
So, just how great has he been?
Let's take a look at my list of Dolph Ziggler's 10 best matches of his career, so far.
Begin Slideshow

»
Back in June, Alberto Del Rio was scheduled to face Sheamus for the World Heavyweight Championship at No Way Out.
But, a concussion forced ADR out of the match, and Ziggler filled in as a last-minute replacement to take on "The Great White."
He didn't disappoint.
Though there was never any doubt that Sheamus would win this match, Ziggler sort of turned the heel/babyface table by getting the crowd fully behind him during the bout in what was a huge testament to his great performance that night.
He was just so damn good that the New Jersey crowd couldn't help but cheer him like he was a face and then somewhat sour on Sheamus, who has been pushed as a top face for a year now.
It says a lot about Ziggler's abilities in the ring (and more specifically, his performance at No Way Out) when he's getting that many cheers despite being a heel.
At the beginning of 2012, Dolph Ziggler began a short feud with CM Punk over the WWE Championship.
Like with Sheamus at No Way Out, there was never any doubt that Punk was always going to retain his title no matter how many times Ziggler faced him. But once again, that didn't matter all that much.
Ziggler got what was arguably the biggest opportunity of his career (up to that point) at the 2012 Royal Rumble when he took on Punk for the WWE title, and not surprisingly, he showed that he deserves to be a consistent main eventer.
I think the quality of this Punk/Ziggler match suffered a bit because of the presence of John Laurinaitis and the fact that Ziggler played somewhat of a third role in his own WWE title match. But, he was his usual great self here, delivering an extremely entertaining bout with Punk, who he's developed quite a bit of chemistry with.
While I would have loved to see this match take place without Laurinaitis involved, I guess I can't complain too much about Ziggler and Punk kicking off 2012 with a really good WWE Championship match.
In 2009, Dolph Ziggler was quickly rising up the ranks of the WWE but still looking to cement himself as one of the company's stars of the future.
He got the chance to do that when he feuded with John Morrison over the Intercontinental Championship and faced him at the Hell in a Cell pay-per-view.
Morrison was also a rising star at the time, and his athletic style meshed very well with the similar style of Ziggler, as the two put on multiple matches that highlighted their top-notch abilities in the ring.
At Hell in a Cell, Ziggler and Morrison put on a fantastic 15-minute match for the Intercontinental title in what was one of the first times that Ziggler showed the masses just how great he really was.
I honestly can't decide which Ziggler/Morrison match I liked more, though: That or this?
Their 2-out-of-3 Falls Match on SmackDown might have been even better and was a nice foreshadowing of what was to come from "The Showoff" down the road.
Technically speaking, Dolph Ziggler is considered to be a former World Heavyweight Champion by the WWE, even though he never actually won the title and only "held" it for about 15 minutes.
But, this is the match and feud that got him there.
The Royal Rumble pay-per-view has often served as a "testing grounds" of sorts for relatively unproven superstars who get a chance to make a major splash, and in 2011, it was Ziggler who got the opportunity of a lifetime when he faced Edge for the World Heavyweight Championship.
When you see the names Edge and Ziggler, you probably think that they'd deliver a great match. You would be right.
As was the case with a lot of Ziggler's other high-profile matches, there was never any doubt that he was going to lose to Edge at the 2011 Royal Rumble. But, both men made us forget about that when they absolutely stole the show.
With a rather lackluster 40-man Royal Rumble match and only two other matches on the card, Edge and Ziggler used their 20 minutes to perfection and gave us what was easily the best match of the night, but perhaps more importantly, arguably the best match of Ziggler's career up to that point.
It's easy to only consider matches that have happened in 2011 and 2012 when ranking Dolph Ziggler's best bouts.
But, it didn't take very long for him after his debut in 2008 for Ziggler to show that he was going to make a career out of putting on must-see matches.
Not even a year after his WWE debut (in September 2008), Ziggler found himself involved in a rivalry over the Intercontinental Championship with one of the WWE's biggest stars, Rey Mysterio.
At that year's SummerSlam pay-per-view, the two opened the show with a superb 12-minute title match that really set the tone for what was a loaded PPV card.
With major matches like CM Punk vs. Jeff Hardy, DX vs. Legacy and Randy Orton vs. John Cena also on the show, Mysterio and Ziggler really had no business being one of the top highlights of SummerSlam.
But, that's exactly what they became after giving us one of the best show-opening matches in recent WWE history.
When we first saw the makings of a feud between Chris Jericho and Dolph Ziggler earlier this year, the Internet nearly imploded.
Jericho and Ziggler are two of the web's most beloved WWE superstars, so the thought of seeing those two battle it out was almost too much for us to handle. We wanted to see Y2J vs. The Showoff, and we wanted to see it on a big stage.
At SummerSlam, we got what we wished for.
For the third time in his young career, Ziggler was given the task of competing in SummerSlam's show-opening match and trying to set the stage for the rest of the PPV. But rather than setting up for the rest of the show, he and Jericho stole it.
As expected, Jericho and Ziggler put on what was easily the best match of the night and one of the best PPV openers we've seen in quite some time.
Though it was disappointing that Ziggler didn't go over at SummerSlam as a "passing of the torch," this match certainly lived up to expectations, and Ziggler would get his revenge the following night on Raw.
On last week's Raw, Dolph Ziggler stepped into the ring with his long-time rival, Kofi Kingston.
I honestly have no idea how many times these guys have faced each other, but between house shows, pay-per-views and TV tapings, I'd be willing to bet that it's well into the hundreds at this point.
Not surprisingly, Ziggler and Kingston have delivered countless fantastic matches as a result, developing incredible chemistry that I'm not quite sure is matched by any other duo in the WWE.
And perhaps, it's because this one is really fresh in my mind, but their match on last week's Raw was an absolutely unbelievable one that I think easily ranks among the top 10, if not higher, WWE matches we've seen in 2012.
Yes, it was really that good.
To be honest, this shouldn't have come as much of a surprise, though. Kingston and Ziggler are both ridiculously athletic, and realistically speaking, you could probably slide in five or more bouts between them into this spot on this list.
Every once in a while, we see a TV match that is so good that we talk about it for months or even years.
In 2011, that match was CM Punk vs. Dolph Ziggler on Raw.
Both Ziggler and Punk were on fire at the time, and even though Ziggler was holding the United States Championship at the time, he had his sights set on the WWE's biggest prize, the WWE Championship.
This led to a match between the two on the Nov. 21, Raw, and I'll just be honest with you. This is one of the very best TV matches I can ever remember seeing.
We hadn't seen a whole lot of interaction between Punk and Ziggler up to this point, so the match had a fresh feel to it, and of course, featured two of the WWE's top three or four in-ring performers in the company.
It was a quick-paced, action-packed encounter that ranks as one of Punk's best bouts of his WWE title reign and was one of the matches that propelled Ziggler to the level he's currently at.
In 2010, Daniel Bryan was a WWE "rookie" who was looking to make a name for himself among mainstream wrestling fans. Meanwhile, Ziggler was still carving out his niche in the company as well.
So, it was only fitting when these two budding superstars faced each other one-on-one at Bragging Rights.
In a Champion vs. Champion match (Bryan held the U.S. title, while Ziggler held the Intercontinental Championship), Bryan and Ziggler increased their stock tenfold by delivering the best match on the card and the best match of their careers up to that point.
Looking back at that bout, it's easy to see why it was so damn good. After all, Ziggler and Bryan are two of the WWE's top three in-ring performers at the moment.
But given that, at the time, Bryan had barely been around for six months, and Ziggler hadn't even been "Dolph Ziggler" for two years, it was a shock to see them get the opportunity to face each other on a PPV stage and deliver the goods in the process.
Not surprisingly, though, this was yet another show-stealing show-opener from Ziggler. That guy sure has a knack for that, huh?
Up until about a month ago, Randy Orton and Dolph Ziggler had never feuded.
Yet, they'd faced each other a number of times on TV and developed some incredible chemistry along the way, What resulted was at least a handful of great TV matches between the two on both Raw and SmackDown.
Perhaps, that's why many of us were salivating at the thought of a potential rivalry between the two, which is exactly what we got last month.
At Night of Champions, Ziggler faced Orton in a singles match on what turned out to be a fantastic wrestling pay-per-view. With John Cena vs. CM Punk as the show's main event, it would have been easy for Orton and Ziggler to get overlooked.
But, they didn't let that happen.
In their first-ever PPV encounter, Orton and Ziggler showed that the chemistry they'd developed over the years was even better than we originally thought. They were with each other step-by-step in a great back-and-forth match that showed why both men are considered to be among the best workers in the world.
After watching what they did at Night of Champions, it would be hard for anyone to argue that that wasn't true.
Drake Oz is a WWE Featured Columnist for Bleacher Report. Follow him on Twitter!