Florida State vs. South Florida: Live Scores, Analysis and Results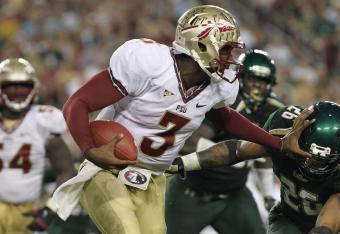 EJ Manuel looked like a true Heisman contender in a 30-17 win over South Florida
Kim Klement-US PRESSWIRE
Final Score: Florida State 30, South Florida 17
Florida State won its first road game of the season against South Florida in front of over 60,000 fans at Raymond James Stadium.
The Seminoles didn't play nearly as well as they did against Clemson in Week 4. But QB EJ Manuel was still able to led the team to victory. Manuel completed 19 of his 26 passes for 242 yards and a touchdown, and looked like a true Heisman contender.
This was a good experience for the Noles, since they will have to head to N.C. State next weekend for their second straight road game.
Here's a look at the 10 lessons we learned from tonight's game.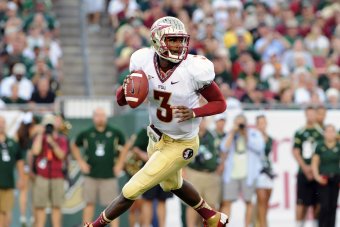 Al Messerschmidt/Getty Images
Final Score: Florida State 30, South Florida 17
Florida State definitely didn't play its best game of the season against South Florida tonight, but the Seminoles did manage to survive their first road test of the season.
That will wrap things up.
Stay tuned for my wrap up article detailing the 10 main lessons we learned from tonight's game.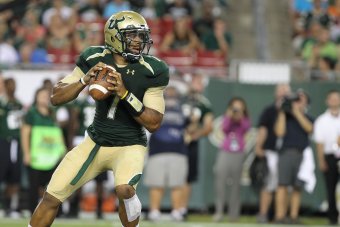 Kim Klement-US PRESSWIRE
Wow, there aren't many quarterbacks that would throw the ball away on fourth down late in the game like that.
B.J. Daniels just erased everything good he did tonight with that terrible play.
And that will seal with this one up.
Al Messerschmidt/Getty Images
And there it is, the first catch of the night for Andre Davis.
It's too bad it was just a three-yard gain.
I'm not sure why the Bulls aren't trying to get the ball down the field given the circumstances.
South Florida will get the ball back down two scores with over 3 minutes left.
Now, we'll find out what B.J. Daniels is really made of.
If I was Daniels, I would be looking for big, speedy receiver Andre Davis on this next drive.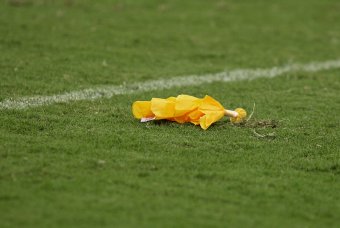 Troy Taormina-US PRESSWIRE
Killer personal foul penalty on DeDe Lattimore right there that extends the Florida State drive.
He's a veteran defensive leader. He's got to be smarter than that.
I know EJ Manuel was talking some trash, but you can't do something like that to a defenseless player, especially right in front of the officials.
That should have been James Wilder time for the Florida State offense.
I don't why the Seminoles decided to run a sweep to Chris Thompson and risk losing yardage.
Melina Vastola-US PRESSWIRE
Demonte McAllister looked like a man possessed on that pass-rush.
South Florida's offensive line didn't stand a chance.
The defense made up for its poor play on that last drive by coming up with a key stop on third down.
That's a pivotal 4th and 1 conversion by B.J. Daniels.
Daniels has really surprised and impressed me with how well he's performed against Florida State's defense.
He hasn't been great throwing the football, but he's stepped up and made some key plays when he's needed to.
Instead the Seminoles go with a drop back pass and pay the price for it.
That was the second sack on EJ Manuel on that drive.
The Florida State offensive line gets a big "F" for that effort.
There's the second killer penalty on the Florida State offensive line tonight.
There's a huge difference between 3rd and 10 and 3rd and 15.
I would try a screen to Chris Thompson and hopefully he can find a crease in the defense.
Wow, South Florida actually tried a blitz, and guess what? It worked!
It's a pity the Bulls waited until the fourth quarter to implement that strategy.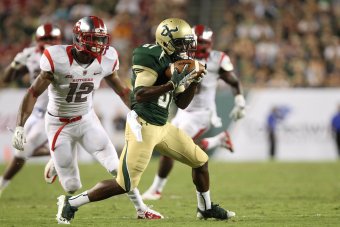 Kim Klement-US PRESSWIRE
South Florida has been searching for a big, explosive passing play all night long and the Bulls finally got it on that drive with a 37-yard strike to Derrick Hopkins to put them in scoring position.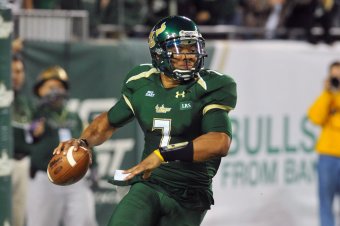 Al Messerschmidt/Getty Images
Score Update: South Florida 30, South Florida 17. 12:37 Left in the 4th Quarter
Florida State's defense had a huge letdown on that drive, and allowed the Bulls to keep hope alive.
The Seminoles could have closed this game off if they would have come up with a big stop. Instead, South Florida is still hanging around.
There's the big passing play that South Florida has been searching for all night.
The Bulls caught the Florida State secondary sleeping on that one.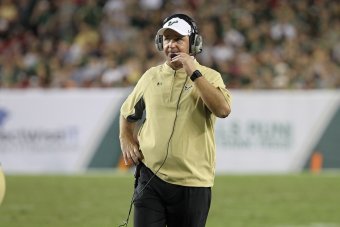 Kim Klement-US PRESSWIRE
The Bulls had about two minutes in between plays and that's the best call that they came up with.
Very poor play-calling results in a game-changing turnover.
When you're pinned back deep in your own territory and you have to send your backup quarterback in cold off the bench on a third and long, you have to just cut your losses and run the ball.
That was the key turning point of the game right there.
The Bulls are going to need a few miracle plays to get back in this game.
Score Update: Florida State 30, South Florida 10. End of the 3rd Quarter
South Florida's defense stepped up and held Florida State's offense out of the end zone on that last drive. However, the offense had a disaster at the end of the third quarter with that fumble.
That could have been the death blow right there.
I know it was third and long, but I don't why you would have Matt Floyd throwing on his first snap of the game. Bad job by the coaching staff right there.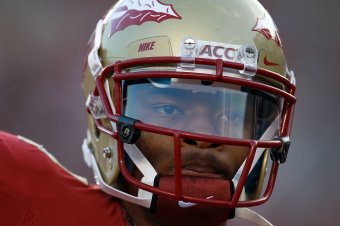 Ronald Martinez/Getty Images
I know he didn't come down with that touchdown pass but Florida State WR Rodney Smith definitely looks like a future pro player.
He's got great athleticism for his size.
There aren't many 6'6'', 220-pound receivers in the country that can move like that.
That bootleg pass to TE Nick O'Leary always seems to work.
The Seminoles used it a few times against Clemson, and that's the second time they've went with it tonight.
Florida State's offense is really starting to click. If the Noles score here, that might be the death blow.
EJ Manuel is showing NFL caliber arm strength and touch on his passes tonight.
Manuel flourishes on key third down plays.
South Florida just can't get that big explosive passing play tonight.
The Bulls have run the ball well, but B.J. Daniels can't get beat Florida State's secondary deep.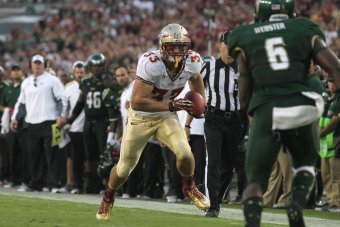 Kim Klement-US PRESSWIRE
Score Update: Florida State 20, South Florida 10. 5:09 Left in the 3rd Quarter
There's the bootleg fake, and EJ Manuel hits a wide open TE Kevin Haplea for the touchdown.
That's the first touchdown of the season for Haplea, who transferred from Penn State this offseason.
Good play call. South Florida's defense was clearly expecting a James Wilder dive right there. The Bulls sold out to stop the run, and thus left Haplea with a whole lot of space to work with in the end zone.
Easy pitch and catch.
3rd and Goal from the 1.
I would go with a James Wilder dive here, but I wouldn't be shocked if we saw an option or a bootleg here.
Instead, the Seminoles chose to go with the option, which worked very well.
South Florida definitely missed Ryne Giddins' speed on the edge on that play.
This article is
What is the duplicate article?
Why is this article offensive?
Where is this article plagiarized from?
Why is this article poorly edited?

Florida State Football: Like this team?