West Virginia: 10 Things We Learned from the Mountaineers Win vs. Baylor
Justin K. Aller/Getty Images
What's a defense?
After the wild, wonderful 70-63 shootout between West Virginia and Baylor, I really don't know.
Both WVU quarterback Geno Smith and Baylor quarterback Nick Florence were shattering records all day long in a game where neither offense could be stopped.
It was a successful Big 12 Conference debut for the Mountaineers, who improved to 4-0 overall this year, as the Bears dropped to 3-1.
Here's what we learned from the shootout of all shootouts that went down at Milan Puskar Stadium on Saturday afternoon.
The Big 12 Is Going to Be Fun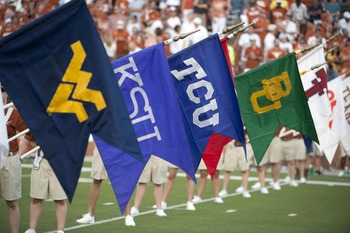 Brendan Maloney-US PRESSWIRE
If that game was a sign of things to come, it looks like West Virginia is going to fit in very well in its new conference.
According to Bruce Feldman of CBS, it was the highest scoring game in Big 12 Conference history:
In its Big 12 debut, WVU has now played in the highest-scoring game in league history. Still almost 11 min left.

— Bruce Feldman (@BFeldmanCBS) September 29, 2012
Baylor and WVU combined for 133 points and 1,507 yards on 180 plays, all of which are just incredible statistics.
WVU totaled 807 yards, while Baylor only had 700.
Geno Smith Is the Best Quarterback in College Football
Justin K. Aller/Getty Images
If there was any doubt before, there should be none now.
Geno Smith destroyed the West Virginia record books, netting 656 yards and eight touchdowns, while also running five times for 31 yards.
He ended up 45-of-51 and he still hasn't thrown an interception this season.
On the year, he has 1,728 yards passing, 20 touchdowns and zero interceptions, which means he's on pace for 5,184 yards and a 60:0 touchdown to interception ratio.
He is also 141-for-169, which gives him completion rating of 83.4 percent.
If he continues to play anywhere near this level, there may only be one player invited to the Heisman Trophy ceremony in December.
Mountaineer Nation Is Ready for the Big 12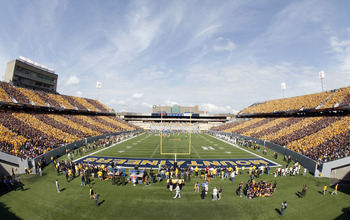 Justin K. Aller/Getty Images
West Virginia tried it's first-ever "Stripe the Stadium" game, and it looked awesome.
Also, the WVU administration urged the notoriously-rowdy and sometimes rude Mountaineer fanbase to be on their best behavior. By all accounts I've heard, they were.
Sure they still have plenty of time postgame as I'm writing this to ruin that, but for the time being, it looks like Mountaineer Nation is ready to act like members of the Big 12.
The fans showed up, were very loud as usual and stayed through all 19 touchdowns and all the way through the singing of "Country Roads."
WVU Needs to Improve in the Secondary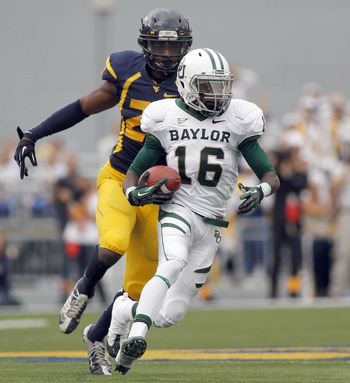 Justin K. Aller/Getty Images
That title is an understatement. Porous, weak, soft, nonexistent are all words that come to mind when thinking of the WVU secondary against Baylor.
Nick Florence went for 581 yards and five touchdowns, and three Baylor receivers recorded more than 100 yards.
Four different receivers caught a touchdown.
As amazing as West Virginia was on offense, it was equally as pitiful on defense, especially against the pass.
This worked out pretty well against Baylor, but it may not work against stronger defenses.
WVU Freshmen Defenders Aren't Too Shabby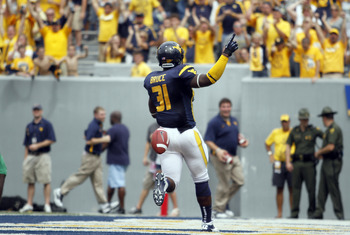 Justin K. Aller/Getty Images
Lost in the offensive shuffle, freshman defenders Isaiah Bruce and Karl Joseph actually had decent games, relatively speaking anyway.
They combined for 21 tackles, finishing No. 1 and 2 respectively on the team.
While Joseph was certainly a part of the blunders in the secondary, he also made a couple of nice plays including a big pass breakup.
Bruce now has a team-high 43 tackles on the year, while Joseph has 36, more than any other defensive back.
You have to wonder if defensive coordinator Joe DeForest will give any other youngsters a chance, (i.e. cornerback Nana Kyeremeh) given the struggles on that side of the ball.
WVU Has the Best Receiving Tandem in the Nation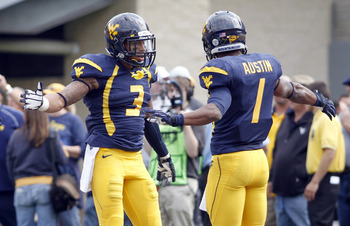 Justin K. Aller/Getty Images
Stedman Bailey and Tavon Austin just had an incredible day.
Austin was doubled through much of the afternoon, which left Bailey open often. Whenever the Baylor defense let up on Austin at all, he gouged them.
It was just a lose/lose situation for the Bears.
Bailey had 13 catches for 303 yards and five touchdowns. He destroyed the WVU record of 209 yards receiving set by Chris Henry back in 2003 and the touchdown record of four set by Austin in last year's Orange Bowl.
Austin, meanwhile, quietly went for 215 yards and two touchdowns. At one point last week I wrote that they like to take turns on who has a big game. Today, they couldn't decide, so they both torched Baylor.
In total, they accounted for 518 yards and seven touchdowns.
J.D. Woods Is a Great Third Option at Receiver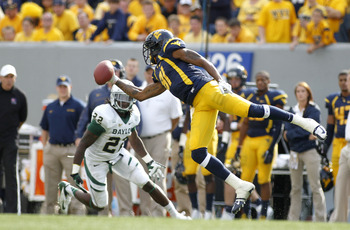 Justin K. Aller/Getty Images
J.D. Woods put the icing on the cake, capping of WVU's unbelievable day with that incredible one-handed snag on the Mountaineers' final drive.
He ended up having a career day as well, nearly equaling his production over the entire first three games, with 13 catches, 114 yards and a touchdown.
This will be huge for West Virginia going forward, given the talent at corner in the Big 12.
Texas and Oklahoma State both have two excellent cover corners, so having a third option will be vital for WVU.
Now, Woods gives those defenses yet another talented receiver to account for.
Baylor Has a Very Good Offense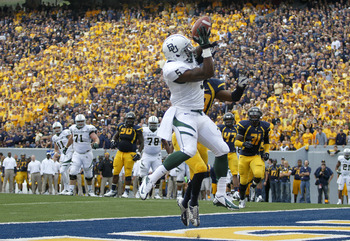 Justin K. Aller/Getty Images
A lot of the blame for Baylor's 63 points is going to be placed on the West Virginia defenders, and rightfully so.
However, Baylor did some very impressive things on offense that any defense would have struggled to handle.
Terrance Williams looked downright impossible to cover. There were times when Jenkins and Miller had solid coverage on him, but his size and athleticism were just too much.
He ended up with a game-high 17 catches and 314 yards, along with two touchdowns. He now has 667 yards on the year, which could put him at No. 1 in the nation at the end of the weekend.
The senior could be on his way to winning the Biletnikoff Award—if it doesn't go Bailey or Austin.
Buie May Be the Go-to Runner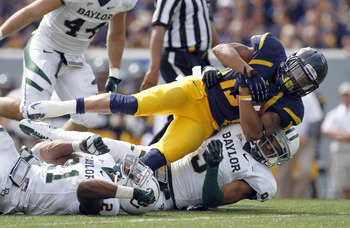 Justin K. Aller/Getty Images
Also lost in the shuffle of the day was running back Andrew Buie who had a decent performance while Shawne Alston sat out yet again.
Buie had 25 carries, as the WVU offense was adamant about establishing the run despite the success of the pass. The sophomore averaged only 3.3 yards per carry for a total of 82 yards, but he had numerous six-plus-yard runs that moved the chains for West Virginia.
He was also very good in short-yardage situations, particularly near the goal line, which led to his two touchdowns.
Also, Dustin Garrison had 28 yards on three carries.
Again, it will be interesting to see how they all share carries going forward.
West Virginia May Not Win the Big 12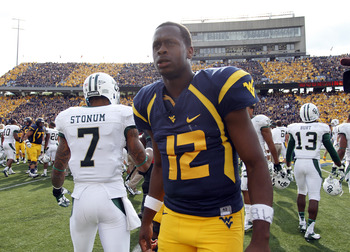 Justin K. Aller/Getty Images
West Virginia may not have what it takes to win the Big 12 playing defense like that.
The Mountaineers certainly aren't out of the conversation, especially if Geno Smith has anything to say about it. However, WVU must play better defense to stay competitive throughout conference play.
Again, I wouldn't count the Mountaineers out just because of this defensive performance.
The big test for WVU will come next week at Texas, a team that fields a much stronger defense than the one Baylor brought to Morgantown.
Keep Reading

WVU Football: Like this team?