Kelly Kelly: Ranking the 15 Best Moments of Her WWE Career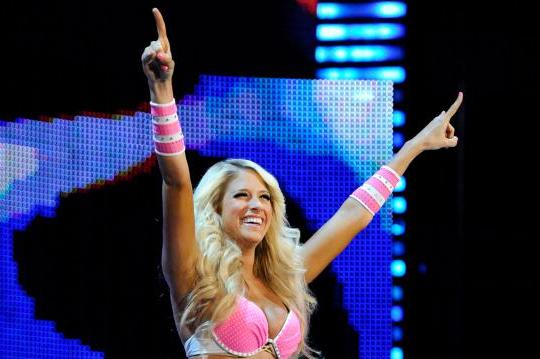 Kelly Kelly (Courtesy of WWE.com)
Following a six year tenure in WWE, it was officially announced yesterday afternoon by WWE.com that Kelly Kelly has been released from WWE. The news didn't come as much of a shock to most members of the WWE Universe as she hasn't made many appearances on WWE television in recent months, but it still marks the departure of one of the Divas division's top names.
As much as you may not like her, you have to respect the fact she was around for as long as she was and was able to garner much success over the course of the last few years. She may not be Trish Status inside the ring, but we've witnessed a handful of monumental moments featuring Kelly Kelly over the years.
In light of Kelly Kelly's WWE departure, I rank the top 15 moments of her career since arriving on the scene back in 2006. The following list is based purely on my opinion, so please keep an open mind while reading and feel free to let your thoughts be heard in the comment section below.
Begin Slideshow

»
Although this may not be one particular moment, it occurred at the same event for three consecutive years. In 2007, 2008 and 2009, Kelly Kelly was on the winning end of an all-Diva elimination tag team match at Survivor Series.
While she wasn't the sole survivor in any of the three bouts, Kelly can still lay claim to the fact that she has yet to lose a match at Survivor Series. Her initial appearance at Survivor Series in 2007 also happened to be her first victory scored on pay-per-view.
Being the sole Diva left on the ECW brand, Kelly Kelly was moved over to Raw in the summer of 2008 for no apparent reason. It would've made more sense to just draft her to the flagship show as part of that year's annual draft, but switching brands without any logic behind it seems to be the norm these days anyway.
Nonetheless, Kelly became an official member of the Raw brand on July 7th, 2008, where she teamed with Mickie James later in the evening to defeat the duo of Layla and Jillian Hall. It'd mark the start of a memorable tenure on Monday nights.
Nearly four years after making her Raw debut, Kelly Kelly returned home last month on the August 6th edition of Raw after being absent from WWE television for nearly three months. In her first match back, Kelly soundly defeated former friend Eve.
At the same time, this would also be her last match in WWE before her release this past Friday. She made an on-screen appearance at SummerSlam about a week later, but that was the final time the beautiful blonde would be seen on WWE television.
After being brutalized at the hands of her ex-boyfriend, Mike Knox, in late 2006, Kelly Kelly was rendered inactive for nearly six weeks. She made her return to ECW in mid-January to form the Extreme Expose, consisting of Kelly, Layla and Brooke Adams.
The trio flaunted their stuff weekly in the Land of Extreme, which obviously made for some intriguing television. While none of them wrestled on a regular basis, they were still extremely entertaining in their stripper roles throughout 2007.
In June, all three set their sights on the debuting Miz, who had been drafted to ECW around that time. However, Kelly would also develop a "thing" for Balls Mahoney shortly thereafter, which made her the target of mockery from the other members of the Extreme Expose.
Sadly, the group abruptly disbanded by the end of the year due to Brooke's release from the company that November, leaving Kelly Kelly and Layla to fend for themselves. Kelly would later distance herself from Layla, thus engaging in a feud with one another.
Due to her extremely attractive looks, Kelly Kelly was often hit on by most WWE Superstars. Who can blame them?
It was established early on in her WWE tenure that Kelly was in a relationship with Mike Knox, but not a very healthy one. He prevented her from showing off her stuff during her strip segments, effectively making him a heel in the process.
Kelly didn't make her official in-ring debut until the end of the year, but she was on the losing end of a mixed tag team match at the December to Dismember pay-per-view against Kevin Thorn and Ariel. On the subsequent episode of ECW, Kelly avenged the loss by defeating Ariel to score her first singles victory in WWE.
Following the disbanding of Extreme Expose, Kelly Kelly broke off on her own as a singles competitor in late 2007. She scored her biggest victory up to that point on the October 29th edition of Raw when she won a Halloween-themed Divas battle royal, thus earning herself a match against then-Women's Champion Beth Phoenix the following week.
Although she came up short of defeating Phoenix, it'd be a brief preview of what was to come nearly four years later.
2011 certainly seemed to be the year of Kelly Kelly, so winning a Slammy award at the conclusion of the year in December was well deserved. Kelly was awarded the Divalicious Moment of the Year, which she won for winning the Divas Championship that June.
What made the moment even sweeter was the fact that Lita was the one who presented the award to Kelly, an encounter of the two faces of the Divas division for their respective eras.
Since moving to Raw in mid-2008, Kelly Kelly had been a mainstay on Monday nights for almost two years, but all good things must come to an end eventually. In the premiere pick of the 2010 WWE draft, Kelly was sent packing to the SmackDown brand.
In the long run, it was a smart move seeing that there she could become more than just eye candy and further hone her in-ring skills. The only person that seemed to be truly devastated by Kelly Kelly's drafting was Jerry Lawler, who expressed signs of grief upon seeing her face appear on the Titantron, which signaled her move to the blue brand.
Although her tenure on Friday nights only lasted a mere year, it was a nice change of scenery for the beautiful blonde bombshell while it lasted.
Once Kelly Kelly won the Divas Championship in mid-2011, many people speculated she'd be nothing more than a throwaway champion. Her victories over the Bella Twins were nice and all, but she needed some real competition in order to be taken seriously while holding the title.
In early August, Beth Phoenix won a battle royal to become the No. 1 contender to Kelly's strap before ambushing the former stripteaser at ringside. This led to a title clash at SummerSlam, where Kelly shocked the world by defeating the Glamazon in clean fashion.
Honestly, I found this to be the most impressive outing of Kelly Kelly's career, and it couldn't have happened on a better stage, either.
At the start of 2011, Kelly Kelly was spotlighted more than ever on SmackDown during her many run-ins with Vickie Guerrero. Since Guerrero was the interim general manager of SmackDown at the time, she fired Kelly for no apparent reason in early February just to satisfy her own needs.
Once Teddy Long returned to take charge of the blue brand, he reinstated Kelly, who made her return to WWE at the Elimination Chamber pay-per-view. The odds were stacked against her during her brawl with Lay-Cool, but Trish Stratus would eventually come to her aid.
The pairing of Stratus and Kelly was originally supposed to lead to a multi-person match at WrestleMania 27, but Kelly's spot in the contest was ultimately taken by Jersey Shore's own Snooki.
As previously stated, 2011 was a hot year for Kelly Kelly, and it got even better for the beautiful blonde bombshell that fall when it was revealed that she'd be on the cover of Maxim magazine for its December issue. The cover was showcased on the November 7th edition of Raw, despite a brief interruption from the Divas of Doom.
Is it possible we'll see Kelly Kelly on the cover of some more mainstream magazines along with some candid pics now that she's been released from WWE? A guy can only hope.
In past interviews, Kelly Kelly always stated that she had never had felt like she had her big WrestleMania moment that everyone hopes to have at some point in their career. What, taking the pin for her team at WrestleMania 26 against following a Hog Splash from Vickie Guerrero didn't count?
In all seriousness, Kelly played a minor role in the Miss WrestleMania Battle Royal at WrestleMania 25 and was bumped off the WrestleMania 27 card, so I could see where she was coming from. Luckily, she and Extra star Maria Menounos were able to defeat Eve and Beth Phoenix in tag team action at WrestleMania 28, so I guess that warrants as a monumental 'Mania moment in her eyes.
At 2011's Royal Rumble event, Kelly Kelly prevented Vickie Guerrero from interfering in the World Heavyweight Championship match between reigning champ Edge and Dolph Ziggler. This would lead to a mixed tag team main-event match on the subsequent edition of SmackDown, where Edge and Kelly took on the team of Ziggler and Lay-Cool, with the World title on the line.
With a ton of pressure on Kelly to help Edge retain his golden prize, she shocked the world by spearing Layla to score the victory for her team. To my knowledge, this would be the first and only main event Kelly Kelly has ever competed in, but still, that's pretty damn impressive.
On the pilot episode of relaunching ECW, Kelly Kelly made her first WWE appearance in a series of segments. She claimed to be an "exhibitionist," promoting a striptease later in the night.
At the young age of 19, Kelly Kelly performed her controversial striptease later in the evening, much to the delight of the ECW fans. This would be a continuous trend in following weeks; however, these segments would eventually be interrupted by her debuting boyfriend, Mike Knox.
Sadly, this would be the most skin exposed by Kelly, as the eventual PG rating would no longer allow such segments to occur.
If the WWE Universe didn't tune into the premiere of ECW for the extreme action, then they surely stuck around for the debut of the lovely Kelly Kelly.
Upon her move back to Raw as part of the 2011 WWE supplemental draft, Kelly Kelly immediately began to chase then-Divas Champion Nikki Bella. She received a shot at the title at the Over the Limit pay-per-view in May, but unfortunately, she came up short of winning the gold.
A month later, Kelly Kelly was voted by the WWE Universe to contend for the Divas title on the Power to the People edition of Raw. In the opening match of the night, Kelly defeated Bella to win her first (and only) Divas Championship after arriving in WWE almost exactly five years prior.
It was an emotional, heartfelt moment that will forever be remembered as Kelly Kelly's crowning moment, as she went on to reign as champ for another four months. Say what you will about her in-ring ability, but no Diva in the last few years has been able to garner a louder reaction from the crowd than Kelly.
She was also smart in getting out of the pro wrestling business at the young age of 25, where she still has her whole life ahead of her to experience other projects. Besides, she accomplished almost everything she set out to do and has nothing left to prove.
Hopefully, the next time we see Kelly Kelly, it won't be in a WWE ring (fingers crossed). Nonetheless, she had a wonderful career in WWE and will always be known as one of the company's most loveliest ladies.
GSM out.
Visit my website at Next Era Wrestling, and listen to my SAVE US GSM radio show every Wednesday night at 10/9c for more of my thoughts and writings,along with WWE/TNA news, reviews, recaps and more.
Listen to internet radio with Spoilerspodcast on Blog Talk Radio