Virginia Tech vs. Cincinnati: Live Scores, Analysis and Results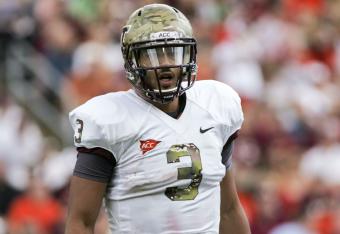 Peter Casey-US PRESSWIRE
Cincinnati 27, Virginia Tech 24, Final
After a low-scoring first half, the second half was full of excitement and momentum swings. It truly came down to who had the ball last and Munchie Legaux and Cincinnati left the Hokies with only 13 seconds and that wasn't enough as the Bearcats get an impressive win over Virginia Tech .
Stay here for news, notes and analysis from today's game.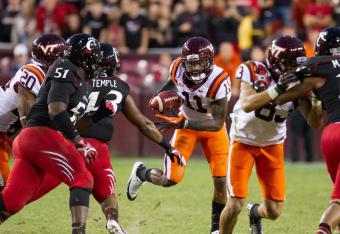 Now that the game has been completed, take a look at my postgame wrap-up at 10 things we learned about the Virginia Tech Hokies after today's disappointing loss to Cincinnati: http://bleacherreport.com/articles/1352627-virginia-tech-football-10-things-we-learned-from-the-hokies-los-vs-cincinnati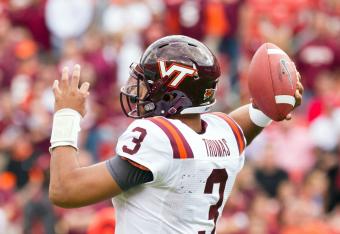 Thomas' hail-mary attempt falls way short and was intercepted clinching a win for Cincinnati.
Stay here as we will focus on 10 things we learned about the Hokies after their 27-24 loss to Cincinnati.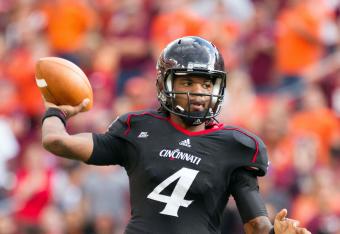 Munchie Legaux has been excellent today. You can't ask for a better throw than that with the game on the line.
Legaux had pressure in his face, threw a beautiful pass to Damon Julian to beat Virginia Tech's best defensive back, Kyle Fuller.
Legaux has been terrific today. He has soundly outplayed his more heralded counterpart today.
Legaux's escapability is a problem here for the Hokies as they got pressure on him and he escaped twice.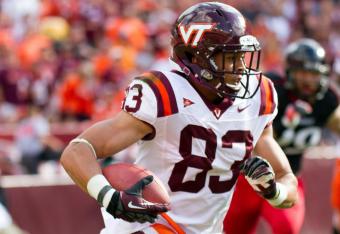 Give Thomas credit, he stepped up and made a play when it mattered the most.
Good job by Corey Fuller on the catch-and-run.
Thomas didn't take the easy underneath throw and looked for Fuller down the field and made an excellent throw.
Need a better view on that catch. Looks to be a bit short.
Where would the Hokies be without the fly sweep today?
And Dyrell Roberts?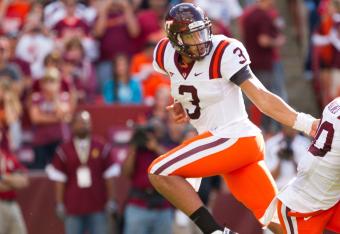 Good stop by Foster's defense.
Can Logan Thomas lead a game-winning drive here?
Don't snicker, it is a legitimate question.
Another terrible throw by Thomas. Marcus Davis was open and Thomas missed him badly.
That wasn't as tough of a throw as these excellent ESPN announcers made it out to be. He had very little pressure.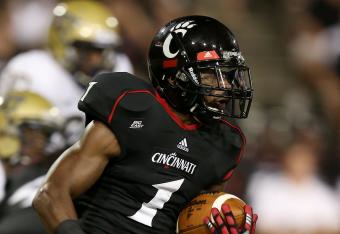 The Hokies had held Abernathy in check all day, until now. Somehow, Abernathy was wide open along the left sideline and caught Legaux's pass and went 76 yards for the touchdown.
Antone Exum was all alone with Abernathy in the open field, but had no chance. Too easy.
Where was the safety help?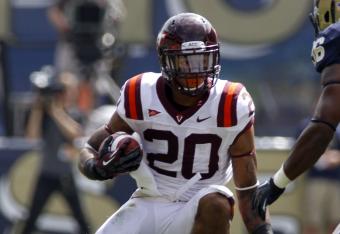 What a drive by Michael Holmes.
The freshman running back continues to get better each week. He continues to follow his blocks well and looks like the running back Frank Beamer said he would be.
He ran with speed and vision throughout that drive and finished it off with a power run for the score.
The Hokies catch a break here as Exum didn't give up any more points and Cincinnati missed a field goal.
Antone Exum continues to get picked on. Another penalty against him.
At this point, if you are Bud Foster, do you get him off the field?
Michael Cole has been active for the Hokies on defense all day. Hasn't proven to be a liability in coverage, yet.
Another frustrating drive for the Hokies. They move the ball down the field with ease, then struggle in the red zone.
Play-calling, combined with Thomas, continue to doom the Hokies.
The Hokies need to stop using the read-option if Thomas continues to makes the wrong read.
You can only run him up the middle so many times before the defense loads up and stops it.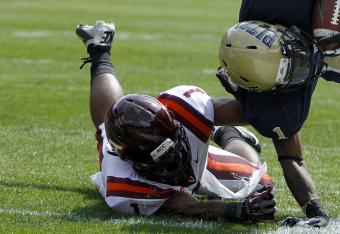 Good coverage by Exum, although that was probably more of a penalty than the one called against him in the first half.
And by the way, folks, it is Exum, pronounced X-UM, not AX-UM. Ok, had to clear that up.
After two great plays, a hold by the backup fullback sets the Hokies back. Then, Thomas' inaccuracy fails the Hokies again.
His high throw led to that interception. Unfortunately for Virginia Tech, this is the norm.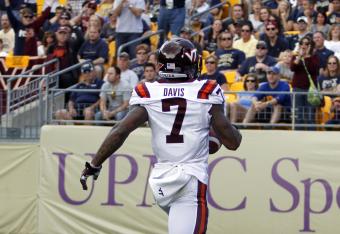 This is the best Thomas has looked all day. Two straight big plays to Davis and now the Hokies are in business.
The first play, Thomas felt pressure, moved to his right and found Davis downfield rather than checking down to Martin Scales.
Excellent catch by Davis. That is what great players do.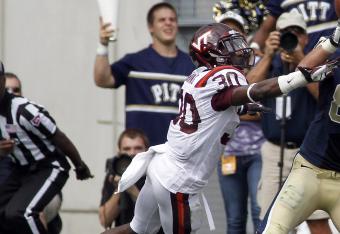 Legaux looked excellent on this drive. He was smart for going after true freshman cornerback Donaldven Manning on two straight plays.
Manning, in for the injured Kyle Fuller, was the victim on two straight pass plays for Cincinnati. First, Manning missed a tackle that led to a 29-yard gain and then on the very next play, Manning was beaten easily for a touchdown.
If Manning is going to continue to play, he needs to step up. You are five games into the season, being a freshman is not a viable excuse at this point.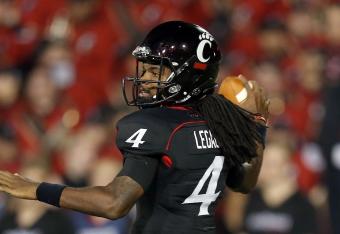 Give Legaux credit, he had Bruce Taylor and Jack Tyler coming right at him, he escapes and gains five yards on the play.
The question is, was he down on the play or was it a fumble?
Looks like the officials made the right call in ruling him down.
Legaux is not real comfortable in the pocket, however, he has shown the ability to step up in the face of pressure today and make plays. He has too many balls batted down at the line of scrimmage for someone who is 6'5".
A good start for Virginia Tech here in the third quarter as they begin this drive with a first down, on two plays.
Need to continue to show balance on the offense, though.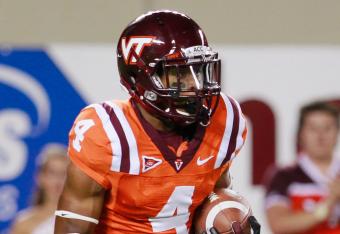 The Hokies will get the ball to start the second half.
Can they build off the momentum from Thomas' touchdown run?
Virginia Tech needs to connect on a pass down the field to open up some running room for these backs.
And again, why not call a screen pass to the running back, preferably Coleman, on first down?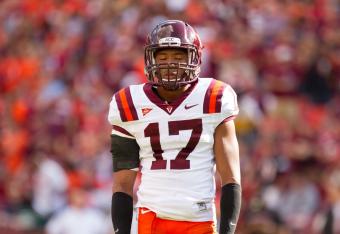 Kyle Fuller shows why he is one of the best defensive backs in the nation with that open-field tackle on third down.
Virginia Tech will get the ball one more time before the half.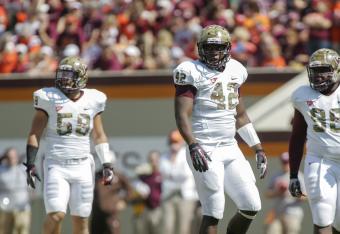 Unfortunately for the Hokies, on the very next play after the Exum interference call, Jack Tyler is called for roughing the passer. Another tough call against the Hokies.
Cincinnati has been given a lot of yards on this drive.
Exum finally makes a play in coverage and it doesn't stand. Pass interference called on the Virginia Tech junior cornerback.
Looking at the replay, it was a questionable call.
This article is
What is the duplicate article?
Why is this article offensive?
Where is this article plagiarized from?
Why is this article poorly edited?

Virginia Tech Football: Like this team?