Fantasy Basketball 2012-13: Soaring and Flopping Players, Preseason Edition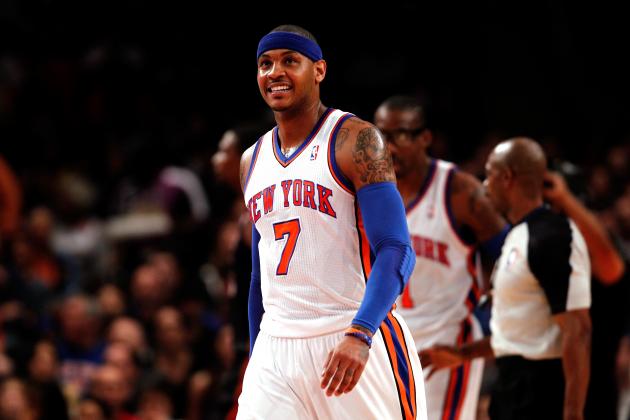 Jeff Zelevansky/Getty Images

Now that we're a few weeks into the NFL season, your fantasy football teams have had plenty of time to crush your heart and get you ready for the NBA to return. Guilty as charged.
Luckily for you and I, we're only weeks away from the return of fantasy basketball.
With NBA training camps kicking off, we're due for a slew of surprises in the coming weeks, some of which will invariably shake up preseason fantasy basketball rankings.
Who's rising up fantasy basketball draft boards at the start of NBA training camp? Who's getting added to the "do-not-draft" list?
Let's take a look at five players that are soaring up the fantasy basketball preseason rankings and five players that are plummeting.
Begin Slideshow

»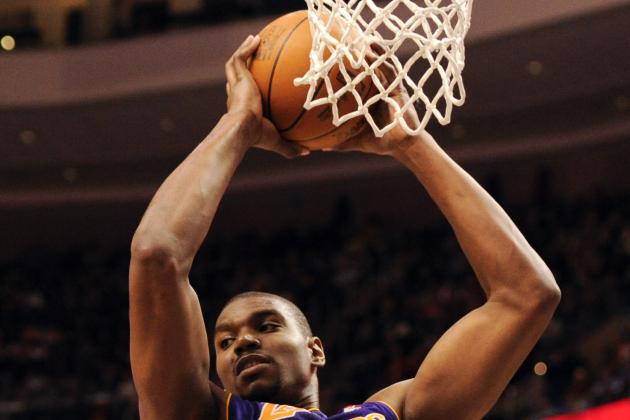 Howard Smith-US PRESSWIRE

Since I'm an admitted homer for the Philadelphia 76ers, let's start with Andrew Bynum, the Sixers' shiny new acquisition from this summer's four-team Dwight Howard blockbuster.
For the past few years, Bynum has worked his way up to becoming the second-best center in the league, trailing only Dwight Howard.
This season? If Bynum isn't the first true center on your draft board—Kevin Love doesn't count—there's something seriously wrong with your rankings.
Bynum averaged 18.7 points and 11.8 rebounds last season with the Los Angeles Lakers, when he had to compete with Kobe Bryant and Pau Gasol for offensive touches. With the Sixers, he'll be the clear, unquestioned focal point of the offense, which should make averages of 20-25 points, 11-14 rebounds and two blocks per night within realistic reach.
He's not nearly as prolific a shot-blocker as Howard, but for those in roto leagues, he holds one clear advantage over the Lakers' new franchise center: free-throw shooting. Howard couldn't even hit 50 percent of his tries from the charity stripe last season, while Bynum knocked down nearly 70 percent of his free throws.
Long story short, Bynum won't cripple your free-throw percentage like Howard, and should produce somewhere in the same range of points, rebounds and blocks. Bynum should be a lock for a top-10 pick, if not top-five.
Draft range: Top five to 10 picks (first-round lock)
Draft him over: Dwight Howard, Deron Williams, Josh Smith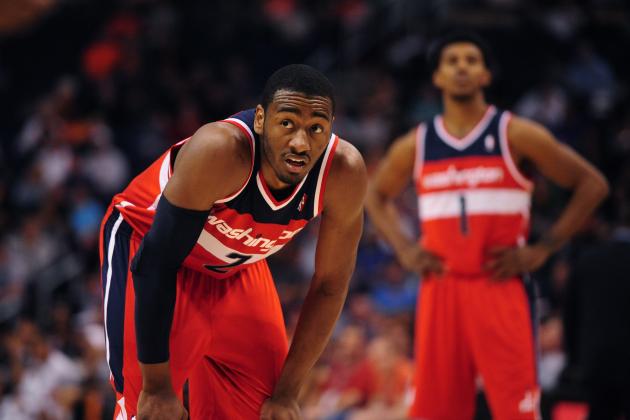 Mark J. Rebilas-US PRESSWIRE

Leading off the floppers with John Wall isn't an indictment of the former No. 1 overall pick's talent. Quite the contrary.
Wall only shows up here because the Washington Wizards announced on Friday that he would miss approximately eight weeks due to a stress injury to his left patella, which puts him back around Dec. 1 at the very earliest.
If you're in a keeper league and can afford to stash Wall on your bench for a month, there's no indication that the injury should limit him once he finds his way back to the basketball court.
If you're starting fresh, however, it's best to steer clear from Wall as your starting point guard, especially in the first four or five rounds.
Before the injury, ESPN's Brian McKitish ranked Wall as the No. 29 overall pick, or the eighth best point guard available this year. It wouldn't be a surprise to see Wall fall outside the top 40 (possibly even top 50?) the next time those rankings are updated.
Draft range: Rounds 5-7
Draft these players over him: Mike Conley, Stephen Curry, Tyreke Evans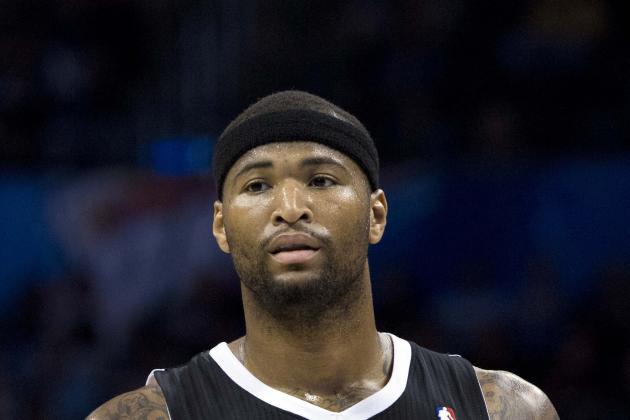 Richard Rowe-US PRESSWIRE

Whether deserved or not, the Sacramento Kings' DeMarcus Cousins still carries around the reputation of being immature, but he's quickly blossoming into one of the most dominant fantasy basketball forces in the NBA.
In 2011-12, Cousins posted per-game averages that were remarkably similar to Andrew Bynum's—18.1 points and 11.0 rebounds per game—except he managed those averages in just over 30 minutes per game.
Cousins, like many young bigs in the NBA, struggled with fouls last season with an average of four per game. If Cousins can get his foul trouble in check in his third NBA season, he's easily got the potential to emerge as one of the NBA's few legitimate 20 and 10 nightly threats.
Throw in roughly two assists, a steal-and-a-half and over one block per game, and Cousins is a well-rounded machine ready to dominate your fantasy league. His free-throw percentage of 70.2 from 2011-12 sure doesn't hurt for a center, either.
Cousins finished as the 37th most valuable fantasy player in 2011-12, according to ESPN.com's Player Rater, but should easily finish in the top 20 in 2012-13. Draft him with a mid- to late-second-round pick with little hesitation.
Draft range: Second round
Draft him over: Al Jefferson, Dirk Nowitzki, Blake Griffin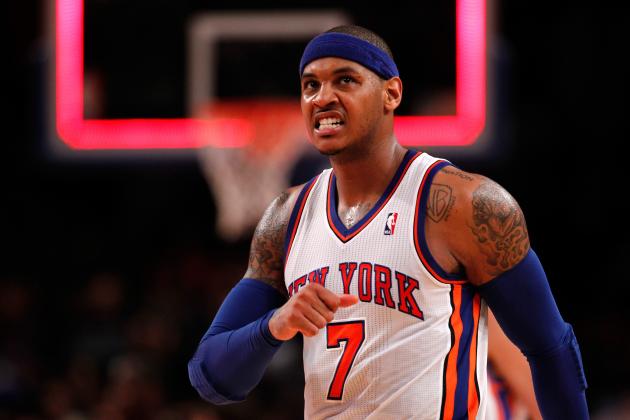 Jeff Zelevansky/Getty Images

"I'm willing to make any sacrifice in my game," Carmelo Anthony recently told ESPNNewYork.com. "If my scoring goes from 27 to 23, I'm cool with that."
That sound you hear is all of Melo's fantasy basketball owners immediately abandoning ship.
Anyone who tells you Anthony's main value in fantasy isn't tied to scoring is lying to themselves. He's never finished a season with fewer than 20 points per game, although his 22.6 PPG average in 2011-12 was Anthony's lowest since the 2004-05 season with the Denver Nuggets.
If he's mentally preparing himself to spread the scoring love to his teammates even more in 2012-13, there's little reason to draft Anthony within the first 25 picks.
He'll still provide help in other categories—6.3 rebounds, 3.6 assists and 1.1 steals per game in 2011-12—but let's be real: He's largely a volume shooter who only knocked down 43 percent of his shots last season.
If he's planning on scoring even less this season, his fantasy value will take a decent hit, even if he becomes more valuable to the Knicks in real life.
Draft range: Rounds 3-4
Draft these players over him: Al Horford, Rudy Gay, Rajon Rondo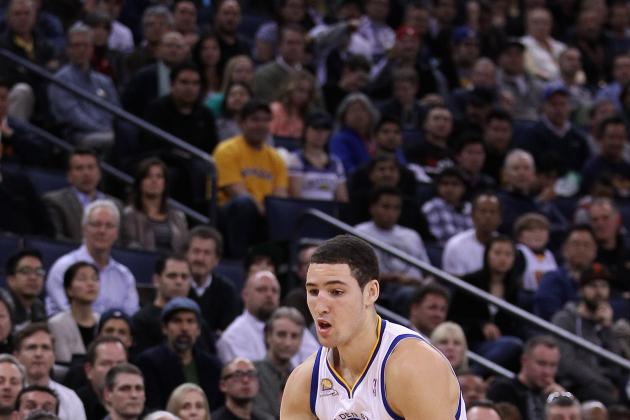 Ezra Shaw/Getty Images

With Monta Ellis now a Milwaukee Buck, second-year man Klay Thompson has the inside track to the starting 2 spot for the Golden State Warriors in 2012-13.
Of any shooting guard outside the top 50 in preseason fantasy rankings (currently ranked 84th on ESPN), Thompson has the highest ceiling this coming season.
His 2011-12 per-game averages of 12.3 points, 2.4 rebounds and 2.0 assists don't exactly scream "first-round fantasy pick," but keep in mind, he only averaged 24.4 minutes per game last season.
In the final month of the 2011-12 season, with Ellis in Milwaukee, Thompson's per-game averages jumped to 18.6 points, 3.8 rebounds and 2.8 assists in 33.7 minutes. He also averaged over two three-point shots per game in April, and shot 41.4 percent from downtown over the entire 2011-12 season.
This doesn't mean you should go reaching for Thompson as a first- or second-round pick in your drafts the next few weeks, but if you find yourself getting to the middle of your draft and have a gaping hole at shooting guard, Thompson should more than suffice.
Draft range: Rounds 6-8
Draft him over: Jason Terry, Kevin Martin, Rodney Stuckey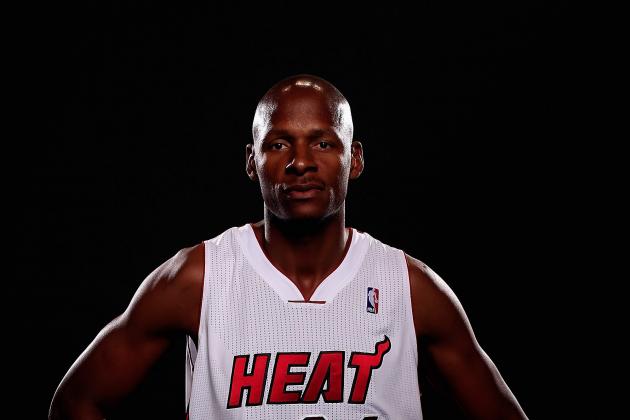 Chris Trotman/Getty Images

It's all about perceptions vs. expectations for Ray Allen in 2012-13.
If you draft Allen expecting the elite shooter who averaged 34 minutes per game for the Boston Celtics last season, you're going to be sorely disappointed.
The 37-year-old Allen is still dealing with swelling in his ankle after offseason surgery, the South Florida Sun Sentinel recently reported, and may not reach a point this season where he's pain free.
Assuming Dwyane Wade gets healthy by opening night, Allen will start his tenure with the Miami Heat coming off the bench.
Allen's average of 14.2 points per game in 2011-12 was the lowest since his rookie season (back in 1996-97!), and that was with him as a starter. Realistically, Allen will likely average a career-low in minutes this season (somewhere around 25-30 per game), which should send his averages plummeting.
Even if he's the dead-eye shooter that he's always been, it'll be tough justifying a pick on Allen before the ninth round at the earliest.
Draft range: Rounds 9-11
Draft these players over him: Evan Turner, Darren Collison, Brandon Knight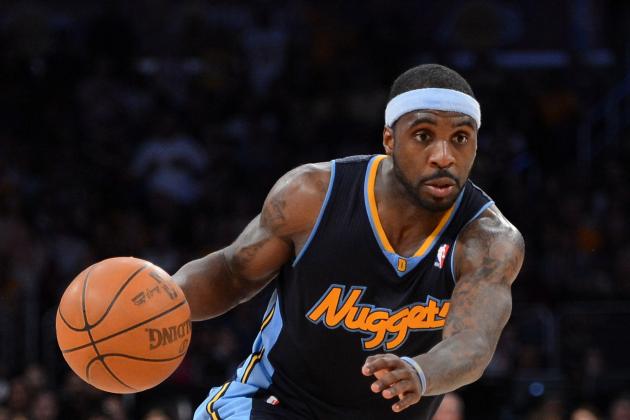 Harry How/Getty Images

When you think of the top 20 NBA players, Ty Lawson's name most likely doesn't come to mind. (He finished 48th in ESPN's #NBARank this summer.)
When you think of the top 20 fantasy basketball players, it should.
Lawson finished 19th in ESPN's Player Rater for the 2011-12 season, and, realistically, has a shot to move higher this season with the moves the Denver Nuggets made over the summer.
Lawson finished with 16.4 points, 6.6 assists, 3.7 rebounds and 1.3 steals per game in 2011-12 (all career highs), while knocking down nearly 49 percent of his shots from the field. His three-point shooting percentage has dropped from 41 percent in his rookie season to 36.5 percent this past season, but that's still a respectable shooting average from deep.
Arron Afflalo and Al Harrington, who were both shipped out in the four-team Dwight Howard blockbuster, combined to average over 20 field goal attempts per game in 2011-12. Their departures should open even more offensive opportunities for Lawson, as Andre Iguodala, the Nuggets' prize from the Howard trade, only averaged 10.2 field goal attempts per game last season.
The Nuggets only plan on speeding up their offensive tempo even more in 2012-13, even after leading the league in points per game (104.1) in 2011-12. That's a scary prospect for the rest of the league, and should make Lawson a clear top-20 pick in fantasy basketball.
Draft range: Late second/early third round
Draft him over: Kobe Bryant, Rajon Rondo, Pau Gasol
Stephen Dunn/Getty Images

Like John Wall of the Washington Wizards, Chauncey Billups earns his spot on the "flopping" list largely due to injury.
Billups said recently that he doesn't anticipate being ready for opening night, according to ESPNLosAngeles.com, after tearing his left Achilles tendon in February. He didn't give a concrete timetable for his return, but said he'd be back "way before" January or February.
Assuming Billups makes it back on the court by Dec. 1, his value will be diminished by missing the first month of games. Even once he makes it back, the depth the Los Angeles Clippers added this summer should limit his potential statistical output.
Billups even admitted as much himself, saying that the additions of Jamal Crawford, Grant Hill and Lamar Odom took the pressure off for him to return quicker than he'd like.
Most preseason rankings appear to have had Billups in the 10-12th round range, before it was clear that he'd be missing opening night.
Now? Billups could be in a freefall on draft night, potentially even venturing into undrafted territory in 10-team leagues.
Draft range: Rounds 11-13/undrafted
Draft these players over him: Mario Chalmers, Jeff Teague, J.J. Barea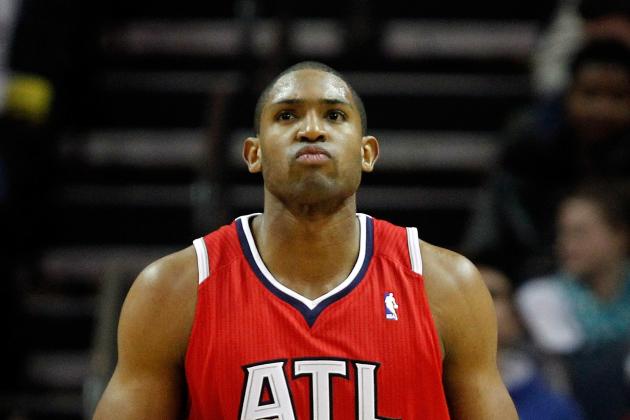 Streeter Lecka/Getty Images

Al Horford may have missed most of the 2011-12 season with a pectoral injury, but that's no excuse for him largely falling off the NBA landscape like he has.
When healthy, Horford packed the potential of being a top-20 fantasy player. Seeing as Horford was able to make it back for the Atlanta Hawks' 2012 playoff series against the Boston Celtics, there should be no reason to expect him to start the 2012-13 season at anything less than 100 percent.
What makes Horford so enticing this season is the departure of Joe Johnson, who was traded to the Brooklyn Nets this summer for a handful of rotation players. The move signaled that the Hawks were ready to make Horford and Josh Smith the two faces of the franchise, essentially.
Before his injury in 2011-12, Horford had steadily been improving each season. In 2010-11, he averaged 15.3 points, 9.4 rebounds and 3.5 assists per game, along with roughly one block and one steal per game.
Horford knocked down over 55 percent of his shots from the field over the past three seasons, and is a phenomenal free-throw shooter for a big man, having shot above 73 percent from the charity stripe in all but one of his five NBA seasons.
Don't be surprised to see Horford take a huge statistical leap this coming season, which should make him a sure-fire fantasy starter in all formats.
Draft range: Rounds 2-3
Draft him over: Pau Gasol, Blake Griffin, Carmelo Anthony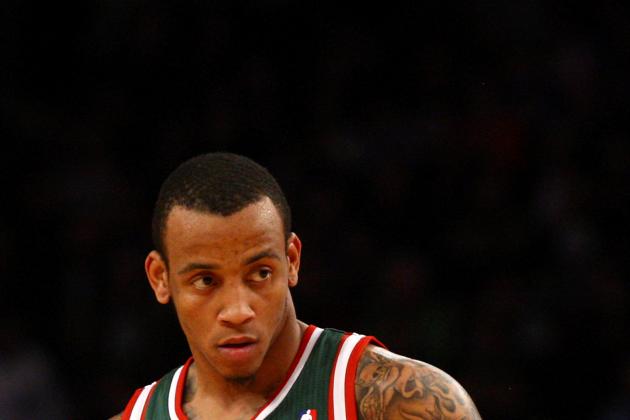 Chris Chambers/Getty Images

At this point in his career, Monta Ellis is what he is. He's a volume shooter who's great at scoring points, picking up assists and recording steals, but you'll want to avert your eyes whenever you take a look at his field goal percentage.
If you're ready to go all-in on points, assists and steals while punting field goal percentage, Ellis deserves to move up your list. Otherwise, there's too much uncertainty surrounding Ellis and the Milwaukee Bucks this season to feel good about drafting him.
After coming to Milwaukee in the middle of the 2011-12 season, Ellis shot a career-low 26.7 percent from deep while attempting just over two three-point tries per game. (He averaged around four attempts from deep in his final three years in Golden State.)
In the 21 games he played for the Bucks last season, Ellis averaged only 43.2 percent shooting from the field, the lowest since his rookie season of 2005-06. With Brandon Jennings entering a contract year, there's at least the potential risk of Jennings pressing on offense and leaving Ellis stranded on isolation island.
Having both point guard and shooting guard eligibility helps Ellis' case as being a third- or fourth-round pick, but you can do far better based on where he's being ranked in the preseason.
Draft range: Rounds 4-6
Draft these players over him: Andre Iguodala, Stephen Curry, Eric Gordon