At seven in the morning, the crowds are as loud as they are in the middle of the afternoon. I cannot recall many, if any sporting events where this happens.
I also cannot recall many things that can give me goosebumps for eight straight hours. So why is the Ryder Cup so unique?
On Day 2, fans were arriving as early as 6 a.m. Shortly after 7 a.m., the first foursome of the day arrived to chants of "USA! USA! USA!" engulfing the tee box.
The sun had barely broken through the trees, and led by American Bubba Watson and Englishmen Ian Poulter, the players were pumping up and hyping an already inflated crowd. Both of these golfers teed off in hysteria. Fans were cheering right through their swings, which was, surprisingly, to the players' appreciation.
These are scenes expected at a basketball game but unimaginable on a golf course, a sport where, ironically, silence is a virtue.
Bubba Watson took detours to the green and shadowed the rope of the gallery right down the fairway. High fives followed and, of course, so to did applause.
Once you get to the green, the emotion changes to something even more spectacular. Every putt is made in silence, with a mindset where the Green Jacket is on the line. But if a putt rolls in, it makes the iconic roars when Tiger makes a run on the backside of Augusta seem quiet.
Just take a look at Keegan Bradley's match-winning putt on Day 1. If that does not sell this event, then nothing will.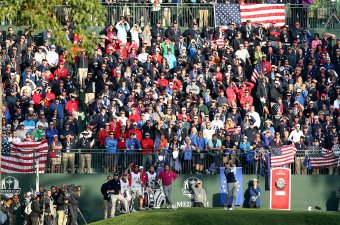 Andy Lyons/Getty Images
The new American powerhouse pairing of Bradley and Phil Mickelson is stealing the show at Medinah Country Club. Their intensity and the hearts on their sleeves set the precedence for team USA. In two years' time, I hope this pairing continues what they started and create a legacy for years to come.
The commentators referred to the crowd as the 13th man. Watching the European feed, they constantly applauded the cheering and noise but at the same time disapproved of the jeering and laughing.
I disagree.
The USA has home-court advantage. It resembled a Chicago Bulls game. That's what makes it a spectacle. When Ian Poulter's flop shot on No. 7 fell short of the green, chants of "air ball" erupted. Three holes later, Poulter himself erupted, screaming, "C'mon!!!" after knocking down an important putt. Both players and fans love it.
If team USA continues to lead Europe, the noise won't stop. On a course with short rough that suits long hitting, the ball is certainly in America's court. They are built on power hitters.
When the last putt of the event is made, the great shots won't be remembered. They will get lost in the emotion, the passion, the patriotism, the sheer adulation—and that is not a bad thing.