Texas vs. Oklahoma State: Will Longhorns Flop in This Year's First True Test?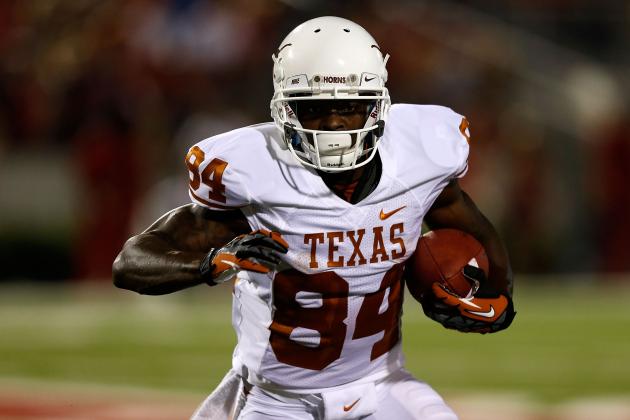 Scott Halleran/Getty Images

In recent years the Texas Longhorns have faded from the national spotlight and have not played a role in the college football BCS picture. In Week 5 the Longhorns have a chance to jump back into the headlines when they go up against a talented Oklahoma State football team.
The Cowboys will be motivated to play this game because a win should put this team into the Top 25, so Texas will have to be fully prepared. Texas has to avoid flopping in this game if they want to be taken seriously this season.
Begin Slideshow

»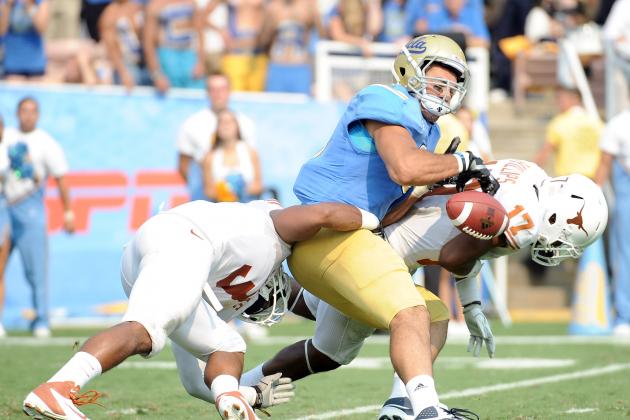 Harry How/Getty Images

The Longhorns defense will be taking on the high-flying Cowboys without two vital members of the defense.
Sports Illustrated has reported that Texas trainer Kenny Boyd said Friday that linebacker Jordan Hicks is out with a hip injury and defensive tackle Brandon Moore is sick with a virus.
Hicks leads the team with 23 tackles and will be a tough player to replace. The big-play attack of the Cowboys could take advantage as the Longhorns defense allows 14 yards per completion.
Defense is a critical part of the game plan when facing the Cowboys and if the Longhorns cannot use their depth to replace the loss of Hicks and Moore, they could easily lose to the Cowboys.
The defense is not the only area of concern for the Longhorns.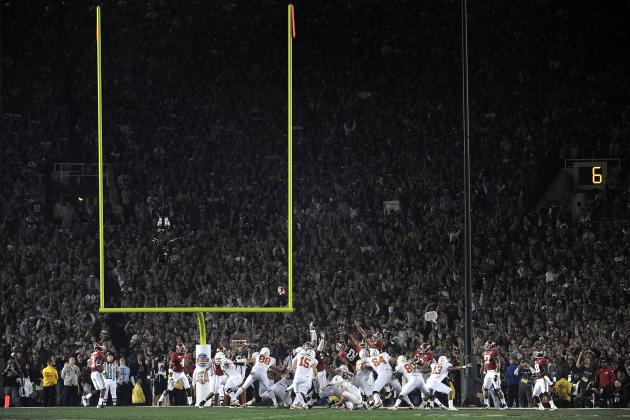 Harry How/Getty Images

The Longhorns have not had a close game yet.
They have not had to rely on the field-goal kicker to make a game-winning kick to salvage a game so one area that could be a weakness is overlooked.
Amid the offseason turmoil at Penn State, kicker Anthony Fera transferred to Texas and automatically became the front-runner to take over the kicking duties.
A groin injury has postponed the inevitable and Nick Jordan is the starting field-goal kicker. So far on the year Jordan is just 3-of-7 on field goal attempts. Those numbers need to improve if they want to win this game.
Texas collapsed in the red zone a year ago and they were ranked 107th in red-zone offense. This is an area of concern for this team and Jordan will have to improve and now is as good of time as any.
In any big game points are at a premium and a miss at any point in the game could be costly.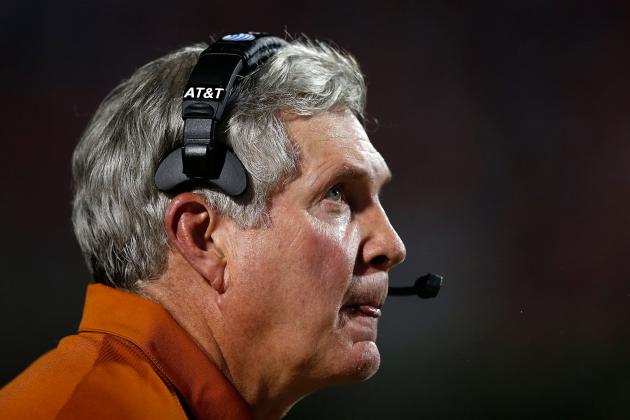 Scott Halleran/Getty Images

Head coach Mack Brown is ready to challenge his team.
The opening games against the likes of Mississippi, New Mexico and Wyoming do not exactly form a murderer's row of football schedules.
The conference opener against Oklahoma State will test the mettle and toughness of this Texas team. Brown made a point of mentioning that this is a good time to see what his team can do when tested.
"I want to see our toughness," Texas coach Mack Brown said. "I'd like to see it against good competition. I want to see how good we are nationally. (via NewsOK)

"We're going to know that soon."
The players will have to respond to this challenge in a difficult atmosphere if they have any hopes of winning this game and proving the critics wrong.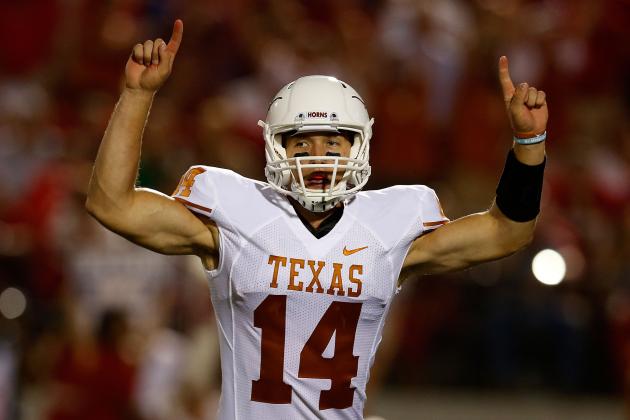 Scott Halleran/Getty Images

David Ash will be a pivotal player for the Longhorns and their success could hinge on his performance.
Ash has improved incredibly for a year ago and has transformed into the leader of this team. He is avoiding the dangerous passes that result in turnovers and can manage this offense.
During the game against Mississippi, Ash recorded a career-best 326 yards and four scores, but many will point to the mismatches in the secondary as the reason for his excellent output.
While that may be true, his poise in the pocket cannot be overlooked. This could be a breakout game for Ash that will allow him to be recognized on a national level.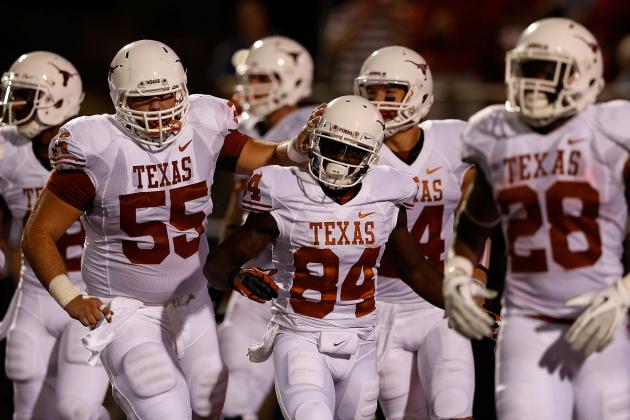 Scott Halleran/Getty Images

The Texas Longhorns face some serious adversity coming into this game.
They are in a hostile environment against the defending Big 12 champ. They are playing short-handed on defense and have a shaky kicker that could be needed in crunch time.
With all of this adversity, Texas will not flop.
Jordan Hicks is important, but the Longhorns are deep and very talented on defense. They have enough left to strangle the top-flight offense of the Cowboys and get the crucial conference road win.
In a battle of great offense and great defense, the defense has the edge. This game is paramount to the success of the Longhorns and a victory will signal to the college football world that the Longhorns are for real.
James Brown is a B/R featured columnist and can be followed on Twitter. Feel free to contact James at jtsneaks@gmail.com. He also is a contributor at Bookie Blitz, a sports picks website.